Thousands turn out for 2016 Penrite Broadford Bike Bonanza
The 2016 Penrite Broadford Bike Bonanza (BBB) has wrapped up after a weekend of capacity crowds, rider friendly weather, and a wonderfully diverse range of bikes on show and on track.
Early bookings were the way to go as the eighth edition of the Bonanza rolled into town on Friday. Camp spots were snapped up quickly and old friends reunited for what promised to be yet another family friendly festival that organiser Peter Drakeford calls "The Tribe Gathering".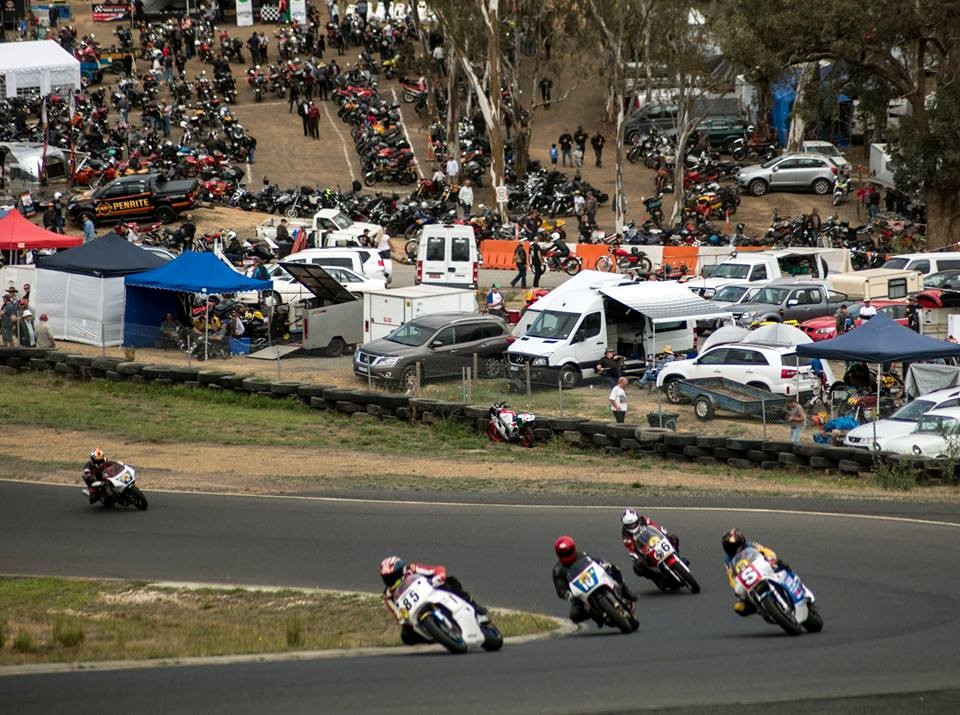 In 2016, over 3,500 people attended (up on 2015) with many bikes on track across the Broadford complex all helping to cement the Penrite Broadford Bike Bonanza as a must-do on the Australian and now worldwide motorcycle enthusiasts calendar.
Though a non-attendee in 2016, famed motorcycle journalist Alan Cathcart has said of the BBB that "Nowhere else in the world so you get so many disciplines of motorcycling being manifested and enjoyed over a weekend on a simple, non-competitive, parade/demonstration basis."
In 2016 this was every bit as apparent with the Moto Guzzi owners club leading the way with a huge display of V-twin Italian romance.
Peter Drakeford (Organiser) said, "I didn't know there were that many Moto Guzzis in Australia! I reckon the entire Australian population of 'Moto Guzzisti' were there on the weekend! The car park at the road course was just packed. We had to push the boundary of the car park further and further out. It was terrific."
In 2016, the event was not short for famous (and infamous!) visitors with former 500cc world title contender Kevin Magee in attendance, along with a raft of road, flat track and speedway legends that included Chris Watson, Tony Clarke, Gary Chasemore, Peter Goddard and Chris Kelly among many others.
Another person enjoying his day at the Bonanza was Victorian Federal Senator Ricky Muir who was right at home amongst the attendees and participants and noted that he'd have to, "Fix up the old DT175 and come along next year with the whole family!"
Winners of the "longest journey to the event" were Italian Moto Guzzi enthusiasts Antonio Frigerio and Pino Todero who not only made the trip to Broadford, but brought a raft of bikes that were on show at the road arena alongside event sponsors Shannons Insurance.
Antonio said, "It's been a very, very good time and I have been so surprised! The country is beautiful and the people have been fantastic!"
The V8 Guzzis on display drew huge, admiring crowds who also checked out the Moto Guzzi club owner's area, where tips and tales about maintenance and restoration were traded.
And while there was a lot to see at the road course, the motocross circuit had a huge number of bikes on track with the pre 80-85-90 bikes on show with riders not holding back and, to the delight of many­, in riding gear from the era!
Over at the speedway complex it was a festival of flat track running late into the day. This venue had a huge participation rate as many spectators rotated onto the circuit to cut some laps, only to return to the side-lines to watch (and laugh) at friends taking their turn.
As always, the atmosphere at the Penrite Broadford Bonanza was family friendly, fun and safe with the palpable feeling of community as strong as ever. Event goer Mark said of his camp near the speedway that he had "around 15-20 people camping with me with 40 bikes between us. We keep coming back because the riding is great fun and the people we get to hang out with are even better"
For Event Organiser Peter Drakeford it's been another successful year in the eight years of the Penrite Broadford Bonanza, "For me there were highlights everywhere – the motocross track being in perfect condition was a great start. We had so many different dirt tracks around the place that all ran really smoothly was also a highlight. If I don't hear much from around the circuit is a fair sign it's all going pretty well!"
With the 2016 event done, thoughts already turn to the 2017 event and Peter Drakeford is already talking it up, "Next year we'll welcome another Italian Marque as the feature brand and I'm sure we'll be blessed with the same great weather that we've enjoyed for many years. I would urge all considering attending to book early as the Penrite Broadford Bike Bonanza just gets bigger and bigger!"