Being part of something from the start is something I always enjoy so when I was asked to contribute for BikeReview.com.au from the go I jumped at it. Having spoken to Jeff at Phillip Island in depth about his new venture it certainly is gathering momentum and going to create a bit of buzz.
I myself am at then end of a very busy Assen World Superbike weekend that has been colder than I ever remember at Assen and no doubt the number of crashes and badly injured riders lends weight to the argument that racing in Holland or the UK in early to mid April is too early.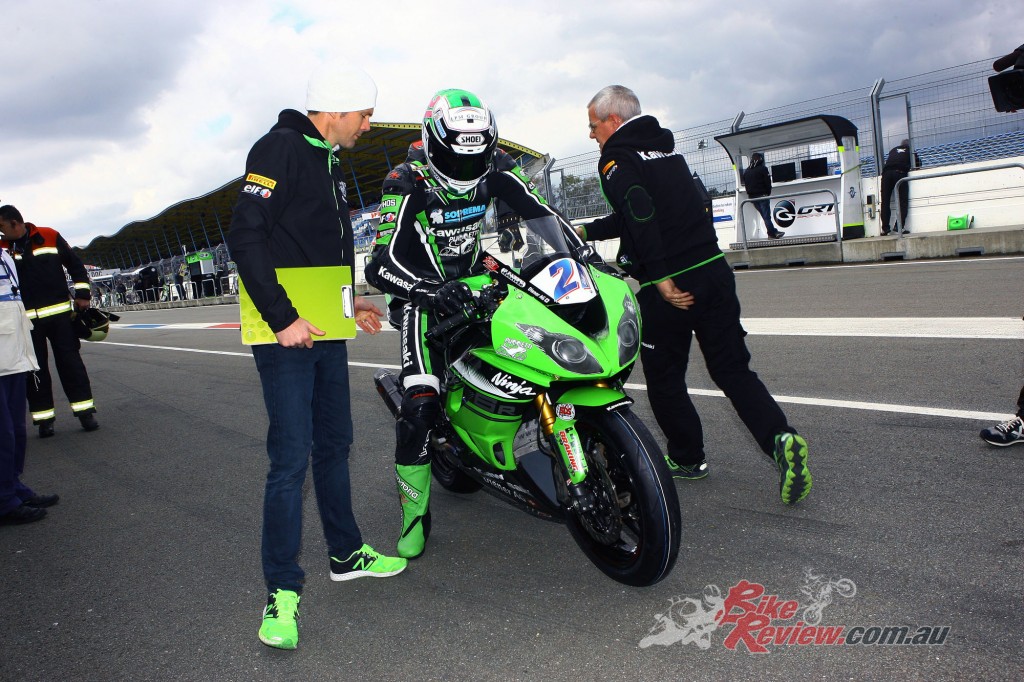 Track temperatures were never above 13-15 degrees all weekend at their absolute peak and most of the time with Dorna's new crazy desire to have everything done each day before 1pm track temperatures were around 7-8 degrees which is dangerous.
Having mostly wet sessions the whole weekend and it kind of hailing/snowing during the Supersport race shows it is probably a little early in the calendar.
That aside I am having a great year in my role as crew chief for the current Champions in World Supersport, Team Kawasaki Puccetti Racing. I am working with Randy Krummenacher on the other side of the garage to Kenan Sofuoglu and with us leading the championship and Kenan in second the tension in the garage is certainly escalating.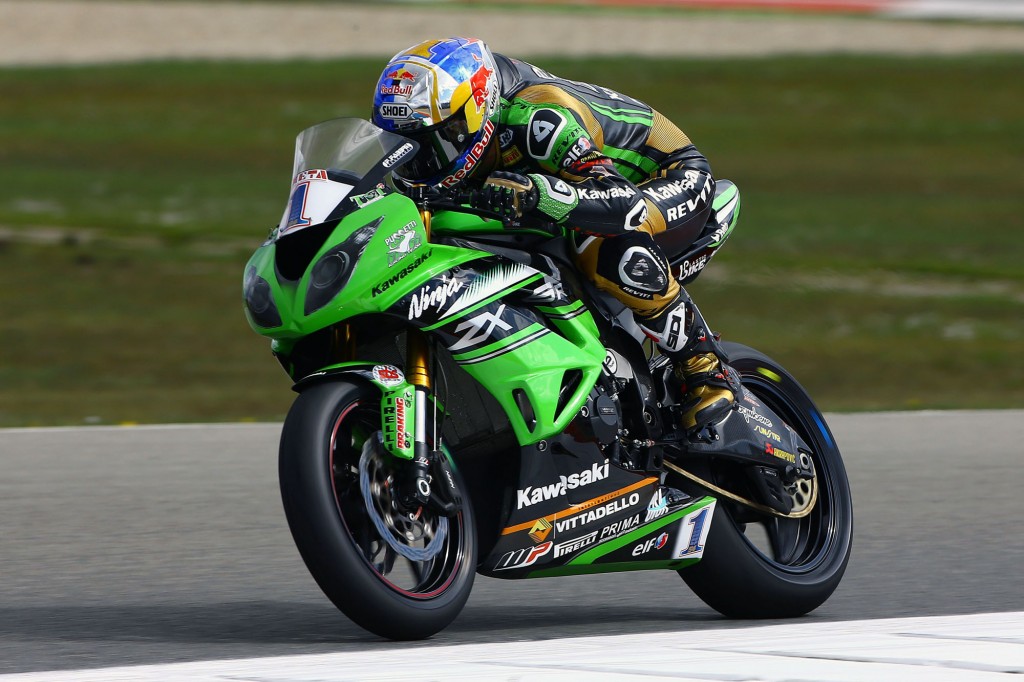 Being the official Kawasaki World Supersport team I was brought in by Manuel (Puccetti) to improve the communication with Kawasaki on the technical side. The team is all Italians and there is a real family feel in the team and the guys all hook in when they have to work but also have a laugh in the hospitality each night over dinner.
But, and it's a big but, they all only speak Italian which means my Italian is on a very steep upward curve. I can speak Italian reasonably well and can get by in any social situation but talking about springs and preload and data and graphs in Italian is another dimension all together but I'm getting there.
Randy and I speak English obviously but for the rest of the guys it's all-Italian and now between Randy and the Italians I have become the translator too. I'm enjoying it though and as I mentioned before it's working pretty well because we are leading the Championship after five rounds.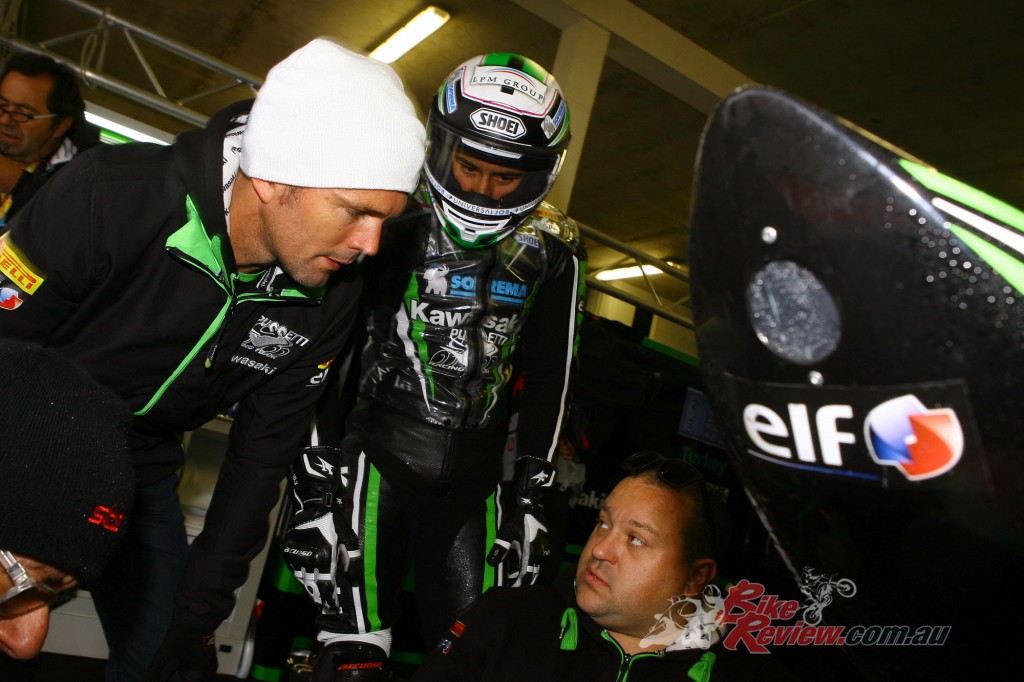 Within the team we have young Toprak on the official Stock 1000 entry that is a protégé of Kenan and trying to come to grips with the latest Kawasaki ZX-10R. Parts and software for the electronics were late coming from the factory so we are a little behind the other factories in that class but Kawasaki are working hard because this new bike they have built should be at the front.
All the Kawasaki riders are suffering with chatter and engine brake issues and the official suspension supplier for all the bikes is Showa, so they have some work to do.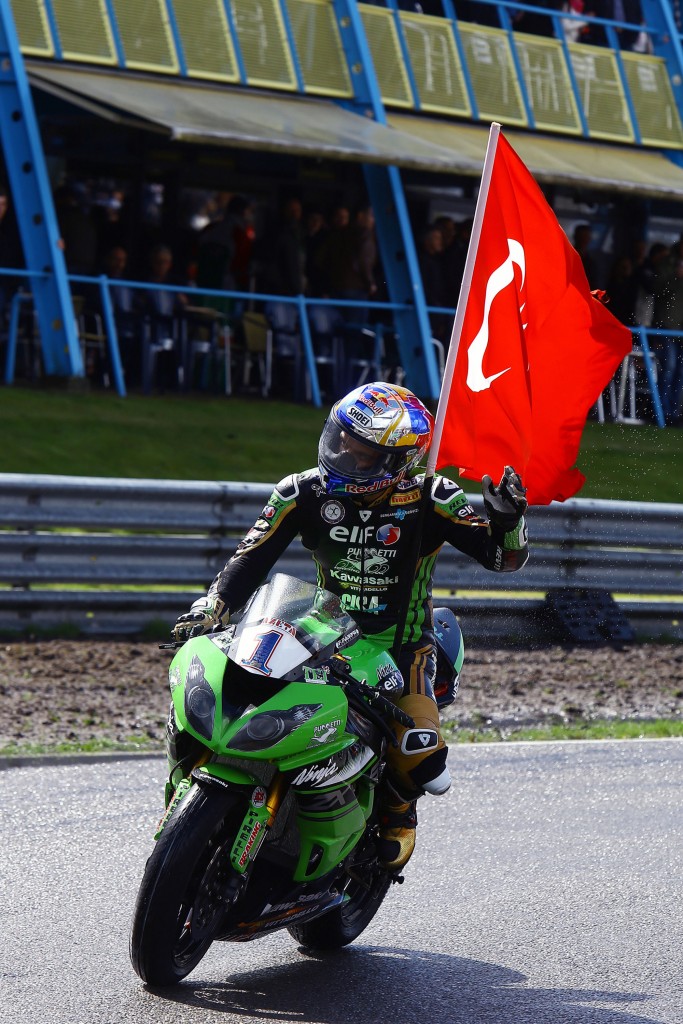 Also attached to our team, which brings it up to a total of five riders, is the junior Supersport team supported by the Italian Federation and San Carlo chips. Each year Manuel selects a couple of new guys and gives them a chance and his record so far has been pretty good. We've had Franco Morbidelli come through the programme a couple of years ago and now they have two more young Italians in Zaccone and Bassani who surprised everyone finishing in the top six.
Both these kids are 16 and have exactly the same bikes as Randy and Kenan and are really showing they have a future in the sport. They haven't seen most of the tracks on the calendar so I am helping them out where I can too, which I am enjoying a lot.
I am managing to still get out and do some laps with Focused Events for a bit of on track tuition. Plenty of happy customers this year have gotten their knee down for the first time but generally it's just making them ride faster and safer which is also very satisfying when you see how happy they are when you pull into the pits.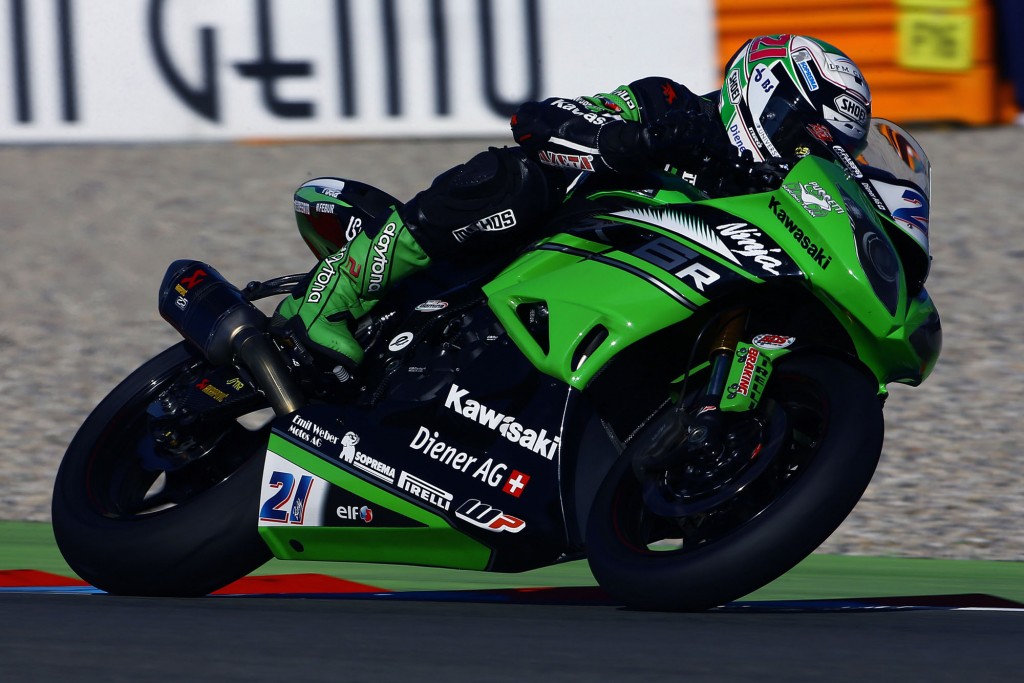 One event in Almeria in February this year I was lucky enough to get handed the key to one of the new 2016 Kawasaki Ninja ZX-10R's which is a real weapon. Put very simply Kawasaki have made a race bike. It feels smaller and more nimble and does everything better than the old bike. I loved the old ZX-10R but this bike doesn't feel like a road bike anymore, it feels like you can take it straight onto the grid and race it.
My next event is at the great old Autodromo di Monza with Focused Events and then onto Mugello in August. With the next round of the World Superbike Championship in Imola, I'm spending plenty of time in Italy on the calendar which is always nice and means the family aren't far away.
It also means plenty of great pizzas and pasta and Italian cuisine!
See you next time,
Andrew Pitt
Images: MPAFoto.com