We've just racked up a few hundred clicks on the 2018 Ducati Panigale V4 S after attending the media presentation today. Here are our initial thoughts... Words: Jeff
I've just hopped off a Ducati Panigale V4 S after attending the Australian media intro for the mighty V4 today at Ducati Australia & NZ, which is located within Fraser Motorcycles, Concord.
After a cold ride down to Sydney from the coast, in 5ºC temps, a hot coffee and good breakfast at Nonna & Co (I highly recommend the Chef's Bacon & Egg Roll) was a welcome way to kick things off.
It was then time to get down to business with a comprehensive technical presentation. There is a huge amount to cover with this bike, so we were also handed an owner's manual to take home. For the some tech blurb check out our Ducati V4 Engine tech feature or the Ducati V4 World launch report.
Of course, I will cover the technical side in detail in my full review.
Listening to Ducati ANZ management today it was clear that they and Ducati as a whole are super enthusiastic about this bike. It is something new, a new direction, a big risk for a manufacturer celebrated for big twins and frankly, gutsy in a period when sportsbikes are more of a hot luxury item than ever. It just shows that Ducati remain a performance brand at heart and the pursuit of high technology and to be top of the podium on track and street remains the priority.
With 214 ponies, over 90ft-lbs of torque and weighing in at 195kg the new Panigale certainly takes top spot in the category on the streets, out speccing the opposition. On track, well, we will not know until an R version under 1000cc is released for homologation, then the battle will begin and I see the Ducati up the pointy end for sure… In the meantime, this is one mean track day weapon!
Something interesting that I learned today was that Ducati, although confident the V4 would be accepted by Ducatisti, wanted the engine to have the character and feel of an L-twin, which is close to the end of its development limitations.
For this reason, the 90-degree angle was retained (plus for the compact nature and balance), the engine is the same bore but a longer stroke than the Desmosedicci RR engine. The crank is counter-rotating (more on that later), has 70º offset crank pins and the twin pulse firing order is 0º – 90º – 290º – 380º. It is like two V-twins and it sounds like that. There are also multiple Riding Modes and Rider Aids.
Anyway as mentioned a full review is on the way. I've got more road testing to do and will be spending a day on our proving ground as well, running through as many settings as the day permits. My first spin today was through the Sydney CBD then out of town via Sydney's North.
I had the bike in Street mode on the presets (it also has Sport and Race plus lots of manual adjustability). The suspension in this mode is plush and comfortable by sportsbike terms, the power nice and soft and predictable below 6000rpm, and generally well behaved.
In heavy traffic the thermo fan was working overtime and there is the expected heat on the legs but I was wearing jeans and it was far from unbearable so in leathers it would be no problem. The quickshifter is good at low speed, which is welcome as many are not, and the bike is comfortable.
The throttle is quite fluffy down low and the clutch heavy with take up in the last 15mm of travel so it is not as easy as some bikes to get off the line, however, there is an idle up assist that helps. I got used to getting off the line after half hour or so but anyone test riding one might not have that much time…

In general, the V4 is easier to ride in an urban environment than the 1299 but not as refined as an inline four or smaller twin like the 959. It's the price you pay for 214 horsepower and who cares – it is not a commuter bike! Open that throttle and all is forgiven!
Out of town I hit the Motorway and the Panigale V4 S motored along like a dream at 120km/h ticking over around 5200rpm. The bike felt comfy and still in Street mode there was heaps of mumbo on tap for overtaking. The mirrors, which were vibey at low speed, stayed vibey on the highway. I tried different gears/rpm range but they remained blurry. There are also low frequency vibrations in the handlebars and footpegs but I need to explore that more over a wider range of riding.
After the highway stint I hit my local twisties as well as headed inland to take the long way home. I switched to Sport mode, which is super easy to do thanks to the user-friendly switchgear (more on that later), then put my head down for some fanging. All legal of course…
With a bit of sportier rider input the bike came alive and I really gelled with the riding position, particularly the tank shape and seat shape, as well as the 'bar position which is a bit more old school than I expected, making me feel like I was sitting in rather than on the bike.
This gives a better feeling of control. The brakes are two-finger and extremely powerful, yet have intimate feel. Rear brake good. Most of the time I was braking on damp or dodgy surfaces as it has been raining a lot lately.
The footpeg – seat – 'bars triangle is natural feeling for me at 185cm and I felt familiar with the bike while cornering, so that Panigale DNA is strong…

In the higher RPM the throttle is smoother than in the start stop traffic, the engine feels alive and in its happy place. A few times I took it above 10,000rpm, mostly out of second gear turns, and the front wheel would go skyward before being gently brought back to earth. Nuts… I haven't gotten close to 14,500rpm yet!
I'm not used to the dash so really only noticed speed and tacho, both are clear. So far the Panigale V4 S has impressed me, particularly the power, but the surprise has been how easy handling it is and also how comfortable it is. I didn't expect it to be anything but extreme so I am pleasantly surprised… Stay tuned for more later in the week… Jeff.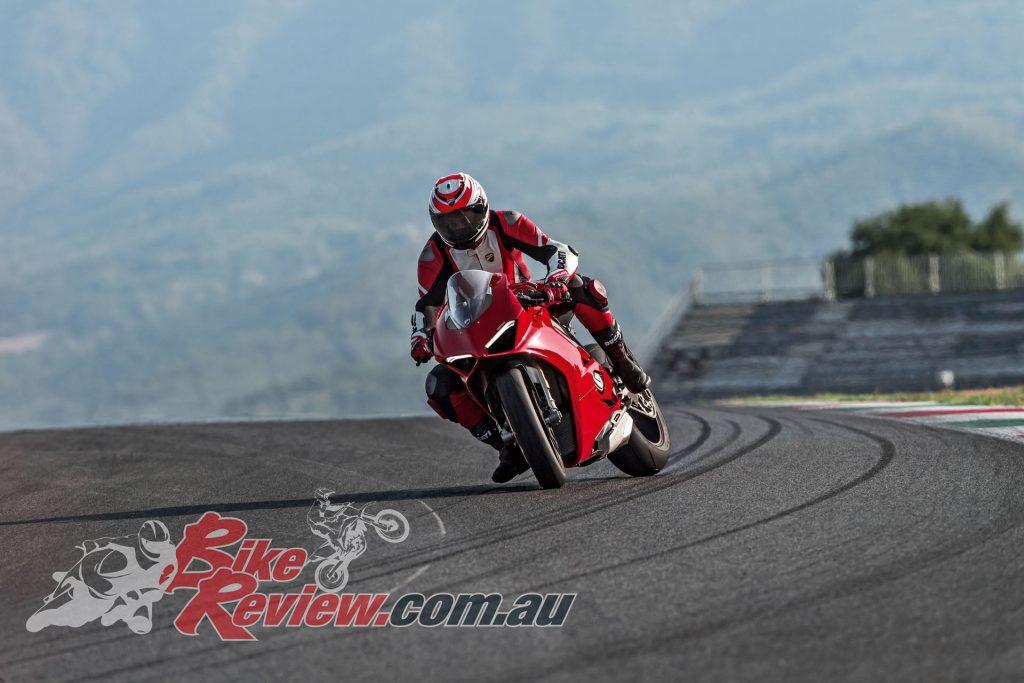 2018 Ducati Panigale V4 S Specifications
Price: $37,490 + ORC (standard model $28,900 + ORC).
Warranty: Two years/unlimited kilometre
Colours: Red
Claimed power: 157.3kW [211hp]@13,000rpm
Claimed torque: 124Nm[91.5ft-lbs]@10,000rpm
Wet weight: 195kg
Fuel capacity: 16 litres
Engine: Liquid-cooled 1103cc 16-valve DOHC Desmo V4
Gearbox: Six speed, quickshifter
Clutch: Wet multi-plate slipper
Final ratio: N/A
Final drive: Chain
Chassis: Aluminium steering head, engine stressed member, aluminium swingarm
Wheelbase: 1469mm
Rake: 24.5 degrees
Trail: 100mm
Suspension: 43mm Ohlins NIX30 forks, 120mm travel, Smart EC Semi-active adjustment. Rear: Ohlins Monoshock, 130mm travel, Smart EC semi-active adjustment.
Brakes: 330mm Brembo rotors, Brembo four-piston monobloc Stylema calipers, ABS, 245mm rear rotor, twin-piston caliper.
Wheels & Tyres: Forged alloy Marchesini wheels, 120/70-17, 200/60-17 Pirelli SC.
Instruments: TFT Display unit.

2018 Ducati Panigale V4 S Gallery