Roland Brown tests out the new Suzuki Katana for us over in the UK as a taster ahead of our ride on Aussie roads coming up in a few months. Here's his full review. Test: Roland Brown, Images: Jason Critchell
I'd been expecting the new-generation Katana to bring back a few memories, but not quite like this. Back in 1981, I was aboard the original GSX1100S Katana for one of the wettest and most uncomfortable rides of my life, perched on the rock-hard pillion seat of a mate's brand new Suzuki on a torrential trip through France to the Bol d'Or.
Several decades later aboard a very different but similar looking Suzuki, I'm glad to be holding the handlebars this time, but less pleased that the rain is again pouring down, slowing my progress and making the road seriously slippery. The good news is that not only is the new Katana much more powerful than its famous forebear, it also has ABS brakes and much better tyres. A repeat of our slow-speed crash in '81, the result of too much front brake on a streaming-wet Paris Périférique, is unlikely.
Given the recent proliferation of retro models including Kawasaki's Z900RS, Yamaha's XSR900 and even Honda's CB1000R, it's a surprise that Suzuki have taken so long to create a homage to one of the firm's most distinctive models. Especially as the original Katana, memorably named after a Japanese ceremonial sword, was essentially a styling job largely done by an external designer (Hans Muth of German firm Target Design), so required relatively little work in Hamamatsu.

There's also plenty of external influence this time round, because the new Katana is based on the concept bike displayed at Milan's EICMA show in 2017 by Italian freelance designer Rodolfo Frascoli. The former Marabese Design director's prototype went down well with Suzuki, who put some of their own engineers to work with Frascoli on a production version that is now reaching showrooms less than 18 months later.
Back in the 1980s, Suzuki based the original Katana on their flagship superbike, the GSX1100E, which had a stonking four-cylinder engine, excellent steel-framed chassis and styling that was endured rather than adored by even its most enthusiastic owners (of which I was one).
Similarly the new Kat shares its engine and frame with the GSX-S1000, the four-year-old naked streetbike whose 999cc, liquid-cooled engine [based on the legendary 14-year-old GSX-R1000K5 unit] and aluminium-framed chassis are well-regarded but whose styling splits opinion.
This new Katana could never match the original's visual impact. Its sharp nose, rectangular headlight (with LEDs and additional positioning lights) and tinted flyscreen echo the original, especially with the red tank lettering on traditional silver paint rather than the black alternative. The two-tone seat also has some '80s inspiration.
In place of the old warrior's twin-shock rear end is a modern blend of monoshock suspension and a number-plate holder mounted on the swingarm. Rear sub-frame apart, the Kat's chassis is very much based on the GSX-S, complete with unchanged twin-spar aluminium frame and swingarm. It also retains the suspension, which is from KYB and comprises multi-adjustable 43mm forks and a shock that is adjustable for preload and rebound damping.
There's also no change to the GSX-S's engine. Softer cams and reduced compression ratio helped detune the GSX-R1000K5 engine and add even more midrange, resulting in strong power throughout the range to a maximum of 148bhp at 10,000rpm.

That very respectable output puts the Katana ahead of the CB1000R, Z900RS and XSR900, but some of Suzuki's statistics have changed in the wrong direction. The Katana's kerb weight of 215kg means it's 6kg heavier then the GSX-S, its seat is 15mm higher at 825mm, and that shapely new fuel tank cover has resulted in capacity shrinking from 17 to just 12 litres!
For once the bike's height and width figures are also relevant, because one key area in which this Katana differs from the original is in its riding position. The '80s bike was essentially a café-racer version of the GSX, its clip-on bars giving an aggressive riding position that made the bike a pain in traffic.
Suzuki have taken a more relaxed approach with the new Kat, concluding that potential customers who are old enough to recall the original model will be unlikely to want sports bike ergonomics. Instead of clip-ons it has a one-piece bar that is slightly higher and wider than the GSX-S's, giving a fairly upright riding position with plenty of legroom.
There's a deliberate hint of old Katana in the newcomer's black-finished instrument panel, with its spiral tacho bar; it's attractive but too dark and cluttered to be easily read. At least the engine fires up with an appealing burbling sound from the black-finished silencer, part of a four-into-one exhaust that looks good provided you don't notice the collector box under the engine.

Predictably the Katana's performance is very much like the GSX-S. Which basically means that it combines strong mid-range punch with serious top-end power and very respectable chassis performance, without quite having the sophistication of either throttle response or suspension control that would make it a star. The engine definitely has the raw potential: that old Gixer K5 is a legend for a good reason, and its storming acceleration at almost any revs is one big reason for that.
During my blast through the English Midlands, the 16-valve unit delivered sufficient grunt even at 3000rpm to send the Katana surging forward strongly, before it kicked harder at around 7000rpm, by now accelerating arm-yankingly hard and howling though that four-into-one. When I had a brief chance to keep it pinned, hold on tight and flick though the light-action gearbox – which disappointingly has no quickshifter – I was soon hitting neck-straining speeds, still some way short of the 240km/h-plus maximum.
This Katana combines its more upright riding position with less wind protection than the original Katana's taller screen provided. At least there's the option of a similar accessory screen that would ease the pressure and enhance the period look. At slower speeds the new bike's only real drawback was a slightly snatchy throttle that it inherits from the GSX-S. These days a modified twist-grip improves the action, and I didn't find it too irritating even when the road was damp.
Although a low-gear tweak of throttle effortlessly lifts the front wheel, wheelies require disabling of the traction control, which is three-way adjustable via a button on the left bar. Suzuki's system seemed sophisticated on the GSX-S launch four years ago, but these days even some middleweights have more refined, IMU-activated traction control, so an update along GSX-R1000 lines would be helpful.

The lack of an IMU also means that the Katana's brake system doesn't feature cornering ABS. But the Brembo radial four-pot front calipers gave plenty of stopping power, in conjunction with OEM tyres that coped well with the often slippery conditions. The chassis' GSX-S heritage means there's ample ground clearance, too.
Handling was well up to the job, the Katana's wide 'bars and geometry inherited from the GSX-S allowing easy direction changes along with stability even in fairly bumpy turns. The front forks worked well on standard settings; the shock was on the firm side and occasionally rather harsh, unsurprisingly because the same is true of the GSX-S. But it kept good control and gave a tolerably comfortable ride.
This Katana wasn't created primarily for practicality, any more than its famous forebear was, but by nakedbike standards it's fairly rider-friendly. Its mirrors are slightly narrow but sufficiently clear to be useful; switchgear lacks self-cancelling indicators but is otherwise efficient. The small fuel capacity will sometimes be annoying, especially when throttle abuse sends consumption above 7l/100km, but normal riding will give 6l/100km or better and a realistic range of just 160km or more.
There are undoubtedly a few compromises involved with the Katana. Dynamically it doesn't really improve on the GSX-S1000, and its reduced fuel capacity and taller seat mean it's arguably less practical than the bike on which it's based, despite being roughly ten per cent more expensive.
Then again, much the same thing could be said of the original Katana, and that didn't prevent Suzuki's sharply-styled silver blade from becoming one of the firm's most iconic models. This new Katana won't reach those heights, but it's a fast, fine-handling and fun-to-ride naked sportsbike that captures some of the original's spirit as well as its look.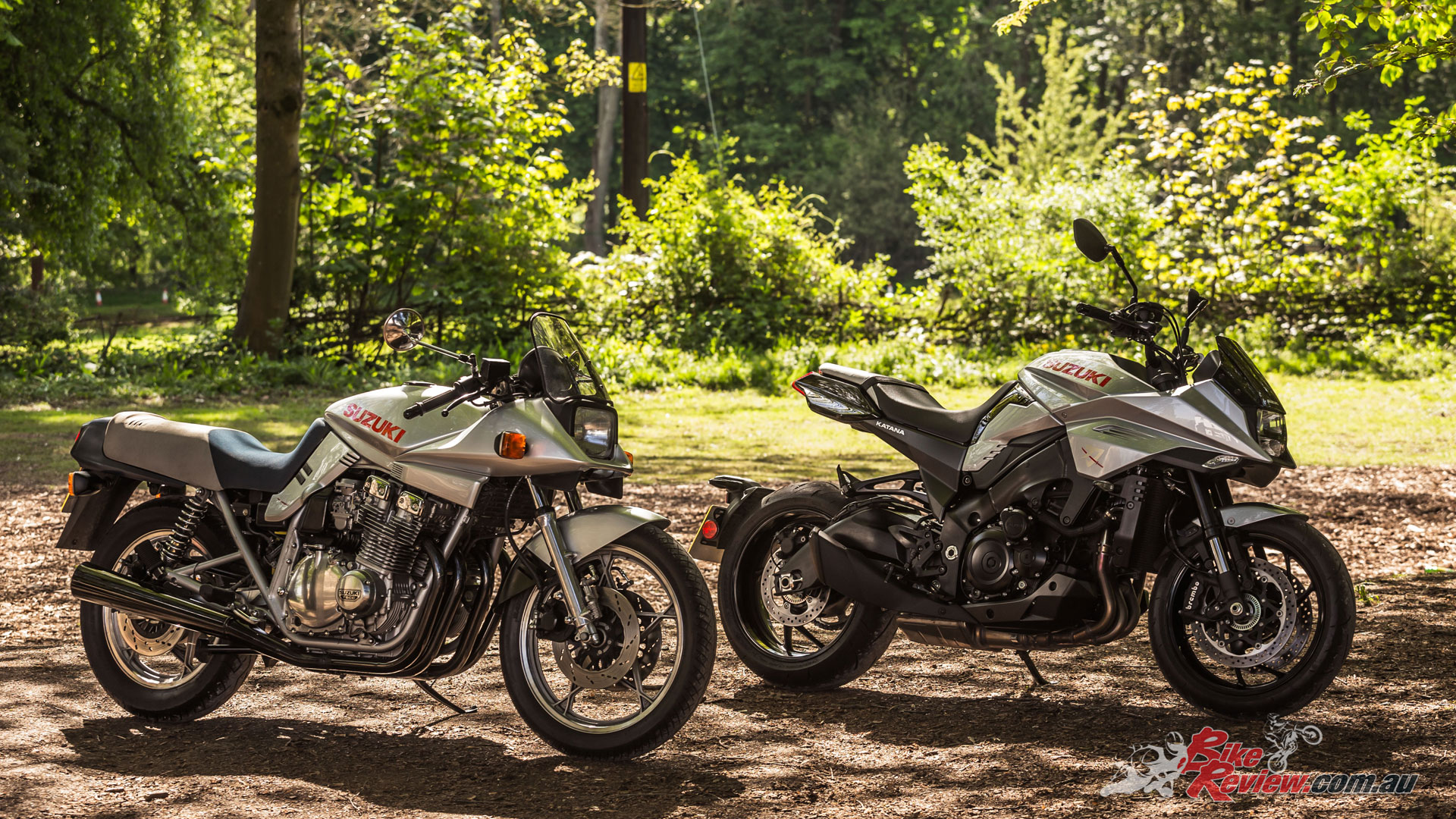 The Original Katana – The GSX11000
When launched in 1981 the original Katana was stunning – a raw, aggressively styled sportster the like of which had never been seen before from Japan. Almost four decades later it's still visually striking, and regarded as a classic example of two-wheeled design.

The GSX1100S Katana was based on Suzuki's excellent GSX1100, which had updated the faithful GS1000 four with a 16-valve cylinder-head a year earlier. "Katana", the Japanese word for a Samurai warrior's ceremonial sword, suited Suzuki's sharp silver blade perfectly. Its bold styling involved an integrated package of nose fairing, clocks, humped tank and combined seat and sidepanel assembly.
Tuning the GSX1100's air-cooled, 1075cc engine (by derestricting the airbox, modifying carburettors and valve timing, and lightening the alternator) increased output to 111bhp. The steel frame was basically unchanged, but new yokes gave a little extra rake for increased stability. Forks were fitted with hydraulic anti-dive, Suzuki's latest Grand-Prix developed extra; the twin shocks received stiffer springs.
Straight-line performance was similar to the GSX's, with a top speed of over 220km/h and strong, smooth mid-range acceleration. At high speed the clip-ons and rearset footpegs combined with the flyscreen to improve aerodynamics and wind protection. The frame and firm suspension encouraged hard cornering, and the triple disc brakes were powerful although like the hard tyres they didn't work well in the wet.
Inevitably there were compromises. The Katana's racy riding position was impractical in town, and the narrow clip-ons and conservative geometry made for heavy steering. Its seat was uncomfortable, especially for a pillion, and with a kerb weight of almost 250kg the big four was no lightweight.

But the Katana's looks and speed combined with a reasonable price to ensure it was a big success. It bridged the gap between harsh Italian sportsters and bland Oriental fours, proving that the Japanese too could provide performance with originality and style.
2020 Suzuki Katana GSX-S1000S Specifications
https://store.suzukimotorcycles.com.au/katana/
PRICING: From $18,990 RRP Ride Away
CLAIMED POWER: 110kW@10,000rpm
CLAIMED TORQUE: 108Nm@9500rpm
CLAIMED WET WEIGHT: 215kg
FUEL CAPACITY: 12L
ENGINE: Liquid-cooled, four-stroke, forward-inclined parallel four-cylinder, four-valve per cylinder, DOHC, 73.4 x 59mm bore x stroke, 999cc, 12.1:1 compression, 44mm throttle-bodies, Suzuki Exhaust Tuning (SET), 4-2-1 exhaust system
GEARBOX: Constant mesh, six-speed
CLUTCH: Back-torque limiter wet multi-plate
CHASSIS: FEM designed alloy frame, alloy braced swingarm
Rake: 25 degrees, Trail: 100mm
SUSPENSION: 43mm KYB fully adjustable telescopic forks, 120mm travel, KYB rear shock, link type single shock, rebound and preload adjustment
BRAKES: Bosch ABS system, Brembo radial-mount four-piston calipers, 310mm rotors, 220mm rear rotor with Nissin caliper, Nissin conventional master-cylinder
WHEELS & TYRES: Cast alloy six-spoke 17in, Dunlop Sportmax Roadsport 2 120/70-17in (f), 190/50-17(r)
DIMENSIONS:
Seat height: 825mm
Overall height: 1110mm
Overall length: 2125mm
Wheelbase: 1460mm
INSTRUMENTS: Multi-function LCD display
2020 Suzuki Katana Gallery
The Verdict | Review: 2019 Suzuki GSX-S1000 Katana
It's arguable whether this new Katana will reach the heights of the original, but it's a fast, fine-handling and fun-to-ride naked sportsbike that captures some of the original's spirit, as well as its look.