With the world excited about the release of the Royal Enfield Meteor 350, we spent some time testing one to see what the fuss was about... Review: Jeff Ware
Since the release of the successful 650 Twins a few years ago, Royal Enfield have been kicking goal after goal. Their latest shot is the much anticipated small capacity urban cruiser, the Meteor 350, a single-cylinder back to basics bike. We put it to the test on Aussie roads.
The Meteor 350 got its name from an older iconic Royal Enfield model from the 1950s. Launched at the end of 1952, the original Meteor was a touring motorcycle with a reputation that has stood the test of time. The new Meteor 350 has been dubbed an 'easy-cruiser' by Royal Enfield.
It is a low power, simple bike, designed for low speed cruising and relaxed riding. With a top speed only just making our national limit and a modest going power-to-weight ratio, we headed into the test skeptical about whether the 350 can handle Australian conditions and live up the the tag of a cruiser. However, the little single impressed us in the end… It is a fun and capable little machine.
---
---
I rode the 350 around for about three weeks and it really grew on me. Initially, there were a few problems with the bike. It was super, super slow and I spoke to Royal Enfield and some other journalists about this and soon realised there was an issue with our particular press bike. A fresh tank of fuel solved the problem, so I am assuming it was either water or bad juice.
---
---
Looking over the bike, I can't say I find it particularly easy on the eye, especially compared to the 650 Twins and this colour doesn't do a lot for me, however, looks are an individual thing and some of you may love the look and the colour. Wandering around and checking out the spec of the Meteor, the front wheel is a 19in cast alloy item, nice and big for that cruiser style, with the rear a 17in, and the tyres are budget Ceat items, which aren't much good in the wet and lack feedback in the dry.
The front brakes are by ByBre (By Brembo) and featuure a sliding two-piston caliper, conventional master-cylinder and 300mm rotor. They work reasonably well, with enough power to pull the bike up, but do not have a lot of feel. The levers are very thick and chunky, Harley style, and there is excessive travel at the front lever before the brakes activate. There is no span adjustment and the shape of the levers contributes to the lack of feel…
---
---
The Meteor is equipped with Dual Channel ABS. Up the back, a big 270mm rotor and large single-piston sliding caliper do a very good job, in fact, the rear brakes are as good at pulling up as the front and when used as a combo the Meteor stops well. The rear pedal has a rubber top and a foot guard to the left and is fantastic to use.
---
---
The handlebar bend is comfy, with thicker than usual handlebar grips adding extra comfort. There are virtually no vibes through the handlebars and the mirrors remain clear. The dash is easy to read, with the awesome Tripper navigation system a breeze and there is an easy to use menu button at the front of the left switchblock. There is only the most basic info, but it is enough and it looks stylish. The switches are circular and old school, adding to the classic feel of the Meteor, as does the chrome retro styled lockable fuel cap. The clutch lever has no span adjustment and is heavy, but the clutch action is smooth, while the heel and tow gearshift is brilliant, with gearbox action butter smooth in all gears.
The forks are great, on the firmer side to give a slightly sportier ride on the smoother surfaces, with good support on the brakes and during cornering, but high speed damping is harsh, so those sharper bumps translate to quite a big jolt through the handlebars. Overall, I was really impressed with the performance of the forks.
---
The shocks? Not so much… they lack travel and are under sprung and under damped, constantly bottoming out. I'd be upgrading them immediately, they are not up to the job I'm afraid… even on the most supportive preload setting. There is reasonable ground clearance for the rubber capped fold-back footpegs, which are in a comfy position but more of a mid mount than a feet forward cruiser layout.
---
---
I terms of ergonomics, at 187cm tall, I found the bike quite cramped. The rider seat is small, as is the pillion seat, and I found I had to sit slightly on the pillion seat. For two adults, it is a very tight space, particularly with the backrest fitted. The pillion footpegs are large and so are the grab rails but overall it is a very cramped space. There is a lot of knee flex for someone my height and the seat is too far forward. The cramped rider triangle surprised me, as I would have thought a more relaxed and open position would have been a priority to Royal Enfield if they are classing the Meteor as a cruiser.
The 350 single is a special engine. Long and lazy with a broad spread of torque, it is silky smooth and as long as you are patient and enjoy the ride, don't rush, you will appreciate this motor for what it is. Top speed is as tested at 120km/h. You would not ride it on the motorway for any length of time but short stints were no issue, so long as they were short bursts between exits etc. I regularly rode 12km each way of motorway at WOT doing 115-120km/h. Only the uphill section would really kill the speed.
---
---
Where the Meteor is happiest is between 80 and 100km/h, where that engine is lovely and just plods along and keeps the show on the road. Around town and in the outer suburbs as well the 350 is oh so easy and short-shifting along with the traffic flow is relaxing and enjoyable, although I really found myself going for a sixth gear often, and I think it would pull that gear no problems and perhaps solve the top speed shortfall. Also, the Meteor uses almost no fuel, it is incredibly economical.
---
---
Handling is sweet. It's not as engaging and fun as the 650 Twins are in the twisties but it has the same enjoyable and intuitive DNA built into the geometry. Steering is light, accurate and stable, while corner speed can be maintained as long as ground clearance is available. What really stands out though is the direct and responsive steering, it really is nice, and to top it off there is a brilliant turning circle for those tight feet-up U-turns in carparks or tight traffic.
The 350 is on the heavy side and feels top heavy off the stand and wheeling around the garage or carpark but once on the move, even at ultra low speeds, the weight is not noticeable. Speaking of stands, the centrestand is brilliant and it is easy to lift the bike onto it. The sidestand is small and sinks into all but completely solid ground and needs a larger footprint, you could weld a square onto it.
---
---
In conclusion, I feel that the Meteor 350 is a great bike for those looking for a retro themed daily ride or commuter, a Royal Enfield enthusiast after a mellow weekend thumper or for a learner not quite ready to take on a 650 Twin yet. Australia and our open roads and speeds are not going to suit this bike as well as Indian and SE Asian conditions, where it would be near perfect, but it will get you from A to B with a smile on your face, and there are loads of cool accessories available to help make your own Meteor something special and individual…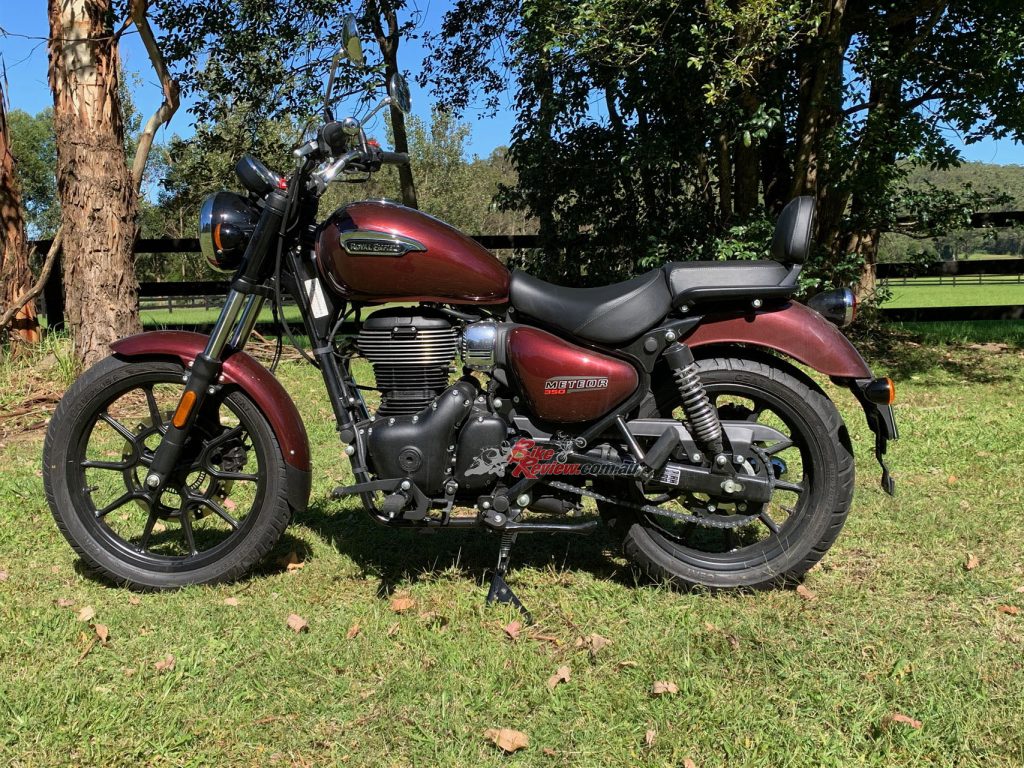 ---
TECH TALK, METEOR 350
With a 349cc air-oil cooled single-cylinder engine, the Meteor generates 20.2bhp and 27Nm of torque at 4000rpm. Designed with a balancer shaft, the new platform gives a smooth and well-mannered ride experience, while great care has been taken to retain that essential Royal Enfield 'thump'.
---
---
The throttle response of the electronic fuel injection has been optimised for dependable starting and effortless, linear acceleration. For versatility, the new engine has a five-speed gearbox, with fifth gear being an overdrive for stress-free and economical highway cruising (top speed is 115km/h), and a seven-plate clutch for easy gear changes in built-up traffic.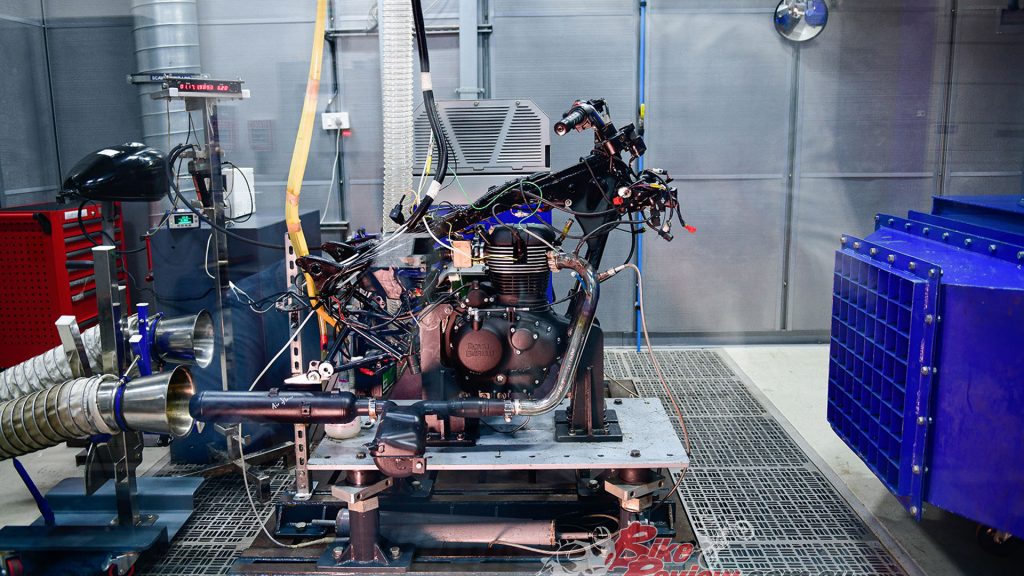 The Meteor 350's twin downtube spline frame has, state RE, been designed to inspire confidence in the twisties, be rock-solid on the highway and easily manoeuvrable on busy city streets. The low seat height and centre of gravity in combination with its inherent strength and rigidity results in the optimal motorcycle for the urban rider who seeks adventure on long getaways according to RE.Sure-footed handling and luxurious comfort are aided by 41mm forks with 130mm of travel and twin tube emulsion shock absorbers with six-step adjustable preload at the rear. For the bonafide cruiser experience, the footpegs are forward-mounted, with a heel and toe gearshift.
Making its debut on the Meteor 350 is the new TBT (Turn-By-Turn) navigation pod, known as the Royal Enfield Tripper, a highly focused navigation display device for real time directions, built with Google Maps Platform. The Tripper displays the best route to reach a destination using Google Maps' two-wheeler navigation, a first for any Indian made motorcycle. Paired via the Royal Enfield App to the rider's smartphone, the Tripper is simplicity itself, clearly and efficiently giving the required level of information whilst remaining  discreet and unintrusive.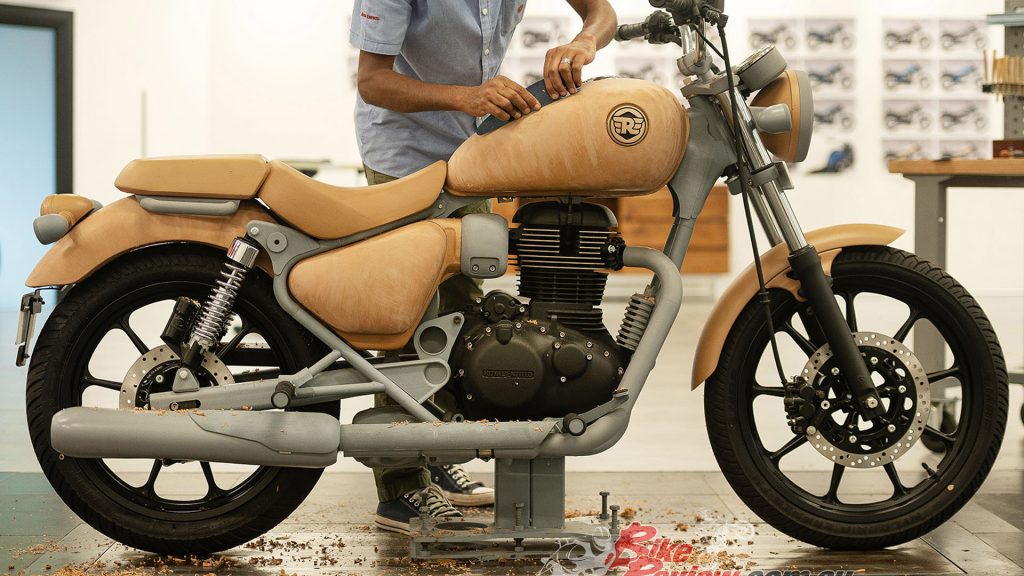 All editions are fitted with alloy wheels and tubeless tyres as standard, giving riders convenience and peace of mind, especially on long journeys. For added comfort and an authentic cruiser appearance, a 100/90 – 19in tyre is used on the front and a 140/70 – 17in at the rear. Braking is the most resolute on a Royal Enfield single to date, with 300mm front and 270mm rear discs and dual channel ABS.
---
---
All three Meteor variants come with a new instrument cluster, which combines the timeless elegance of a 'dancing needle' analogue speedometer with the functionality of an LCD display for essentials such as gear indicator, fuel gauge, clock and tripmeter. Last but not least, a USB port is discreetly mounted below the handlebars to enable charging on the go.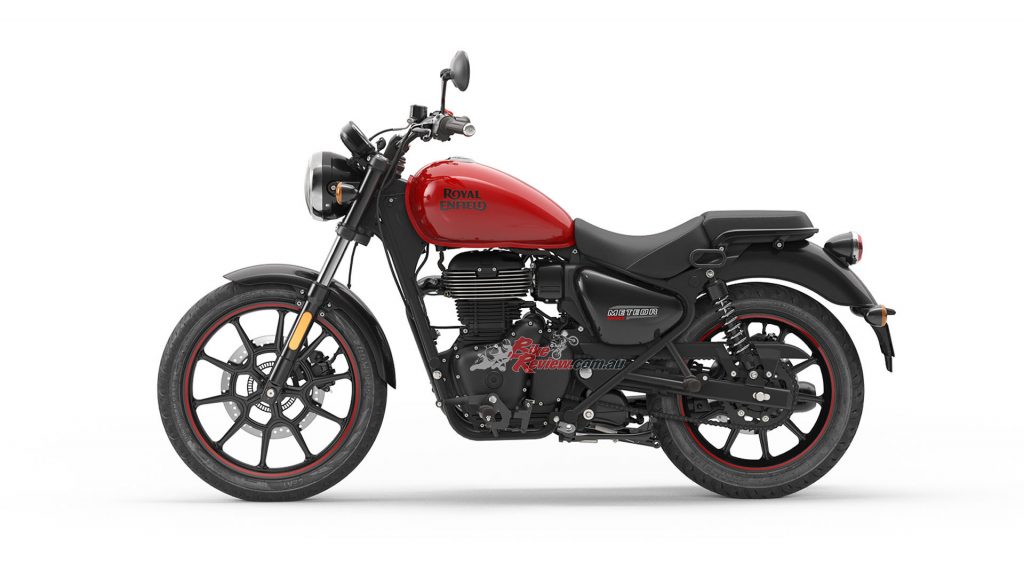 The Meteor 350 is supported by a suite of Genuine Motorcycle Accessories (GMA), designed and developed  for it, which can be added when ordering the motorcycle. The range includes functional accessories, such as the passenger backrest, touring screens, luggage options, robust engine and sump guards, as well as classic styling embellishments, including a variety of brushed stainless steel and black powder-coated slip-on silencer options and beautifully crafted touring seats, all of which come with a three-year warranty.
---
---
2021 Royal Enfield Meteor 350 Specifications
Price: From $7,690 R/A
Warranty: Three Years.
Colours: Fireball Yellow, Fireball Red, Stellar Black, Stellar Red, Stellar Blue, Supernova Brown, Supernova Blue.
Claimed Power: 20.2hp@6100rpm
Claimed Torque: 27Nm@4000rpm
---
ENGINE
Single-cylinder, four-stroke, Air-Oil cooled, 349cc, bore x stroke 72mm x 85.8mm, Compression Ratio 9.5:1, Electronic Fuel Injection(EFI), Wet, multi-plate clutch, five-speed constant mesh gearbox.
---
CHASSIS
Frame Type; Twin Downtube Spine Frame
Front suspension: Telescopic, 41mm forks, 130mm travel, Rear suspension: Twin tube Emulsion shock absorbers with six-step adjustable preload
Wheels & Tyres: Alloy Wheel – 100/90 – 19in – 57P (Tubeless Type), Alloy Wheel – 140/70 – 17in – 66P (Tubeless Type).
Brakes Front 300mm disc with twin piston ­floating caliper, rear 270mm disc, single piston ­floating caliper, ABS Dual Channel
---
DIMENSIONS
Wheelbase: 1400mm
Ground Clearance: 170mm
Overall Length: 2140mm
Width: 845mm (without mirrors)
Height: 1140mm (without mirrors)/1310mm (with windscreen)
Seat Height: 765mm
Kerb Weight: 191kg (with 90% fuel & oil)
Fuel Capacity: 15L
---
Dash: Analogue and LCD display with navigation and smart phone connectivity.
---
The Verdict | Review: 2021 Royal Enfield Meteor 350