The 2020 Honda CBR1000RR-R SP is the highest spec inline four Honda in history. The only model we get here, the SP will set you back $49,999 + ORC... Review: Roland Brown
A digit on the dashboard, glimpsed roughly a quarter of an hour into my ride, summed-up the extraordinary, arguably unprecedented focus of the CBR1000RR-R Fireblade SP. Is this the best Fireblade ever? It would want to be for 50k-plus. We road test it and find out…
I'd been enjoying a thrash on curving main roads with fairly light traffic, blasting past plenty of cars and not exactly hanging about… Then I slowed slightly, glanced down at the instrument panel, noticed the number 3 at centre-left – and realised that I hadn't yet got the 'Blade past third gear. Which might sound like feeble riding on my part, except that at the Honda's 14,600rpm redline in third it would be travelling at over 270km/h!
---
---
On most roads, in other words, half the gearbox is not really required. And what might seem surprising is that right now, having delivered the bike back to Honda after a memorable ride, I'm hardly regarding that as a negative. This latest Fireblade might be a track-focused missile with a seriously top-endy power delivery and a close-ratio gearbox to suit, but as a streetbike it's utterly exhilarating and, in many ways, superbly suited to the job.
That the CBR1000RR-R Fireblade is hardcore should be a surprise to nobody. There's a clue in the suffix, after all – three Rs might seem excessive but when the CBR has had two ever since the original CBR900RR FireBlade ripped up the super-sports script in 1992, that extra R-for-Racy digit confirms that 28 years later Honda has stepped up a level in its attempt to make the 'Blade competitive on track.
---
That the CBR1000RR-R Fireblade is hardcore should be a surprise to nobody
---
And about time, too, you might say. It's now 13 years since James Toseland scored the Fireblade's one and only World Superbike championship, in 2007. Subsequent years saw Honda's four fall increasingly far behind numerous rivals in performance, if not popularity. Even the significantly sportier model introduced for the 'Blade's 25th anniversary in 2017 (check out our review here) fell far short of replicating the original's dominance.
---
---
This latest model's designation hints that it's another properly new bike rather than merely an update. Its 999cc engine follows Honda's RC213V with more oversquare dimensions (81 x 48.5mm against 76 x 55.1mm) and many other changes; its 214bhp maximum output is a massive 25bhp higher, and produced 1500rpm later at 14,500rpm. A redesigned aluminium frame holds new suspension and brakes, controlled by a significantly updated electronic system.
Additional updates feature on the Fireblade SP test bike, which is fitted with the latest version of Öhlins' semi-active suspension (instead of the standard RR-R's Showa units front and rear), as well as Brembo's Stylema calipers (instead of Nissins) to bite the bigger, 330mm front discs that it shares with the standard model. The SP also comes with a lithium-ion battery and a gearbox quick-shifter to help justify a price that is roughly ten per cent higher.
---
---
Both RR-Rs come in either black or the test bike's red/white/blue and look similar to the outgoing models although styling is revised, not least with the fairing's new trio of aerodynamic wings on each side. These are subtly faired-in rather than jutting out ostentatiously as on some rivals, but Honda insists they provide as much downforce as those of the RC213V. Overall wind resistance is reduced, partly by a fuel tank that is a whopping 45mm lower so allows the rider to get better tucked in.
Another bodywork change is the direct ram-air feed from fairing tip to airbox, facilitated by the change to keyless ignition, operated by a button inside the left of the fairing. I enjoyed turning the ignition on or off that way with the key fob safely in my pocket, which of course also means the top yoke won't get scratched by other keys, but the system would be less convenient when wearing racing leathers.
---
---
That's one Fireblade feature benefiting road rather than track riders, then, but don't expect many of those. The bike's racy intent is clear when you throw a leg over the seat, which is thinly padded and averagely high at 830mm. The clip-on bars are slightly lower than the old model's; the footrests higher and more rearset. Behind the fork-tops' protruding wires is the instrument panel, a colourful 5in TFT screen neatly laid out with info including the choice of riding modes, selectable via a dedicated button on the left bar.
---
---
Some previous Honda electronic systems have been brain-frazzlingly complex but I found the Fireblade's refreshingly simple. That button toggles between the three main riding modes, each of which has a default setting for power delivery, traction control, anti-wheelie (now separate from the tc), engine braking and suspension.
These settings – labelled one to three and equivalent to Track, Road and Rain – can be fine-tuned by delving into the menus. As with Öhlins' Smart EC suspension on Ducatis and Yamahas, you can also opt for either semi-active damping or conventional damping with electronic adjustment, with huge tuning potential in each case.
You could spend half a morning fiddling with the settings, but the good news was that simply selecting the No.2 riding mode gave a blend of full engine power, unobtrusive electronics and firm yet supple suspension that was ideal for a blast on dry roads. Given the Fireblade's top-end heavy power output and the reports that on track it needed revving above 11,000rpm for best progress, I'd half expected a peaky handful that would be a pain at most road speeds.
---
---
Thankfully, the reality was very different. Sure, the delivery at low revs was unspectacular by big-bike standards, but throttle response was instant and the Honda accelerated sharply despite its ultra-tall first gear, which is good for about 185km/h. By the time it had hit 80km/h it was revving at just over 6000rpm, the titanium Akrapovic silencer's sound had hardened to a tuneful howl, and the 'Blade was delivering more than enough torque to rip forward at a mind-altering rate.
---
Honda accelerated sharply despite its ultra-tall first gear, which is good for about 185km/h
---
Low-rev performance that might have seemed underwhelming at Losail or Silverstone was more than adequate on a curving main road and flicking up to second and occasionally third with the delightfully slick two-way shifter kept the world spinning back towards me at a seriously eye-opening rate. As with any 200bhp-plus bike, acceleration at higher revs was so vicious that it was all I could do to hold on tight, tuck in for a few seconds and then normally back off guiltily with heart pumping harder.
The 'Blade is totally excessive for road use, of course, but despite that power delivery it was very easy to ride, the minimal gearchanging making it feel almost like an ultra-responsive automatic. An outstandingly light and agile one, too, because despite being 6kg heavier than its predecessor, at 201kg wet, the SP handled superbly while delivering a blend of suspension control and ride quality that I've only experienced from other bikes with similar semi-active set-ups.
---
---
Honda's main chassis changes are intended to add stability, steering accuracy and feedback at racetrack speeds. The wheelbase is 50mm longer at 1455mm, due to more relaxed steering geometry (rake and trail now 24 degrees and 102mm, from 23 degrees and 96mm) and a 30.5mm longer swing-arm. The new frame gives increased vertical and lateral rigidity but reduced horizontal rigidity, for improved feel; the engine is held slightly higher and further back, for increased agility and more even weight distribution.
I can't claim to have felt the benefit of any of those things on a road ride, despite putting in numerous knee-down laps of one big roundabout, where the Fireblade proved wonderfully adept at changing its line to avoid the Tarmac ripples, or slowing suddenly and controllably when a big truck loomed from an approach road. What I can say is that it steered beautifully and remained utterly composed under both hard acceleration and braking, imparting a glorious feeling of control through those low-set clip-ons.
---
---
The suspension was a key part of that, of course, and once again I was blown away by the semi-active Öhlins units' ability to maintain the bike's attitude and control while soaking up road bumps to provide an improbably supple ride. That riding position is properly racy, giving the Honda some of the feel of Aprilia's similarly compact RSV4, and I'm sure the suspension's compliance was a big part of the reason that I ended the ride without complaint from my wrists or rear end.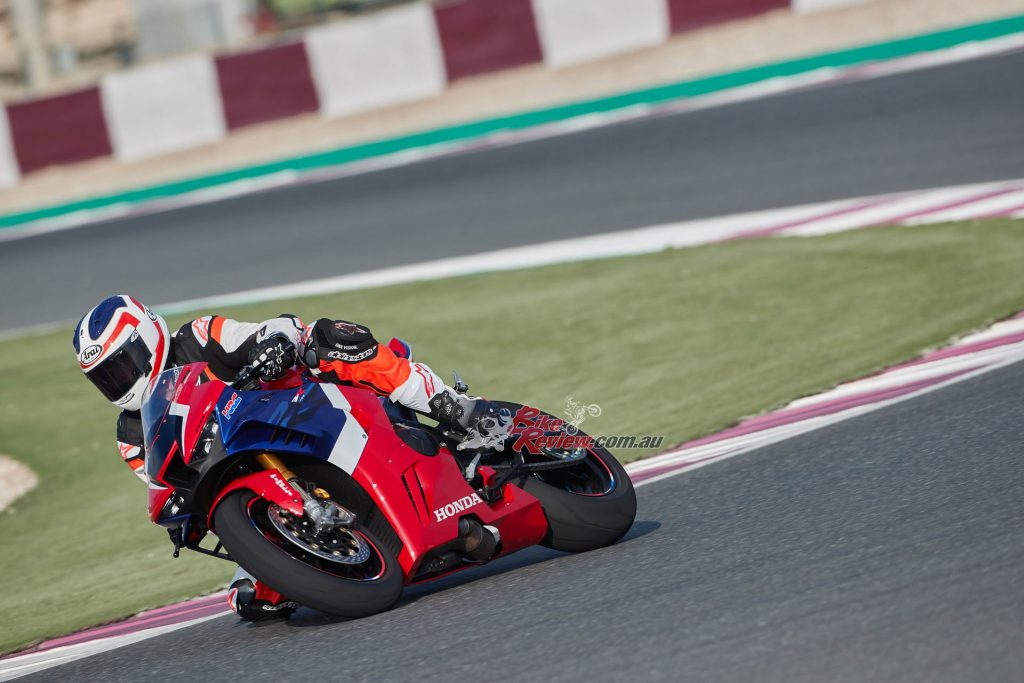 The Fireblade's other cycle parts also impressed. The previous model's brakes and ABS were a weakness on track, and the RR-R SP's blend of Brembo Stylemas and updated anti-lock system, working in conjunction with an uprated, six-axis Bosch IMU, had earned much praise on the track launch so I was unsurprised to find the system feeling flawless however hard I tried to bury the front Pirelli Diablo Supercorsa SP into the road.
There's now a separate track ABS setting. Grip from the fat, 200-section rear was predictably strong even when I was doing my best to exploit the abundant ground clearance, if not the uprated traction control system.
All that was just as you'd expect from a track-biased weapon, but what came as a pleasant surprise was the Honda's respectable rider-friendliness. Although it's undoubtedly compact and uncompromisingly racy, having some of the feel of Aprilia's RSV4, I found the low screen diverting a useful amount of wind with minimal turbulence. The roomy seat allowed me to shift backwards to help, and the fairing provided hand protection that was welcome on a blustery day.
---
---
The simplicity of the electronics was useful too, notably when a rain shower soaked the road. Toggling the ride mode button to No.3 cut the power delivery, upped the traction control, maximised engine braking and softened the suspension, turning the CBR1000RR-R SP Fireblade into a relatively docile machine – yet still one that howled through the rain at an exhilarating pace when I saw a short stretch of clear road ahead.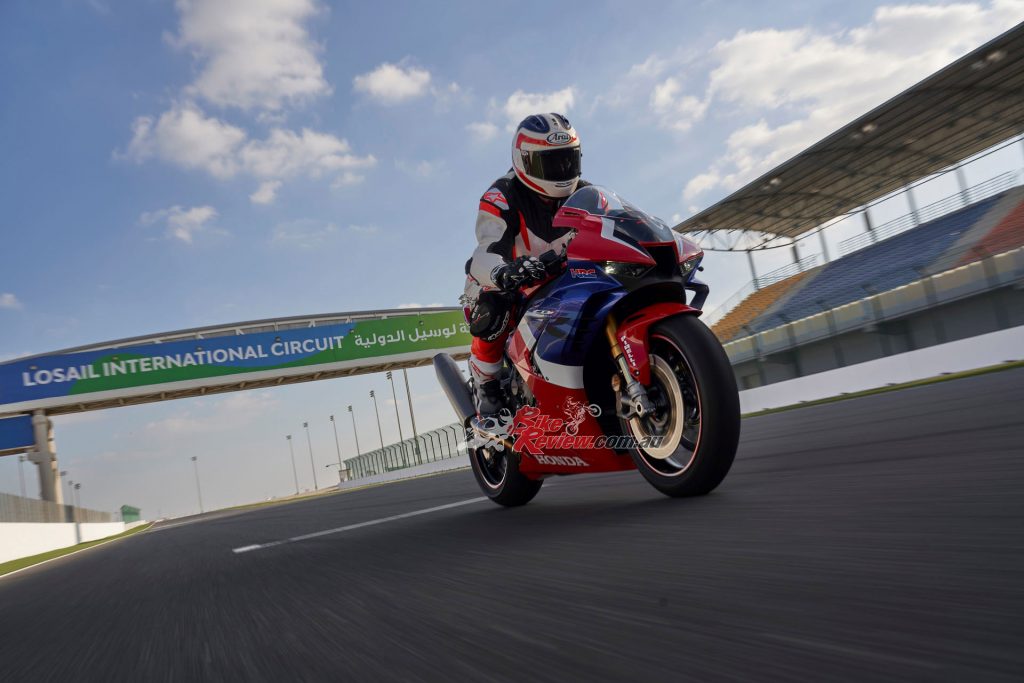 Despite the mixed weather I arrived back at Honda's base buzzing from the ride, and with an unexpected respect for the SP's ability to combine its laser-like focus with a wider appeal. There's no doubt that it's better suited to track days than motorways (despite the purpose-designed tank and seat bag in the accessory catalogue alongside numerous carbon-fibre parts). Even Honda's PR blurb admits that this "ultimate statement of pure super-sports aggression is not built with a road-rider's needs in mind; the racetrack is where it belongs."
But that's true of any open-class sports bike, and the CBR1000RR-R Fireblade SP manages to combine its uncompromising character with controllability and ease of use. Sure, it's expensive, and requires a closed circuit to use its new-found pace and poise to the full. But if you're looking for a pin-sharp device to deliver adrenaline on either road or track, this Honda is hard to beat. As well as being the sharpest, most frantic Fireblade yet, it's also perhaps the most rewarding…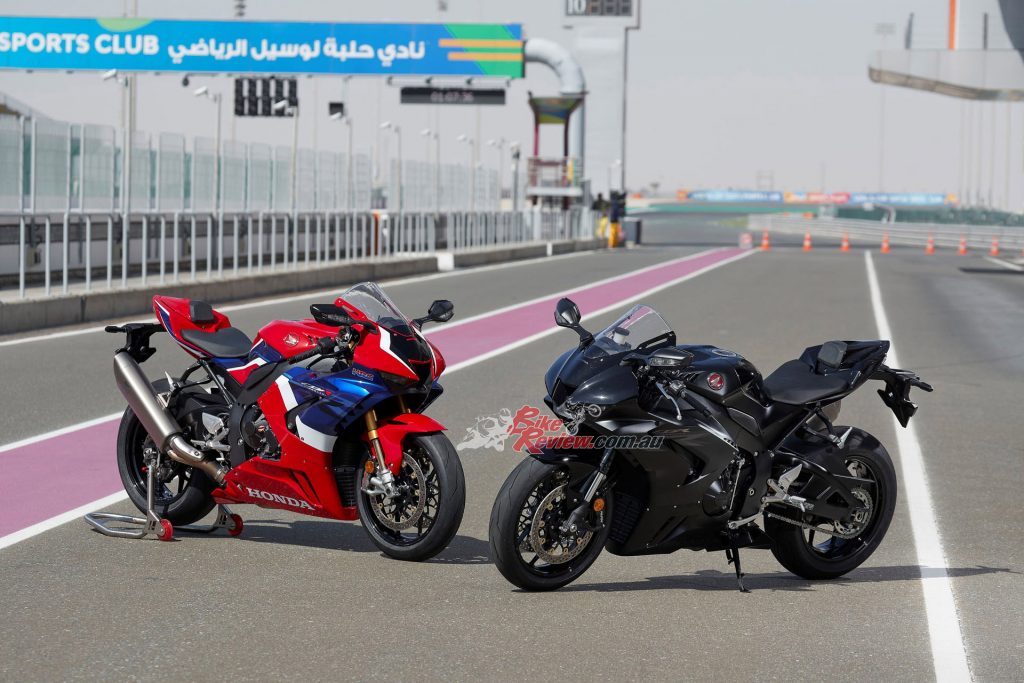 Earning the Extra R – Honda's Hottest Straight Four
The Fireblade development team left no stone unturned in designing the CBR1000RR-R's DOHC 16-valve engine, using input from HRC's MotoGP team and adopting the RC213V's ultra-short-stroke cylinder dimensions to create a high-revving and uniquely powerful production straight four. The many changes from the RR unit are mostly aimed at reducing weight and friction, allowing the 214bhp power output to be delivered at 14,500rpm, with the 113Nm torque peak at 12,500rpm.
Key differences include the use of finger-follower rocker arms instead of buckets-and-shims, which Honda says reduces weight by 75 per cent. A new camshaft drive system employs both gears and a shorter chain to allow the ultra-high revs. Diamond Like Carbon (DLC) is used on the cam lobes, as with the RC213V-S, reducing friction by a claimed 35 per cent. New titanium conrods and forged aluminium pistons also save weight; the pistons are cooled by a sophisticated new oil jet system.
The engine's breathing is enhanced by its new intake system's direct path from fairing nose to airbox (allowed by the ignition barrel being moved to one side), plus a larger airfilter, bigger throttle-bodies (52mm diameter from 48mm) and reduced, 9º (from 11º) intake valve angle. On the exhaust side, the downpipes are redesigned and oval-section to improve flow and the Akrapovic titanium silencer has 38 per cent less internal volume than the old model's. It also sounds great, although some track day noise meter operators might disagree.
Respectable Race Results – the RR-R's 2020 Season
Honda didn't achieve its target of World Superbike race wins in 2020, but can be reasonably content with the new Fireblade's debut season. Factory riders Leon Haslam and Alvaro Bautista showed the bike's promise with fifth and sixth places in the opening race at Phillip Island, and the Spaniard scrapped for the lead in round four at Aragon before finishing third.
Disappointingly for Honda that was the team's only podium place of the Covid-shortened campaign. But consistency earned Bautista and Haslam respectable ninth and tenth places in the championship. Both riders are staying with the team for next season and will be confident that increased development will see the Fireblade winning races.
The RR-R was competitive elsewhere, notably in the British Superbike championship where brothers Andrew and Glenn Irwin scored two wins and three seconds in the first three races, ending the season sixth and fourth respectively. The Fireblade's debut in World Endurance was even more successful, as the TSR Honda France team won the Le Mans 24 Hours before finishing third in the championship.
---
---
2020 Honda CBR1000RR-R SP Fireblade Specifications
Price: $49,999 + ORC (click here and enter postcode for R/A pricing)
Warranty: Two Year Honda Warranty
Colours: Grand Prix Red or Matte Pearl Black
Kerb weight: 201kg
Fuel capacity: 16L
Power: 214bhp@14,500rpm
Torque: 113Nm@12,500rpm
---
Engine: 999cc liquid-cooled four-stroke, 16-valve DOHC inline four-cylinder four-stroke, 76 x 55mm bore x stroke, 13:01 compression, PGM-DSFI fuelling.
Gearbox: Six-speed, no quickshifter
Clutch: Wet multi-plate slipper, cable actuation
---
Frame: Diamond – aluminium twin-spar.
Rake: 24°
Trail: 102mm
Suspension: 43mm Öhlins NXP usd telescopic, 125mm travel, Smart-EC semi-active, Showa Öhlins TTX36 shock, 143mm travel, Smart-EC semi-active
Brakes: Dual four-piston Brembo Stylema radial calipers, 330mm rotors with cornering ABS, twin-piston Brembo caliper, 220mm rotor with cornering ABS
Wheels & Tyres: 3.50 and 6.00 x 17in; cast aluminium, 120/70 x 17in Pirelli Diablo Supercorsa SP, 200/55 x 17in Pirelli Diablo Supercorsa SP.
---
Dimensions:
Wheelbase: 1455mm
Seat height: 834mm
Ground clearance: 130mm
---
Electronics: Electronic steering damper, throttle by wire, IMU, cornering ABS, rear wheel lift control, wheelie control, 5-level power selector, 9-level torque control (TC), 3-level engine brake control, pre-set riding modes (3). Instruments: Multi function TFT-LCS
---
---
2020 Honda CBR1000RR-R SP Gallery
---
---
The Verdict | Review: Road Test, Honda CBR1000RR-R Fireblade SP