Graeme Warring & Declan Murphy tour the rugged American desert onboard a pair of decked out Royal Enfield Himalayans for the ultimate COVID-19 iso. Does the low cost Enfield cope with the 4000km task? Words & Pics: Graeme Warring
The red dust of the Utah Canyonlands blanketed our bikes, contrasting with the matte black paint, giving them a patina only an adventure can. I parked up my Himalayan in the center of the alpine village of Vail, Colorado, kids on bicycles quickly swarmed around us…
"I love your motorbike," yelled one kid, ignoring the Ferraris and Bentleys parked nearby, "It looks old fashioned". It was then it struck me, Royal Enfield has managed to design and build a motorcycle that is the equivalent of a cute dog, in an even cuter sweater, being led by an even cuter owner!
Everywhere we went on our 2500 + mile (4000km) test ride, the bikes invoked attention from kids, adults and random passersby, sparking conversations that led us to recount the origins of the brand and the dual-purpose nature of the motorcycles we were riding.
Of course, our accents, an Australian (me) and an Irishman (Declan), added additional intrigue and prompted questions about our trip, what we thought of America, of politics and pandemics. We met some lovely people, who shared with us their local knowledge on everything from roads to restaurants and who, but for these two wheeled icebreakers, would have gone about their business and we would be lesser for the interactions.
To say the designers of the Himalayan got the fundamental aesthetics right is an understatement. They absolutely crushed it. The visual package is of a full-size adventure-oriented bike, part scrambler with long travel suspension, and part tourer with a clearly upright riding position and the fantastic OEM panniers that were invaluable on our trip.
Unlike the alternatives in its class, the Himalayan is bereft of plastics, and glossy cowls. It boasts protective steel frames around the tank, adorned with the classic Royal Enfield logo which adds to the retro appeal. The only visible plastic is the small infill side panels and front indicator mounts. The bike stands tall and purposeful. It is clear what it is, and importantly, what it is not.
Declan, a lifetime rider and sportsbike aficionado, and I, had first planned this test while we debated the virtues of various adventure bikes, using our COVID-19 lockdown time to plan a trip which would give us the opportunity to be socially distanced from the world around us, which was getting crazier by the day. The process of arriving at the Himalayan was an interesting one with budget, usability both on and off-road and lifetime cost of ownership, guiding the decision making.
Our job, over a couple of months of testing, was to run the Himalayans in every environment we could find, putting them to the test to discover what they are good at, to expose their weak points and to be able to communicate to you, the BikeReview.com.au reader, how a Himalayan may fit into your riding life, if indeed we felt it was worthy of space in your garage.
To do this we spent a few weeks living with them in the city of Phoenix, Arizona. Riding them to work, to the store, the local cafe and on a couple of extended day rides to some of the many lakes around the city. We took the opportunity to modify them as we sought fit. Adding crash bars, panniers, additional lighting, mounts for phones and GPS and generally preparing them for our longer 2500+ mile (4000km) run to the Canyonlands of Utah and cooler climates of Colorado.
---
---
This proved to be an invaluable exercise. The Himalayan already clocks in as one of the best value bikes on the market with a sticker price of $7,490 R/A AUD ($4500 USD). As any of you who have tricked out a bike before will know, the base price is really the starting point for the real cost to escalate, as all the optional extras are applied.
In the case of the Himalayan the entire luggage system including the mounting brackets is under $700 USD ($970 AUD), crash bars cost under $100 ($140 AUD), hand guards likewise under $100 ($140 AUD). On one of the bikes we decided to add every meaningful option available to us, including an ECU upgrade from PowerTronic, which claims to boost horsepower and performance and we still struggled to spend more than $1300 ($1800 AUD) all in all – for everything – including a sheepskin seat cover! What an absolute bargain…
The Himalayan's handsome appearance and stance is more than matched by the value. This is a bike you will struggle to waste money on. As we found in the rough stuff when things went wrong, the bikes stood up incredibly well to abuse and anything that did break, cost very little to replace.
Our impression of the bike's in the city was great. The torquey 411cc engine pulls well from the lights and you quickly move through the gears in city traffic. The bike handles brilliantly, soaks up bumps and potholes like a sponge, but never feels soggy. The upright riding position is comfortable, and you feel in control of the bike.
If there is a weakness, it's little things like the mirrors, which are not great but adequate. Many people have criticised the brakes, but we found the anchors to be effective. They are made by an Indian subsidiary of Brembo and while they do not boast the familiar red calipers, they are clearly engineered well, the front and rear ABS seem to be effective, although I had only one occasion on road when it was activated.
Getting on and off the bike is easy without the panniers, with them on however the exercise does look less graceful, as you kick your leg up like a cabaret dancer and hop forwards or backwards to get said leg into place. Once mounted, the standard seat is comfortable and its gel substrate is effective at soaking up vibration, while the material keeps you well placed in the saddle.
The tank is narrow and allows you to grip it firmly with your thighs making the bike feel sporty further adding to the feeling of control. The saddle height is low and allows shorter riders to comfortably place their feet on terra firma. At 178cm, at lights I could stand up, stretch and relieve the bum a little (baked beans for breakfast again, Graeme? – Ed), this would prove to be welcome on longer rides (not for those following!).
As a city bike, the Himalayan would make a great commuter. It is a miserly consumer of gas and will easily get 50mpg (4.7L/100km) from it's long-stroke single-cylinder engine. In fact, it sipped fuel so slowly we had to remind ourselves to fill up the tank, especially on longer runs. The comfortable upright riding position gives you a great view of the road and its myriad of hazards, and the exhaust is loud enough to be heard without being obnoxious.
---
---
The Pirelli MT-60 tyres, which come standard, are brilliant. I say this because they provide you with a sense of comfort at speed into corners with no feeling that they will break traction. In the wet they shed water and penetrate standing water well. We rode through some torrential rainstorms where the road surface was flooded. Even at 80km/h the tyres never felt like they would aquaplane and remained firmly connected to the blacktop.
We have not put enough miles on the bikes to really understand the wear patterns of the tyres however, frankly, I don't care about wear. I just want the best tyres money can buy because that contact patch with the road is the most important six square inches of rubber you will ever find.
As we packed the bikes for our Canyonlands adventure, we loaded them up with tools, tyre repair kits, compressors, luggage, camera gear, our drone, while leaving plenty of space to carry water, as we would be taking our social distancing very seriously. I would estimate we added a good 80+ pounds (40kg) to each bike by the time we rolled on the throttle for our adventure.
On the highway the Himalayan gets along all day at 70mph (110km/h). We had them going faster with the aid of a downslope and tailwind. Remember what I said at the beginning – it's clear what these bikes are, and are not. High speed highway tourers they are not, but at 110km/h, they hum along all day. When we hit more than a modest climb it necessitated a downshift to fourth and on steeper climbs down to third. We never feel like the traffic was overwhelming us, just enjoyed the feeling responsibility and comfort, knowing that the cops hiding along the highway will need to pull someone else over.
In high cross winds, the bikes tracked true and felt solid. The combined weight of my bike, gear and I was easily 300kg and while we were buffeted with wind gusts, neither Declan or I felt we were being blown all over the road. The standard windshield worked well throwing the wind up and over my helmet. I had moved my windshield to the most upright position to accommodate the mouthing rack for the GPS and phone, Declan on the other hand left his in the lower position. My Nolan helmet with the peak attached never felt like it was getting tossed around.
The brakes also worked well under load and we were hugely impressed with the engine braking. The combination of the right gear selection and defensive riding makes for secure and comfortable riding and contributes to the control you feel over this motorcycle. When parked, we noticed the bikes make this funny little groaning noise, like an animal. We eventually concluded it was the ABS or fuel breather making the noise and contributing to the personality of the bikes and generating a laugh.
Off-road is really where the Himalayan shines. Even fully loaded these things are a blast to ride. On nice gravel roads we would "Toby Price it" getting along at 80 even 100km/h. In deep sand, the torquey engine is like a tractor and plows you through. On really rocky trails, the only limitation we found was the ground clearance of the centre-stand. On one such trail I broke off the spring mounting post on the sidestand, necessitating a track side fix with a zip tie.
We tacked the White Rim Trail in Canyonlands National Park, a 100 + mile 4WD trail that is not for the faint of heart or inexperienced off-road rider. What most people tackle in two days with 12 hours of riding we knocked out in one day over 10 hours. This was the ultimate test for the off-road ability of the bikes as the trail threw everything at us, with the exception of mud as it was over 100 degrees (37ºC).
I managed to crash three times and Declan twice. Our crashes exposed the weaknesses of the riders rather than the bikes. Had we tracked the right path we would have avoid the sand or rocks that sent us earthward. Once upright and with newfound respect for the terrain, we moderated our riding and managed to get through safely, albeit a bit bruised and battered for the experience.
When riding in a standing position I felt the handlebars were a little low for my comfort. Bar risers of an inch will fix that. Declan found it to be very comfortable, he is an inch or two shorter than me. The ABS is switchable; however, we didn't read the instructions and couldn't figure out how to disable it.
---
---
Nonetheless on very steep descents the engine braking and ABS on the rear kept the bikes controllable, which was a good thing as there were often 500 + ft sheer cliffs just a few feet away. There were a couple of times when we would stop and look at the steep, rocky, lose surface of the trail, shake our heads and resign ourselves to the fact we had to ride it, as turning back was not an option. On these occasions the bikes performed better than we could have hoped for and gave us the confidence we needed to continue forward.
The OEM luggage fitted to the bikes deserves an honorary mention. These things are simply brilliant. They are strong, absorb all sorts of abuse, make it easier to pick up the bike when you drop it, they are adequately large without being stupidly big. The locks and hardware are great and work well. I was pleasantly surprised with this, as rugged adventure panniers often look like industrialised tanks bolted to the side of an otherwise svelte motorcycle.
The Royal Enfield design is elegantly rugged and entirely fit for purpose. The plastic reinforcements on the corners are more than decorative, they are effective at shielding the metal from damage. The puck system of attachment makes putting the panniers on and removing them an exercise that can be accomplished in under a minute.
Two up riding, even when fully loaded, was also put to the test. Declan picked up a pillion passenger for both highway and off-road sections to see how the addition of another person would change the balance and performance. His report was that the bike really felt no different, the engine torque profile adequately moved it along without any discernible change and the bike remained balanced and sure footed. The passenger reported a comfortable ride and the seat design provided a nice perch to view the scenery from.
So, where and what are the weaknesses of these bikes? Well after 4000km on all sorts of terrain, there really aren't any weak spots that would tell me that this is a bike I would not want to own. Sure, the mirrors suck, the centre-stand could be redesigned to give more ground clearance, it would be great to have a sixth cog in the transmission for highway riding, but these are the only weak spots we could come up with.
While it would be nice to have a little more power on tap, the benefit would be only felt on the highway at speeds which put you in ticket territory. Off road the performance is perfectly adequate and does not overwhelm you in any way.
The Himalayans attract warm, affectionate comments from bikers and non-bikers alike. They are wonderful to ride on and off road, they sip fuel in an environmentally responsible way, they are great touring bikes and best of all they are cheap to buy, upgrade and fix, making adventure riding truly accessible without breaking the bank.
When you sit atop a Royal Enfield motorcycle, you do so on the storied history of the brand that dates back to 1901. This esoteric virtue is hard to put a finger on but it feels special. They are not common bikes, so I guess that makes them somewhat cooler than riding a more common motorcycle.
As an adventure bike the Himalayan's strength is its simplicity and rugged design. If you drop it you can comfortably pick it up on your own, you won't break a $1000 plastic cowl and unlike some of the BMW GS bikes we saw along the way, the Himalayan inspires confidence in the rider rather than fill them with fear. Fear of dropping it, damaging it and being stranded.
And that is the biggest take away for me. Meeting riders of the big adventure bikes I have long admired exposes a dichotomy of feeling in the owners. While they look like they can go anywhere and probably can, the riders rarely do because they become fearful that they bike, and terrain will exceed their ability. On a Himalayan, you really do feel like you can go anywhere, ride any trail or road and live the adventure that exists in your mind's eye.
As I reflected on our trip, I recall saying to Declan on more than one occasion that the bike was like a mountain goat, it could go up and down anything. With that thought I will simply summarise, The Royal Enfield Himalayan is indeed a G.O.A.T. – the Greatest Of All Time, in its weight class.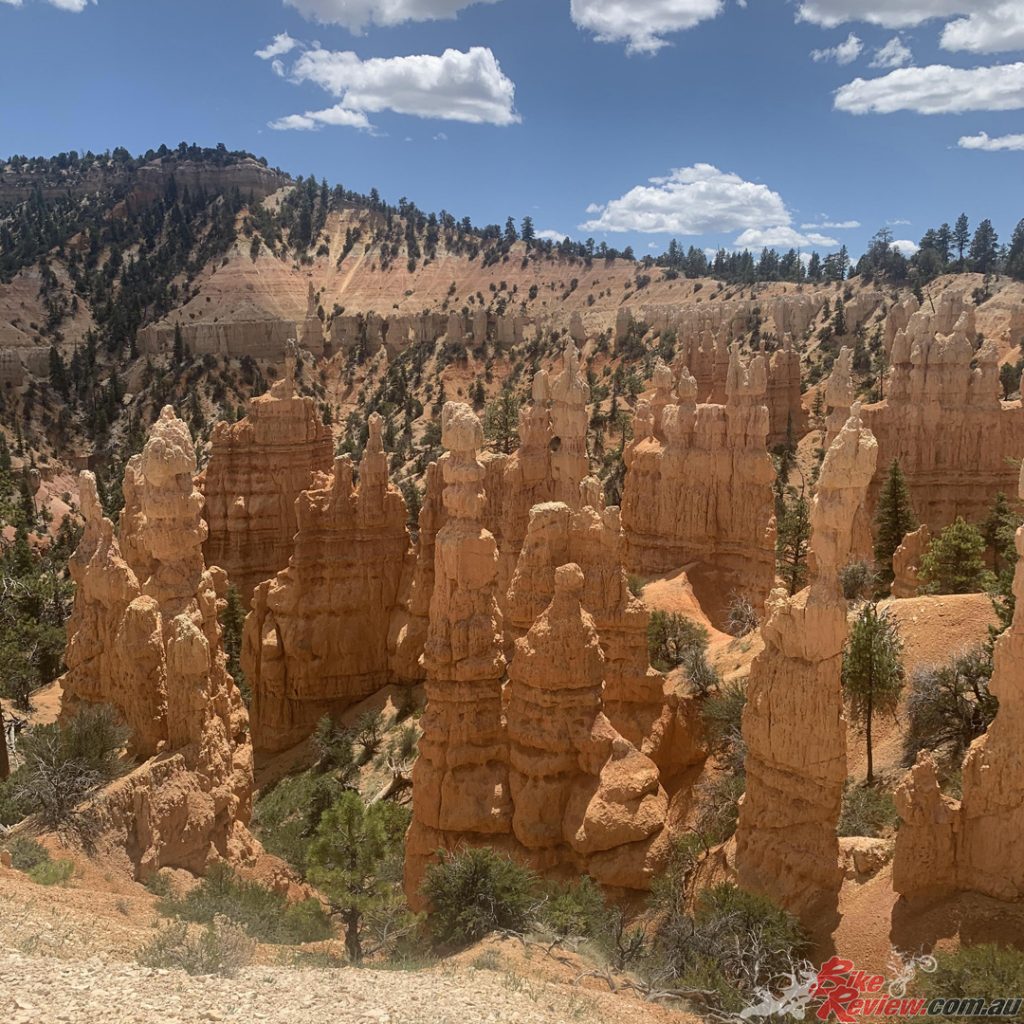 Graeme Warring: Phoenix, Arizona
Graeme is from Melbourne Australia and has been riding motorcycles for 45 years. In his garage is a Harley-Davidson Road King Classic, a vintage CB400F Super Sport, a Honda CRF250 and a Vespa. He has now made room for a Royal Enfield Himalayan. Graeme works in the MotoGP paddock and his company WePlay Media produces apps and media content with a focus on all things with two wheels.
Declan Murphy: Phoenix, Arizona
Declan is from the village of Athea, in west County Limerick, Ireland. He and his brothers are known for going too fast in cars and motorcycles are have been well known to the local Garda. In his garage he has a CRF1000 along with a collection of Land Rover Defenders and Series 2's. He is now rearranging the space to accommodate a Royal Enfield Himalayan.
---
---
SPECIFICATIONS: 2020 Royal Enfield Himalayan
Price: $7,490 On-Road
Warranty: Two-year, unlimited kilometre, 24/7 roadside assist
Colours: Rock Red, Lake Blue, Gravel Grey, Granite, Snow, Sleet
Claimed power: 18kW[24hp]@6500rpm
Claimed torque: 32Nm@4000rpm
Wet weight: 191kg
Fuel capacity: 15L
---
Engine: 'LS 410' 411cc, air-cooled, single-cylinder, four-stroke, SOHC, EFI
Gearbox: Five-speed, constant mesh
Clutch: Wet, multi-plate
Chassis: Half-duplex split cradle frame
Suspension: 41mm telescopic forks, 200mm travel, monoshock with linkage, 180mm travel
Brakes: Single front 300mm rotor, two-piston caliper, single 240mm rear rotor, single-piston caliper, ABS standard.
Wheels & Tyres: Steel rims, 36 spoke wheels, Pirelli MT-60 tyres, 90/90 – 21in, 120/90 – 17in
---
Dimensions:
Seat height: 800mm
Overall height: 1360mm
Overall width: 840mm
Overall length: 2190mm
Instruments: Analogue speedo/tachometer, digital display and compass
---
---
USA HIMALAYAN TOUR GALLERY

---
---