Review: 2017 Ducati Multistrada 950
The bike we have been waiting for is here in time for the launch of D.A.R.E. Here is our 2017 Ducati Multistrada 950 Review. Test: Jeff Ware Photos & Video: Kris Hodgson
Just in time for the D.A.R.E (Ducati Adventure Riding Experience) launch here in OZ, the all-new model in the Adventure Sports Touring category from Ducati, the Multistrada 950, is a versatile, flexible great fun bike that is under twenty grand. We recently spent a week testing the 950 and came away impressed. Here is our Ducati Multistrada 950 review.
As soon as I saw the Multistrada 950, I thought about how much I loved the Ducati Panigale 899 when I first rode it at Imola Circuit at the world launch. I liked the fun feel, the more accessible power than the 1299 big banger and overall enjoyed the bike more. I even ended up organising a long term test bike with Ducati and that bike to this day remains one of my all-time favourites.
With that experience, I had a hunch that the 950 Multistrada was going to be what the 899 was to the 1299 Panigale and was going to be a good thing. The 1200 is a great bike but you need to be able to stretch it's legs. You need space and to take advantage of that insane engine, you need to be fairly committed.
The 1200 is also heavy, like all Adventure and Adventure Sport bikes, but it is a brilliant machine once you get used to the weight. However, a smaller version makes a lot of sense and the sensational 937cc Testastretta engine is the perfect choice. It's only 5kg less on paper but feels 20kg less on the road.


For under $19k you can pick up a 950 Multistrada from your local Ducati dealer, versus just under $24k for the standard 1200. So essentially you are paying $5k less for the Testastretta 937cc engine and some small differences.
The 1200 is 160hp and 100ft-lbs versus the 950 at 113hp and 71ft-bs. The 1200 has cornering ABS, cruise control, hands free, backlit switches and heated grips over the 950. It also has an adjustable seat, lighter wheels, slightly more sporty steering geometry and hydraulic clutch actuation.
So, yes, you are missing some nice kit but the 950 is a different model not a variation, and five grand is five grand and you still get premium components not seen on most bikes in that middleweight range. Hopefully an up-spec model will appear at some stage for the customers that want all the kit but not the 1200 engine.
For now there are personalising options. The Touring Pack: Side panniers and centre stand. The Sport Pack: Type-approved Ducati Performance exhaust by Termignoni, billet aluminium frame plugs, billet aluminium front brake fluid reservoir plug. The Urban Pack: Top case, tank bag with tank lock and USB hub to charge electronic devices. The Enduro Pack includes: Supplementary LED lights, Ducati Performance components by Touratech: engine crash bars, aluminium radiator guard, aluminium sump guard, broader kickstand base and off-road rider pegs.
That Testastretta 937cc engine is such a gem. It is one of my all-time favourite engines and I prefer it to the DVT Testastretta in the 1200. The 937 has long, lazy power but is somehow still free revving in a way only Ducati seem to be able to get away with.
For a RbW system the throttle to rear wheel connection is amazing and overall, the engine is one that is endearing and eager and all-up full of character. With the modernisation of the riding modes and other variables that can be customised, the engine is a 10/10 and what makes this bike so good.
MULTISTRADA 950: THE RIDE
My test loop on the 950 was a ripper that I'd planned before I picked the bike up. It gave me the opportunity to ride the bike through the city, suburbs, smooth country roads, country touring, mountain twisties and freeway. It has it all, even off road, so gave me the opportunity to try all of the Ride Modes and various settings.
Firstly, when I picked the bike up I have to admit I had to look for it among the 1200s as at first glance I didn't notice it. Once I had a good look at it it was clear of course, double-sided swingarm, different wheels and body styling changes, engine, clutch cable rather than hydraulic…
I hopped on and set off in Urban Mode, which is around 70hp and a soft throttle. The bike felt comfortable immediately, as if I had been riding it for months, and I noticed the weight straight away as soon as I started filtering through the traffic. It feels a lot more than a 5kg difference to the 1200.
The clutch action is a little course and heavy but this bike only had 300km on the clock. Gearbox-wise, shifts are positive and easy but a quickshifter would be an awesome addition for owners! The screen is so easy to adjust by hand on the move and I had it set to the lowest point all the time aside from freeway use.
The dash is a slightly lower spec LCD unit versus the 1200 but has everything you could ever need and is extremely easy to use and read. Top job there. The ergo's of the bike are spot on for someone my size at 187cm. Designed for long range touring with that whopping 20L fuel tank, I could definitely see myself riding 1000km days on this, even two-up. I rode for eight hours first day testing and was comfy the entire time. Another tick…
The seat is big and wide yet feels narrow between the knees, giving a sporty feel for cornering. The pillion perch is great and there is plenty of room for luggage behind that. Leg protection from the elements is also good and the bike is virtually vibe-free once the engine is revving above 3000rpm, which is where you need to keep it spinning above to make forward progress, as it will labour below that with the tall gearing and weight.
Urban Mode is a bit too low power-wise, particularly when filtering to the front of the pack and trying to get away on the green light. I found Touring the best mode for suburban use and general riding. It offers good power but a softer, more progressive throttle and plenty of DTC to keep you on the road in a wide range of conditions. Urban I would save for wet weather.
Flicking to Sport Mode, the bike really comes alive. Throttle response is much more aggressive and fun and that 113hp and 70ft-lbs is right there for you at the twist of the wrist. The engine pulls strongly from 3000-5000rpm then really hauls from 5000-9000rpm where it tails off.
The ratios are great, as the bike will pull long gears in that wide range but you can also get sportier if you want to ride more in the top end. The slipper clutch gives the bike a sporty feel into turns and to be honest, in all but the smoothest parts of the test loop, this 950 would beat a 959 Panigale hands down with the same rider on board.
I just love the way it is possible to hit bumps on apexes and just keep it pinned. Can't do that on a naked or sports bike. The Pirelli Scorpion Trail II tyres are also unreal, offering fantastic feel and grip on road and decent performance on dirt roads.
The suspension is basic but brilliant and aside from the front forks being set a bit soft on compression, causing excessive dive, which I adjusted, I didn't touch another clicker. Once the forks were set, the suspension was just about faultless over a huge range of surfaces and conditions so I have to applaud Ducati, KYB and Sachs for getting this bike so good, in so many conditions, with just 170mm of travel to work with and over 200kg to carry. Top job.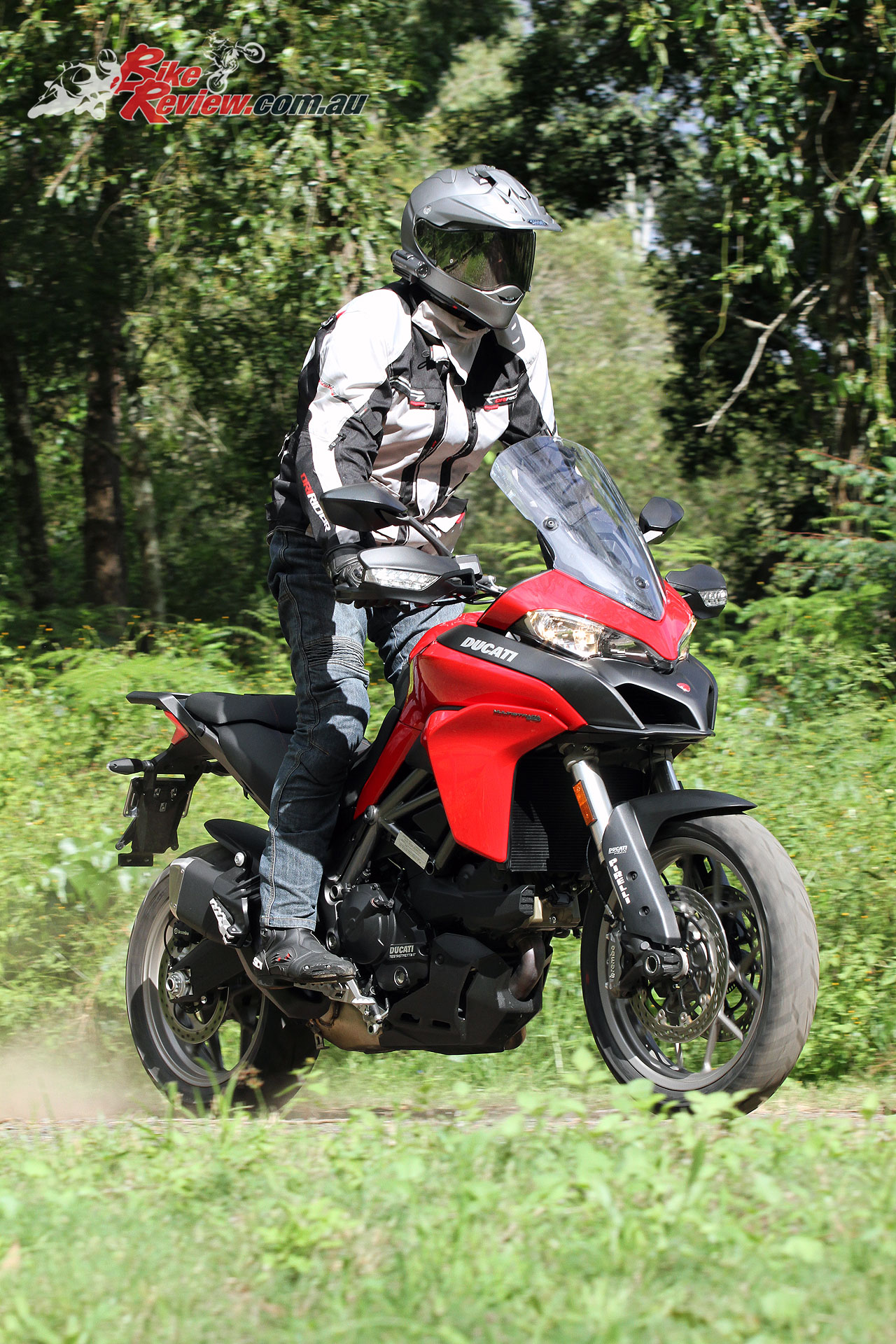 Now for my only real criticism of the bike, the front brakes. Despite top-end Brembo monoblock radial-mount calipers, the front brakes were far from perfect. There was 5cm of lever travel before the brakes engaged and when they did it was on or off, which caused front-end dive and a lack of control and confidence.
For me, this made the bike a chore to ride at times when it could have been brilliant. As we published, we had confirmation from Ducati that it was an issue with our press bike alone, which I suspected it was, so a master-cylinder was fitted and I will re-test and update when time permits.

Power-wise the brakes are good, once in the process of braking feel is good, but getting to that point was the issue. The rear brake was fantastic and used a lot more than usual on this test. 

Off road the Multistrada 950 is great as long as you limit it to dirt roads and well maintained fire trails. Ducati state that it is not an off road bike but then offer the Enduro package and it had Enduro Mode, which works really well. I found the 950 easier to manhandle off road and the 937cc engine much easier to control and generally a better bike off road than the 1200.
Like all Ducati motorcycles, quality of finish is high and the bike is stylish too. Overall and incredible bike and the closest we have had to an overall 10 score, only let down by the brakes in this case.
Just like the 899 impressed us so much that we got a long termer, so has the 950 Multi and we take delivery of our BikeReview 950 Multistrada shortly, so stay tuned.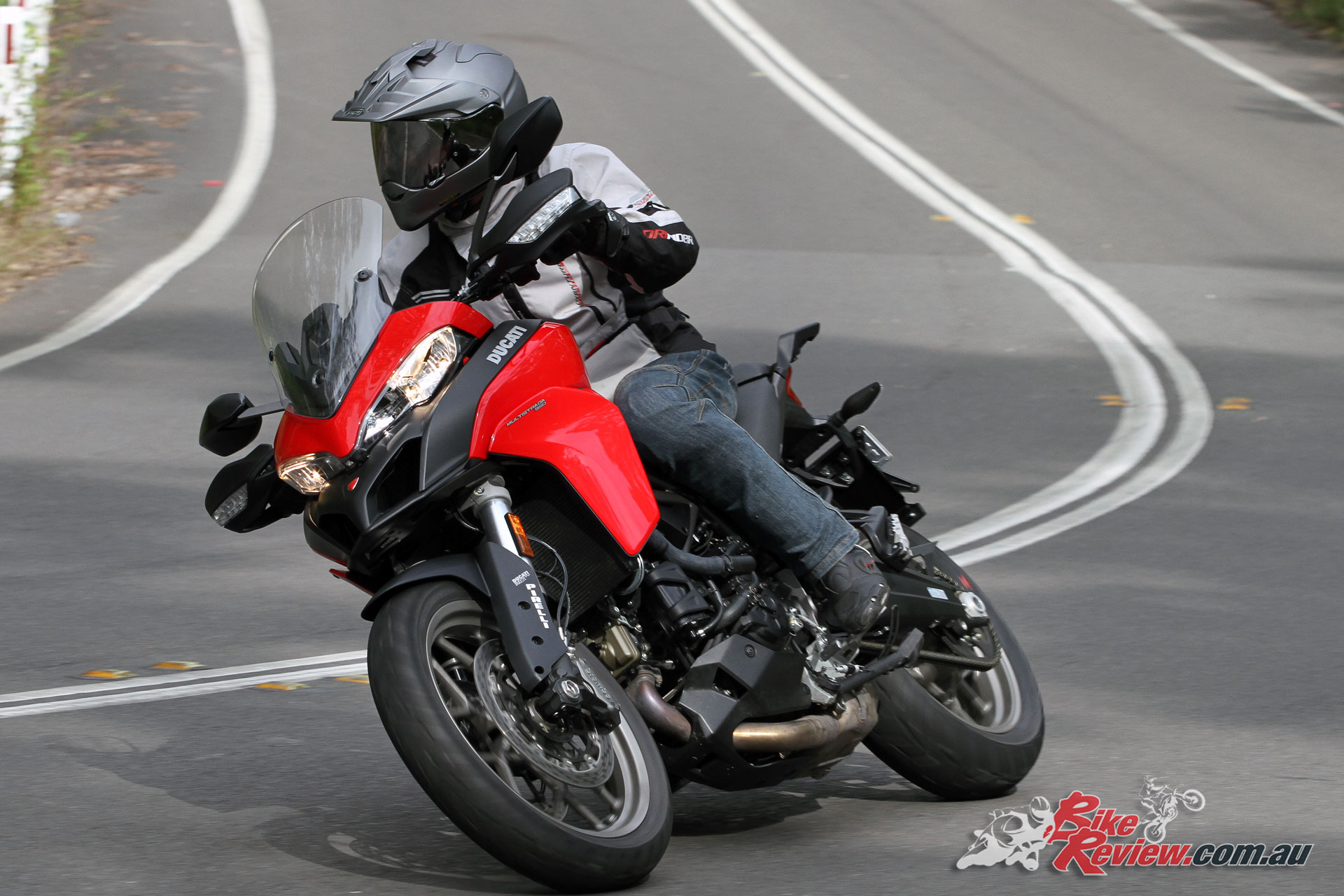 SECOND OPINION – KRIS
Despite being an exceptional machine the Multistrada 1200 is large and heavy, and while it carries those characteristics exceptionally well, for some a smaller package is undoubtedly going to be a much easier sell, especially with a lower buy-in.
Hence the Multistrada 950, the electronics are toned back but still extensive, the bike is lighter and more agile, styling is unmistakeable and power is generated by the 937cc Testastretta 11° twin. The different power modes have a noticeable impact on that performance and the suspension still does a commendable job without any fancy electronics.
There's no reason you couldn't run the 1200 as an everyday ride, but with the 950 available there's now an even more ideal option. The non-DVT Pikes Peak was a personal favourite because it was so sporty, and that character is reflected in the 950. It's far more agile and fits the sport touring bill nicely.
Performance in Touring mode on 'Medium' power starts gentle and the bike revs in a lazy fashion before starting to generate real power further up the rev range. It'll pull from down low though, so you can be relatively lazy. In Sport mode it's significantly sharper and more aggressive and lives up to the mode's name.
Suspension is KYB fully adjustable forks and an adjustable Sachs shock. The ride over bumpy roads is incredibly impressive, with the 950 sailing along absorbing inconsistencies. It's just so smooth it can be hard to believe and feedback to the rider is still direct. The only downside was with the standard settings the front forks had a fair bit of dive on the anchors.
The Brembo calipers are top notch but there was massive lever pull before anything started happening on the front end. Hopefully it's just the master-cylinder fitted, although that is an easy fix if so. This was later confirmed with Ducati, which is great news, as it was very unusual for any bike from Ducati not to have impressive braking performance.
The front end is iconically Multistrada, and without panniers the bike's still relatively thin, with good comfort a great seat and easy controls. Even the electronics package isn't hard to master with toggling through the modes and their preset DTC, ABS and power settings a breeze.
If you've ridden the Multistrada 1200 and couldn't quite justify the price, or felt it was just too much bike – which is fair enough if you're a one machine owner that needs to do everything – then the 950 is definitely worth looking into.
It's the ideal sports tourer or all-rounder. It's happy in traffic, where the 1200 could cope but was more work, especially in really slow peak hour. Just over 110hp ensures you've got more than enough power for general use but it's delivered in very different manners depending on the modes. Gears and lever action are smooth and overall ergonomics for me where spot on. Locking into the bike or putting my weight into the 'pegs was easy and reach to the 'bars natural.
I think it's going to be exceptionally tough competition in the sports touring and touring segments and will not only provide a new entry point into the Multistrada range for many riders, but it'll also be a real competitor against the larger capacity 1200.

MULTISTRADA 960 TECHNICAL TALK
Engine
The Multistrada 950 is powered by the already renowned twin cylinder 937cc Testastretta 11°, now extensively overhauled. EURO 4-rated, it has four-valves per cylinder, liquid-cooling and bore and stroke measurements of 94 and 67.5mm respectively. Engine power amounts to a maximum of 113hp at 9000rpm and a maximum torque of 96.2Nm at 7750rpm. The compression ratio is 12.6:1.
The twin cylinder Testastretta 11° engine on the Multistrada 950 features two new cylinder-heads with a redesigned oil circuit and secondary air intake ducts on the covers. The Multistrada 950 gulps in the fuel mix through new 53mm cylindrical-section throttle-bodies controlled by an advanced Ride-by-Wire system. Moreover, this engine also features a new control unit and electronic injection system. The exhaust system is of the 2-1-2 type with lateral silencer.
The clutch, instead, is of the oil bath type with slipper function and low-effort lever control. The slipper function cuts in when the rear wheel exerts back-torque, reducing pressure on the discs to ensure vehicle stability during the aggressive down-shifting typical of competitive riding.
The 937cc Ducati Testastretta 11° twin cylinder engine has a maintenance interval of 15,000km or 12 months, with valve clearance inspection every 30,000km.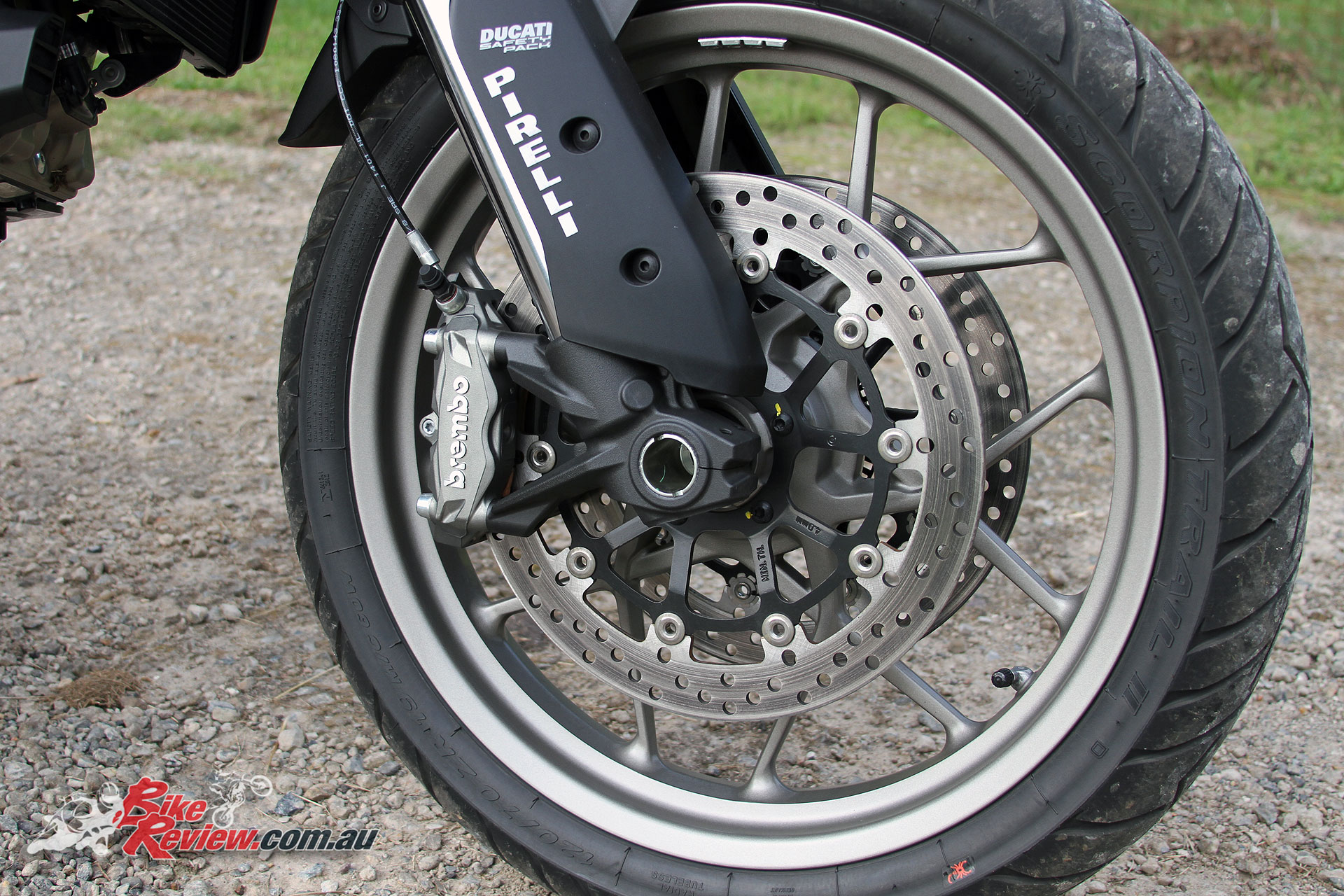 Chassis
On the Multistrada 950 the frame design features a front Trellis made up of large-diameter yet thin tubing, plus two lateral aluminium sub-frames to ensure maximum torsional rigidity. The Multistrada 950 has a minimum ground clearance of 183.5 mm. The shell-cast aluminium twin-sided swingarm is painted black.

The Multistrada 950 has fully adjustable 48mm KYB inverted forks with 170mm of travel. At the rear, a Sachs fully adjustable shock connects the swingarm to the left sub-frame. Rear suspension travel is 170 mm. The Multistrada 950 is equipped with alloy wheels that wear Pirelli Scorpion Trail II tyres: 120/70R19 at the front and 170/60 R17 at the rear.
Brembo M4.32 monobloc radial calipers with four 32mm diameter pistons and two pads, an axial pump and dual 320mm front rotors stop up front. At the rear a 265mm rotor is gripped by a floating  caliper, again by Brembo.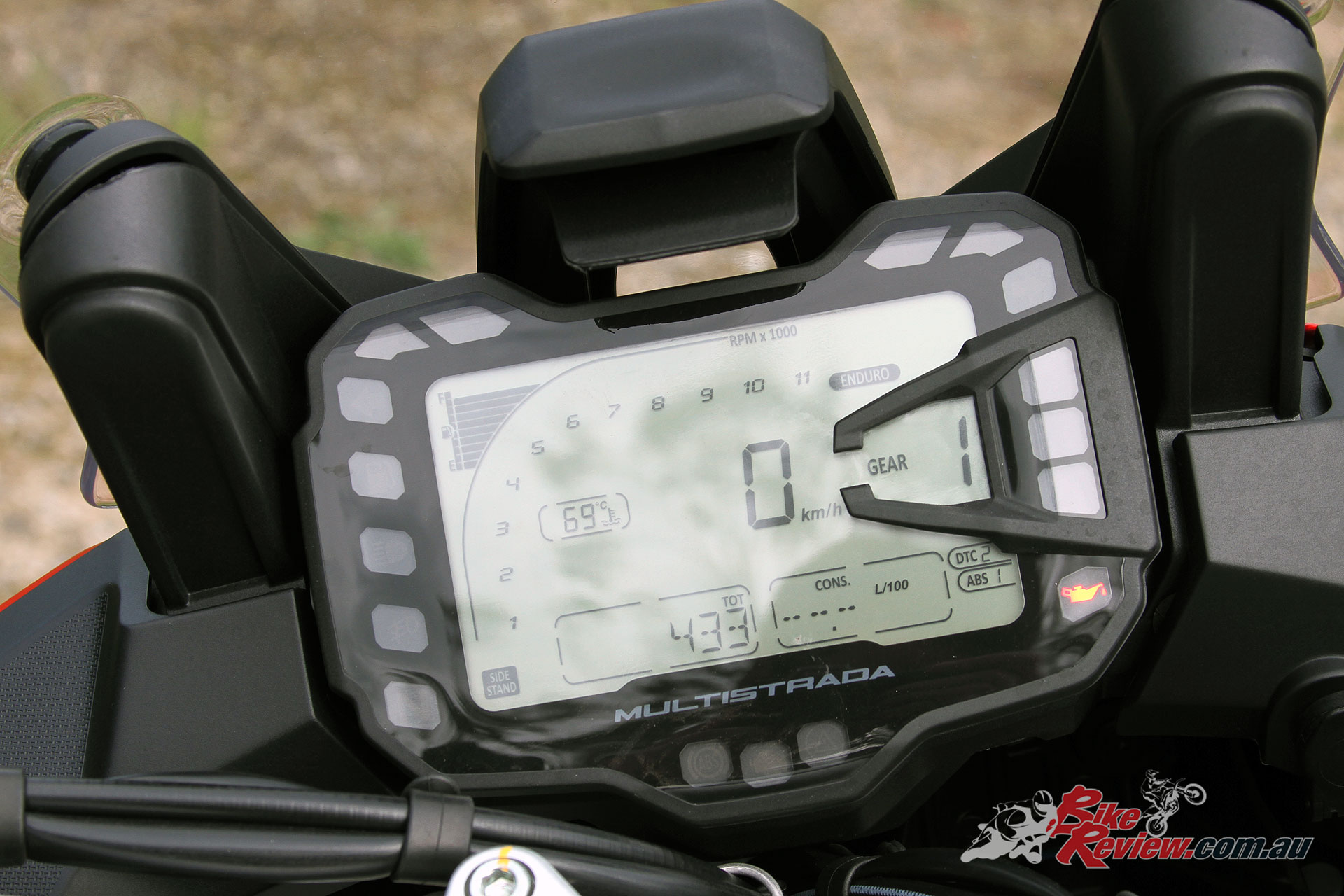 Electronics
The Multistrada 950 is equipped with a DSP (Ducati Safety Pack) that includes ABS and Ducati Traction Control. This package is managed via four different Riding Modes, each of which (Sport, Touring, Urban and Enduro) gives the Multistrada 950 a distinctive personality thanks to different ABS and DTC (Ducati Traction Control) settings.
Multistrada 950 standard equipment includes a Brembo braking system with ABS, controlled by the Bosch 9.1 MP control unit with integrated pressure sensor, which is part of the Ducati Safety Pack (DSP). Level 1 adapts ABS intervention to off-road use: there is no intervention on the rear wheel and no rear wheel anti -lift. Level 2 sees the ABS act on both the front and rear wheels but rear wheel anti-lift remains deactivated. Lastly, the highest level 3 setting provides maximum braking stability and rear wheel lift-up prevention. The ABS system can be deactivated in any Riding Mode and will stay off until the next Key-On.
The DTC (Ducati Traction Control) on the Multistrada 950 detects and subsequently controls any rear wheelspin, enhancing both bike performance and active safety. The Multistrada 950 features the latest DTC software version, optimised to ensure a soft response thanks to intervention on both spark advance and throttle-body control.
The system lets riders select from eight different profiles, each calibrated to provide a rear wheelspin tolerance that matches progressive levels of riding ability (classified from 1 to 8). Level 1 minimises system intervention and is, together with level 2, best suited to off-road use. Level 8, instead, maximises ABS intervention and is ideal on wet roads.
Ducati sets DTC levels for each of the four Riding Modes; however, these can be personalised to meet riders' specific needs and saved on the individual menu settings. The DTC function can be switched off in any Riding Mode and will then stay off until the next Key-On.
Ducati Riding Modes
The Multistrada 950 has four Riding Modes (Sport, Touring, Urban and Enduro), each programmed to act on the electronic Ride-by-Wire (RbW) engine control system and the ABS and DTC levels. Riding Modes can be changed on the go.

Touring: 

Touring Riding Mode delivers 113hp with progressive Ride-by-Wire throttle twist response, DTC is set higher (level 5) as is the ABS (level 3), maximising both braking stability and wheel lift-up prevention.

Sport: 

Selecting Sport Riding Mode is also 113hp. This Riding Mode is characterised by a direct Ride-by-Wire throttle twist response, a low DTC setting (level 4) and low ABS setting (level 2) with no rear wheel lift-up prevention.

Urban: 

Urban Riding Mode delivers a maximum power of 75hp with progressive Ride-by-Wire throttle twist response; DTC is set to an even higher intervention level (level 6) and the ABS setting is at level 3, maximising braking stability and wheel lift-up prevention.

Enduro: 

Enduro Riding Mode gives the Multistrada 950 a maximum power of 75hp with progressive Ride-by- Wire throttle twist response; DTC intervention is suitable (level 2) for off-road use and the ABS setting is low (level 1), deactivating rear wheel lift-up prevention.
LCD Instrumentation
The Multistrada 950 instrument panel consists of a large LCD that provides the rider with primary and secondary information. The unit gives info on speed, rpm, total distance ridden, selected gear, trip1 and trip2, engine coolant temperature, fuel level, a clock, Riding Mode, miles remaining, real-time fuel consumption, average fuel consumption, average speed, air temperature, travel time and road ice warning.

SPECIFICATIONS: 2017 Ducati Multistrada 950
Ducati.com.au
Price: $18,790 + ORC as tested (Red), $18,990 + ORC (White)
Warranty: Two-year, unlimited kilometre
Colours: Red, White
Claimed power: 83.1kW[113hp]@9000rpm
Claimed torque: 96.2Nm[71ft-lbs]@7750rpm
Wet weight: 227kg ready to ride (204kg dry)
Fuel capacity: 20L
Engine: Testastretta, L-twin, four-valve DOHC, Desmodromic valve actuation, 937cc, 94 x 67.5mm bore x stroke, 12.6:1 comp, Bosch EFI with cylindrical 53mm throttle-bodies and RbW system, six-speed gearbox, wet slipper clutch, stainless-steel exhaust, Euro4 emissions, chain drive 15/43.
Chassis: Tubular steel trellis frame, two lateral aluminium sub-frames, shell-cast aluminium twin-sided swingarm
Rake: 25.2º
Trail: 105.7mm
Suspension: KYB 48mm fully adjustable USD forks, 170mm travel, Sachs fully adjustable shock, 170mm travel.
Brakes: ABS, Front: Brembo radial mount monoblock calipers, 320mm rotors, conventional master-cylinder, Rear: Two-piston floating caliper, 265mm rotor
Wheels & Tyres: Cast alloy 3.00 x 19in (f) and 4.50 x 17in (r), Pirelli Scorpion Trail II 120/70-18, 170/60-17.
Dimensions:
Seat height: 840mm
Wheelbase: 1594mm
Overall height: N/A
Overall width: N/A
Overall length: N/A
Instruments: LCD.
Electronics: Riding Modes, Power Modes, Ducati Safety Pack (DTC).
2017 Ducati Multistrada 950 Gallery
The Verdict | Review: 2017 Ducati Multistrada 950
Great bike an a fantastic alternative to the 1200. It is what the 959 is to the 1299 Panigale.