Metzeler recently released their new adventure hoop, the KAROO 4. We sent Pommie to check out how they handle some of Australia's tough conditions.... Photography: Metzeler Aus
Most of us ride our bikes solely for the pure pleasure of riding, to enable this we need to have the utmost confidence in our tyres. The Metzler KAROO 4 exceed most requirements. We spent a day of tough riding getting to know the new adventure hoops.
---
Check out our other tyre reviews here…
---
It had been exactly one year since I'd ridden on the outgoing Metzeler KAROO 3 tyres and that had been on a 1000km + trip aboard a 1250GS on the BMW Cairns Safari. The KAROO 3 tyres had performed impeccably. However, I was not there to test tyres and It had even slipped my mind that the BMW's had the KAROO 3's fitted, that is until the dinner night of the KAROO 4 launch when I got a reminder from BMW riding adventure guru Miles Davies, that all our bikes on the safari had been fitted with the KAROO 3's, so I knew the 4's were going to be special.
---
---
The Metzeler KAROO 4 is the latest evolution in the KAROO range of road legal knobby tyres from the German manufacturer, which incidentally has been in business since 1863. The KAROO 4 is focused more on the rider that will take their adventure bike off-road rather than use it as purely a touring bike, but it's surprisingly capable on road too, which goes against what you'd expect from the visual look of the large chunky knobs on the tyres…
After a presentation about all the technical aspects of the new KAROO 4 from Product Manager Silvio Frare, it was a nice dinner and an early night before having to get up at the crack of dawn for a rider briefing in the carpark, where we found out what bikes we had to ride for the day. We had a great selection of bikes that would provide a great all-round experience for on and off road. Such as the BMW GS, Ducati Multistrada, KTM Super Adventure, Husqvarna Norden and finally the Harley-Davidson Pan America Special.
---
---
Metzeler have tested the new KAROO 4 extensively against the outgoing KAROO 3 and have improved the tyre in all areas for both on and off-road performance. For example, the KAROO 4 has 25 per cent more knobs in the footprint of the tyre, which gives a 30.8 per cent average traction advantage, tested in a 20m long muddy ford over the old KAROO 3. The wet weather tarmac braking was improved 1.85m at a speed of 85km/h in tests on the same BMW GS fitted with the previous ones.
On road corner speed and stability was also improved when tested back-to-back with the previous generation tyre. Both front and rear tyres have improved carcass rigidity with the front now having 20 per cent extra silica, while the rear is dual compound with the centre being harder for extra longevity and the side softer for better lean angle grip, both on and off road.
---
"While I didn't find any "bottomless mud", I can say it the new tyre provides amazing levels of grip in some slimy, slippery conditions."
---
The redesign of the new Detratec tread pattern is designed to be self-cleaning in heavy mud, Metzeler use the term ''bottomless mud'', but I never found any "bottomless mud" on my ride, but what I can say it the new tyre provides amazing levels of grip in some slimy, slippery conditions. The tyre has centrally mounted knobs which are separate to the side knobs, which are designed to help with traction and clearing away any dirt built up in the tyre, the redesign of the sidewall also helps with on road grip levels at various lean angles and dispersing water in wet conditions both on and off road.
Riding in some of NSW best bush tracks, after we have had rain for months, was a great way to put the new tyres through their paces, we were darting between on road sections and off-road with the focus being on off-road for our full day ride. I started off on the Ducati Multistrada V4 S and was immediately impressed by the lack of vibration and noise coming from such a chunky off-road focused tyre.
---
---
With a short commute to the dirt, I selected Off-Road mode on the big Duke and settled in to manhandling the beast on some twisty bush tracks. When I'm more used to riding a 100kg dirt bike with around 50hp, jumping aboard a bike that puts out 170hp and weighs more than twice that amount is a bit of a learning curve, especially with all the tech on the bike. However, fun wasn't too far away, especially once I was confident in the tyres, which didn't take long…
I guess when testing things like tyres, it's a really hard thing to do if you have to compare the difference from the previous tyre. For me I would need to have the tyres back-to-back on the same bike in the same conditions to be 100 per cent confident I could tell the difference between the KAROO 3 and the KAROO 4 after not riding on the 3's for a year.
---
"I was having fun muscling the Ducati from side to side and remember thinking to myself that these tyres shouldn't be this good on the road."
---
But what I can say is the KAROO 4's are a fantastic tyre and offer fantastic grip in the nastiest of conditions, I think the biggest surprise for me was when we were riding on road and going through some dry twisty sections, I was having fun muscling the Ducati from side to side and remember thinking to myself that these tyres shouldn't be this good on the road, it just didn't make sense, it's a chunky knobby after all…
Back on the dirt, the new tyres were really being appreciated by all the journos and every corner I approached had evidence of massive sideway drifting, which is easy to do when you have a stupid amount of power underneath you.
However, with the slightly damp conditions keeping the normal dust bowl Australian environment to a minimum, there was a good level of grip and driving hard off the turns, especially when the bike was more upright, you can really feel the KAROO 4's digging in and driving forward. A pleasant surprise was the braking performance.
I know all these bikes have ABS and off-road modes, but that can only take you so far and in the end it comes down to the grip underneath you to do the job needed to pull you up and my enthusiasm for speed overtook my abilities on four or more occasions when I shot into a corner way too fast and the brakes and tyres worked together to save me from handing a smashed Ducati back.
---
---
After a day in the saddle, I can honestly say that these new KAROO 4 tyres performed beyond my expectation and capability as a rider and I had more than enough confidence in them to enjoy my riding both on and off the road and at the end of the day, riding for enjoyment is all about having confidence in what's keeping you safe.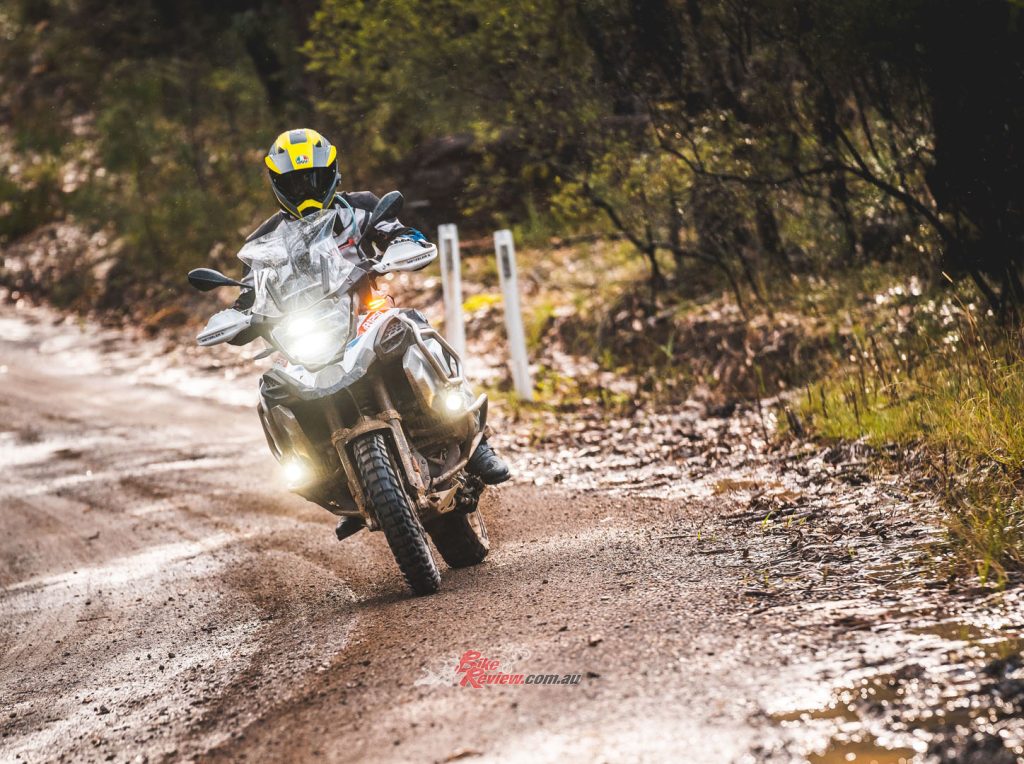 Metzler KAROO 4 Tech Talk
The new KAROO 4, is a tyre designed to equip adventure and maxi enduro motorcycles, thanks to a mix of cutting-edge technologies and processes, taking riders to the boundaries of adventure-touring.
---
---
The Metzeler KAROO 4 features a revolutionary patented tread pattern, which raises the tyre's all-round performance levels on both asphalt and on different types of off-road surfaces. As for the road sector, the engineers of the blue elephant brand have worked to improve in particular the overall handling and the behaviour in the wet, developing a tread pattern that allows you to safely face certain lean angles even on wet asphalt. In the off-road field, KAROO 4 increases the off-road performance level, especially on soft surfaces, such as sand, mud and clay.
Scoop-shaped knobs enable exemplary off-road traction whilst in bottomless dirt/ muddy fords and promote tread self-cleaning; knob layout ensures a continuous support at any lean angle also on hard-packed terrain.
Stiffer carcass structures and new multi-radius profiles promote enhanced road handling regardless of the load case, with dual-compound rears and their lateral knobs shaped to enhance rubber response even under heavy loads.
Metzeler claim that the KAROO 4's are the best in class for wet performance and rider-aid integration thanks to new tyre profile and new compounds enabling safety in lashing rain, cold temperatures and dodgy road surfaces.
Extreme abrasion, cutting and tearing resistance thanks to tread rubber formulation and knob shaping, which enhances compound thermal and mechanical stability.
---
---
Metzeler KAROO 4 Pricing And Size Chart (AUD)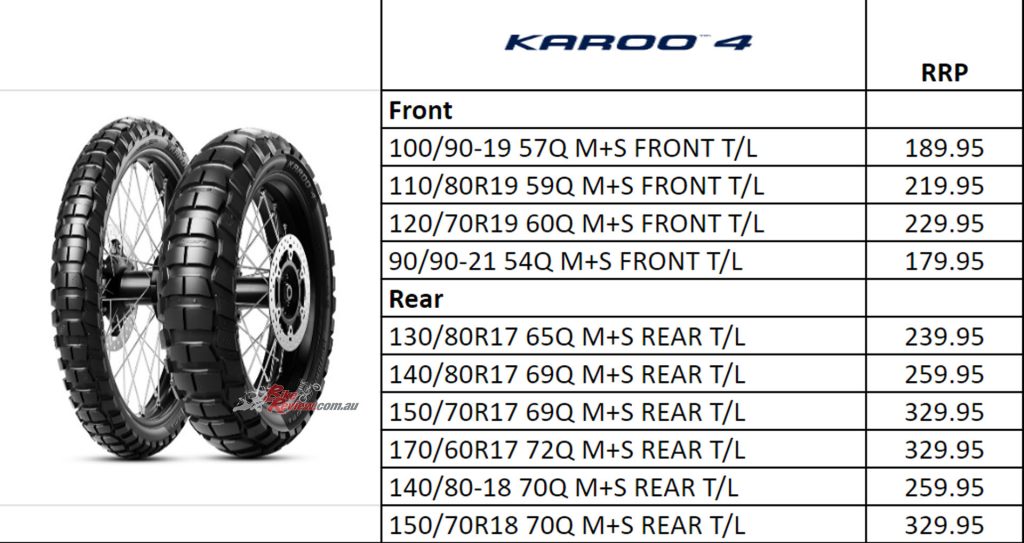 ---
Editor's Note: If you are reading this article on any website other than BikeReview.com.au, please report it to BikeReview via our contact page, as it has been stolen or re-published without authority.
---

Metzeler KAROO 4 Launch Gallery
---
The Verdict | TYRE Review: Launch, Metzeler KAROO 4 Adventure Tyres