Video Review: 2018 Kawasaki Ninja H2 SX SE
The all-new supercharged hypersports tourer from Kawasaki put to the test in real Australian road conditions... Video Review: Jeff Ware Photography, Video: Heather Ware, Kris Hodgson
We spent a week riding the Ninja H2 SX SE recently and came away impressed. Comfort is up there with the best sports-tourers, close to the Kawasaki 1400 GTR and Yamaha XJR1300, while acceleration is top of category, along with handling and stopping.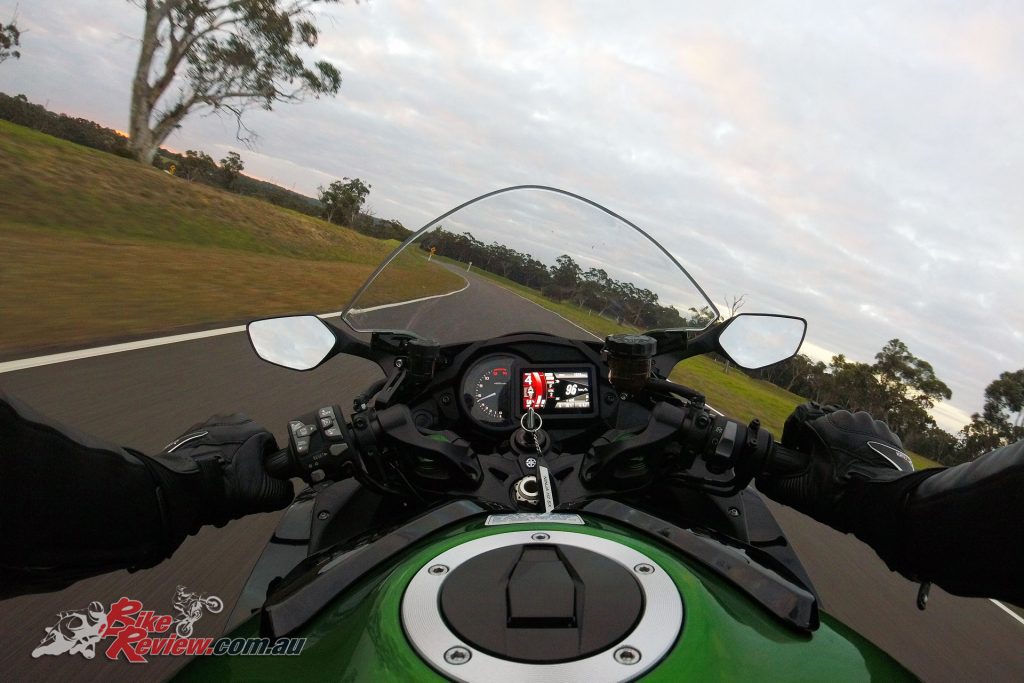 The way the supercharged engine delivers power gives a thrilling, unique element to motorcycling particularly in category. Keep an eye out for our full review, which will be published next week.

2018 Kawasaki Ninja H2 SX SE Tech Talk

For the new Kawasaki H2 SX and SE version, the powerplant has seen numerous updates, with Kawasaki going as far as to say it's practically all new, with a new impeller and intake system, as well as new pistons, cylinder head, cylinder, crankshaft, camshafts, throttle bodies, exhaust and revised gear ratios. In total the new engine and exhaust system is 3kg lighter than that of the H2.
Airflow is approximately 80 per cent of that on the H2, with Kawasaki boasting 25 per cent better fuel economy than the H2, with better thermal efficiency and a raised compression ratio. Compression has been raised from 8.5:1 to 11.2:1, with a smaller squish of 1mm from the H2's 4mm also contributing to combustion and helping prevent knocking.
The supercharger impeller is formed of a forged aluminium block using a five axis CNC machine, and measures 69mm, while six blades at the tip expand into 12 by the base, with grooves assisting airflow. The supercharger is driven by a planetary gear train off the crankshaft, and inceases the impeller to 9.2 times the crank speed.

The intake chamber is also designed for efficiency, and is made of rigid aluminium, now die-cast to reduce weight, instead of gravity cast. A new diffuser has also been added, while intake funnel lengths are further optimised for low to mid-range performance, with uneven lengths. Funnels one and four and shorter than two and three.
Kawasaki also boast the valve operation response is improved from the H2, with a ECU controlled blow-off valve regulating pressure, particularly on sudden throttle closes. Smaller diameter throttle valves, now 40mm from the H2's 50mm, assist low to mid-range torque and efficiency.
A two stage machine process is used for the cylinder head, developed for the ZX-10R, to form the throat of the intake ports, with the valve seat area bored twice, a second time for the valve seats, and offering smoother intake airflow.
Cam profiles offer a shorter intake (-8 degrees) and exhaust (-12 degrees) duration (and shorter overlap), with revised intake and exhaust ports to match the lower airflow.
Pistons feature revised crowns and are cast for strength, with Kawasaki claiming a unique casting process that results in similar weight to forged pistons. Cooling is also done by single piston jets, down from two on the H2, due to more efficient combustion and less heat. With less oil being pumped, the oil pump runs at a slower rate, and 500mL less oil is required, further saving weight. Dual secondary balancers ensure minimal vibrations.
The revised exhaust features a smaller diameter header pipe, with connector pipes, while the pre-chamber is now double-wall construction, down from triple on the H2. The silencer is also more compact and saves 2kg, with a reverse taper design.The catalysers are also relocated to just aft of the collector pipe, where they warm faster, provide better emission control, and reduce the necessity of ignition retardation.
Longer primary gearing is also found on the H2 SX engine, including on first and second gears.
Also new on the H2 SX is a redesigned frame to accommodate the greater carrying requirement of a touring machine. The frame's steering head was moved forward 15mm giving a wider steering angle of 30 degrees, while the engine is tilted two degrees forward. A stronger, longer rear sub-frame enables a total payload of 195kg for two-up riding.
A swingarm mounting plate, as found on the H2, allows the engine to act as part of the frame, with the swingarm pivot through the plate, and the plate mounted to the engine, removing the need for cross members and reducing weight. A single-sided swingarm as found on the H2 is retained, but is 15mm longer. The overall wheelbase is 25mm longer.
Suspension is 43mm forks offering full adjustability, while a KYB fully adjustable monoshock also found on the 2015-2016 H2 is also used. A new Uni-Trak linkage is also featured, and is below the swingarm and mounted to the swingarm mounting plate. A remote preload adjuster also offers easy adjustment.
The H2 SX features 320mm front rotors with radial mount calipers, with a 250mm rotor and twin piston caliper on the rear. The SX SE model features braided steel brake lines as standard, while the cast aluminium wheels on the SE also benefit from machining on the spokes and rim tape.
Unlike the original H2, the H2 SX features full fairings, offering greater protection and in part because the H2 SX puts out significantly less heat. The SE features a larger windscreen for additional touring comfort. Kawasaki are boasting an even more comfortable riding position than the ZZR1400 thanks to the level of wind protection on the SX.
Standard seat height is 835mm with a 820mm Low Seat available, with a comfortable pillion seat also featured, with a wide flat design. On the SE the seats are high grade two-tone leather/suede and double stitched.
Panniers are also mounted via a seamless system, which is incorporated into the pillion grab rails, with the panniers tested on the German Autobahn to ensure stability and safety. Givi 28L panniers are available, and are colour matched to the bodywork, featuring a one-key system that matches the ignition.
All lights on the H2 SX are also LED, with a compact LED headlight and LED position lamps. LED cornering lights are also featured on the fairings, which detect lean angle, with three lights on each side lighting up as needed. The rear taillight also features a H pattern in the LEDs, while turn signals are all LED.
The SE model of the H2 SX also includes a full colour TFT screen, with two selectable display modes – Touring and Sport. Overtall the new H2 SX weighs 18kg more than the original H2 and fuel efficiency improvements place it now on par with the Z1000SX and Versys 1000, with the H2 SX boasting a 19 litre fuel tank in line with it's sport touring lean.
An extensive electronics package is also featured on the H2 SX, with a Bosch IMU communicating with the ECU in what Kawasaki call the KCMF (Kawasaki Cornering Management Function) – Total Engine & Chassis Management Package. The IMU monitors inertia along six degrees of freedom Acceleration along longitudinal, transverse and vertical axes, plus roll rate and pitch rate are measured. The yaw rate is calculated by the ECU using Kawasaki original software.
Electronics include Kawasaki Traction Control (KTRC), with three modes, as well as Wheel Lift Control, Kawasaki Launch Control Mode (KLCM) on the SE, Kawasaki Intelligent anti-lock Brake System (KIBS) incorporating cornering braking control.
Power Modes are also available with three levels of power delivery – Full, Middle at 75 per cent, and Low at 50 per cent. Kawasaki Engine Brake Control (KEBC) also allows selectable engine braking levels.
Also standard is the Kawasaki Quick Shifter on the SE model, not operating below 2500rpm, while Electronic Cruise Control is standard fitment, and Kawasaki say it's a first on one of their sport tourers.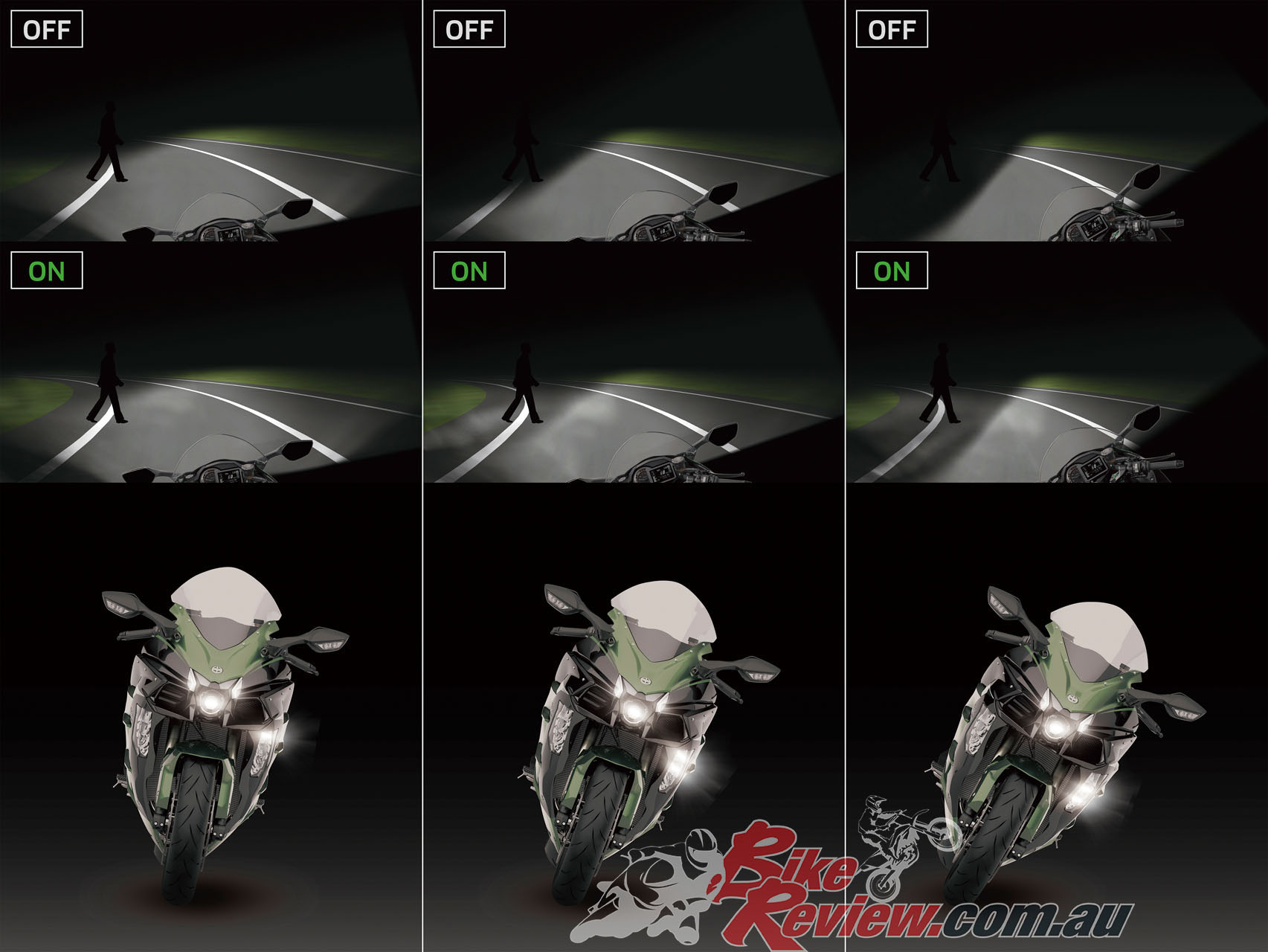 Kawasaki's cornering lights are found on the SE and offer greater cornering directed lighting at higher lean angles[/caption]
KLCM (Kawasaki Launch Control Mode) electronically controls engine output to prevent wheel spin and minimise wheel lift when launching on the SE model.
KQS: The SE also features a dual-direction quick shifter allows both clutchless upshifts and downshifts. Designed for effective sport riding, street-optimised settings enable operation at rpm above 2500 min-1.
The Kawasaki H2 SX SE also includes steel braided brake lines, machined wheel spokes with clear coat and a rear hub coupling with machined finish.
The SE is available in Emerald Blazed Green / Metallic Diablo Black.

2018 Kawasaki Ninja H2 SX SE Specifications
Price: $34,999 Ride Away See Kawasaki website for on-road cost at your postcode (link)
Click 'How Much?' tab to get your personalised On-Road cost (includes CTP, rego etc)
Warranty: Two years/unlimited kilometre
Colours: Emerald Blazed Green/Metallic Diablo Black
Claimed power: 146.903kW [197hp]@11,000rpm
Claimed torque: 137Nm[102ft-lbs]@10,000rpm
Wet weight: 260kg
Fuel capacity: 19L
Engine: Liquid-cooled, four-stroke in-line four-cylinder, DOHC, 16-valve, 998cc, 76 x 55mm bore x stroke, 11.2:1 compression ratio, 40mm throttle body, four dual injectors, Kawasaki supercharger, KQS (up/down), KTRC, KLCM, KEBC
Gearbox: Six speed, dog-ring
Clutch: Wet Multi-disc (Assist & Slipper clutch), hydraulic operation
Final drive: Chain
Chassis: Trellis high-tensile steel frame, swingarm mounting plate
Wheelbase: 1480mm
Rake: N/A degrees
Trail: N/A mm
Suspension: 43 mm inverted fork with rebound and compression damping and spring preload adjustability, and top-out springs, 120mm travel, Uni-Trak gas-charged shock with piggyback reservoir, compression and rebound damping adjustability, remote spring preload adjuster, and top-out spring, 139mm travel
Brakes: ABS (KIBS), Dual semi-floating 320mm rotors, dual radial mount four-piston calipers, single 250mm rear rotor, two-piston caliper
Wheels & Tyres:  Cast aluminium wheels, Bridgestone S21 tyres, 120/70 ZR17 (58W), 190/55 ZR17 (75W)
DIMENSIONS:
Ground Clearance: 130mm
Seat height: 835mm
Length: 2135mm
Width: 775mm
Height: 1126mm
Instruments: TFT Display unit.
Extras: Comfort seat, Electronic Cruise Control, Kawasaki Cornering Management Function (KCMF), LED headlight, taillight, turn signals, number plate light, LED cornering lights, Givi 28L panniers (colour matched)
SPECIAL THANKS: Sydney Dyno

2018 Kawasak Ninja H2 SX SE Gallery