Yamaha's XV1900AT Star Tourer's review, style and performance create the perfect long distance tourer. Test: Mick Withers, Photography: Yamaha
Yamaha launched its Star Motorcycles brand in 1996 in order to differentiate its cruisers from the main brand, with the American market a huge area for possible growth in this segment, but with the hurdle of overcoming entrenched American brand Harley-Davidson.
The move proved successful, with the branding rolled out, although in many markets Yamaha still directly sells the Star Lines, with the design behind the models based on the American market.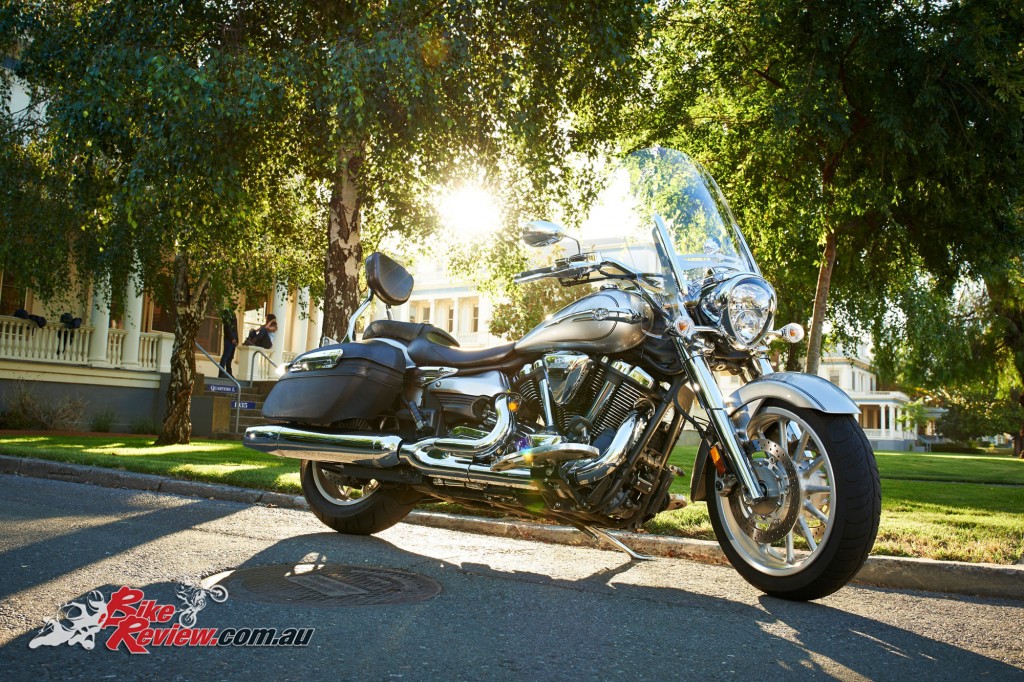 The XV1900AT Star Tourer, Stratoliner (in the US), or Yamaha Midnight Star as is it known in the UK was inspired by the need for a large capacity cruiser offering along with the XV1900A Roadliner, both of which would feature a 1854cc V-twin engine with a number new of features, like four-valve heads, forged pistons, with oil jets in the block providing additional cooling, not to mention Yamaha's EXUP exhaust system, previously only seen on the brand's sportsbikes.
The forged pistons feature Alumite coating, while the cylinders are ceramic-composite coated, reducing friction, with the 48-degree V-twin running four-valves per cylinder, with pushrod activation and two spark plugs per cylinder for efficient combustion. Torque is an impressive 123ft-lbs(166.7Nm) at just 2250rpm, with the Star Tourer offering great performance.
The bike's chassis is also aimed towards performance, with an die-cast aluminium double-cradle frame and swingarm offering rigidity and strength, while helping to keep the bike's weight down, particularly in comparison to its direct comparison.
With the main competition Harley-Davidson it was also recognised that styling would be a huge selling point, with down stated branding and plenty of chrome lending the Star Tourer clean traditional looks, further complemented by fat chrome bars with internal wiring, integrated master-cylinders and levers, a detachable windscreen and pillion backrest, plus cast aluminium triple-clamps.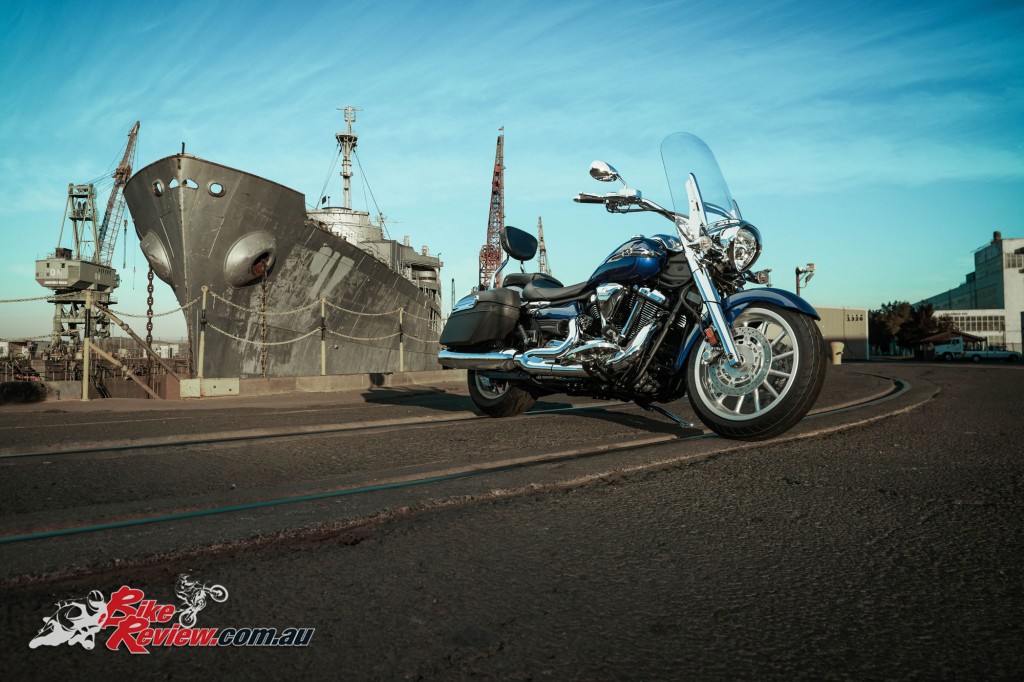 The teardrop shaped tank was another standout feature, being a seamless design, capable of holding 14L with an additional sub-tank hidden under the seat holding an additional 3L for a total of 17L.
With a combination of technology, style and performance the XV1900 is the perfect bike for consuming huge distances in comfort, with the benefit of luggage, screen and pillion backrest as standard, and including in Australia a five-year warranty for a huge injection of peace of mind – a feature Yamaha offer on all Star cruisers and which shows just how serious the brand is about competing in the cruiser market.
The Ride – Yamaha XV1900AT Star Tourer
Yamaha's biggest torque monster has been a temptation for a while and while other people may have made other choices I wanted to jump straight in and see what it was like at the big end of Yamaha.
Physically occupying a large piece of real estate, the XV1900AT or Star Tourer as it's also known, can seem a bit imposing. No beating round the shrubbery, this is a long bike made wider by the fitment of saddlebags. The addition of a sissybar made the back look tall while the screen increased the frontal area to just shy of a small car.
After my first ride, I wanted to remove the screen for the duration but the required key wasn't on the keyring. That's also the same key used to lock the saddlebags so they remained unlocked. At roughly 183cm, I found myself being buffeted and the top half of my face covered by beard. Changing to a full-face helmet cured the beard but not the buffeting.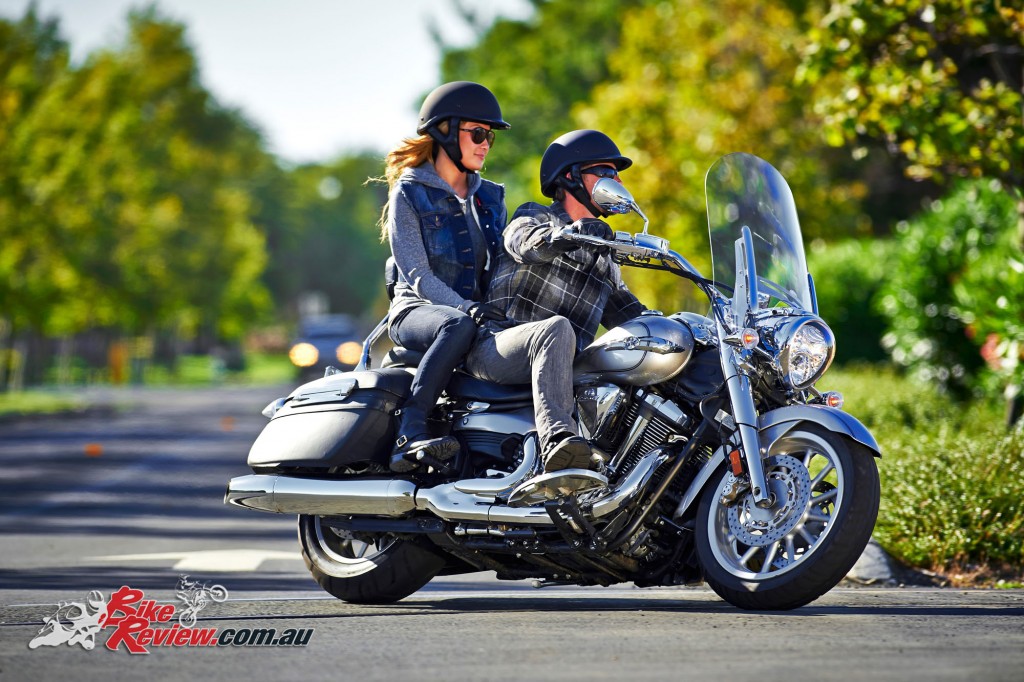 Over time, I did become accustomed to the buffeting but the reflections in the screen never went away. Riding into the morning sun resulted in reflections from the chrome dash surround hitting the screen right in my field of vision. With the sun behind you, it's not so bad but then when the sun drops and Skippy and his mates come out to feed and terrorise riders, the reflection of the dash left me visually challenged.
The refracted view of the dash was about 120 to 150mm tall but was right across the top of the screen. I could have covered the dash with duct tape but on The Green Mile from Woy Woy back to the 21st Century, it was in short supply.
By sitting up straighter I could see over the top of the screen but this wasn't great on that road. What I found was that if I swayed my upper body off to one side, I had clear vision again. The trip south down the F3 was made while moving up as well as off to each side.
I'd have loved to be sitting behind me that night, it would have looked comical. Once I hit streets with street lighting, the problem was reduced dramatically. Not eliminated, just reduced. Maybe there aren't many of us left who venture out after dark on highways on motorbikes.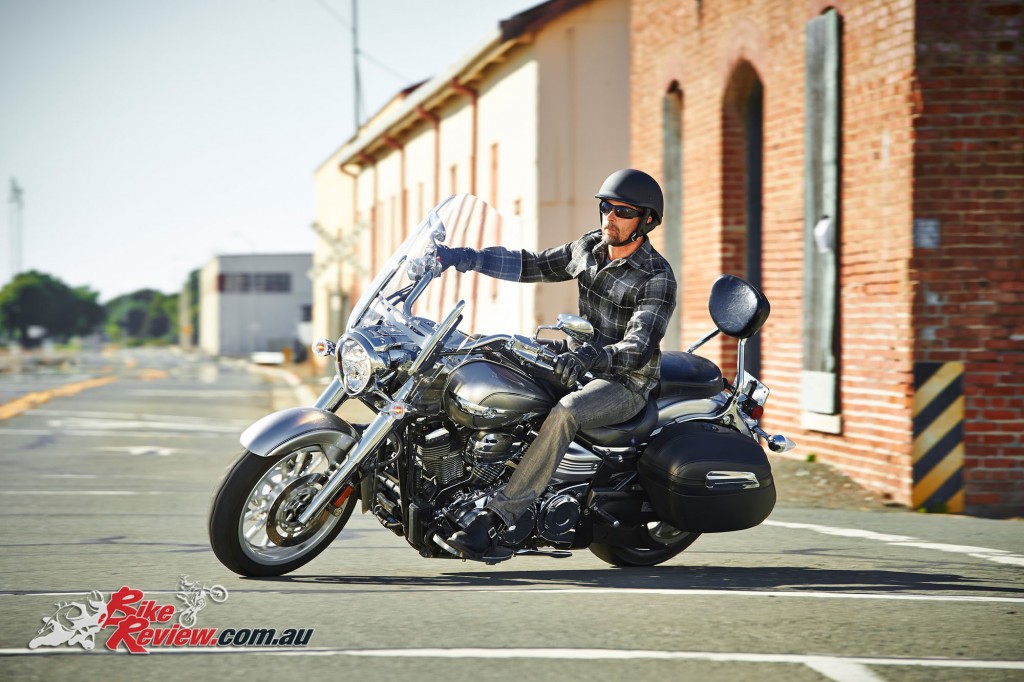 The headlight works fairly well on unlit roads with a reasonable throw from the high beam. What I later discovered is that it is quite easy to dim the dash's backlighting. Do this and you'll be much happier.
The riding position was just about spot-on for me and my tastes. Hands and arms were relaxed while the feet could make their own arrangements on the footboards. I kept thinking that I needed to adjust the clutch lever slightly downward but never did.
That was the only thing I noticed, and by the time I got home, I'd forgotten all about it. The heel and toe shifter is a great idea but I found the heel part awkward to use so I just used my toes. A part of this test that's missing is the bit about carrying pillions and what they think of the rear accommodations. I almost gave a mate a lift to Fridays but he changed his mind at the last minute. From looking at the generous seat and sissybar, it looks comfy.
At 346kg wet, the Star Tourer ended up much closer to 480kg ready to roll with me aboard. Initially, the Star Tourer felt big and heavy but after a couple of days of varied riding, it shed bulk and weight. The U-turn test in my (narrow) street was completed with both feet on the footboards.
Wandering down to the shops for the stuff that always runs out was a doddle on the Star Tourer except for the 'I used to have…' conversations that seemed to follow it. I can't comment on its peak hour abilities but you're not gonna buy a Star Tourer to commute. Or are you?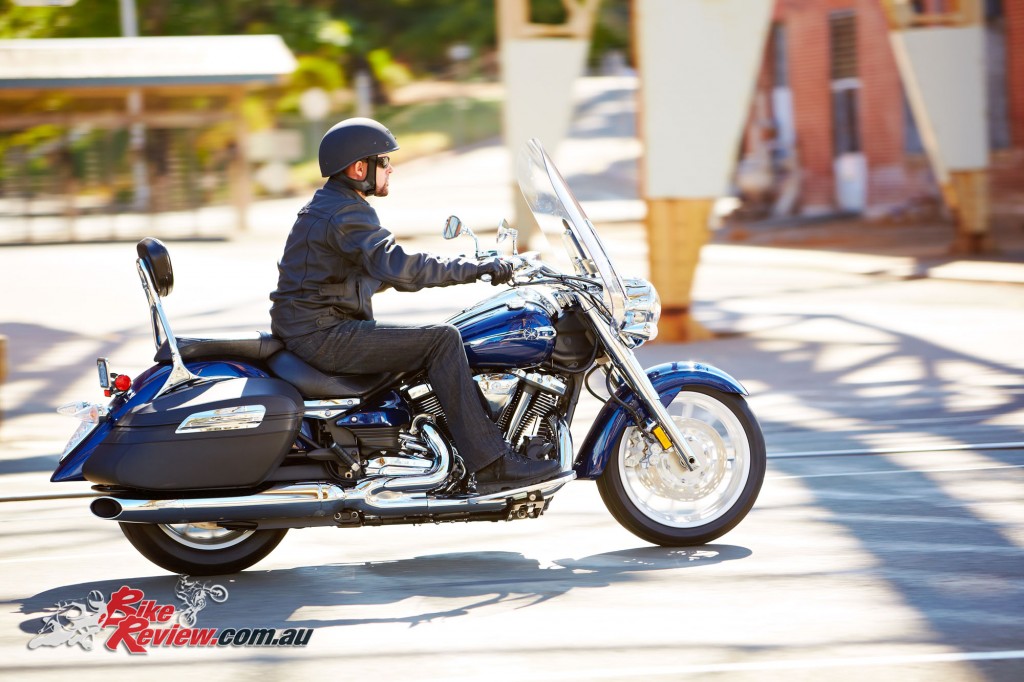 Empty roads leading somewhere interesting are where the Star Tourer belongs. Freeway cruising with the speedo between 100 and 120km/h is its happy place. The tacho is showing somewhere between 2000 and 3000rpm and there's enough torque on tap to drag small buildings up steep slopes.
Twisty roads make life interesting and the Star Tourer loved the feel of them enough to occasionally lean over and kiss the road surface with the blocks under each footboard. The blocks are easy to replace after undoing two bolts apiece and would be much cheaper than replacing the complete floorboard.
If you want to be silly, you'll be dragging the exhaust on the right and the sidestand on the left but shortly after that the 190/60-17 rear tyre would start lifting and things would get overly interesting. Roll the throttle back and cruise. There are more suitable bikes if you need to corner quicker.
According to everything I've read, the big fuel tank holds 17 litres but I never put more than 14.5 in when filling at 240-260km. Dunno about you, but km/l makes more sense than l/100km. I averaged out at 17.3l/km or 5.78l/100km. Perhaps you could push the limit to try and squeeze the other two litres in.
Overall, apart from the screen, I had a ball on the Star Tourer. I reckon it did what it was designed to do and did it pretty well. – Mick Withers
Engine – Yamaha XV1900AT Star Tourer
The 1854cc or 113ci V-twin engine is a good thing. A pair of pushrods is hidden in each of the chrome tubes running up alongside the front and rear cylinders. No overhead cams here!
Just riding it was enough for us to realise that the Star Tourer was well-endowed with torque. The sort of stuff that makes trucks disappear in the mirrors as you overtake them while climbing the hill from Mooney Mooney Bridge. To quantify matters, we took it to Sydney Dyno and had Dave Holdforth run it up on his Dynojet dyno. The figures he measured are a torque curve that shows 100ft-lbs of torque from 2250 to 4100rpm. A peak horsepower figure of 81.98hp was recorded at 4700rpm.
Other features of note include Yamaha controlled forged construction pistons with Alumite coating, and ceramic composite-plated cylinders, reducing friction and helping dissipate heat. 43mm twin-bore downdraft throttle-body EFI ensures great fueling with 12-hole two-directional Mikuni injectors, with dual spark plugs for each cylinder for complete combustion. Large valves were also used to increase power and torque, with 36mm IN valves, with 31mm EX valves.
The performance orientated two-into-one exhaust system has large diameter headers, with a catalyser incorporated into the muffler, while a titanium EXUP valve assists with throttle-response and acceleration.
A frame mounted oil-cooler is also featured, while the dry sump helps keep the engine compact and weight low. An Assist and Slipper clutch is also featured, offering a back-torque limiting function to help control engine braking and ensure a smooth ride. The clutch also uses a hydraulic master cylinder.
Chassis – Yamaha XV1900AT Star Tourer
The Star Tourer benefits from a die-cast aluminium double-cradle frame and swingarm, helping reduce weight, while the triple-clamps are also cast aluminium items, holding rigid 46mm forks. The rear suspension is a single link-type rear shock, with preload adjustability.
Wheels are 12-spoke cast aluminium wheels, with a 4.00 x 18in front and 5.50 x 17in rear. Brakes are four-piston Monobloc calipers front and rear, with two 298mm front rotors and a 320mm rear rotor.
Yamaha XV1900AT Star Tourer Specifications
Power: 61.1kW[82hp]@4700rpm
Torque: 135.6Nm[100ft-lbs]@2250rpm
Wet Weight: 364kg
Fuel Capacity: 17L
Engine: Air-cooled, four-stroke, 48° V-twin, four-valves per cylinder, OHV, 1854cc,100 x 118mm bore x stroke, 9.1:5 compression, twin-bore EFI, 43mm throttle-bodies, belt final drive
Gearbox: Five-speed
Clutch: Wet, multi-plate
Chassis: Aluminium double-cradle die-cast frame and swingarm, Rake: 31°, Trail: 152mm.
Suspension: 46mm telescopic forks, 134.5mm travel, single rear shock, link-type, adjustable preload, 109mm travel
Brakes: Dual 298mm front rotors, four-piston Monobloc calipers, single 320mm rear rotor, four-piston Monobloc caliper
Wheels & Tyres: Cast aluminium 12-spoke wheels, 4.00 x 18in, 5.50 x 17in, 130/70 – 18, 190/60 – 17
DIMENSIONS:
Wheelbase: 1715mm
Length: 2580mm
Width: 985mm
Height: 1180mm
Seat height: 705mm
Instruments: Multi-function display