The 2013 CBR250R was a great bike and is a good used option. Here is our CBR250R review. Test: Jeff Ware Photography: Heather Ware
It was a fair while ago that I was first looking at learner bikes, and naturally the main and most popular option was a used Honda CBR250RR from the 1986-1995 era.
Thankfully Honda saw the demand and released their newer, more learner centric Honda CBR250R, which is not only considerably less expensive than a used CBR250RR but also a much more ideal first motorcycle.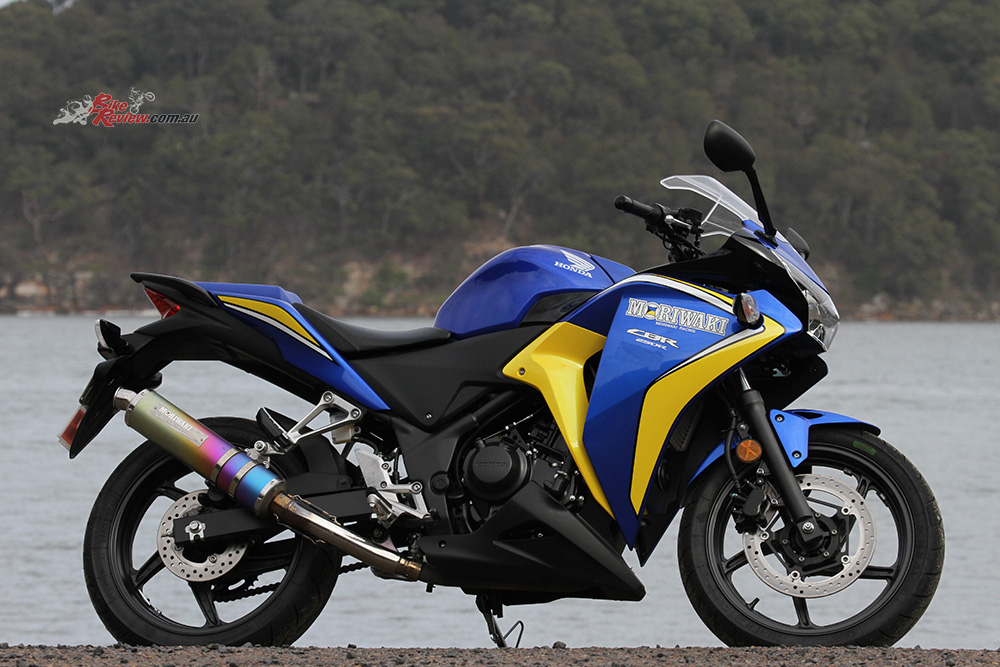 Honda's 2013 Moriwaki offering takes race livery and a 'track use' exhaust to compliment an already impressive learner package, which has dominated bike sales for years but has been replaced by the newer CBR300R in recent times.
On the front end a single 296mm rotor is grasped by a two-piston caliper via sintered metal pads, while the rear has a 220mm rotor with the same caliper and pads, providing ample stopping power.
The steel dual-beam frame combined with 37mm telescopic forks and a Pro-link Monoshock damper give the bike a nimble and sure-footed character, which is surprisingly easy to throw around and lean into corners and the bike's meagre 160kg kerb weight ensure you feel in control.
The 249.6cc four-stroke single is claimed to produce around the 26hp mark, which isn't bad for such a small donk and is fuelled to perfection, with good mumbo off the line.
The six-speed gearbox and clutch provide positive shifts and are a pleasure to use, whether you are puttering through heavy traffic or getting ahead of traffic at a set of lights.
The bike feels much like the CBR600RR from a size perspective, although the 'bars are higher and the seating position less aggressive  – providing good vision and plenty of steering lock. For most riders the ergonomics will be ideal, although someone of a larger stature may find themselves a little cramped.
Styling is modern and I'm partial to the race inspired themes, which are a great idea, as the regular versions are somewhat bland with the Red, Black or Tri-colour options not doing quite as much for me.
On the road everything comes together as a great package that provides an ideal everyday ride, for a learner rider, or just someone interested in a fuel efficient, reasonably priced ride that won't let you down.

Whether you are stuck in the everyday city commute, swooping up your local highway, or out scratching on the weekend the CBR250R provides plenty of thrills and is an ideal option for learning the ropes. Even out on the track the little 250 provides enough mumbo to keep the heart pumping, not to mention the advantage of really being able to push to the bike's limits.
This also provides the opportunity to fit that 'race only' Moriwaki exhaust which gives the bike a drumbeat like note and increases power by a small but not unnoticeable margin.
It comes as no surprise then that the CBR250R was the bestselling motorcycle for many years and in a busy learner market this is recommendation enough to take a good long look at Honda's offering, if you want something second hand.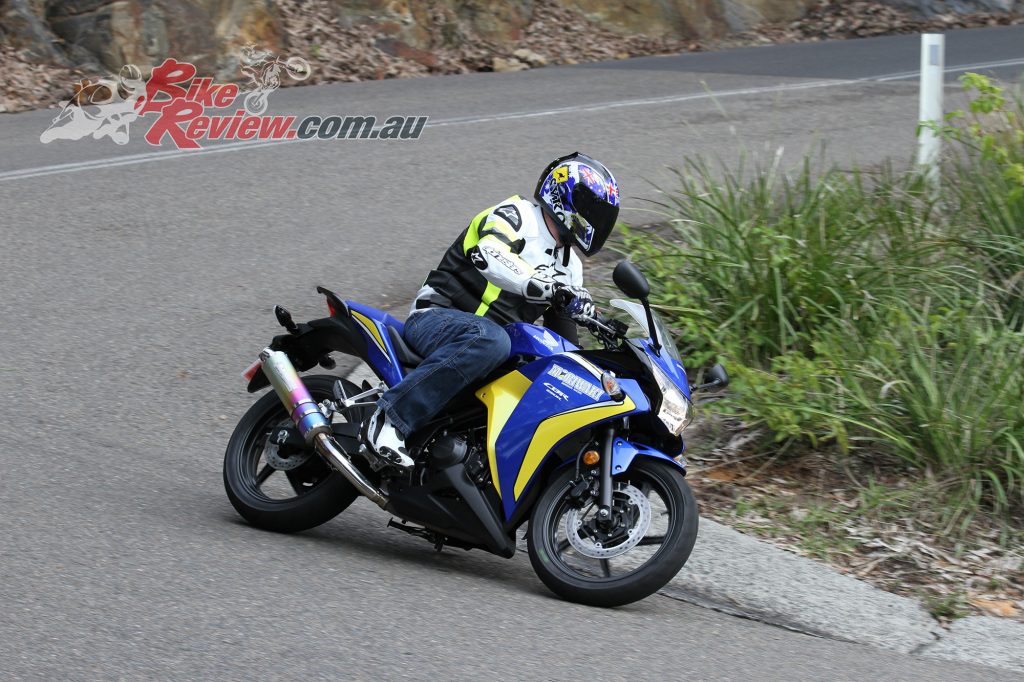 Honda CBR250R Specifications
motorcycles.honda.com.au
Price: $5,510 + ORC (new, $200 extra for Moriwaki Edition)
Warranty: Two year/unlimited kilometre
Colours: Red, Black, Pearl White/Blue/Red, (Moriwaki SE)
Claimed power: 19kW[26bhp]
Claimed torque: N/A
Wet weight: 161kg
Fuel capacity: 13L
Engine: Liquid-cooled, DOHC, four-stroke, single-cylinder, 249.6cc, 75 x 55mm bore x stroke, EFI, six-speed gearbox, 10.7:1 compression
Chassis: Steel dual-beam frame
Seat height: 784mm, Wheelbase: 1369mm
Suspension: 37mm telescopic forks, 118mm travel, Pro-link Monoshock damper, 104mm travel
Brakes: Single 296mm rotor, two-piston caliper, sintered metal pads, single 220mm rotor, two-piston caliper, sintered metal pads
Wheels: 110/70 – 17, 140/70 – 17
Instruments: LCD display.
The Verdict | Review: 2013 CBR250R Moriwaki