Yamaha's Stryker offers unbeatable value, with exceptional performance in the cruiser segment. Here's our 2014 Yamaha Stryker review. Test: Kris Hodgson Photography: Jeff Crowe
Attitude, presence and power, Yamaha's Stryker has taken the engine from the relatively mundane XVS1300 offerings and forged itself a new niche – which Yamaha are defining by its classic chopper theme, complete with raked out front end, tall bars and aggressive long and low styling.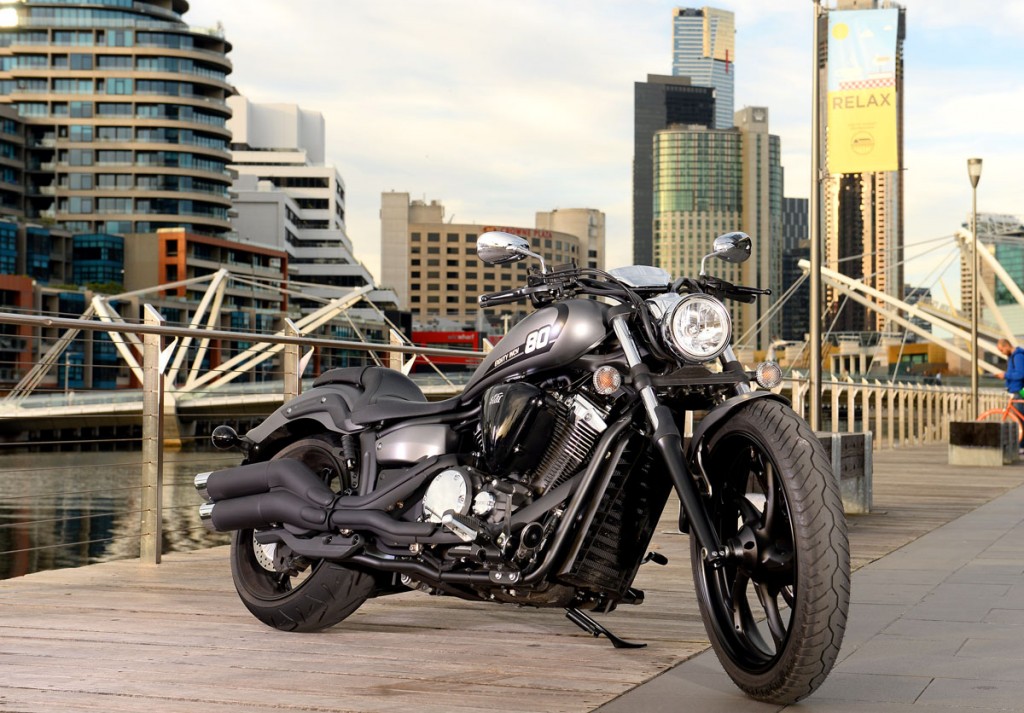 Displayed out front of Gasolina in Melbourne the line of Strykers looked perfectly at home, crouched menacingly on the sidewalk, daring the passer-by's to come closer for a better look. The Stryker is a muscly brute ready to carry you into the world of cruisers in style and boasts a liquid-cooled 1304cc 60 V-twin with four-valves per cylinder and fuel injection.
The Stryker hasn't given up the classic aircooled look though, further highlighted by the polished upper cooling fins and polished cylinder head against the black cylinder block, blending efficiency, technology and style to great success.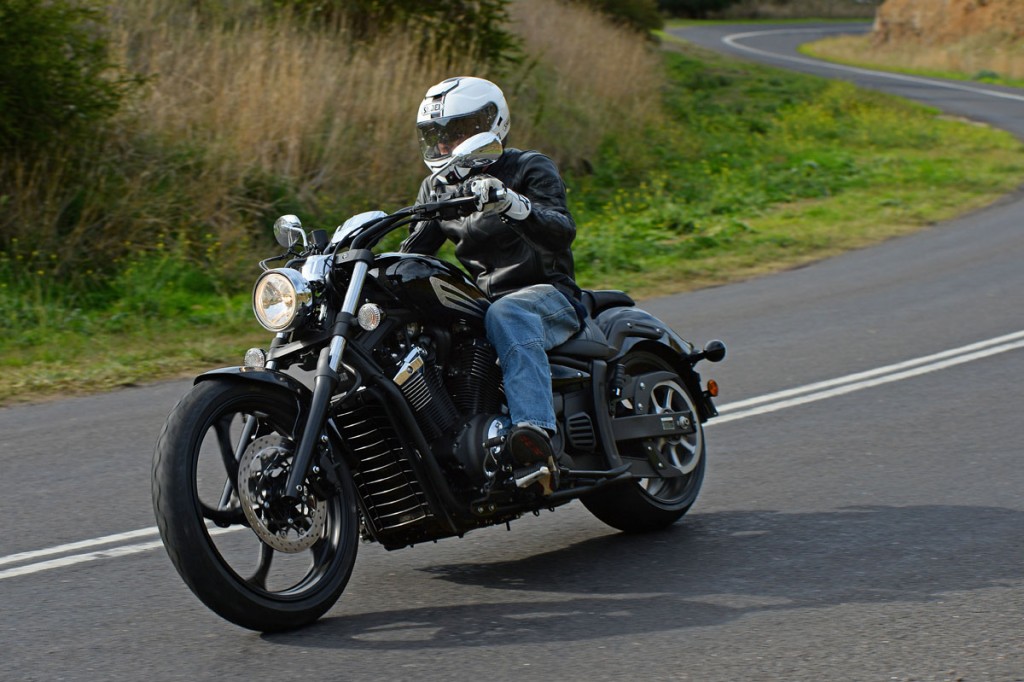 Ceramic composite-plated cylinders ensure heat dissipates evenly, while minimising friction and forged pistons reduce weight and increase durability and the crankshaft is a single crank pin design with an uneven firing order in order to maintain that V-twin character with a quick revving nature.
Fuel is provided by a Mikuni dual bore 40mm throttle body with TPS and Idle Speed Control, including an oxygen sensor that allows the system to adjust the air/fuel ratio for optimum power, allowing power to be delivered smoothly and with great throttle control.
Around the 70hp mark doesn't set the performance world on fire, but producing 100Nm of torque from right down low ensures that the Stryker is surprisingly nippy considering it weighs in at almost 300kg with a full tank of fuel.
The black double cradle steel frame with steel swingarm combine to create a 1750mm wheelbase, while the forks are raked at 34 with a six-degree yoke offset that combine for a total fork angle of 40. Where this would normally boost straight-line stability at the expense of… well everything else, Yamaha's clever solution ensures this isn't an issue, encouraging a more aggressive approach on the throttle.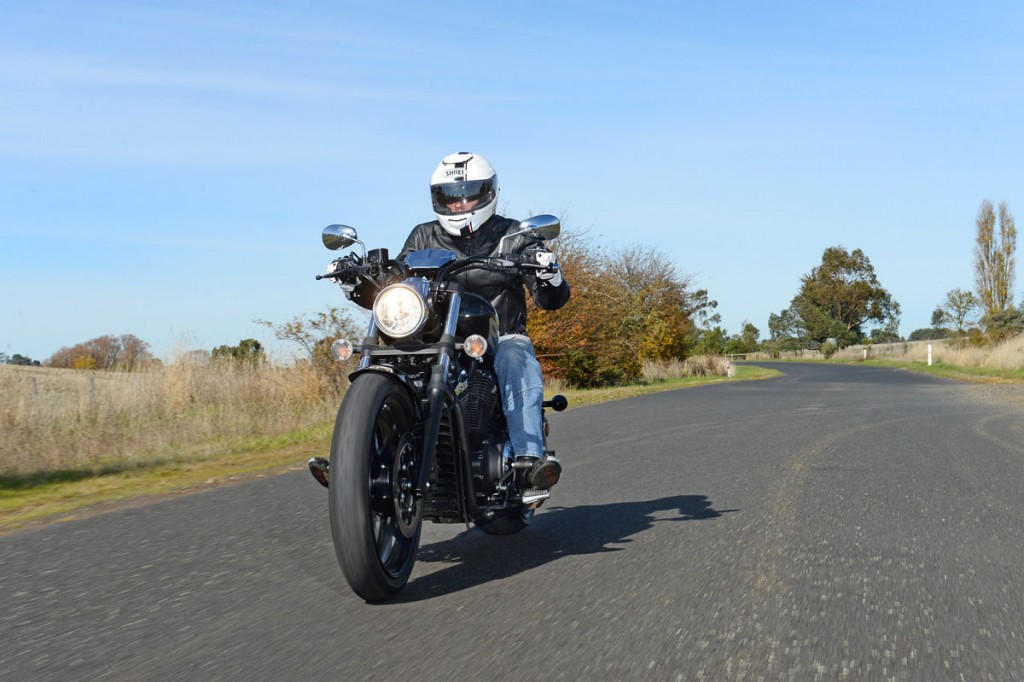 The 41mm forks provide a plush ride, while the single Monocross rear shock with link-type suspension does a reasonable job over Australian roads and has preload adjustability.
The large 21in front wheel is an interesting feature that helps lend the bike chopper-tude (chopper attitude) while the 210-wide rear tyre helps the rear end maintain a muscly look, although the wheel guard's pillion seat doesn't really invite too much investigation. Both wheels are five-spoke cast aluminium affairs.
One-inch diameter handlebars that reach for the skies also provide a comfortable reach with simple controls, while the pegs and forward controls are easy to use and allow you to take advantage of the bikes five-speed gearbox and front and rear brakes. The five-speed gearbox comprises tall gearing, with the bike lacking a tachometer, which doesn't really raise eyebrows, as you'll know when to shift just from listening to the bike and how it feels.
The single front brake system is a 320mm rotor with twin-piston caliper, while the rear is a 310mm affair with a single-piston caliper. Braking power is quite reasonable when they are used in conjunction but not overwhelming.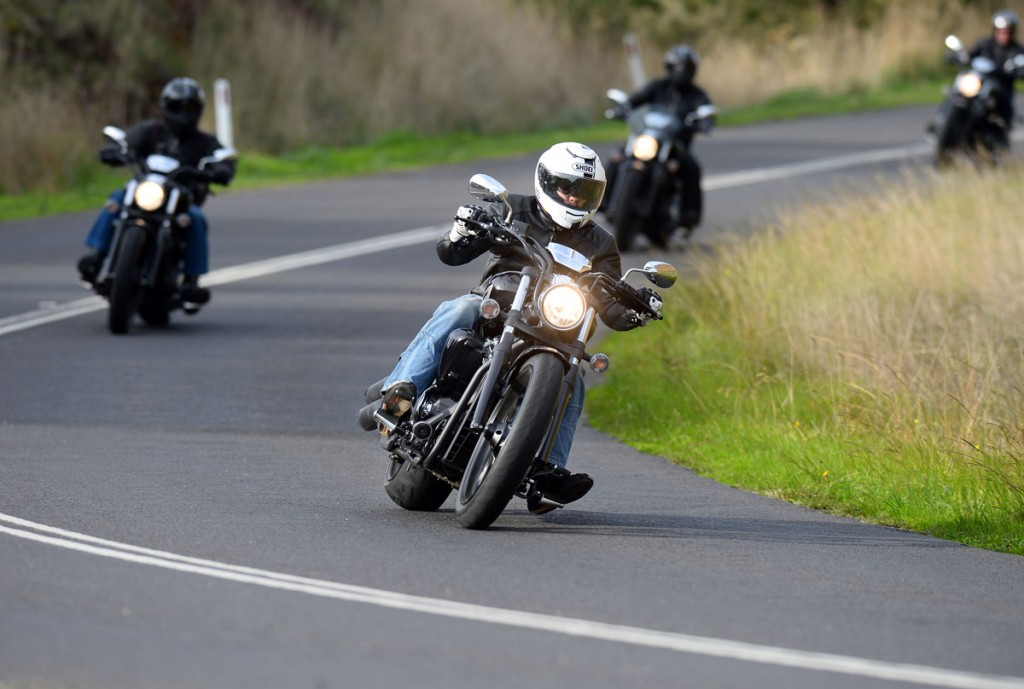 Clearance is also good for a cruiser, in no way a chore or a daunting task. Grip also remains good even across damp sections of road and the bike feels grounded at all times, providing confidence to hoon around, whether it be in town, on the open road or through twistier sections.
What really set this bike apart from other cruisers I've seen and tested however was the fact the bike has obviously been designed around rideability, ensuring the bike performs every role you throw it at with confidence, even those that may typically belong to a slightly different segment.
The finish quality is exceptional, with the dash surround being the only area I felt didn't fit the rest of the bike to a T, and jumping on the bike everything falls into place instantly.
Performance is also exceptionally good, with bucket loads of torque serving to provide great acceleration when necessary – enough to require a tight grip on the bars if you really decide to roll that throttle open – with way more speed on hand than you'll ever need on our heavily restricted and policed roads.
Add Yamaha's trademark reliability and overall quality and you've got yourself a winner, especially at just $14,999 RRP for the Midnight Black offering, and $15,299 RRP for the Matt Grey, plus on roads. All with a five-year warranty!
SPECIFICATIONS: 2014 Yamaha Stryker
WARRANTY: Five-year, unlimited kilometre
COLOURS: Midnight Black, Matt Grey
CLAIMED POWER: 68@3700rpm
CLAIMED TORQUE: 100Nm@3000rpm
WET WEIGHT: 1293kg
FUEL CAPACITY: 15L
ENGINE: Liquid-cooled, four-stroke 60 V-twin, four-valves per cylinder, SOHC, 1304cc, 100 x 83mm bore x stroke, 9.5:1 compression, EFI, TCI ignition
CHASSIS: Steel double cradle frame
SEAT HEIGHT: 670mm, Wheelbase: 1755mm
SUSPENSION: 41mm telescopic forks, 135mm travel, link-type Monocross rear shock, 100mm travel
BRAKES: Single front 320mm rotor, twin-piston caliper, 310mm rear rotor, single-piston caliper
WHEELS & TYRES: Five-spoke aluminium wheels, (F) 120/70-21, (R) 210/40-18
INSTRUMENTS: Analogue speedo with digital display.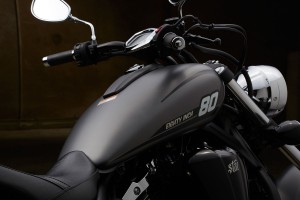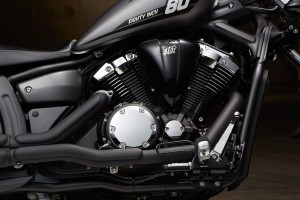 Review: 2014 Yamaha Stryker Launch
The Yamaha Stryker combines chopper styling with great value and performance, for the perfect everyday cruiser.