Ducati's Multistrada 1200 S is the perfect all-rounder! Here's our Ducati Multistrada 1200 S review. Test by Kris Hodgson Photography by JP Media PL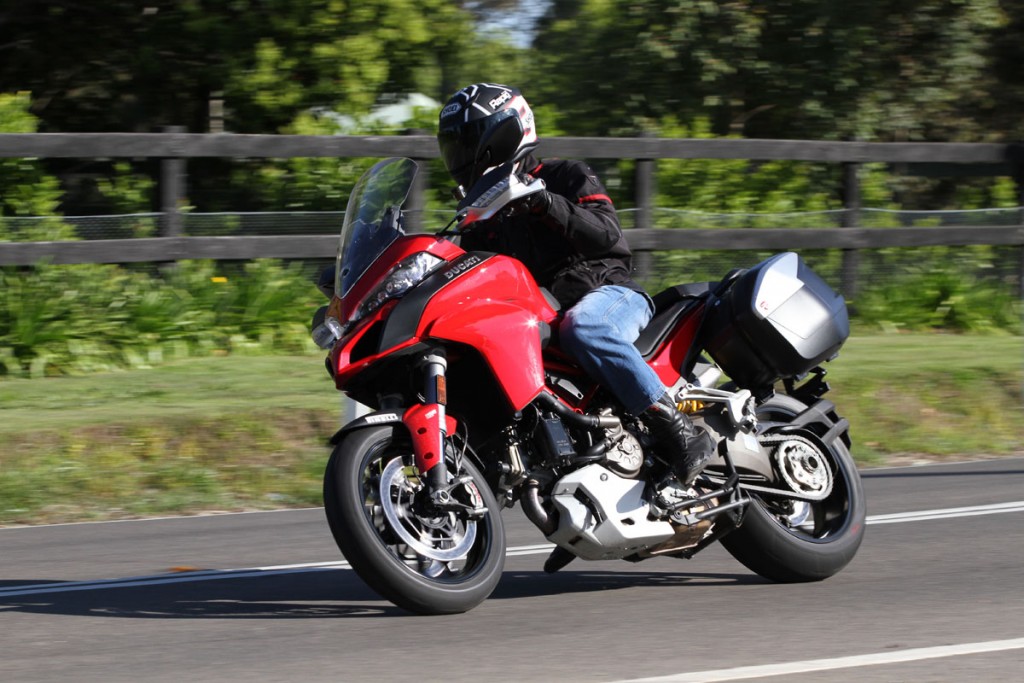 When I had a chance to try out the Ducati Multistrada Pikes Peak last year I was incredibly impressed, the concept of four bikes in one is bandied about quite commonly when referring to the Multistrada and in the form of the Pikes Peak it was certainly an impressive machine, particularly from a sportsbike perspective.
The current Multistrada shares many traits with the Pikes Peak and is a large bike with a wet weight of 235kg – relatively light all things considered. I found the seat height tall, although it is adjustable between 825 and 845mm and couldn't get both feet flat to the ground, although balance and low speed maneuvering were both very good. Reach to the bars was taller than I'm used to but comfortable with everything falling nicely to hand.
The riding position itself is very upright and the one-hand-adjustable screen at its tallest kept buffeting off me nicely. On the lowest setting I could also get fresh air on my face with my visor up around town. Heated grips of a chilly morning are priceless and the centre-stand is a nice touch, although probably not for everyone. They are part of the Touring pack which includes heated grips, panniers and center-stand.
Styling is also great, in typical Ducati form and even with the panniers on the bike is eye catching, with someone asking about the bike almost every stop.
What makes the 2015 Ducati Multistrada another step forward by Ducati, is the Testastretta DVT engine, with DVT standing for Desmodromic Variable Timing.
To keep it as simple as possible, the DVT system independently varies the timing of the camshaft that controls the intake valves and the camshaft controlling the exhaust valves, allowing the valve overlap to be controlled dynamically by a sensor in the cam covers.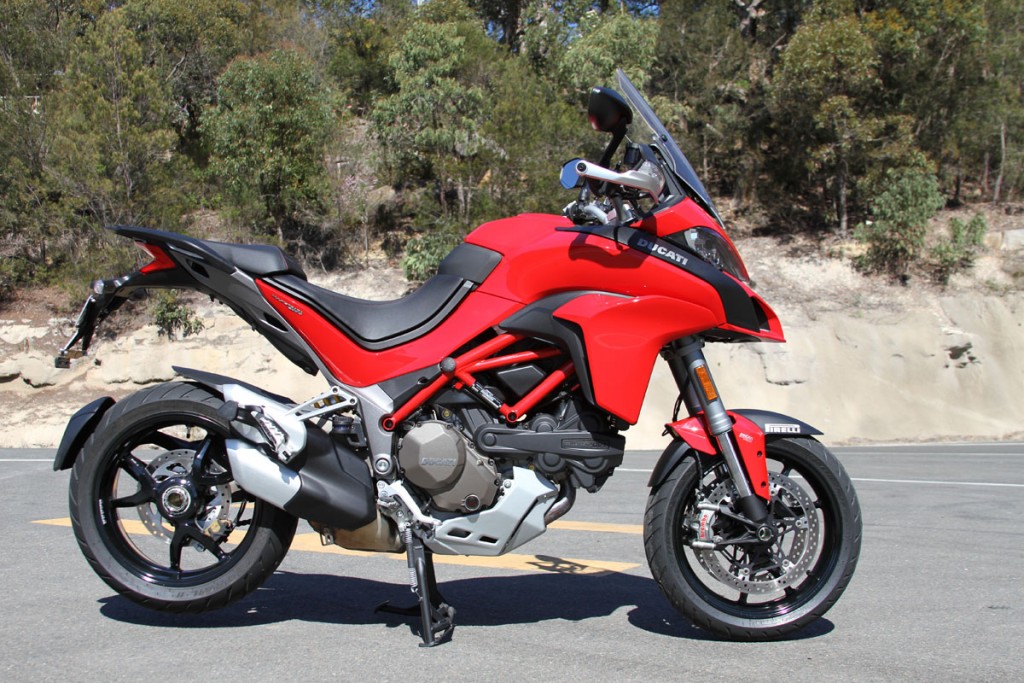 The advantages being that with the DVT the engine can be optimised for top end performance and low to mid range torque and smoothness, independently. Traditionally a compromise would have to be made, whereas the variable timing allows that compromise to be avoided, with Ducati claiming better overall fuel efficiency, top-end power and low to mid range torque. Oh and better emissions.
The Multistrada S also benefits from the Ducati Skyhook Suspension found on previous models, however it has been further refined with new software that incorporates data from the IMU and features new algorithms for the 48mm forks and Sachs rear monoshock.
The S also includes a few nifty additional features like full LED headlamps, including the Ducati Cornering Lights (DCL) which basically uses the IMU to turn the lights into the corner to give better vision, something more commonly seen on high end cars.
The braking systems on the S is also an upgraded Superbike spec system, with M50 Brembo calipers on 330mm rotors, with a dual piston Brembo rear caliper on 265mm rotor. The rear brake is shared with the regular model, which only sports Brembo M4.32 calipers with smaller 320mm rotors on the front.
Also standard is the Ducati Multimedia System, which uses Bluetooth to accept incoming calls, alert you to messages and control your music, when synced with your other devices and which has a smartphone app for Android and IOS for additional functionality, while all of this is displayed via the S's full colour TFT display, which also automatically modifies its display depending on the environment, ensuring you always have a clear view of the dash. You'll notice it toggling between display modes when you go under a bridge or into a tunnel.
On the bike the result is performance that starts low and tractor-like, with strong but controllable low end-torque, and between 4000 and 5000rpm transforms into sportsbike like drive – in fact if you want to move off in a hurry try opening that throttle wide open, it's exhilarating.
It took a bit of getting used to though as engine character changes noticeably on the fly and I found the Sport mode my pick of choice for most of the conditions I rode in, with a more instantaneous throttle delivery and the Skyhook suspension on a firmer setting. In comparison Urban and Enduro provide 100hp, with Touring offering 160hp with a softer delivery and being my runner up choice if I was coasting around a bit more casually, with that more progressive power delivery being forgiving of a more lazy riding approach.
Sport offers the full 160hp, with the sharpest connection between the throttle and RbW system through to the engine and gearing is tall enough that going past fourth is just a matter of fuel efficiency and keeping the rpm down more than anything, although it'll pull strongly from surprisingly low rpm in the higher gears. Keeping the revs up past 4000rpm also transforms the feel of the engine, where it transitions into much smoother running, with slight vibes felt through the 'bars, but not in an annoying fashion – you just know the bike's powerplant is at work.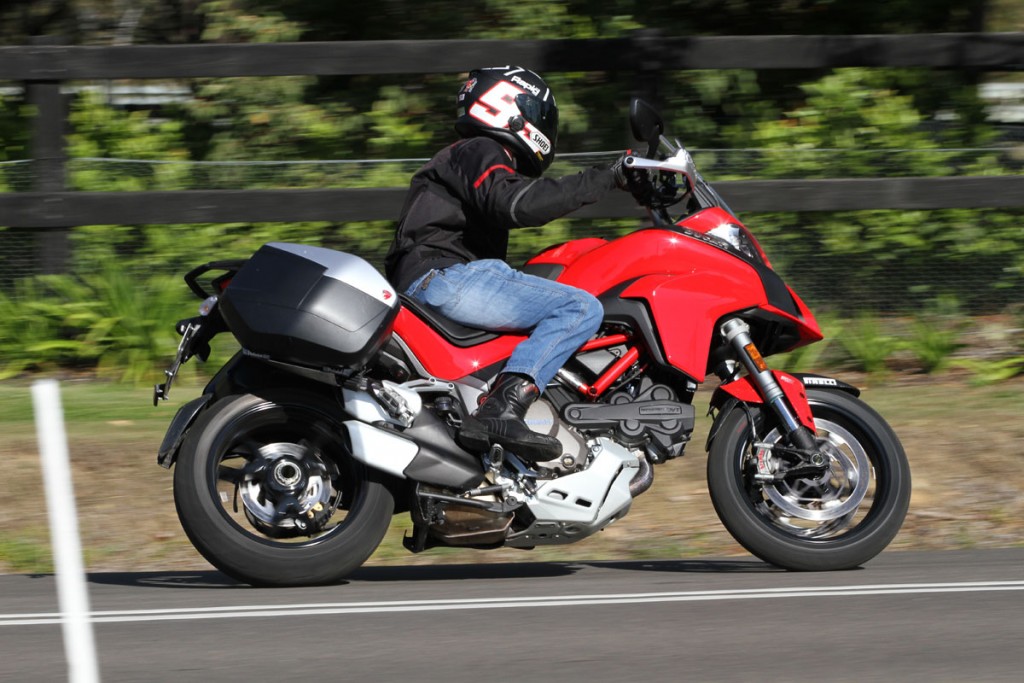 I didn't go off road, but Jeff did on the standard version (to be published this week), but getting caught in super heavy traffic after picking the bike up, Sport provided the nicest mixture of power delivery and suspension support, particularly in the forks, while a full day riding on the highway, twisties and doing photo runs all had me happiest remaining in Sport. Having filled the bike with 98 octane fuel after picking it up, as I reached the bottom of the tank I found the engine became choppy, something which cleared as soon as I refilled it again with 98, leaving me to wonder whether it had received a bad tank of fuel in the past, with some lingering effects. The DVT was otherwise incredibly smooth and refined.
You can also modify each of the riding modes for a variety of settings, where I was using the baseline settings, which means you can have each mode set up for specific conditions, whether that's suspension, power delivery, ABS, DTC or DWC.
Vibrations are minor even at higher revs and fuel efficiency seemed great, considering the tank size is only 20L.
The Skyhook Suspension was a standout and in Sport mode with one helmet (the one rider, no luggage setting) I could feel the forks providing more support during heavy braking, only to soften as I came to a stop. It may sound strange but I found it much more comfortable than systems where fork dive is simply gone during everyday riding.
Through the local twisties the Skyhook suspension also proved itself, with an ability to easily absorb road irregularities. Coming into corners needs more effort than your regular sportsbike with the Multistrada obviously carrying its weight taller and taking more input to follow your chosen path. It wasn't the sharpest on tip in, with the standard settings – but that's something you can tweak thanks to the level of adjustability on offer.
The taller bike also means you're leaning over further, which was easy and confidence inspiring but lends itself to coming into your corners nice and wide.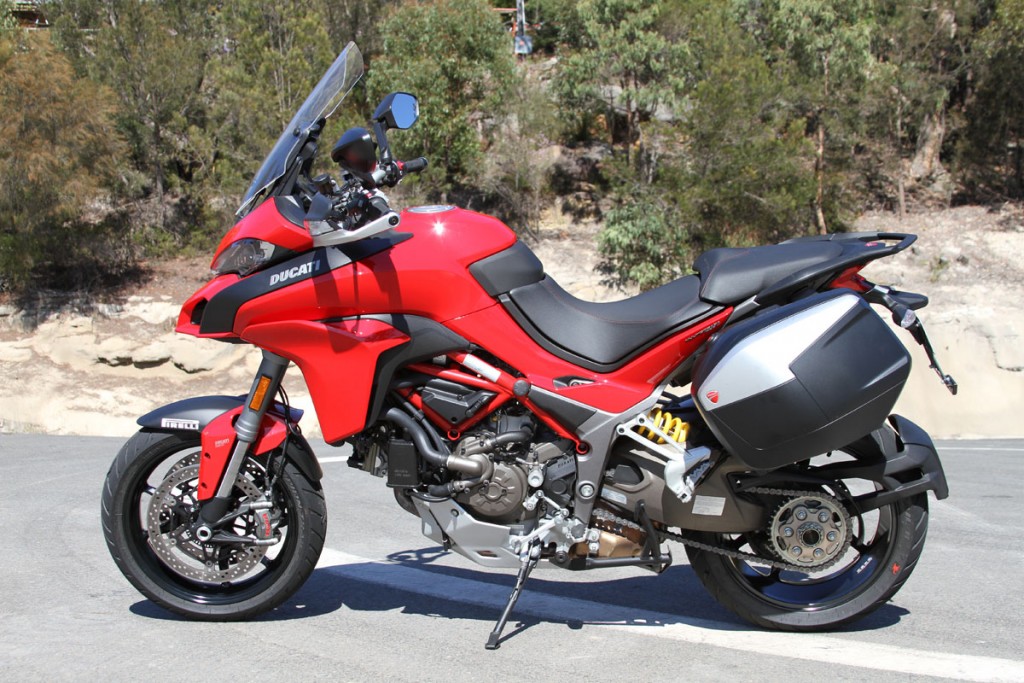 You can feel that you're relying on a system of suspension that essentially has a mind of its own but as you get used to that fact and show more confidence in the bike it only gets better and better.
Part of what sets the newest Skyhook Suspension (DSS) system apart is the Evo suffix, with the previous sensors now joined by the Inertial Measurement Unit (IMU) which is used to provide cornering ABS to the Brembo braking system with Bosch 9ME ABS unit.
This means the DSS Evo system is able to take into account your lean angle when calculating the ideal suspension response.
It's high tech and the results on the road speak for themselves. I was hoping to take my wife for a ride as a pillion to get an opinion on riding two-up, but with all my testing mid-week unfortunately couldn't make it happen.
Getting back to the four bikes in one idea, I can certainly see how the Ducati Multistrada S is an epic touring machine. What makes this particularly attractive though is that without panniers and in Sport mode the bike's also capable of being a fun weekend scratcher and I can easily see it being a suitable, if large, everyday commuter as well, if you're that way inclined, which is something I normally consider as a car-less household.
All this with the DSS Evo system assisting in ensuring your ride is as smooth, comfortable and safe as possible. You don't get that with standard suspension without a heap of adjustment every time you head off on a different type of trip – if it's possible at all.
Now it's quite possibly you're thinking to yourself, why spend the extra $4000 on the S model, which is a fair question. The S is the obvious choice though, as the Multistrada truly is many bikes in one, with the S offering the ultimate in suspension adjustability at the click of a few buttons. Don't worry about having to plan out setting everything up when you want to go off-road or head to the twisties, or do some long-distance touring.
The Multistrada S with its stunning TFT display lets you toggle between those ride modes, and even better you can modify them to truly suit your needs, meaning you can perfect each of the modes to your preferred power, delivery, suspension and various safety settings and that'll all be remembered.
It's the future of motorcycling and Ducati's leading the charge.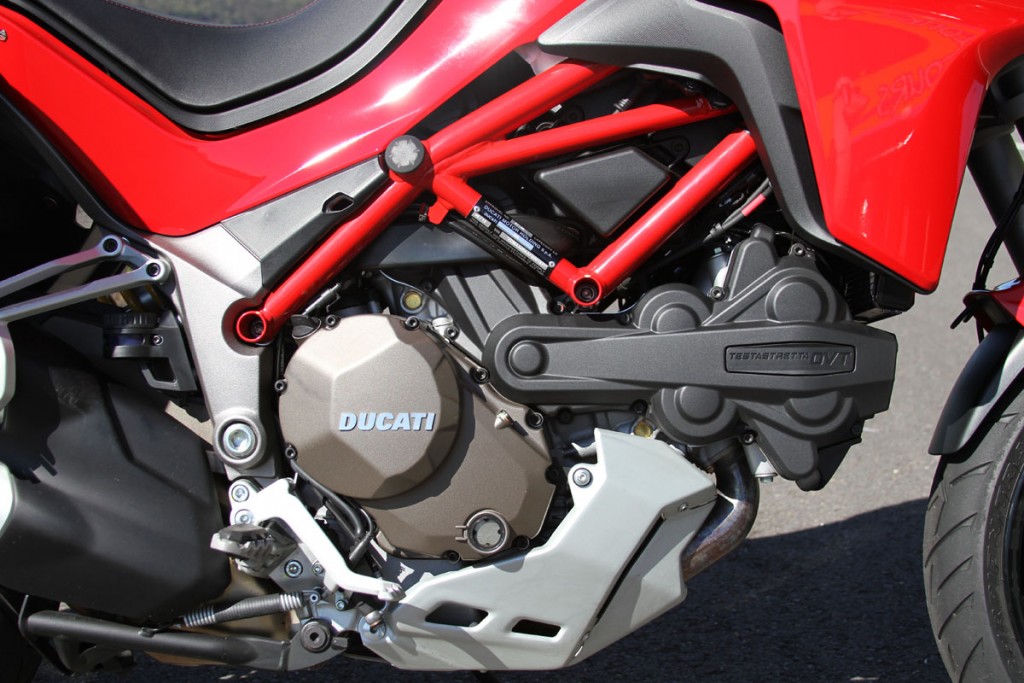 2015 Ducati Multistrada 1200 S Engine
The DVT Testrastretta 11 Dual Spark engine introduces a number of enhancements, including increased torque and the combination of new technology from the 1199 Superquadro engine with established existing technology.
The Testastretta 11 L-Twin four-valve per cylinder Desmodromic engine is 1198.4cc thanks to a bore and stroke of 106 x 67.9mm. Mitsubishi EFI works in conjunction with Mikuni elliptical throttle-bodies and the Ride-by-Wire to provide the ultimate control at the throttle from the rider.
A secondary air system was added to optimise fuel mapping allowing smoother cycle-to-cycle operation, while the fuel injectors spray directly onto the rear of the hot intake valve, rather than onto the surface of the intake port wall, enhancing vaporisation.
A oil bath clutch is also featured, with a progressive self-servo mechanism providing a slipper function on over-run, while under drive from the engine it assists in pushing the clutch plates together, allowing lighter clutch spring rates for a lighter clutch action.
By independently varying the timing of the camshaft that controls the intake valves and the camshaft that controls the exhaust valves, the DVT engine optimises high-rpm performance to provide maximum power.
At low-to-medium rpm, instead, it smoothens operation, making power delivery more fluid and boosting torque. In practice, this is an engine that changes its characteristics as rpm varies while complying with Euro 4 specifications and giving good fuel economy.
Variance of the valve overlap angle has been achieved by adopting a valve timing adjuster applied on the ends of each of the two overhead camshafts. The DVT system is divided into two parts: an external housing rigidly connected to the timing belt and an internal mechanism connected to the camshaft.
The latter is coaxial to the former and can rotate in advance or delay with respect to the housing depending on the oil pressure in special chambers.
This oil pressure is adjusted by dedicated valves and the timing of each cam is controlled dynamically by a sensor in the cam covers.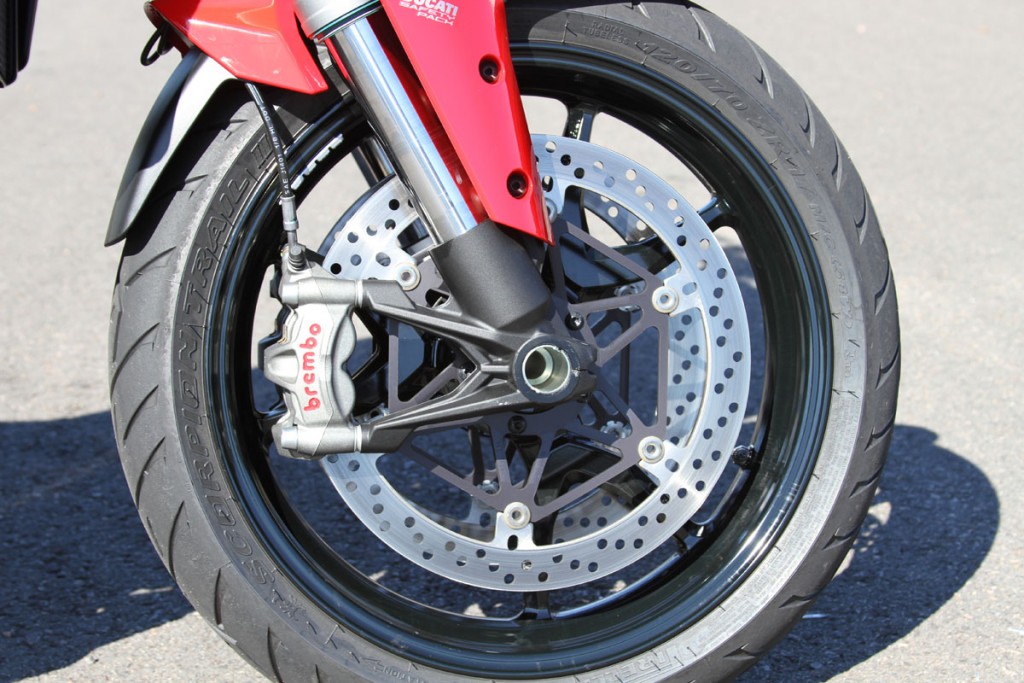 2015 Ducati Multistrada 1200 S Chassis
On the Multistrada 1200 the Trellis frame is made of large-diameter light-gauge tubing with two central cast aluminium sections and a Trellis rear frame for torsional rigidity.
A high pressure die-cast magnesium front sub-frame also reduces weight and assists in maintaining feel and control with the bike's chassis geometry, which allows lean angles of up to 45. The rear single-sided swingarm is a chill-cast single piece with four bonded cores for both optimum looks and functionality.
48mm Sachs USD forks and rear single shock feature the Ducati Skyhook Suspension (DSS) system which is now also connected to the IMU to take into account lean angle, while the DSS system itself is an updated Evo next generation version that promises improved software and performance over the previous versions. Full adjustability is available through the TFT screen, with the preset riding modes each having unique (but customisable settings), while the settings can be further tweaked according to your load – rider, rider with luggage, rider with pillion, or rider and pillion with luggage.
Suspension is as stock comfortable and soft, suitable for a range of Australian conditions.
The Multistrada also benefits from three-spoke alloy wheels with a 3.50 x 17in front and 6.00 x 17in rear. Special Pirelli Scorpion II Trail tyres are also used, representing the first dual compound, on and off road tyre.
Braking is taken care of by Superbike spec M50 radial four-piston Brembo calipers and 330mm rotors on the front with radial master-cylinders and adjustable levers, while on the rear a single 265mm rotor is grasped by a Brembo two piston caliper caliper.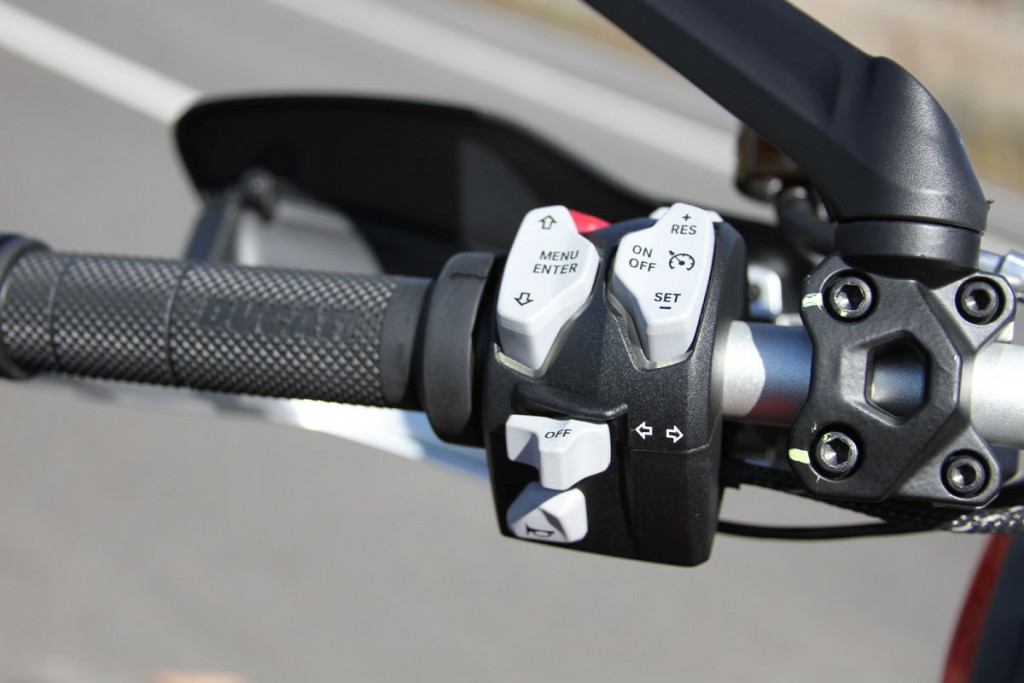 2015 Ducati Multistrada 1200 S Electronics
The Multistrada boasts impressive electronics, as would be expected from one of Ducati's flagship models, including Ducati Traction Control and ABS thanks to the Ducati Safety Pack. Ride-by-Wire and DVT.
The ABS system is a Bosch ABS 9ME cornering system with Brembo brakes, including a combined front-to-rear braking mode in levels two and three, while level one removes lift-up detection and enables rear end drifting, with front only ABS. The ABS system can also be disabled.
The Ducati Traction Control system features eight levels of adjustment, with varying levels of rear wheel spin tolerance. The DTC is integrated into the Riding Modes with pre-set settings which can be modified and also uses the IMU to sense pitch angles.
The Ride-by-Wire provides three maps that regulate power delivery, with a 160hp sports delivery map, a 160hp progressive delivery map and a 100hp progressive delivery map, with the latter designed for urban or off-road use.
The Riding Modes – Sport, Touring, Urban and Enduro feature pre-set settings of all of the above settings but can be further customised to the rider's demands.
LED headlights and hands-free ignition are also features.
Ducati Multistrada 1200 S Specifications
PRICE: $27,990 + ORC
WARRANTY: Two-year, unlimited kilometer, two-year roadside assistance
COLOURS: Red, White
CLAIMED POWER: 117.7kW[160hp]@9500rpm
CLAIMED POWER: 136Nm[100ft-lbs]@7500rpm
DRY WEIGHT: 212kg
FUEL CAPACITY: 20L
ENGINE: Liquid-cooled, Testastretta 11 DVT, L-Twin cylinder, four-valve per cylinder, Desmodromic, 1198.4cc, 106 x 67.9mm bore x stroke, 12.5:1 compression, Mitsubishi EFI, Mikuni elliptical throttle bodies with RbW, two-into-one-into-two lightweight exhaust with cat and lambda probes, DTC, DWC, riding modes, IMU
GEARBOX: Six speed
CLUTCH: Wet, multi-plate with hydraulic control, self-servo action on drive, slipper action on over-run
CHASSIS: Tubular steel Trellis frame, two central cast aluminium sections, high pres- sure die cast magnesium front sub-frame, Trellis rear subframe, aluminium single-sided swingarm, Rake: 24,Trail: 109mm
SUSPENSION: Ducati Skyhook Suspension (DSS), 48mm fully adjustable USD forks with electronic compression and rebound damping adjustment, 170mm travel, fully adjustable Sachs monoshock, electronic compression, rebound and preload adjustment, 170mm travel
BRAKES: Bosch Cornering ABS (9ME), dual 330mm semi-floating front rotors, four-piston Brembo Evo M50 Monobloc radial calipers, Brembo two-piston caliper, 265mm rotor
WHEELS & TYRES: Marchesini forged and machined three-spoke wheels, 3.50 x 17in, 6.00 x 17in, Pirelli Scorpion Trail, 120/70 ZR17, 190/55 ZR17
DIMENSIONS:
Wheelbase: 1529mm
Seat height: 825-845mm
Overall length: 2200mm
Overall height: 1480mm
INSTRUMENTS: Full 5in colour TFT display
2015 Ducati Multistrada 1200 S Gallery
The Verdict | Review: 2015 Ducati Multistrada 1200 S
The sportsbike for the rider that needs to go anywhere…