Honda's Grom has been met with great success since it's Australian launch, so what's all the fuss about? Here's our Honda Grom review. Test by Kris Hodgson, Photography: Jeff Ware
The Honda Grom has certainly made a splash since landing in Australia and with great styling and a low buy-in price, it's a motorcycle that anyone could jump onto and have some two-wheeled fun.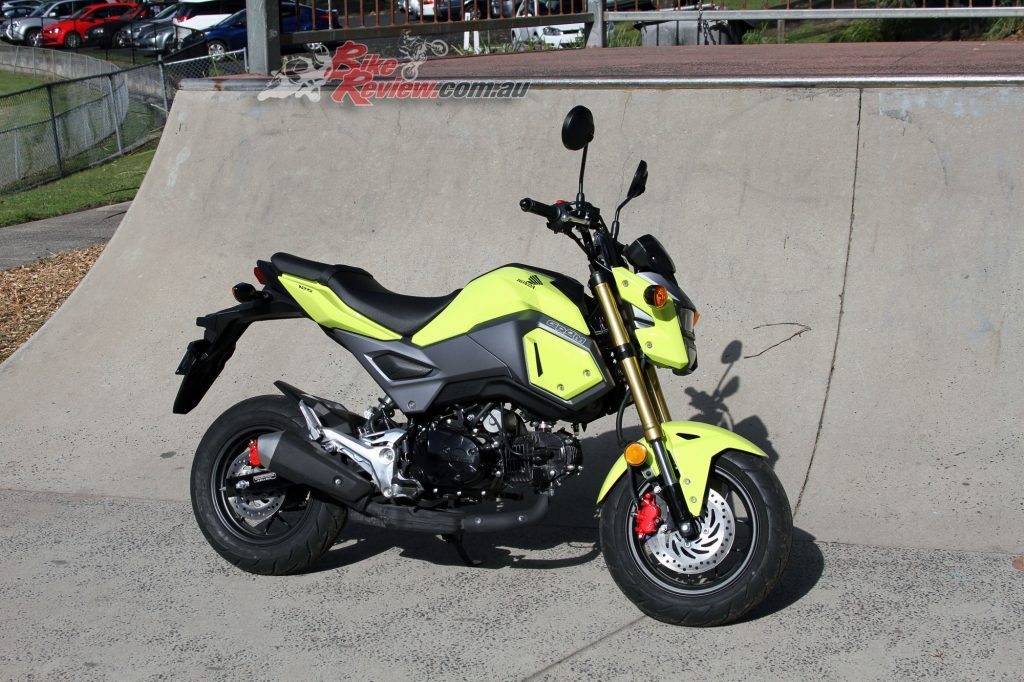 Having already tested Kawasaki's Z125 PRO I was interested to see just how the Honda Grom compares and first impressions is that I like the styling of the Honda a little more, despite the red calipers being a bit of a mismatch on the Lemon Ice model we tested, in my opinion at least. The Matte Axis Grey or Metallic Pearl Valentine Red both definitely benefit more from the red calipers.
If you're interested in the full specifications and the more technical side of the bike I'll go into a bit more detail later on, but let's be honest you're probably not that concerned if this is the type of bike you're after…
Jumping on board the Grom is easy, it's low, the seat is relatively flat and while it looks tiny next to a normal sized motorcycle it's pretty roomy on board for my 70kg/180cm weight and height. I never felt squashed or cramped on the Grom and when spending longer periods in the saddle the seat was the main area of discomfort.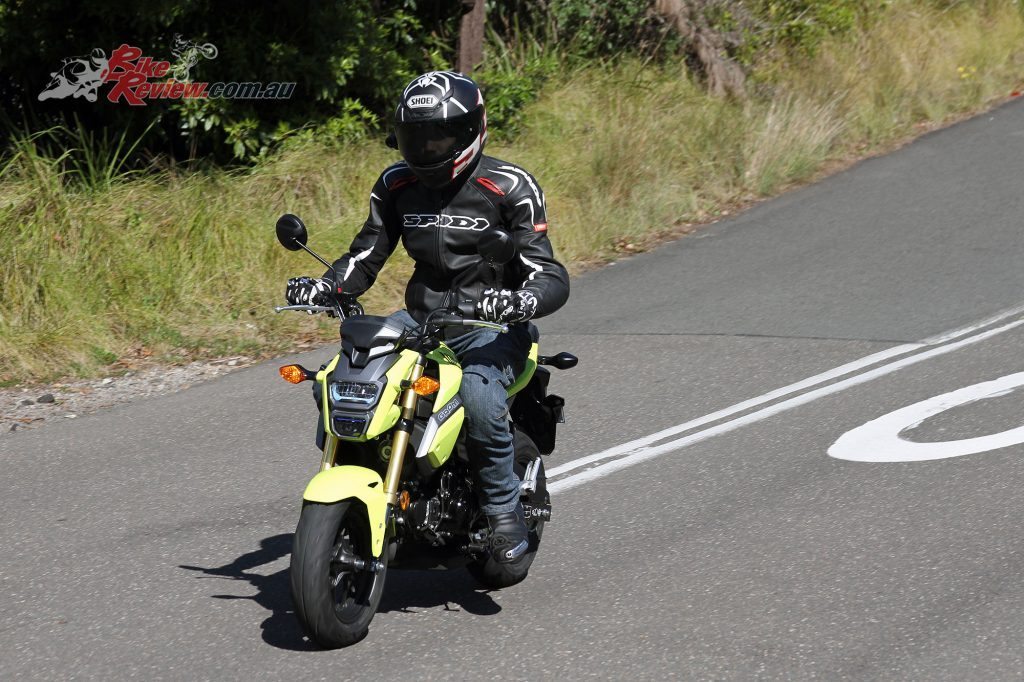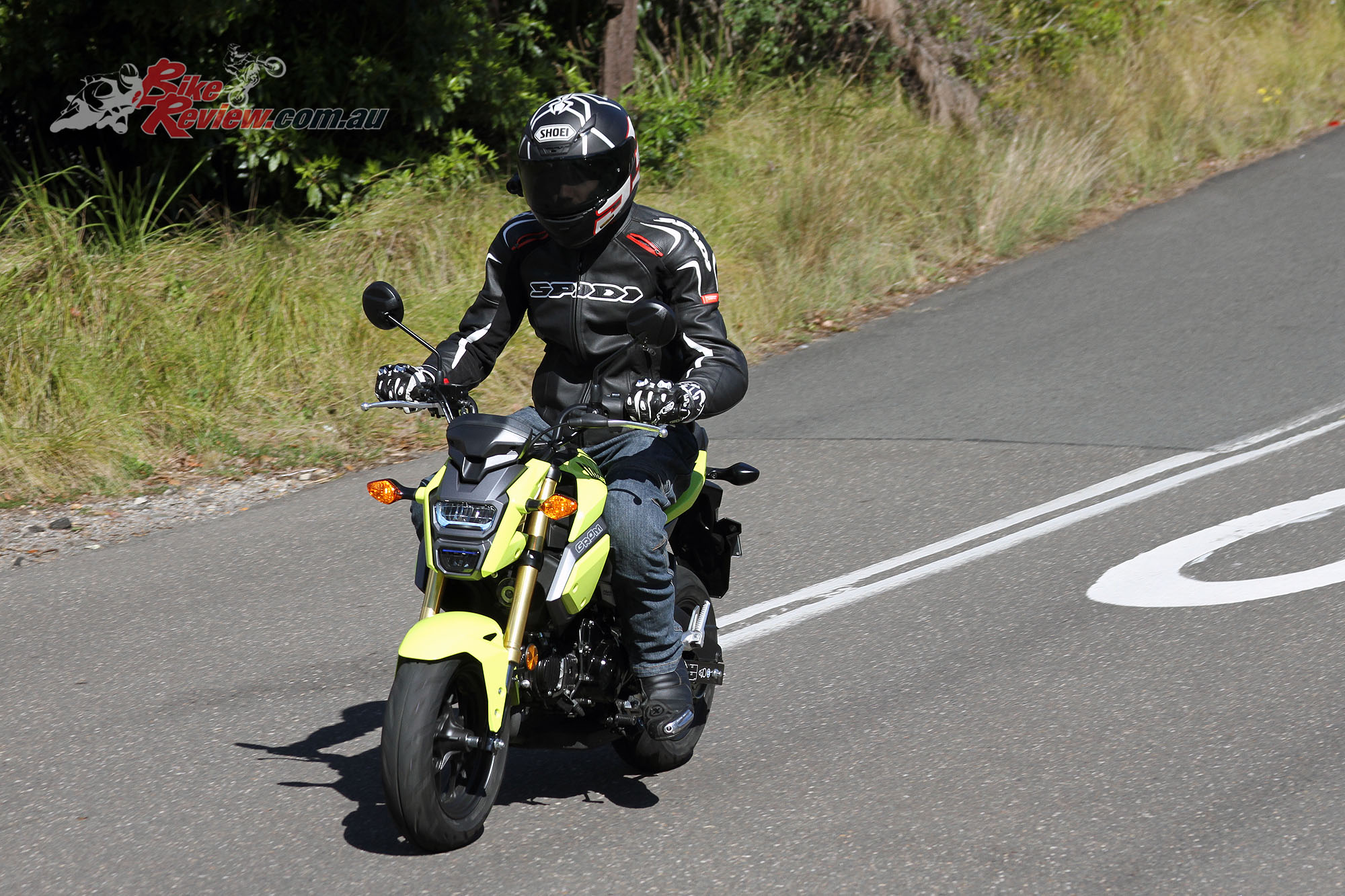 The first test is a quick ride through the local neighbourhood, which means mainly roads between 50 and 70km/h with various amounts of traffic. The first thing I notice is that the mirrors offer good visibility and that Honda have used their infamous reversed horn and indicator buttons… why I can't say but it's an annoying feature. You'd get used to it, but this is one of those features I feel should be the same on any bike on the market.
The switchblocks are also basic, however everything operates efficiently when you're not beeping other vehicles trying to cancel your indicator, and the digital dash provides speed, fuel level and time with a digital tacho.
Setting off the Grom has nippy acceleration although you do need to avoid up shifting too early, which can leave you lugging the engine or struggling to accelerate, especially if you're facing a bit of a slope. Riding more aggressively however and staying in the powerband provides strong power and it's easy enough to stay ahead of the traffic unless you come across a real lead foot.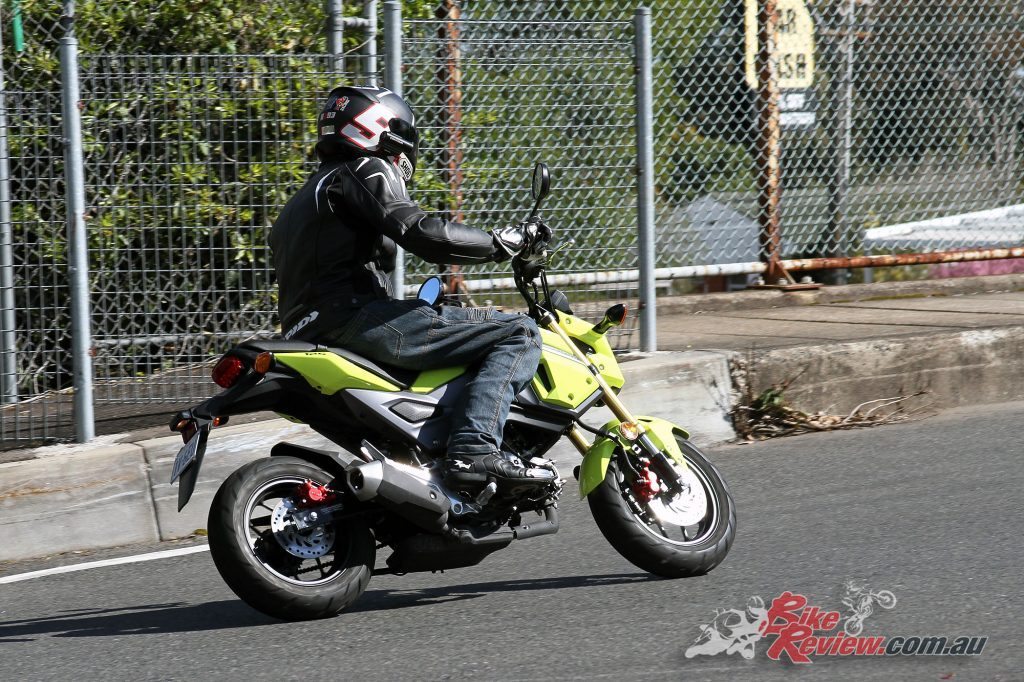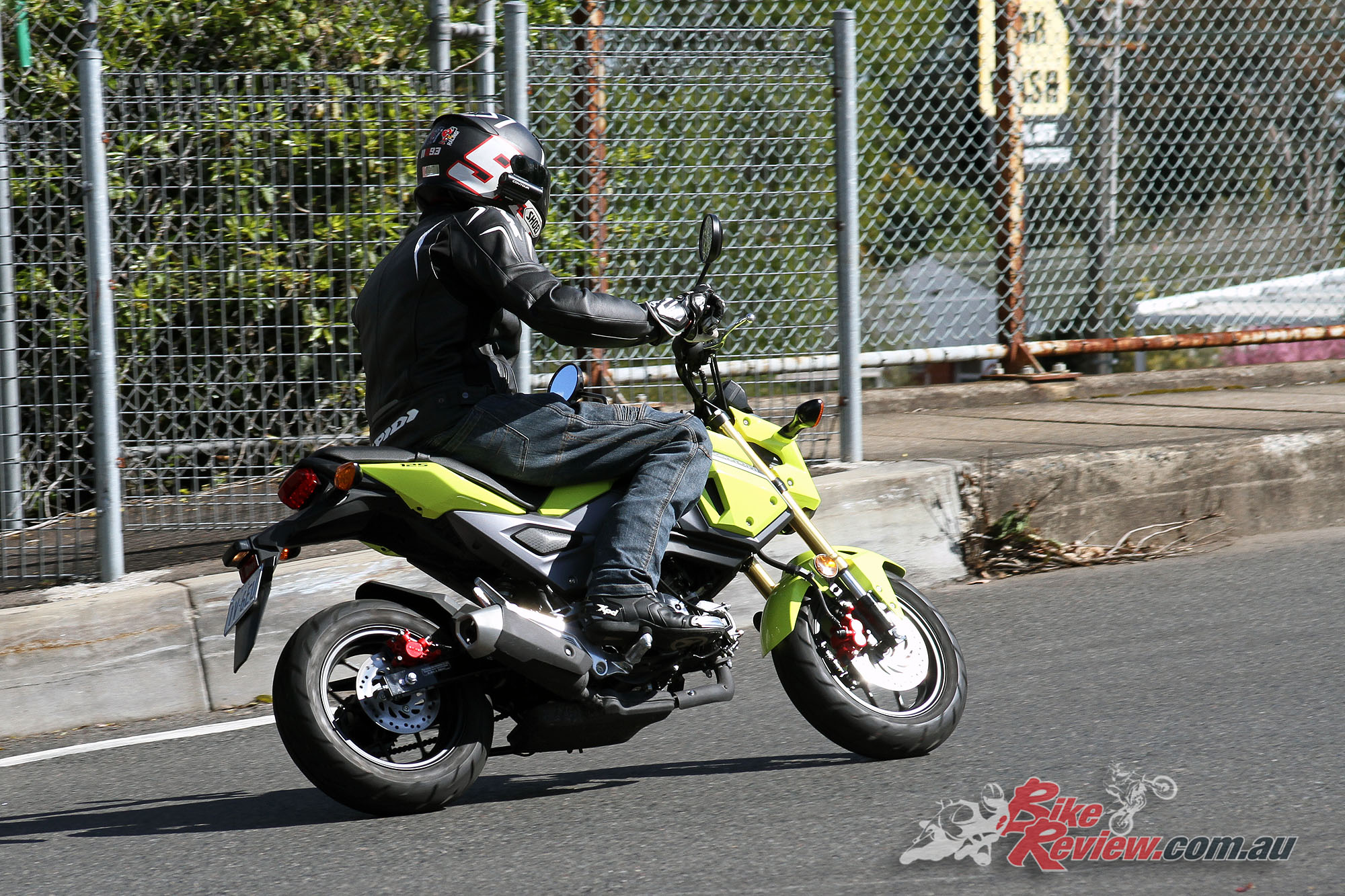 There's plenty of extra go still on tap at 70km/h and while I wouldn't want to ride the Grom on the freeway where I'd need to be going at 110km/h, it's capable of everything lower than that, including stretches at 100km/h. We did notice however the speedo error was around the 10 per cent mark at 100km/h with it over-reading on this model.
Shifting gears is easy and efficient with a light clutch action, firm shifts with positive engagement, and the four-speed gearbox does at times leave you feeling like there should be another gear or two! With around the 10hp mark as well the Honda obviously isn't ever going to be all that quick, but the bike does only weigh in at 104kg, making the machine considerably easier to handle than many other LAMS machines.

The 12in wheels with IRC rubber look pretty heavy, but grip in the dry was good and handling was predictable and nimble. A single 220mm front and 190mm rear rotor are each grasped by Nissin calipers, with a dual-piston on the front and single-piston on the back, with reasonable stopping power, keeping in mind I'm on the lower end of the weight spectrum.
I did find feeling from the bike a bit unbalanced, with a slightly disconnected feel, but we also discovered while photographing the bike that the forks would bottom out while light on the brakes over even relatively small bumps, so I'm attributing that to the front end being way too soft. We could actually bottom out the front forks just by pushing down on them at a standstill.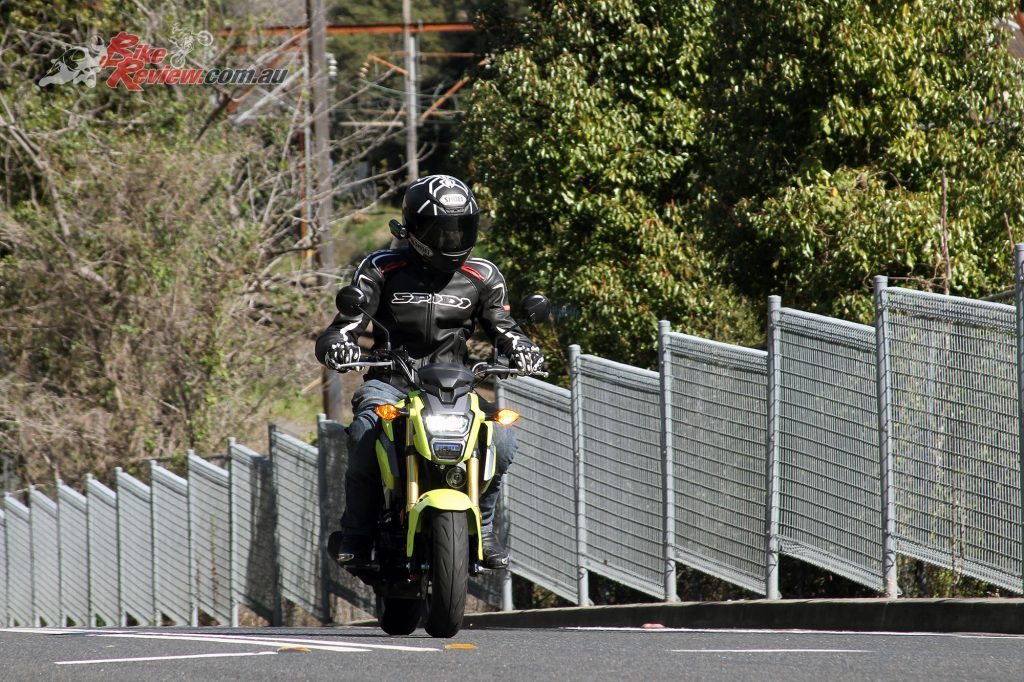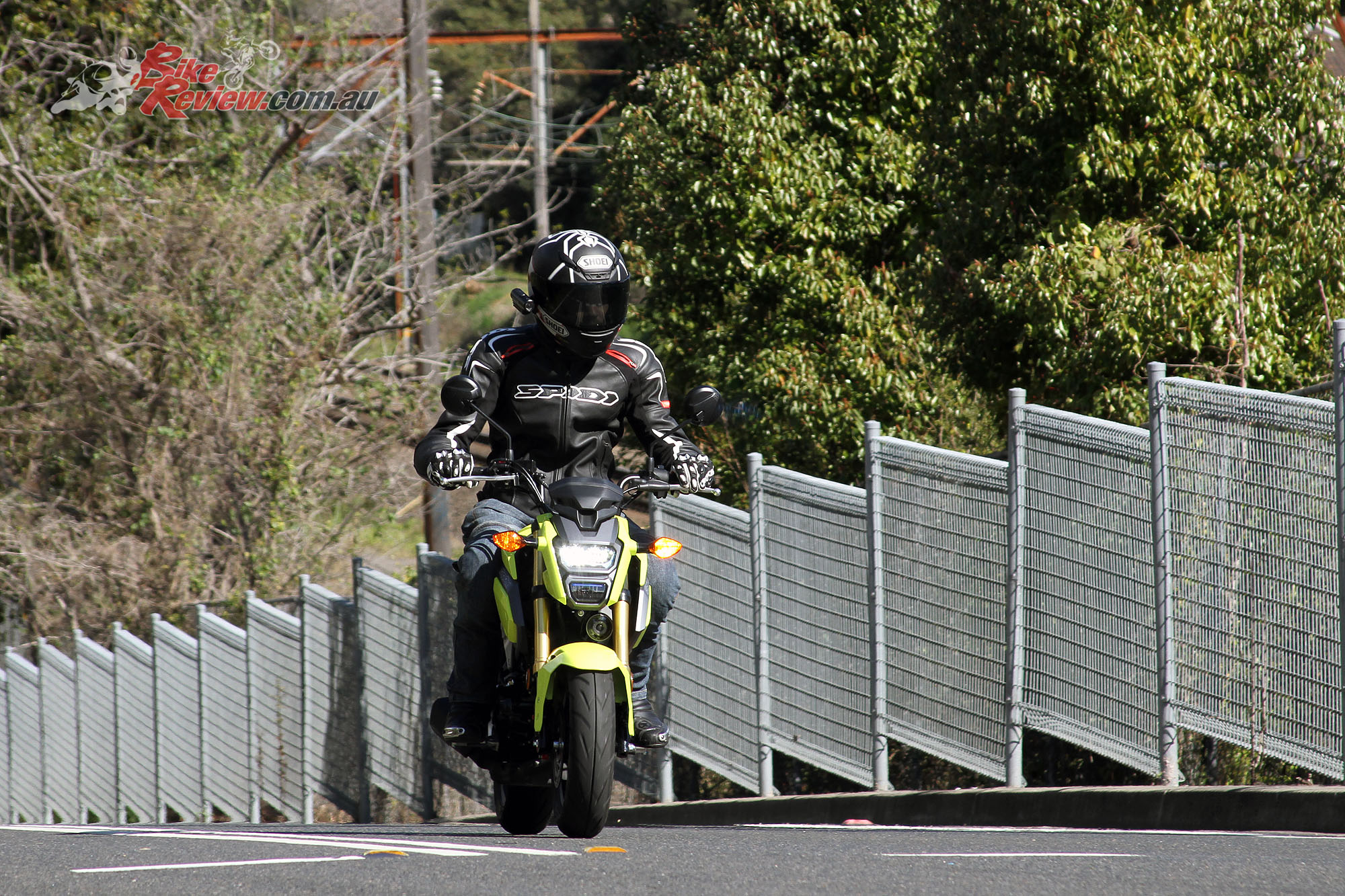 The rear on the other hand was much better in comparison and overall handling was still reasonable and nimble, but could certainly be improved by setting up that front suspension.
For an around town commuter the Grom certainly has merit, it's below 200cc, which in NSW means much cheaper green slip prices, it's small enough for easy parking opportunities and has enough power for all your regular road usage except over 100km/h. Plus it'll be an easy entry point for anyone into two-wheeled transport and has enough go to have a bit of fun on.
It's a really inexpensive option, in part thanks to being manufactured in Thailand, with introductory pricing of $3999 Ride-Away making for a very cheap entry bike that will certainly not intimidate anyone.
In fact the number of people who came up to chat about the bike or would complement the Grom from a nearby car when I pulled up at a set of lights was pretty amazing!
The one area I found disappointing was the finish quality of the engine, header, collector and exhaust which was already looking quite rough on the machine we tested despite only having a few hundred kilometres on the clock.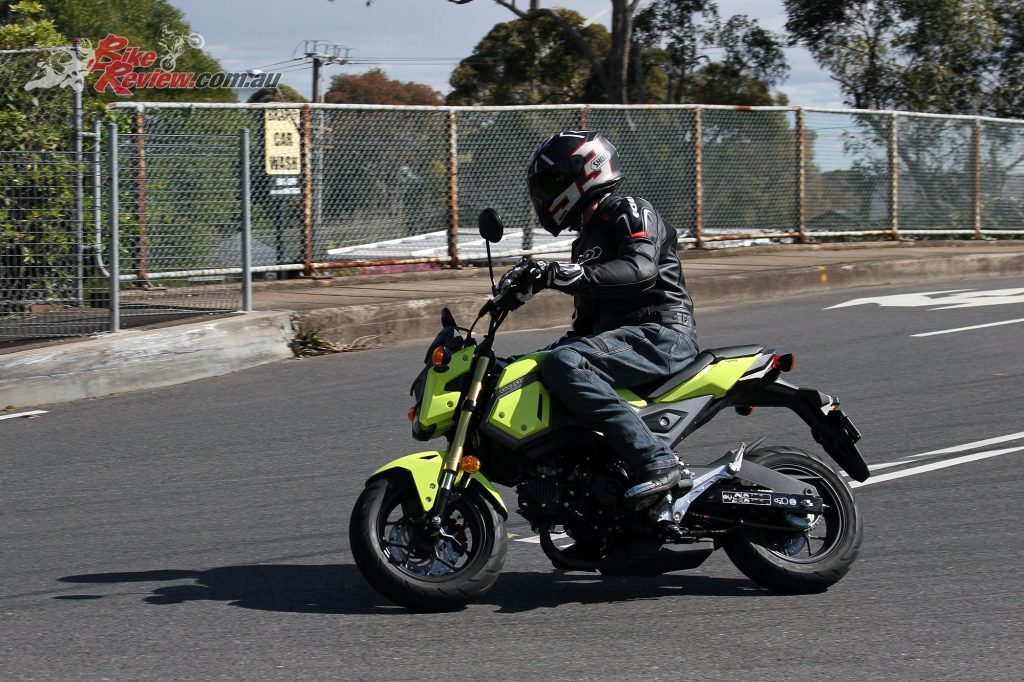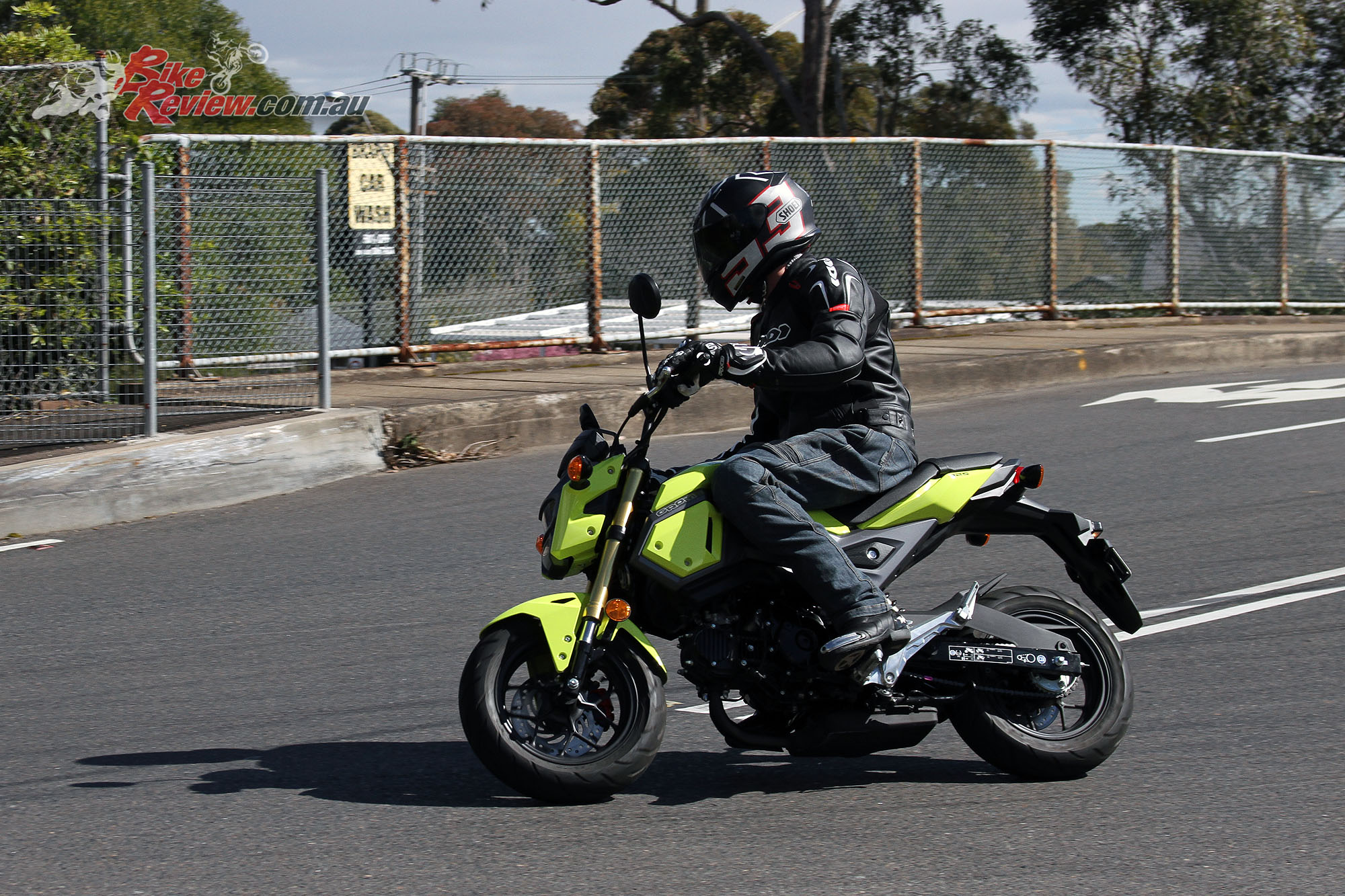 But at this price there has to be a trade-off in some area, and that's probably the best area to skimp on, with many riders no doubt switching to an aftermarket exhaust as soon as possible. Of course with Honda just announcing a run out sale of their 2016 CBR300R for just $4,999 there's some real competition for the Grom. It also doesn't have the quality of finish, suspension or brakes of the Kawasaki Z125 Pro and the Zed is also a better performer engine-wise.

Of course one of the real sell cards for the Grom is the ability to modify the bike, and while it's still early days we're already seeing communities cropping up to discuss, plan or provide these kind of services, so there'll no doubt be a very strong custom Grom community in no time at all.
KRIS'S GEAR: 
Shoei NXR Helmet | Spidi Track Leather Jacket | Five RFX1 Gloves | DriRider Rapid Jeans | XPD XP3-S Boots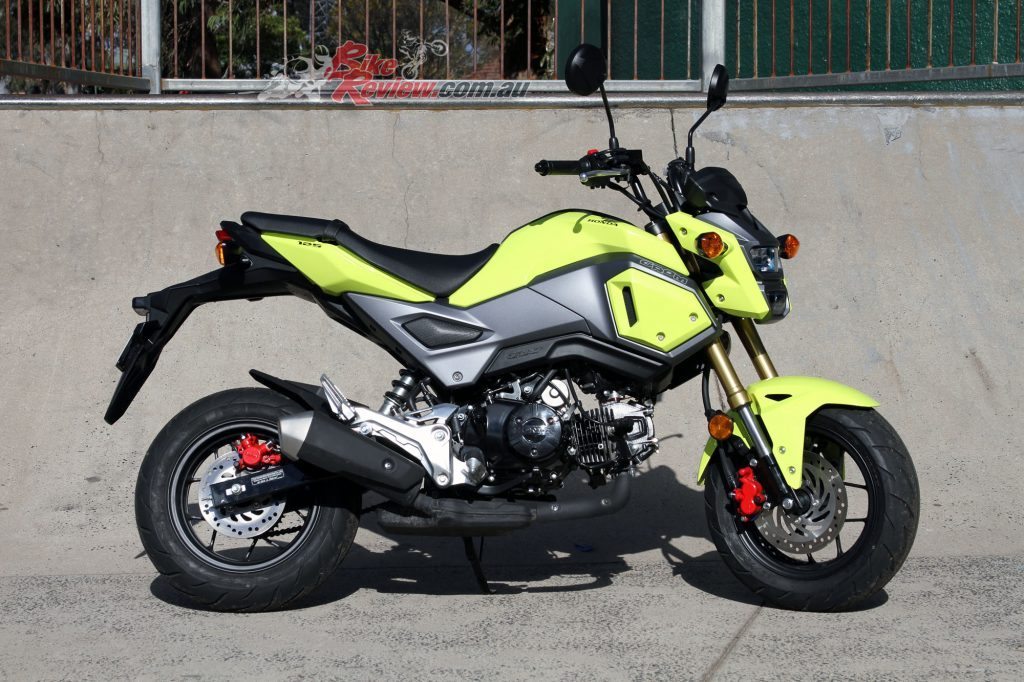 TECH TALK – HONDA GROM
Honda's Grom is powered by a 124.9cc air-cooled SOHC single-cylinder four-stroke, with a bore and stroke of 52.4 x 57.9mm and a compression ratio of 9.3:1. Fuel injection is PGM-FI with automatic enrichment and the bike has an electric start.
Honda haven't released power figures but independent testing suggests around the 9hp mark, with the Grom weighing in at 104kg and holding just 5.7L of fuel, with a four-speed gearbox.

The chassis is a steel mono-backbone frame, with a steel box-section swingarm and single shock. Forks are 31mm items, with 12in wheels taking 120/70 – 12 and 130/70 – 12 tyres respectively, with IRC tyres fitted to the model we tested.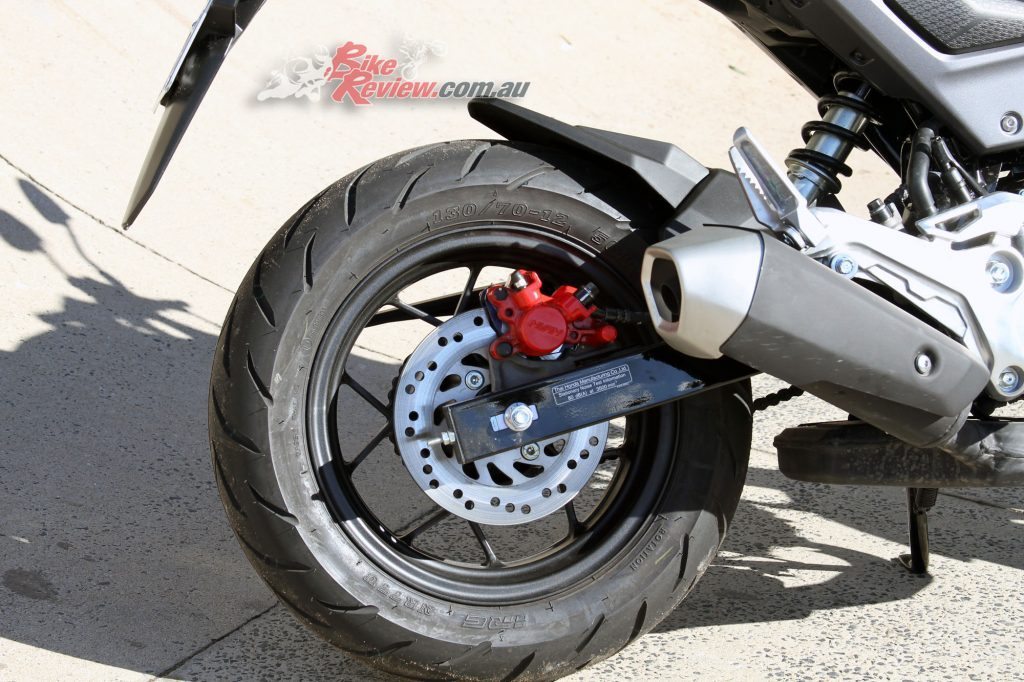 Brakes are a Nissin dual-piston caliper on the front and 220mm rotor, with a single-piston caliper and 190mm rotor on the rear. There's no ABS on the Grom and the final drive is chain driven.
Styling is modern with well incorporated plastics and benefits from painted red calipers, while a stacked LED headlight gives the front-end a distinct look and a LCD display provides all the information you could need.
SPECIFICATIONS: 2016 Honda Grom
Price:  $3,999 Ride-Away (Introductory Offer)
Warranty: Two-year, unlimited kilometre
Colours: Matte Axis Grey Metallic, Pearl Valentine Red and Lemon Ice Yellow
Claimed power: 10hp
Wet weight: 104kg
Fuel capacity: 5.7L
Engine: Air-cooled, four-stroke, SOHC, single-cylinder, 52.4 x 57.9mm bore x stroke, 9.3:1 compression, PGM-FI
Gearbox: Four-speed
Chassis: Steel mono-backbone frame, steel box-section swingarm, Rake: 25°, Trail: 81mm
Suspension: 31mm forks, single shock
Brakes: Single 220mm front rotor, dual-piston caliper, single 190mm rear rotor, single-piston caliper
Wheels & Tyres: 10-spoke 12in wheels, 120/70 – 12, 130/70 – 12, IRC tyres
Dimensions:
Wheelbase: 1200mm
Seat height: 760mm
Instruments: LCD display, fuel, speedo, tacho, clock