The Chief Dark Horse. A shot of pure espresso topped with a straight shot of pure black. Here's our Indian Chief Dark Horse review. Test by Mick Withers, Photography by Jeff Crow
Look at this bike. Just look at it. You can hardly ignore it. Like the very best coffee, which is nothing more than a shot of boiling hot water pressed through freshly ground coffee beans, the Indian Chief Dark Horse is pure.
Its simplicity is timeless. It contains everything you need and nothing more. If this was a wanky art thing, I'd have already said, 'Less is more.'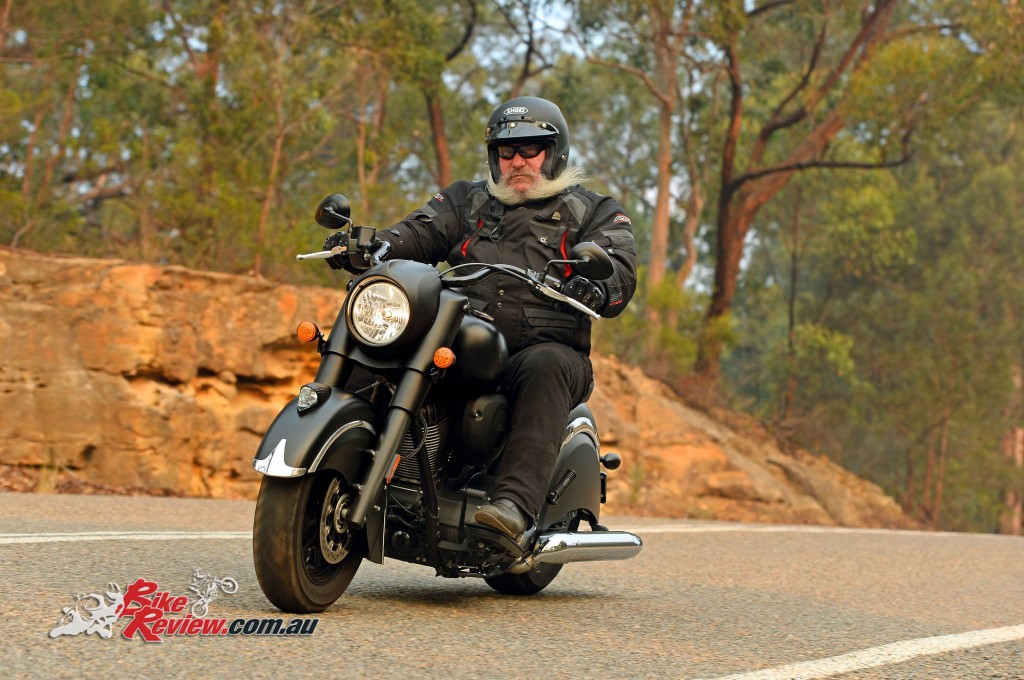 Along with many others old enough to remember an Australian prime minister called Bob, a desire for more basic motorcycles beats strong within our chests. We want the basics. Motorbikes with ABS, EFI and a good range of optional extras and accessories. Give us that variety and we're happy. Harley, Indian and Triumph have worked that out and are selling plenty of basic bikes to blokes and blokettes who are potential Ulysses members.
The Dark Horse is good thing. It'll do all of the things that you would expect a heavyweight cruiser to do. Or maybe not. Chances are that you expect a Dark Horse to drag its underside and progressively lighten itself every time you look at a corner. Perhaps you're one of those who think that cruiser translates as fat, large and heavy. You are wrong.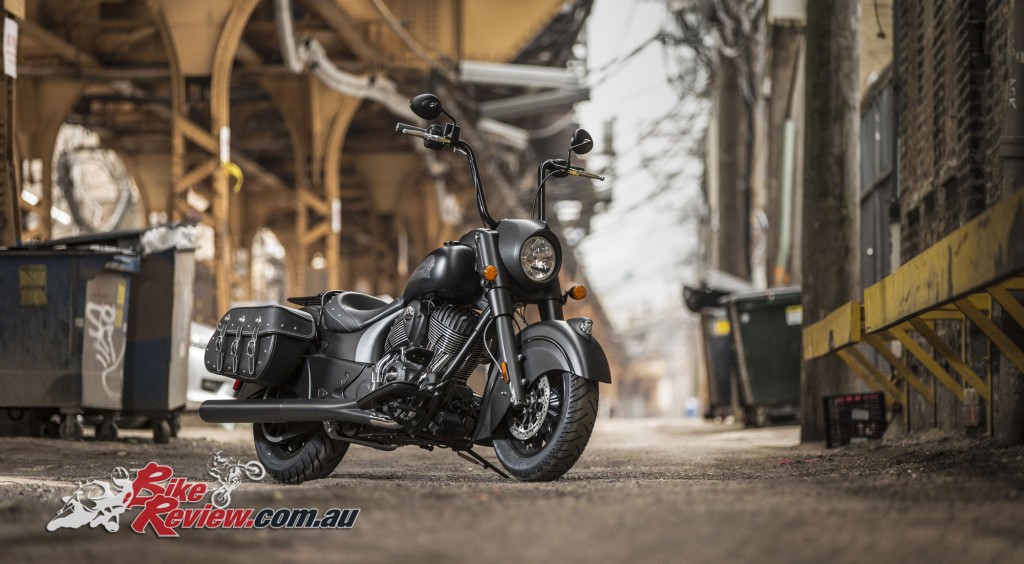 A cruiser is not a sportsbike. That's pretty bloody obvious. There are certain cruisers that do their best to continue the myth that they're all the same. The Indian Chief Dark Horse isn't one one of them. It has been blessed with respectable levels of ground clearance and suspension that keeps it clear of the hard grindy bits.
A swap from spoked to cast wheels also saves weight in the most important places to lose weight: unsprung and rotational. Lower rotational weight means better acceleration and lower unsprung weight allows the suspension to work more efficiently. That's a win-win in English or Australian.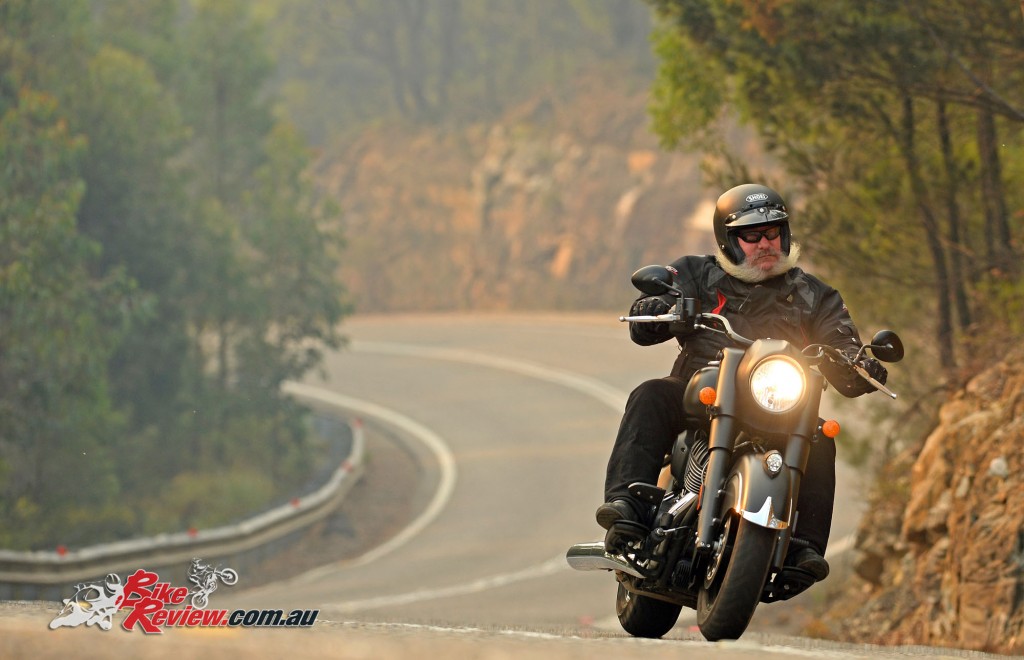 Cruising the highways of this wide land of ours is always nicer with cruise control. It's what all the cool kids need so that they can play with their onboard entertainment devices. For the rest of us, it's a good way to relax and enjoy a ride without having to constantly divert your attention from the road to the speedo because the state-appointed tax gatherers want to extract a pound of flesh for every single kilometre by which you exceed the posted limit.
While you're bopping down the road on the Chief Dark Horse, you're comfortably seated upon one of the best stock seats in the business. Your feet placed upon a set of sturdy and reasonably roomy footboards. If you feel the need to add a screen, or passenger facilities, you can get all of that from the Genuine Indian Motorcycle Accessory catalogue.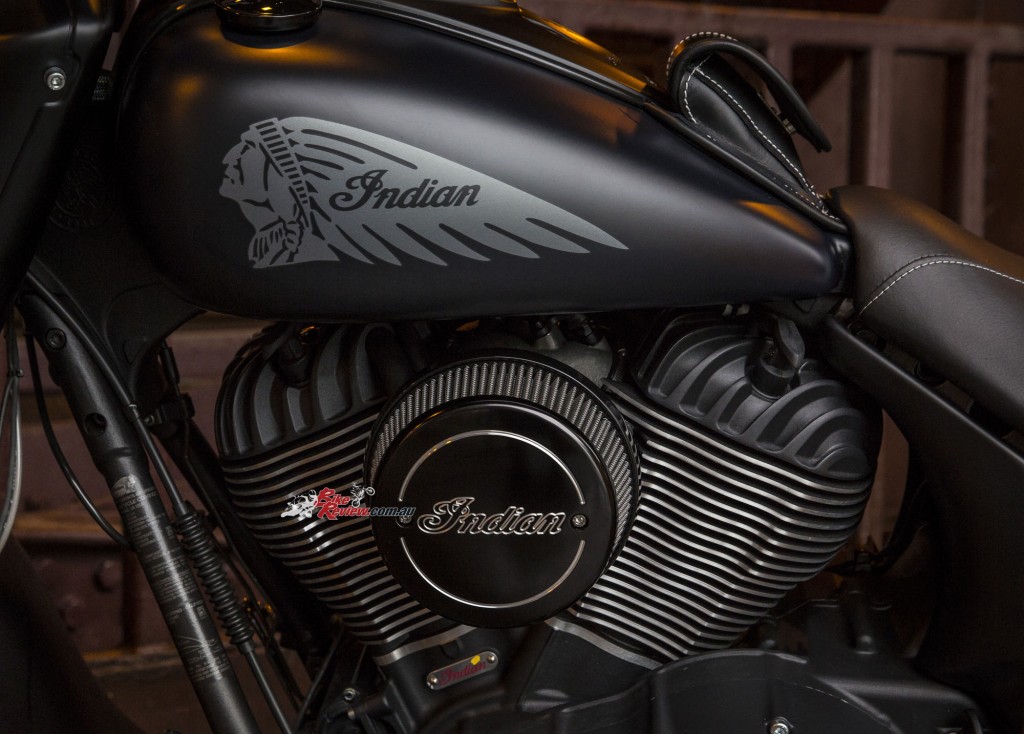 The 111ci Thunderstroke engine – 1811cc for younger readers – is a 49-degree V-twin that makes torque and horsepower to propel a Dark Horse well into the zone of being handcuffed on the side of the road. Do you need any more than that? Silly question.
Indian offer mufflers that sound the way they used to before greenies rode their electric-powered bicycles into town halls and positions of perceived authority.


If you want them loud enough to make birds drop from the sky, or just cause little old ladies at the bus stop to have a moment, they're available. Add a free-flowing aircleaner assembly along with a custom-mapped Power Commander V and you're looking at over 100ft/lb from 2000 to 4000rpm
Think of the Indian Chief Dark Horse as a double-shot espresso. Pure and simple but, easily modified to create a wide range of options. But not soy decaff lattes. The Dark Horse doesn't do decaff or soy.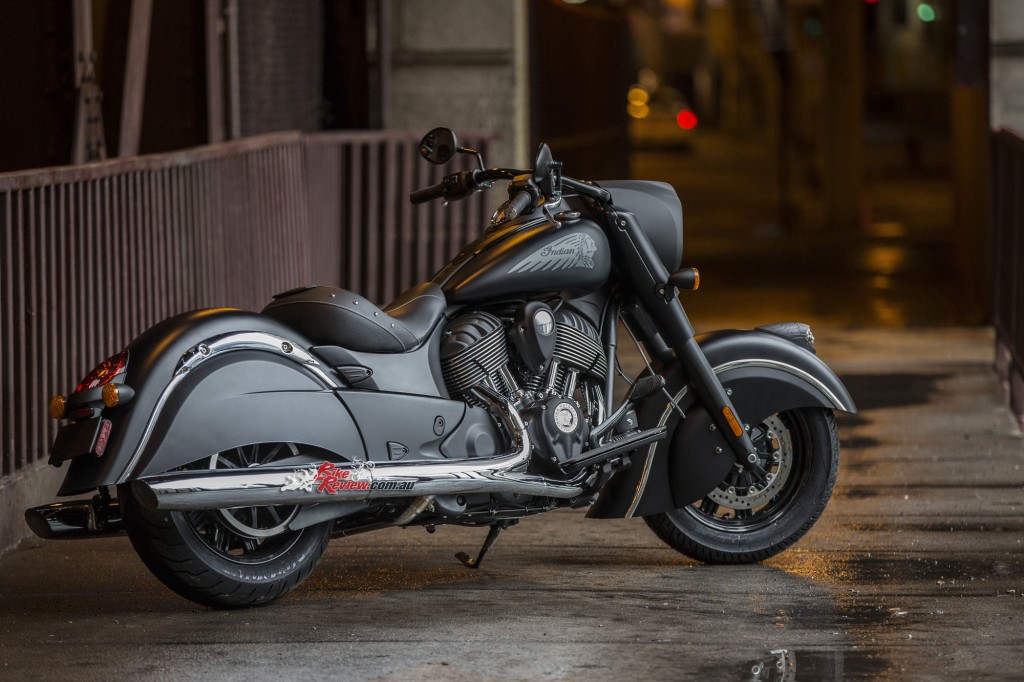 SPECIFICATIONS: 2016 Indian Chief Dark Horse
indianmotorcycle.com/en-au/
Price: $27,995 Ride-Away
Warranty: Two-year, unlimited kilometre
Colours: Thunder Black Smoke

Claimed torque: 139Nm(119.2ft-lbs)@3000rpm
Dry weight: 357kg
Fuel capacity: 20.8L
Engine: Air-cooled, 49-degree V-Twin, 1811cc (111cu in), 101mm x 113 mm bore x stroke, 9.5:1 compression, EFI, Split Dual with Cross-Over exhaust
Gearbox: Six speed, constant mesh
Clutch: Wet, multi-Plate
Chassis: Cast Aluminum Frame with Integrated Airbox, Rake: 29°, Trail: 155mm
Suspension: Telescopic forks, 119mm, single rear shock, 94mm
Brakes: ABS, Dual 300mm front rotors, four-piston calipers, single 300mm rear rotor, two-piston caliper
Wheels & Tyres: Cast 16 x 3.5in, 16 x 5in, Dunlop Elite 3 130/90 B16 73H, Dunlop American Elite 180/65 B16 81H
Dimensions:
Wheelbase: 1730mm
Seat height: 660mm
Overall height: 1176mm
Overall width: 1000mm
Instruments: Multifunction display