Triumph's Speed Triple was the original bad-boy triple nakedbike and the latest model takes it a step further… Here's our 2016 Speed Triple R and S review. Test by Kris Hodgson Photography by Jeff Crow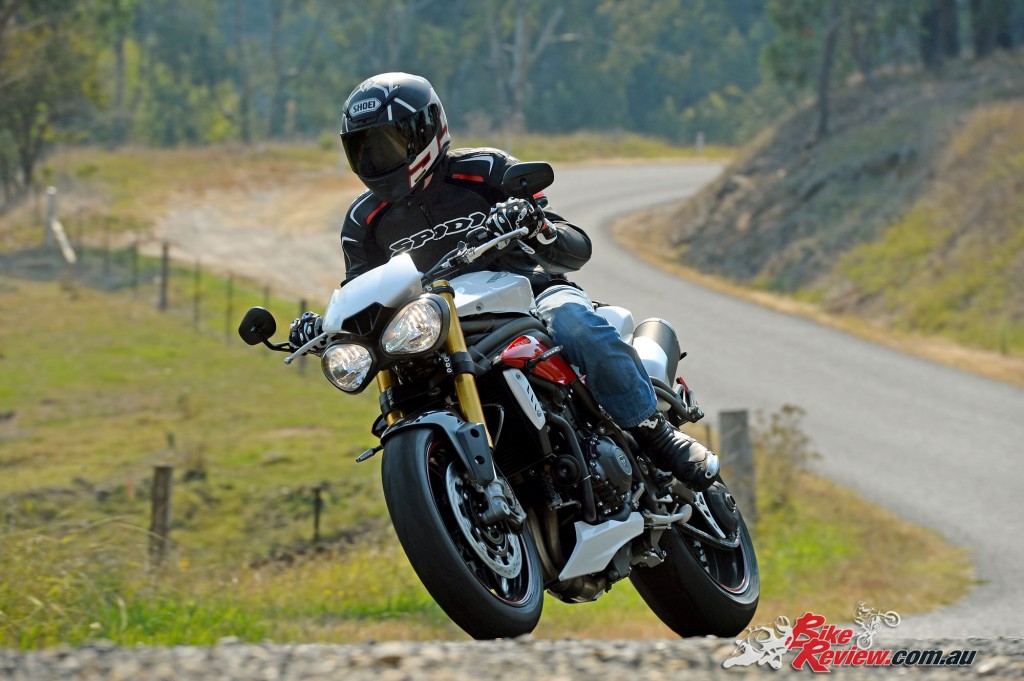 When the 2016 Speed Triple S and R were unveiled late last year there was immediately a lot of interest in the new model, with revised styling and a raft of improvements, particularly to the engine package, that promised a major improvement over the last offering.
The question on many people's minds was just how big this improvement would be? With the Speed Triple owning a unique position in the motorcycling landscape that has helped propel Triumph to such success.
The Speed Triple forged a niche for manufacturer built street fighter styled bikes, something that many now produce, but – and I may be biased in saying this, having owned a 2008 Speed Triple – no one offers anything quite like the Speed Triple…
The triple-cylinder donk offers a great combination of on-demand torque and power and the single-sided swingarm, undertail exhausts and beefy styling have always stood out.
Spending two days on the new Speed Triple R and Speed Triple S with Triumph Australia travelling from Albury on an exceptional route that included Mt Hotham, Omeo and the surrounding twisties, it was made clear that Triumph's motto, "For the Ride" was what this machine was all about.
It's been a steady road to improvement with the Speed Triple since 1994, with this latest offering featuring 104 new engine components, a new RbW system that has allowed the addition of Rider Modes and traction control, a slight increase in power and slight decrease in weight, and a much fatter and stronger torque curve across the board.
Rider modes effect throttle response, rather than power output, while the traction control has three settings, – Road, Track and Off. ABS similarly has three options, Road, Track and Off, with both defaulting to back on when the bike is turned off, except with the use of the custom Rider mode – for safety reasons.
Simple, easy to use and very effective from my experience riding the bike for two days.
I first tried the Speed Triple R, because let's be honest who doesn't like Ohlins on a bike, especially with some additional carbon-fibre and billet bling and a belly pan to sweeten the deal.
The first thing I noticed was that in Road mode the power delivery via the RbW system was faultless, with responsive and super smooth delivery, regardless of road conditions, gear changes or transitions on and off power. I've always found the Speed Triple a very forgiving machine and this is truer than ever, especially with the new slip assist clutch taking the rear end wiggle out of aggressive downshifts.
Sport mode in comparison was sharper and more aggressive, but not as smooth, with my preference falling directly on Road mode, as I didn't need to set the world on fire, with plenty of performance on offer – way more than you can take advantage of legally.
Torque generation is strong from right down low, as you'd expect from the large capacity triple, with smooth low end delivery and a strong mid-range that pulls to a screaming top end before dropping off after 8000rpm. The bike's relatively quiet with the stock exhaust system though, apart from the intake howl when you're on the bike, and I imagine a low single muffler will be a popular modification, it'd certainly be my first purchase.
Gearing isn't sportsbike tall and the stronger torque ensures you aren't feeling the need to downshift constantly if you're lower in the rev range.
Anything above fourth gear is just about cruising and fuel economy to me, as you can do the majority of your legal high speed riding in third with impressive torque on hand at all times. That's part of the appeal, this isn't a supersport machine where nearing the red line after first gear means going straight to jail, you can take advantage of the full rev range – in the lower gears at least – for some awesome fun. It's all about the hoon experience.
The gearbox is also heavily revised, featuring the slipper assist clutch, as well as taking design cues from the Daytona 675 gearbox. It's still noticeably clunky between first and second gear, with no quickshifter standard even on the R model. One is available from Triumph as an accessory however.
It's a noticeable improvement over previous generations though, especially on the move while hard on the gas, with the assist clutch helping to lighten the lever action for a more rider friendly experience.
Brakes are another area of improvement, with both models receiving Monobloc Brembo M4 calipers on the front, along with a Brembo master-cylinder, while the rear caliper is a Nissin item. The ABS can be set to Road for full safety and maximum intervention, Track for far less intervention, or Off, with the road setting providing great front end stopping over a few test opportunities, mainly over gravel, or leaves and twigs.
I've always found the feel through the lever on Speed Triples a little soft, so you need a firm lever action to really apply the brakes, which makes the system a bit more forgiving, as the stopping power on the front end is pretty phenomenal if you're hard on the anchors. There's still good modulation once you're through that initial lever pull, and both the R and S front ends provided plenty of support while hard on the brakes. The rear brake I wasn't so impressed with, there wasn't a heap of bite or stopping power, with lots of foot lever travel without much noticeable stopping.
On the R model there was a small but noticeable improvement in front end feel from the Ohlins forks at the speeds I was travelling, while the rear end was just way too stiff for my 70kg in gear, with the adjustment available not lending itself to softening the rear end to any extent after conferring with Triumph's tech guru, Cliff. It's definitely a package for the more aggressive, hard edged rider who really pushes the envelope or is planning plenty of track time.
The S model on the other hand was exceptional, with slightly less feel through the front end but a softer more forgiving overall ride, with the rear shock offering much better performance for my weight, with softer damping and rebound on stock settings that proved ideal over all but the biggest road inconsistencies.
Overall handling was great, with the changes bringing the Speed Triple closer to Triumph's crackerjack Street Triple, which is world renowned for its sweet handling.
The Speed Triple is still a relatively heavy bike at over 200kg, even after shaving off a few kg with the recent changes, but the plethora of changes has really brought the bike to a new level. It's not a machine that lends itself to paper comparisons and never has been.
If you're interested in a Speed Triple, don't bother looking at specs, this is a machine you need to test ride. Whether you're a hardcore Speed Triple fan, or a prospective buyer, this is a naked machine with huge character, awesome performance, and a great overall package that lends itself to fun – more so than ever before.
I'm normally pretty cynical about manufacturer slogans, but when Triumph says "For the Ride," they've hit the nail on the head and the 2016 Speed Triple S is a machine I'd love in the shed as an all-rounder.
2016 Triumph Speed Triple Engine
With 104 new engine components a full list is impossible, but a quick overview of the changes includes new piston design, a new crankshaft, new combustion chamber design, new intake port design, the RbW throttle-bodies and revised fuel system with a new ECU, new cylinder head design, new exhaust design, a smaller more efficient radiator, new gear linkages and redesigned balancer gears.
Power is up to 140hp with a slight improvement across the entire range. Torque is much stronger with a five per cent increase through the mid-range, with a slower drop off past 8000rpm.
Put simply the bike is more efficient, with smoother power and torque delivery, a stronger mid-range punch and easier direction changes.
The slip assist clutch also provides more controlled engine braking, a lighter lever action and more comfortable transition off power, without detrimentally effecting the triples natural engine braking. The exhaust is lighter, but quiet, only offset by the intake growl.
2016 Triumph Speed Triple Electronics
The move to RbW for the Speed Triple is one necessitated by Euro 4 standards but which benefits riders, with the addition of Modes and Traction Control, with Road, Sport, Track and Rain modes offering varying preset Traction Control, ABS and throttle response settings, with both TC and ABS offering three levels of adjustment. There's also a programmable Rider mode, which can be setup to the rider's needs, with ABS and TC defaulting to on, in the standard modes when turned off manually, once the bike is turned back on. Running lights are also always on, with a toggle for regular lights, while your high beam are controlled through the flicker switch.
The Modes don't actually alter the amount of power on offer, only the throttle response via the RbW, the full 140hp is always available. Control of the Modes and electronics are via a left switchblock button and the dash.
2016 Triumph Speed Triple Chassis
The 2016 Speed Triple continues to use the aluminium twin-spar frame and single-sided swingarm, with both models featuring the same cast aluminium wheels, in a 3.5 x 17in front and 6 x 17in rear, fitted as standard with Pirelli Diablo Supercorsa tyres.
The S model features Showa 43mm USD forks and Monoshock with preload, rebound and compression damping adjustment, while the R model is fitted with higher spec Ohlins items, including fully adjustable 43mm NIX30 USD forks and a Ohlins TTX36 twin-tube Monoshock. Both bikes have 120mm front and 130mm rear travel.
Brakes are now Brembo Monobloc M4 radial four-piston calipers, with 320mm rotors and a Brembo master-cylinder, which Triumph explain have been tweaked by Brembo for softer initial bite. The rear is a Nissin two-piston caliper on 255mm rotor. ABS is switchable and the R model comes with billet machined handlebar clamp and risers, plus swingarm pivot covers and rear wheel finisher.
2016 Triumph Speed Triple S (R) Specifications
Price: $17,990 ($20,350) + ORC
Warranty: Two-year, unlimited kilometre
Colours: Diablo Red, Phantom Black (Crystal White, Matt Graphite)
Claimed power: 103kW[138bhp]@9500rpm
Claimed torque: 112Nm[82.6ft-lbs]@7850rpm
Dry weight: 192kg
Fuel capacity: 15.5L
Engine: Liquid-cooled, DOHC, in-line three-cylinder, 12-valve, four-stroke, 1050cc, 79 x 71.4mm bore x stroke, 12.25:1 compression, RbW, TC, Rider Modes, stainless steel three-into-one-into-two, twin high level stainless steel silencers
Gearbox: Six speed
Clutch: Wet, multi-plate Slip-Assist clutch
Chassis: Aluminium beam twin-spar frame, single-sided aluminium alloy swingarm, Rake: 22.9°, Trail: 91.3mm
Suspension: 43mm fully adjustable USD Showa forks, 120mm travel, fully adjustable Showa shock, 130mm travel, (43mm fully adjustable Ohlins NIX30 USD forks, 120mm travel, fully adjustable Ohlins TTX36 twin-tube Monoshock, 130mm travel)
Brakes: Switchable ABS, dual 320mm rotors, four-piston radial-Monobloc Brembo M4 calipers, Brembo radial master-cylinder, single 255mm rear rotor, two-piston Nissin caliper
Wheels & Tyres: Cast aluminium alloy multi-spoke, 3.50 x 17in, 6.00 x 17in, 120/70 ­– 17, 190/55 – 17
Dimensions:
Wheelbase: 1435mm
Seat height: 825mm
Overall height: 1070mm
Overall width: 780mm
Instruments: Analogue tachometer and multifunction LCD display
The Verdict - Triumph Speed Triple S