Review: 2016 Triumph Thruxton R
The Thruxton R is back from the dead and a proper fast bike... Here is our Thruxton R review. Test: Jeff Ware Photography: Ben Galli, Dean Walters Video: Matthew Hayman
The 2016 Triumph Thruxton and Bonneville range were heavily updated for this year and have already proved popular, with most stock landed here pre-sold before they were even pre-delivered.
The Thruxton R models went straight to customers, which is why we are so late in reviewing the bike. The Thruxton R might be old news but can I tell you? It's good news…
I have to admit I wasn't super enthusiastic about riding the Thruxton R at Murray Valley Training Centre. I'd just got the email invite for the Australian launch and it included an arvo on track and a day on the road. I had a look at the pictures of the Thruxton R I had on file and sighed.
I decided of course I'd go through the motions of riding around a track for the sake of photography and just focus on testing it the following day on the roads where it belonged… I was so wrong!

The Ride – Thruxton R
Three laps in to learn the short track and I suddenly find myself riding the crap out of this bike, clipping every apex and grinning from ear to ear. I've gone from half asleep to wide awake and from unenthusiastic to totally pumped. This thing is a bloody weapon, I'm telling you! It stops, steers, corners and accelerates in ways that defy the specifications.
I'm actually almost lost for words for the first time in a long time after years of fairly mundane updates by Triumph in the range. It's refreshing to feel some actual big steps forward and even better, I reckon, that I'm riding a cafe racer bike that actually rides like a proper motorcycle. Thank our lucky stars performance and style were given equal weight, unless it was just a fluke.
People forget that a cafe racer was once a fast motorbike not some sh#tbox made from any old air-cooled twin shock bike and sold to hipsters to ride to Bondi. They used to be hard charger's bike. Built for performance not show!
The Thruxton R is only limited by ground clearance, something that could be addressed. Aside from that, the bike is a good track tool and could embarrass many bikes on a track day or BEARS round. I'll take you for a lap…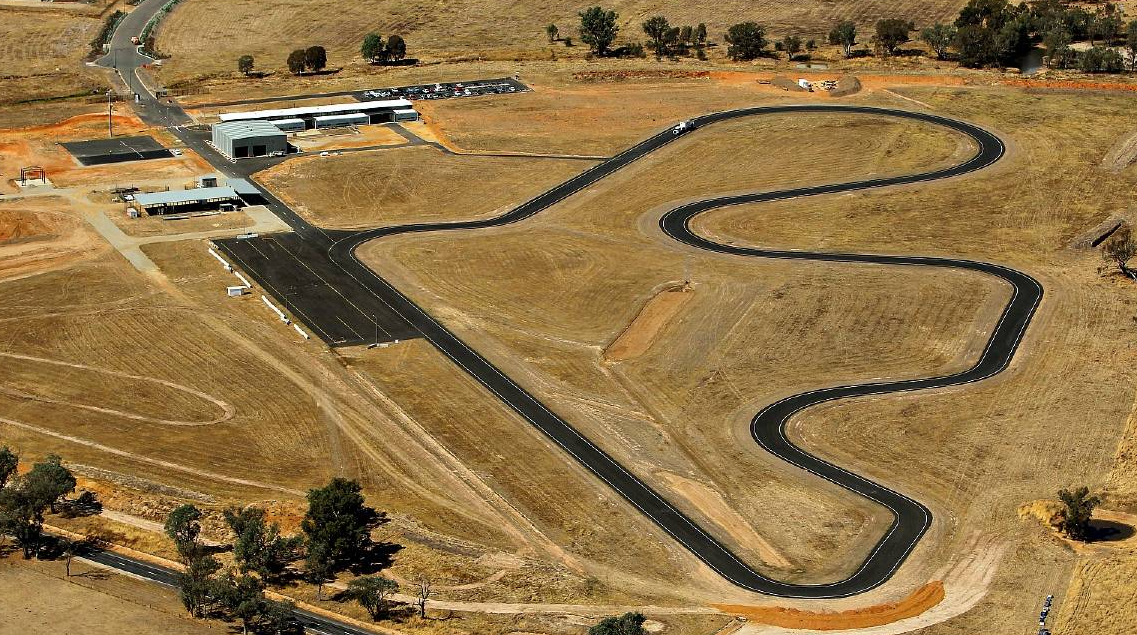 Heading down the short chute, just touching the rev limiter in fourth gear, the Thruxton R is rock solid stable and I'm tucked in pretty tight for a tall overweight pie eating beer swilling journo.

I sit up and brake as hard as I dare for the turn one left hand hairpin, using the ABS and back-shifting in a relaxed way through the wide gearbox, back to second. I feed the clutch out slowly. It's got back torque limitation but still needs some input from me to modulate it.
The front-end is rock solid and I feel confident, I know the Diablo Rosso Corsa well and the geometry of the Thruxton R is a rider's geometry. Sure, a bit stable despite the numbers, but I feel confident and that means I can go fast.
Braking deep to the apex at full lean, clipping my knee on the grass near the apex and snapping the throttle to the stop, I let the traction control do its job. It is not intrusive in a misfire way, it just feels like the bike is running out of fuel a little as the rear tyre fights for drive through the turn two kink.
The 'bars wiggle as the front gets light and I aggressively flick the bike right, hard onto my knee for turn three, holding second on the limiter for a few meters before grabbing third for the drive to turn four, a left hander. I have to get the turn-in point right here as with the limited ground clearance I could run wide off the track before turn five.
The Thruxton lags a little here and it's the only part of the lap the bike feels slow but I'm already focused on the next bit of fun. I brake hard and again right into the apex of turn five, holding third gear and trying to get as much drive and speed as I can towards turn six, an awesome long double-apex right-hander that the Thruxton R just loves.
This is a corner, on this bike, that is making me grin like crazy as the inside ripple-strip flashes past at what feels like inches from my eyes as the bike easily turns a little tighter and clips the crucial second apex clipping point. It's then full throttle and up to fourth for a hard run to turn seven. This corner is tricky and reminds me of Southern Loop at Phillip Island.
I take the Thruxton R deeper than what seems right and with one aggressive fast turn get the bike on its side, the suspension settling almost instantly, leaving the bike balanced. I've already cracked the throttle and by the time I'm at the apex, which is almost at the exit, I'm on full throttle. The traction control is the only thing keeping me on the bike at this point but like previous laps, I use it as it is there!
Clipping the outside ripple-strip without an inch to spare the bike just tickles the rev limiter before ultra hard braking into the final chicane. A hard slam onto the right hand side and then a fast yet smooth direction change onto the left has me and the Thruxton R exiting the final turn.
Hard on the throttle again in third gear, the rear Pirelli just kisses the outside white line and I put my chin on the tank for another lap. I'm not tired, despite the weight of the bike, and I am having so much fun I could ride all day long…
After a dozen or so laps of the same pace the front brakes have had enough, with the lever coming back to the 'bar each lap and needing a good pump each braking point. The traction control is also starting to limit me so I switch it and the ABS off, head back out and do some slow laps to try and cool the brakes down. The first bunch of journalists had been riding the bikes all morning so the brakes had been really copping a hard time all day long and the fluid was calling it a day.

This works and the brakes are back on. Not having the ABS means I can brake deeper and a little harder but the trade off is I could crash more easily! I forget the ABS is off one lap and I slam the brakes on hard for the chicane only to induce a massive folding front lock-up. Lucky save there – no skill just luck!
With the traction control off I feel more freedom and particularly off corners I can push a little harder. Engine maps are Sport, Road, Rain. Power output is the same but delivery is controlled. I left it in Sport all day. Suspension-wise, I add a few clicks of rear compression and nothing else. I'm amazed at how good the bike is and start to dream up ideas of building a BEARS racer with a bit more ride-height and some rearsets… Hmmm…
The Thruxton R On The Road
Out on the open road the bike is a dream. I set it to Road mode after trying Rain just to see what it is like, which is just a soft throttle, and head off with the pack for a sedate day of riding in the glorious Spring sunshine with the silky smooth fuelling and punchy bottom end and mid range on tap.
Cruising through the countryside on the Thruxton R, I can't help but enjoy the experience. The seat feels good, the riding position is really comfortable from the 'peg to seat distance to the 'bar angle and reach. The engine is silky smooth and as is always the case, the grunt is much more prominent than it is on the track where it is dampened by speed.
The clocks look cool, the bike sounds good and aside from the mirrors being basically useless (and moving all the time), I'm loving the Thruxton R. But things soon change as the road gets bumpier. I soon feel like I'm going to lose teeth as every sharp bump is felt.
The bike starts to skate around over bumps and so when we stop I make changes. I back the front compression off, the front rebound and the same up the back. I would have liked to adjust rear preload but the spring needs to be compressed and collars changed, a real pain.
Anyway, the improvement is huge and bike now feels fantastic.
Like any motorcycle, if it is good on track it is going to be good on the road after suspension softening. A bike doesn't know if it is on a track or a road! As I knew it would be, the Thruxton R is a seriously good road bike that would give many a sportsbikes and nakedbikes a bloody good run, if not a flogging, in the right hands on the road. All while looking better than just about any bike in class.
OK it is not a super hoon bike but it is a rule breaker. Like on track, stability is fantastic despite reasonably racy steering geometry, Triumph have managed to run a steep angle and well under 100mm of trail, found the nice spot with offset, and given us good stability and road manners and it works. On or off the brakes into turns, the Thruxton R talks to the rider and on the road that is the most important attribute, at least for me, an old school front-end rider.

If you want to take it slow, the Thruxton R will also comply. It remained comfy for me for the first four hours and there is no severe wind buffeting up high or heat soak from the engine down low. Gearbox action is positive but does need a good bit of force, it's not super-slick, and clutch action although light enough is not super smooth, however, our bikes had been punished for a few days.

The switchegear is fantastic and so is the dash – both a welcome simple design that is easy to use, in a sea of bikes with overly complicated dashes that make me want to drink lots of wine when I try and work them out! The Thruxton R is so easy to operate. A single button and you can switch the TC on or off, switching maps and ABS is also super easy and there are no levels to choose from. I love it!
Overall gearing is tall on the Thruxton R, despite being lower than previously, on the road but it works and compliments the meaty spread of torque and power from the big 1200 parallel twin. Vibes are well damped and it's a smooth ride. In fact, until you open that fly-by-wire throttle you would not really believe what an animal this thing can be – not until it is stretching your arm sockets!
Sure, it's not a 200-horsepower superbike, but it is a sensible option for those now ready to move this way or step up from a less powerful bike. It brings that old school fun into motorcycling, one where there are limits to grip and suspension and ground clearance, while adding a modern edge.

OK, it's not cheap at $21,100 + ORC and this might hurt the bike, but I very much doubt it and I would buy it over the standard Thruxton any day of the week. Quality of finish is massively improved and there are plenty of expensive parts fitted…

If you are interested in this style of bike but want some real performance, head to your nearest Triumph dealership now and book a test ride. There is a huge range of accessories available for the bike, including fairings, so making one your own is easy. Just a tip – go for the Arrow exhaust system, but pull the bungs out as it still sounds asthmatic with them in…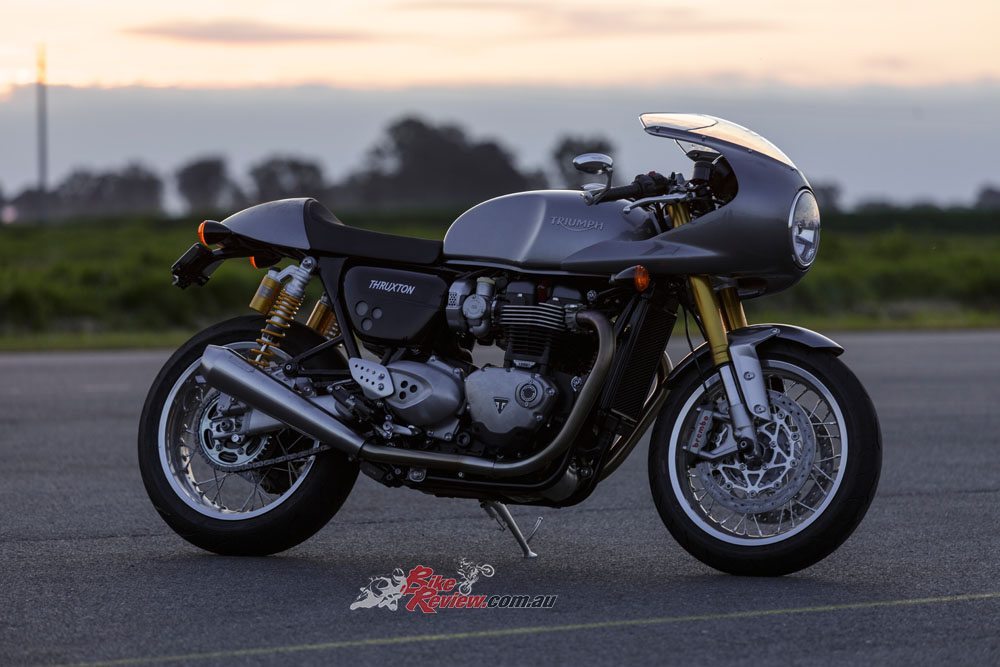 Tech Talk – Triumph Thruxton R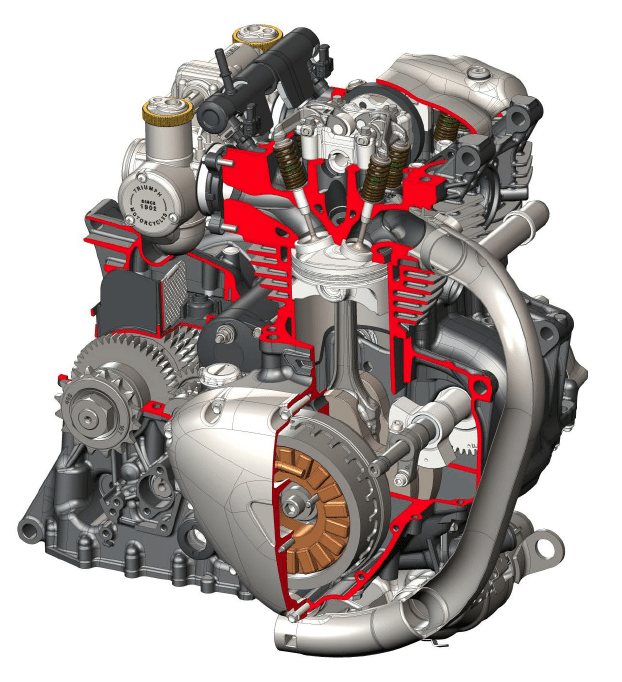 270 V 360 Degree Cranks
According to Triumph there are two crankshaft configurations that were considered for the new Bonnevilles. 270 degree and 360 degree. Triumph have produced both in the past and have detailed first hand experience of their characteristics as perceived by a rider.
The 360 degree crank gives even firing intervals and the 270 degree crank a characterful, syncopated exhaust sound. Both have their merits from a sound character perspective.
Triumph chose the 270 degree configuration to improve the refinement of the new engine. At 1200cc these are the largest capacity Bonnevilles that have been made. 360 degree and 270 degree crank configurations produce reciprocating out of balance forces as the pistons travel up and down the bores. The motion of a piston up and down a bore can be described mathematically.
The most significant parts of this motion can be described as primary and secondary that is once per revolution and twice per revolution. These forces can produce vibrations if they are not balanced.
Triumph incorporate a pair of primary balance shafts that balance the primary vertical forces and also the fore and aft primary forces and pitching couple that can be left if no balance shaft or only one balance shaft is used.
The next stage is to balance the secondary reciprocating forces. With a 360 degree crank the secondary forces produced by each piston add together to double their force. With a 270 degree crank they cancel one another out. Firing pulses and exhaust sound are characterful.
There is nothing characterful about secondary vibrations. They are high frequency and generally an irritation to a rider. With a large capacity engine these vibrations would tend to be greater than with a small capacity engine. Triumph believe that using a 270 degree crank configuration for the new Bonnevilles gives a characterful but refined engine that will be appreciated by riders!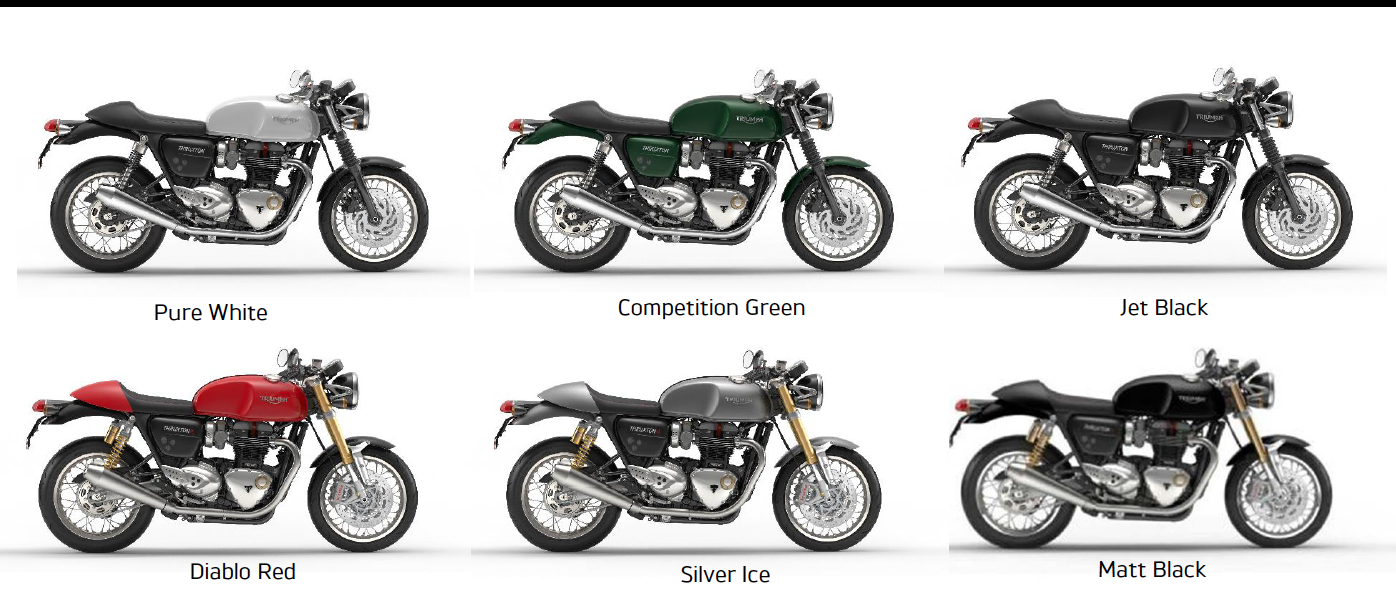 Thruxton R – The Bits and Pieces
There have been a host of changes to the Thruxton for 2016.
The Thruxton R is the the up-spec version of the Thruxton and comes in at $21,100 versus $18,500 + ORC for the standard version. What you get on the R is a brushed alloy tank strap, clear anodised swingarm, alloy rims, polished top yoke, painted rear seat cowl, Brembo monoblock calipers and floating rotors, Brembo master-cylinder, fully adjustable Showa Big Piston Forks, Ohlins fully adjustable shocks, Pirelli Diablo Rosso Corsa tyres and some brushed or polished alloy parts.
The Thruxton models both run the same engine, a high-compression tuned 1200cc version of the Bonneville Twin. The engine features a high compression head, a 45 per cent lighter crankshaft, and a redesigned airbox and exhaust.
The changes give a whopping 41 per cent increase in power and 62 per cent increase in torque over the previous engine! This level of increase is available almost throughout the rpm range in comparison to the old engine and that is what truly transforms the Thruxton R.
The new liquid-cooling system further increases performance and stretches service intervals out further, while the new chassis is more sportier and dynamic than before.
There is a race kit available for the Thruxton R also, that includes a camshaft, airfilters and there is an Arrow exhaust system that looks fantastic and increases power.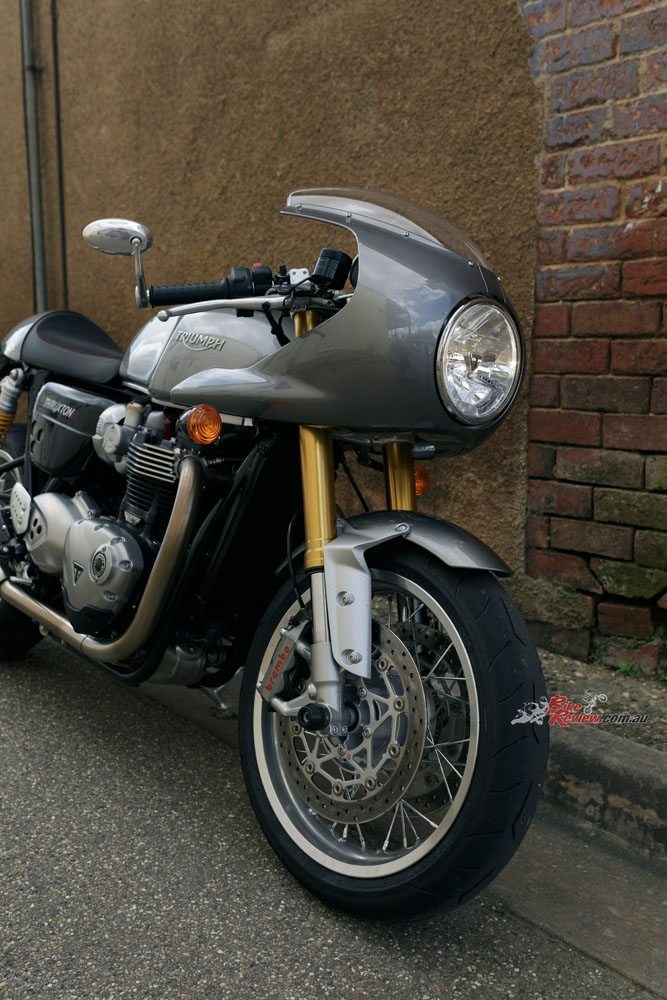 Triumph Thruxton R Specifications

Price: $21,100 + ORC
Warranty: Two-year, unlimited kilometer
Colours: Pure white, Competition green, Jet black, Diablo red, Silver ice, Matt black
Claimed power: 73kW[97hp]@6750rpm
Claimed torque: 112Nm[82ft-lbs]4950rpm
Dry weight: 203kg
Fuel capacity: 14L
Engine: Liquid-cooled, SOHC parallel twin four-stroke with 270-degree firing angle, 1200cc, 97.6 x 80mm bore x stroke, 11:1 compression, six-speed gearbox, wet multi-plate slipper clutch, EFI, two-into-two exhaust with balance pipe.
Chassis: Tubular steel cradle, alloy anodised swingarm, alloy triple-clamps Rake: 22.8mm, Trail: 9 2mm
Suspension: 43mm fully adjustable Showa Big Piston Forks, 120mm travel, Ohlins piggyback reservoir shocks, 120mm travel.
Brakes: Brembo four-piston radial-mount calipers, 310mm rotors, radial-pull master-cylinder, 220mm rear rotor with two-piston Nissin caliper, ABS equipped.
Wheels & Tyres: Spoked alloy wheels, Pirelli Diablo Rosso Corsa 120/70-17 and 160/60-17
Dimensions:
Wheelbase: 1415mm
Seat height: 810mm
Overall length: 2105mm
Overall width: 855mm
Instruments: Twin clocks, white faced, with analogue dials and digital display.

JEFF IS WEARING: Shoei NXR helmet, DriRider Rapid Jeans, Spidi Warrior Pro leathers, Spidi jacket, SIDI boots, DriRider back protector
Triumph Thruxton R Gallery
The Verdict | Review: 2016 Triumph Thruxton R
Looks good and goes even better…
Engine performance and character
9
Chassis performance and character
9