The Yamaha WR250R is an easy to ride all-round road and trail bike. Here's our 2016 Yamaha WR250R review. Test by Ben O'Brien Photography by Keith Muir
First impressions count but don't judge this book by its cover. As tested, the Yamaha WR250R had the optional white 13.8L fuel tank for exceptional fuel range – around 400kms but does make for a pretty conservative looking ride as standard.
A new sticker kit would be top of my list to bring back the cleaner lines of the standard tank, which is easy enough.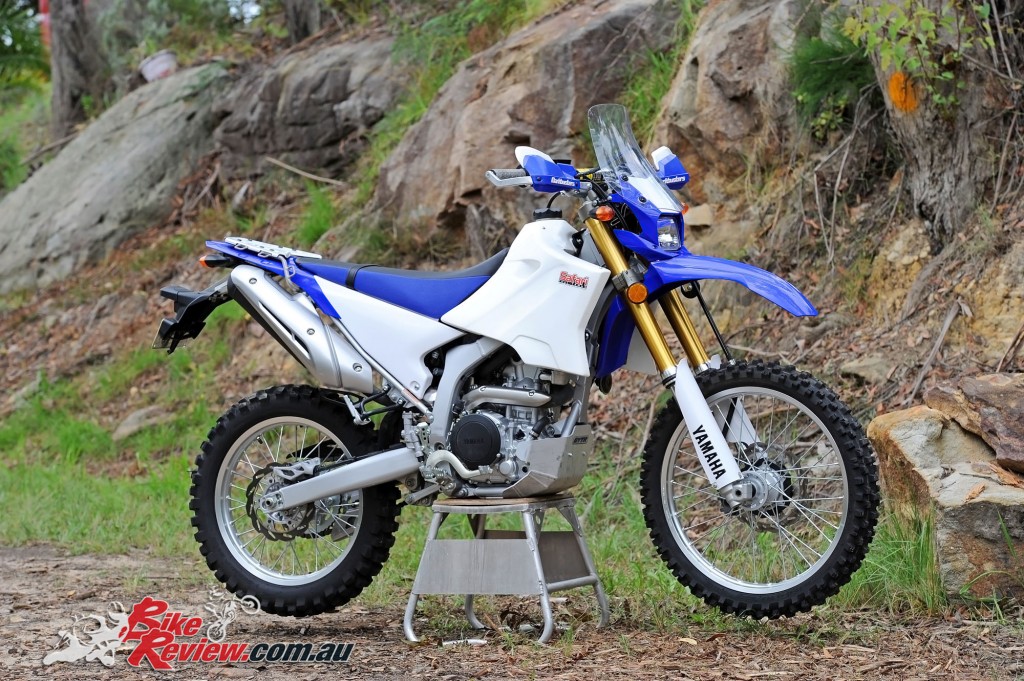 Spending most of my time on high end dirt bikes I was absolutely floored at the value for money the WR250R provides. For just over $8,000 you get a good all-round bike that can be ridden to work during the week before hitting the trails for a dirty weekend. The WR R is not pretending to be something it's not and is actually very capable off road.
Hitting the starter button fires the quarter-litre bike to life but it's so quiet you can easily have a conversation over the exhaust note without shouting. Whisper quiet.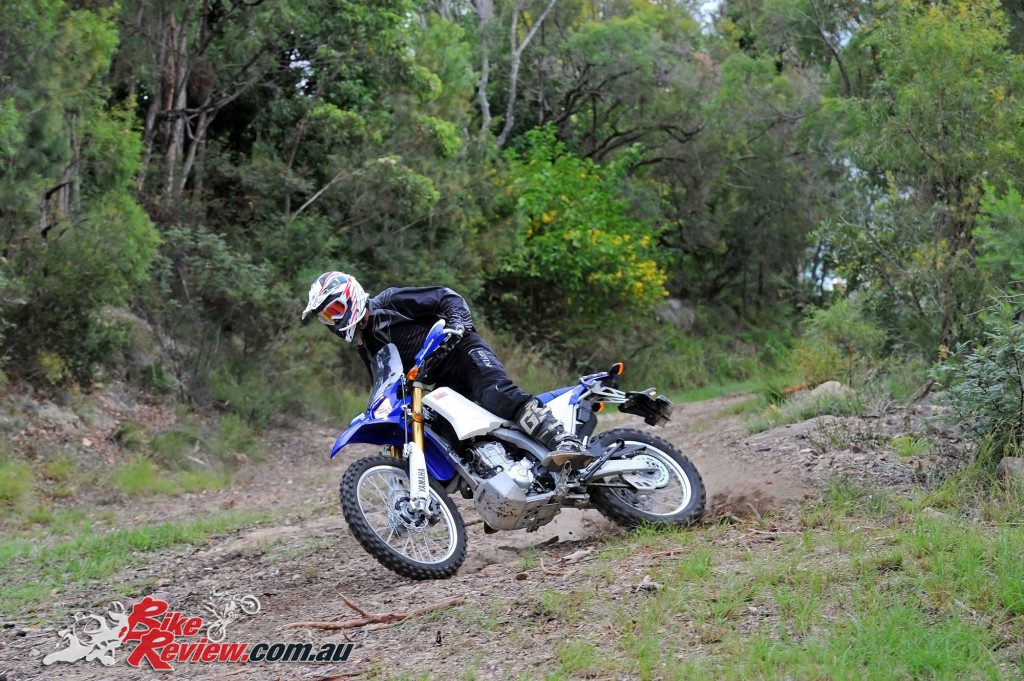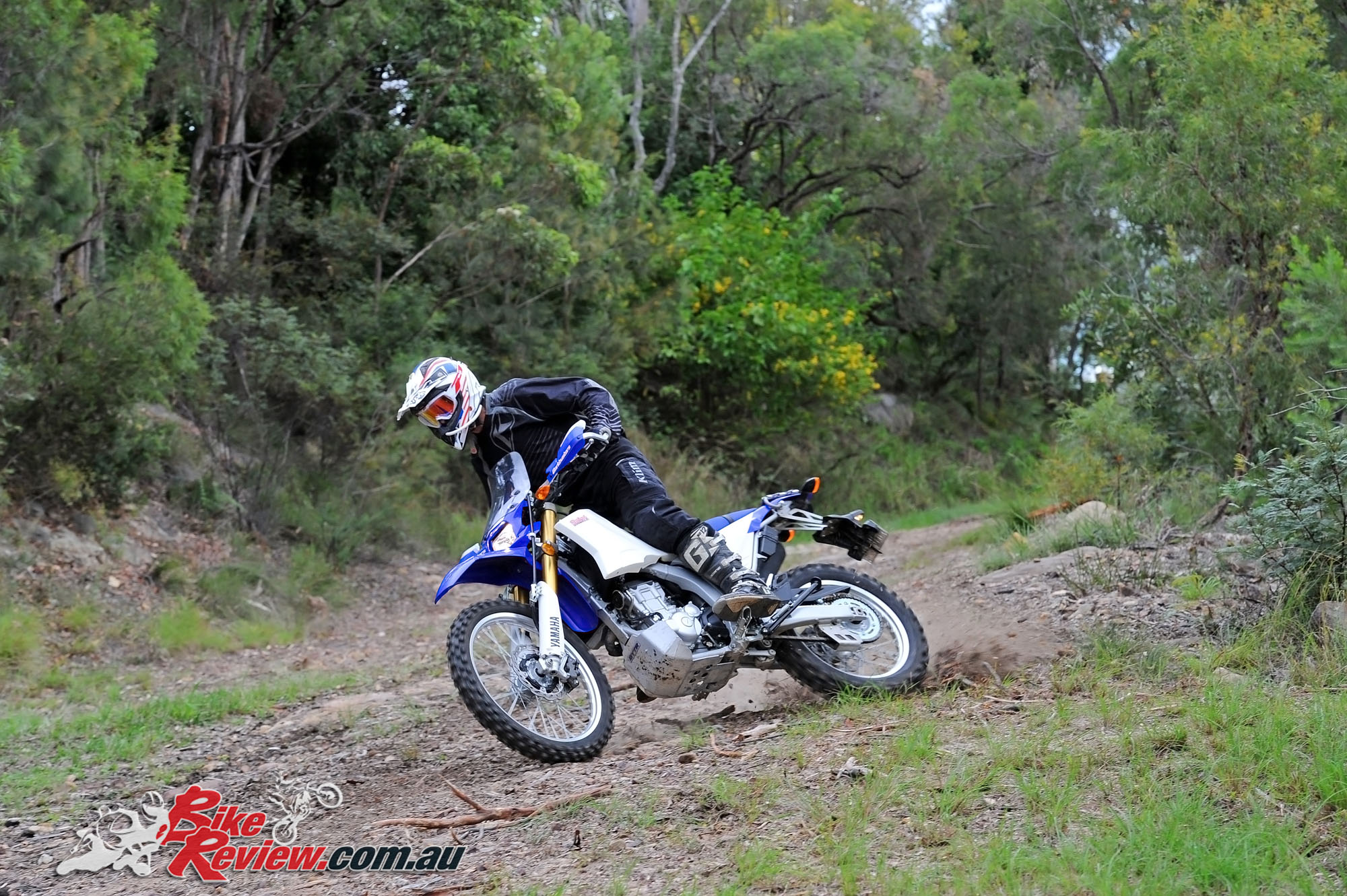 Pulling out of the driveway to ride to my local trails, is easy when you've got blinkers, a big tank and full ADR gear fitted, but I found the gearing to be too tall which made the throttle snatchy just off idle. Generally speaking you would want to throw a new rear sprocket on and add in the region of five teeth.
Cruising along on the black top is easy and very quiet with a super comfy seat setup for longer stints sitting down.
Having a lower seat height than a standard enduro bike at 930mm makes touching the ground easier and also gives a feeling of control for less experienced riders. Ground clearance is also a little lower and this drops the centre of gravity, contributing to the feeling of control.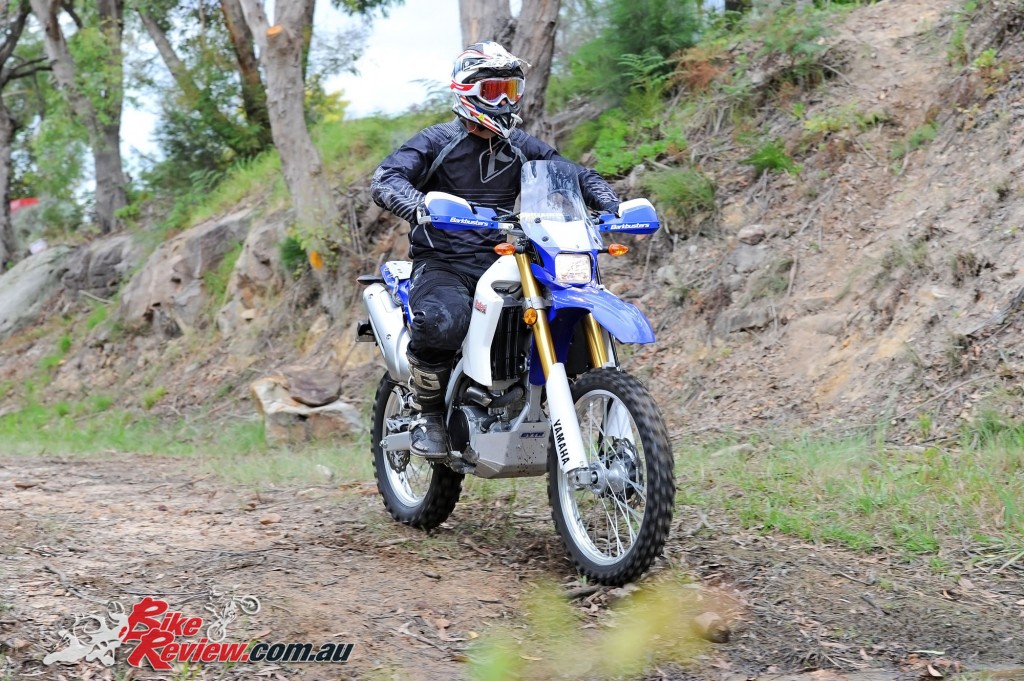 So is the Yamaha WR250R a dirt bike? Not only is it a dirt bike but the Yamaha punches well above its price point. Off-road on fire trails is where this little bike shines.
The suspension both front and rear is extremely plush giving an awesome comfortable ride as long as you don't push too hard. In fact we had another enduro bike along for the ride, the WR450F, and through the rocks the WR250R was like a lounge chair in comparison. You can choose to push harder but if something unforeseen comes up and you hit it too hard the suspension won't cope blowing through the stroke both front and rear.

Front forks and rear shock are both fully adjustable for compression, rebound and preload which was another welcome bonus.
The WR250R chassis is an aluminium double-cradle main section with a steel engine cradle, this is more than up to the task and is well matched to the suspension.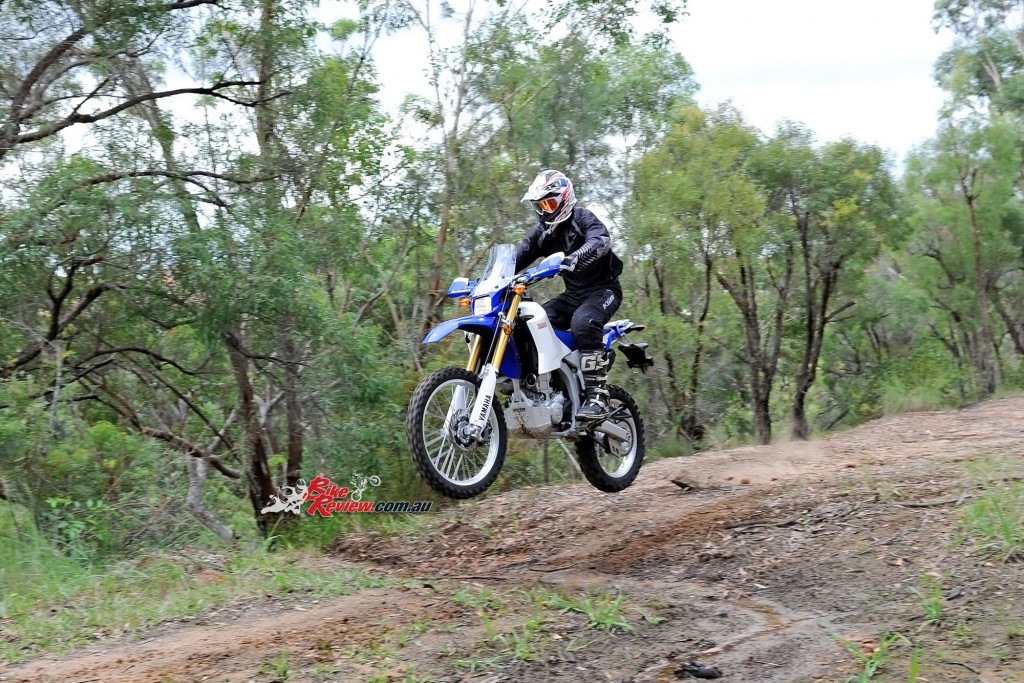 Brakes are also up to the task with the front having plenty of feel but could be stronger, although installing a braided brake line in place of the rubber standard jobbie would help. Rear brakes are really good and allowed easy to control brake slides when required.
Mated to the chassis is a four-valve fuel injected engine with a heap of features taken directly from Yamaha's road bikes.
Being a 250 there is no arm ripping power, just easy to manage smooth linear power. This means when riding off road there are no surprises when you twist the throttle. Keeping with the suspension and chassis setup the engine is just easy to manage and does everything you ask of it.
Initial thoughts are to install a slip-on muffler to open the bike up a bit and I would also look at the airbox as well. It is tucked inside the right hand rear panel and has a snorkel fitted as standard. These two things keep the bike extremely quiet but if you are after a bit more performance then this is a good area to look at.
Running Titanium inlet valves is unexpected as are the valve adjustment checks every 40,000km which is truly amazing. I can't remember ever seeing another bike with such long intervals, not forgetting that this is a 250cc four-stroke that revs to 10,000rpm.
Yamaha have obviously built an under-stressed engine that is in stark contrast to most other models in the enduro category which means much less work and more ride time.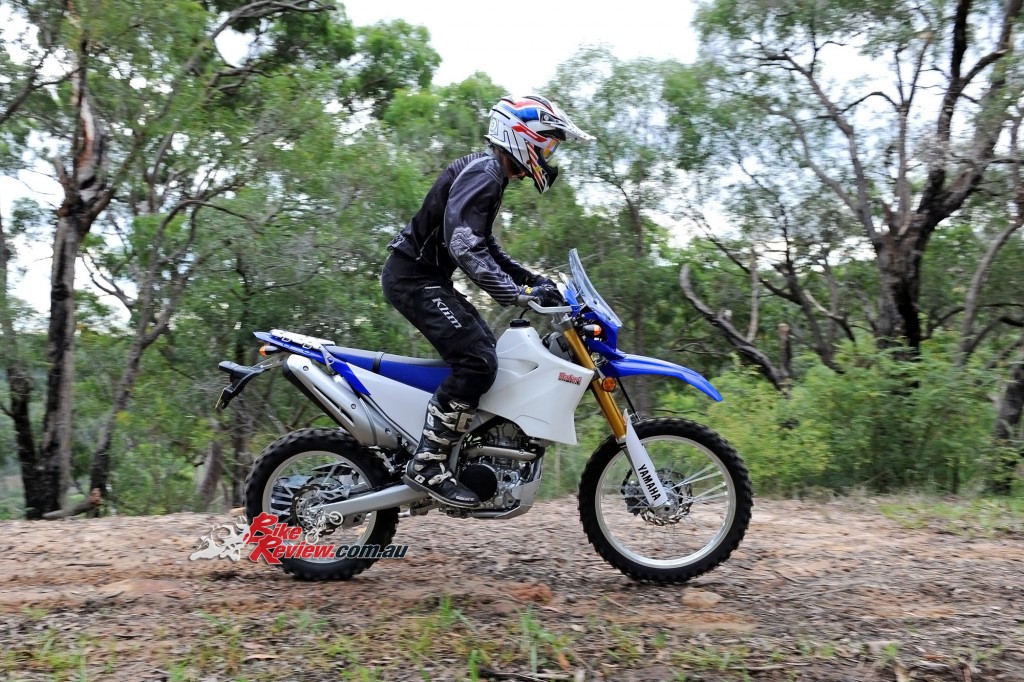 So what would you do if you had an enduro special test track, a Yamaha WR250R and a Yamaha WR450F?
Race them of course! I know, I know, one is a hard-nosed enduro weapon and the other a road trail bike but just for kicks we did it anyway.
So after a warm up lap and with the stopwatch in my trusty assistant's hands I punched out two flying laps on both bikes. I was more surprised than anyone with the results.
The Yamaha WR450F managed a 7m02s, while the Yamaha WR250R did a 7m54s, which is astounding really. Even though the results are far closer than expected the odds were skewed towards the 250 on the tight and reasonably smooth single track. If the test was rocky or had g-outs then the results would have been further apart. However it's still pretty amazing.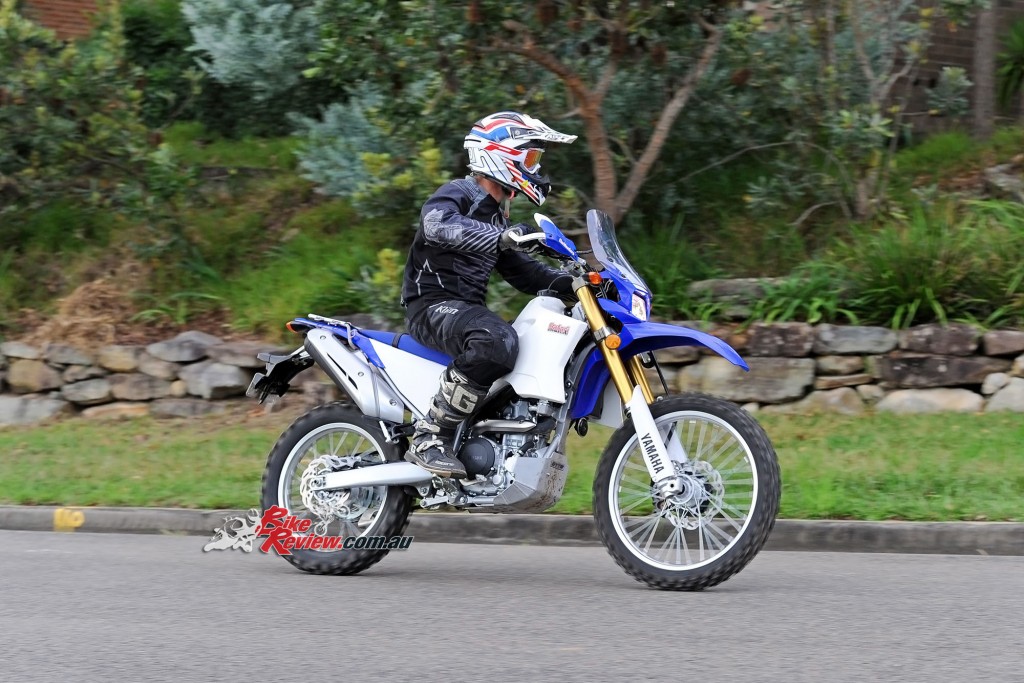 Normally I like pushing a bike to see just what it is capable of but in the case of the WR250R I drew the line at full on extreme technical riding. Having nearly 13L of fuel on board, combined with lower ground clearance and softer power would see the Yamaha well outside its comfort zone.
Looking around the bike there are also features that you wouldn't normally see on a dirt bike, although my guess is that these are design features that will become more common over the next few years.
You don't really notice the single sided radiator with cooling fan until you have a good look around and on the trail the WR250R stayed cool so it obviously works. Direct ignition coils are also used, although these have been found for years on road bikes so this may be their start in the off road world as well.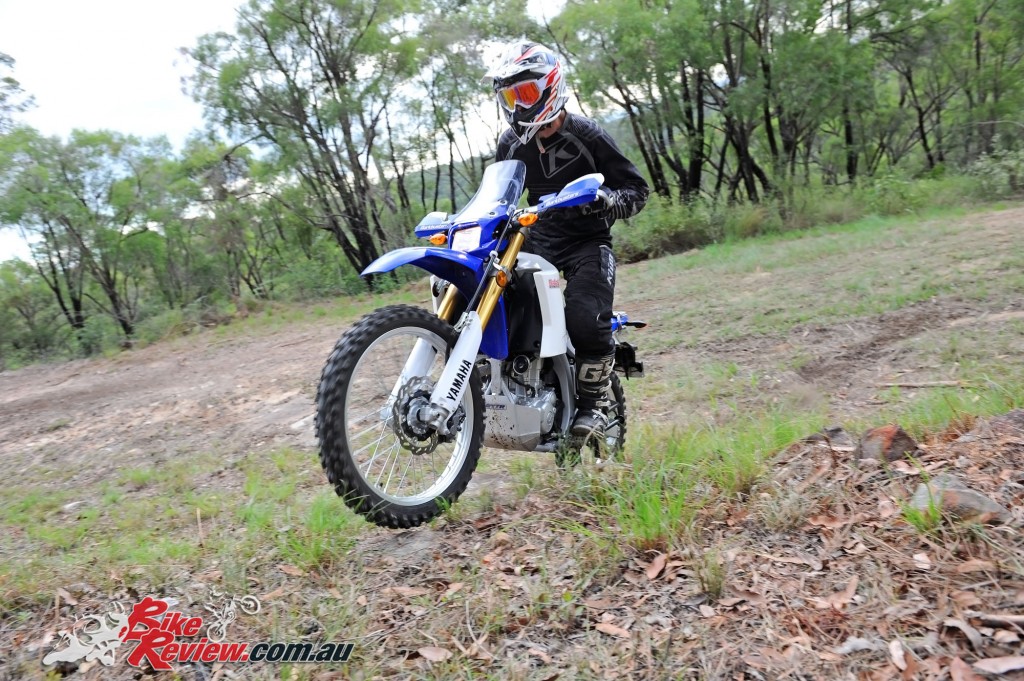 The EXUP valve is a valve in the exhaust that controls pressure, helping smoothen power in conjunction with the fuel injection system and an air control valve in the intake. The ECU also monitors a Lambda sensor (oxygen) in the exhaust, constantly adjusting the air to fuel ratio as required.

Plus a 24-months parts and labour warranty is unheard of and would give any rider plenty of peace of mind.
So just who is the WR250R designed for? That's the big question. It has been made as a learner legal (LAMS) bike that can be ridden in the bush, it can be ridden to work, and will happily be trail ridden all day on one tank of fuel.
Throw on the optional larger fuel tank we had fitted for testing and you can go adventure riding, strap on a tent and do a multi-day rides.
The WR250R won't rip your arms off or ever be a race bike but there are already plenty of those around, so this could actually corner a unique segment of the market.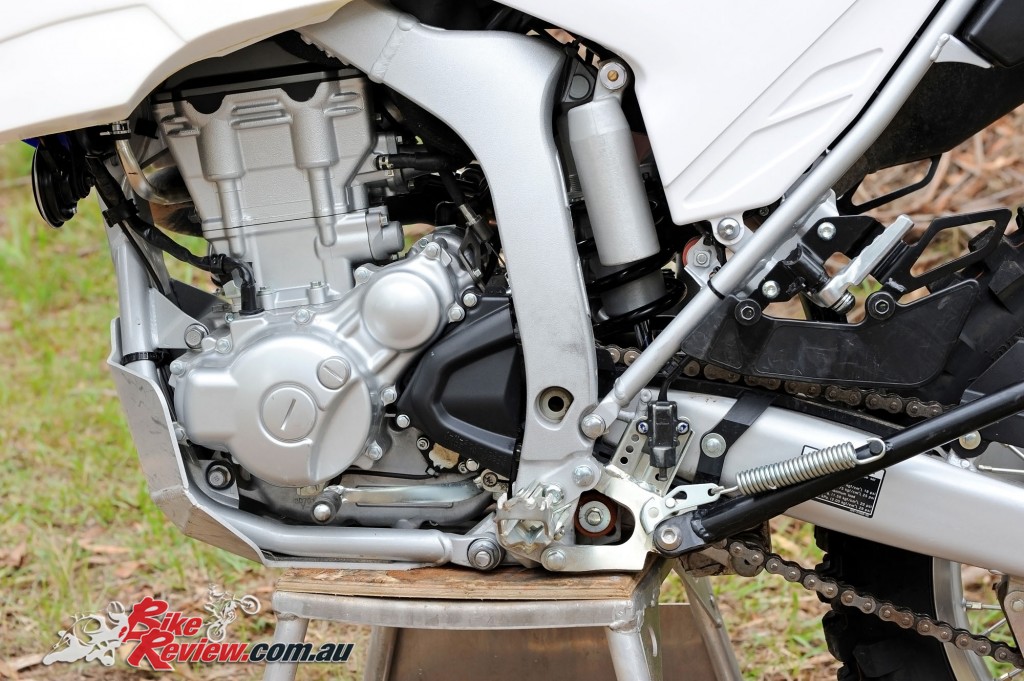 Engine
Starting at the down draft intake for the fuel injection system before leading into a four valve head with titanium inlet valve, the WR250R has the same bore and stroke of 77 X 53.6mm as the race bike and is well proven.
There is an air control valve in the intake and an EXUP valve in the exhaust tucked just behind the right frame rail and operated via a remote motor. Also located here is the Lambda sensor to measure the air to fuel ratio so that the ECU can make fueling changes as required.
Direct ignition coils eliminate the need for coil packs mounted to the frame and the coil driver is built into the spark plug lead and just pushes onto the spark plug.
Running a lowish compression ratio also means you can run a lesser grade of fuel without fear of detonation.
The kick start has been removed and the compact electric starter brings the WR250R to life.
A six speed gearbox has good all-round ratios and overall the engine is very smooth and easy to use.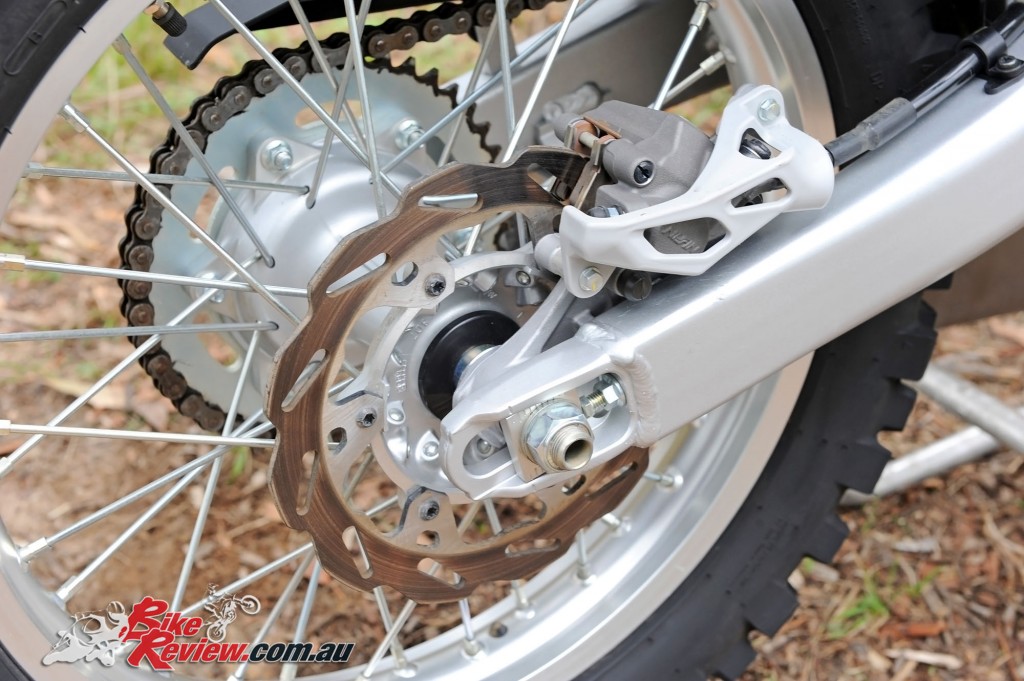 Chassis
A three-section semi-double cradle frame has been used and this means that the backbone is an aluminium main frame with a steel engine cradle and a steel sub-frame. The chassis is compact and out on the trail very stable with 300mm of ground clearance.
The front wheel is a 21in enduro wheel, while the rear is an 18in, giving you a huge choice of rubber to choose from.
Both forks and shock have full adjustment via compression, rebound and spring preload. They also both have 270mm of travel for a plush ride. As mentioned above they do not like to take big hits but for everything else they are fine. Front and rear brakes are both Nissan items providing ample feel, while the front would ideally offer more power.
The seat is wide and comfortable and would be easy to spend a day in the saddle on, while the digital speedo is easy to read and use. Being a road/trail bike there is a keyed ignition switch. Switch gear is all pretty standard fare and works as it should.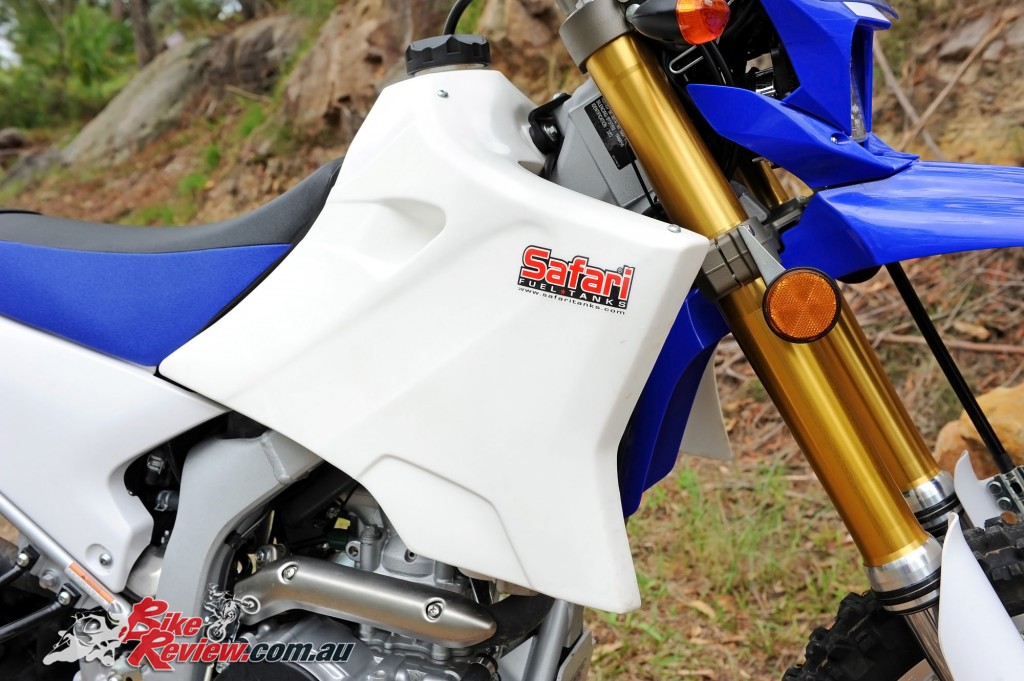 Accessories
As tested the Yamaha WR250R had the following accessories fitted:
Safari Tank 13.8 Litre              $571.91 RRP
GYTR Sump Guard                 $189.94 RRP
GYTR Brake Snake                 $8.64 RRP
GYTR Carrier                           $242.07 RRP
Renthal Handlebars                $79.99 RRP
Bark Buster Hand Guards       $165.95 RRP
Dunlop Tyres HD Tubes          $269.80 RRP
Screens for Bikes Screen        $125.00 RRP
You can check out the full range at the Y-Shop Online, or at your local Authorised Yamaha dealer.
SPECIFICATIONS: 2016 Yamaha WR250R
Price: $8,299 + ORC
Colours: Team Yamaha Blue and White 
Dry weight: 127kg
Fuel capacity: 7.6L
Engine: Liquid-cooled, four-stroke, DOHC, four-valve, 250cc, 77 x 53.6mm, 11.8:1 compression, EFI, TCI
Gearbox: Constant mesh six-speed
Clutch: Multi-plate wet clutch
Chassis: Semi double cradle – aluminium main frame, steel engine cradle, steel sub-frame, Rake: 26°, Trail: 111mm
Suspension: Fully adjustable USD forks, 270mm travel, fully adjustable Monocross rear shock, 270mm travel
Brakes: Hydraulic single disc, 250mm (F), Hydraulic single disc, 230mm (R)
Wheels & Tyres: 80/100-21M/C 51P, 120/80-18M/C 62P
Dimensions:
Wheelbase: 1420mm
Seat height: 930mm
Overall height: 1230mm
Overall width: 810mm
Instruments: Digital multifunction display