Revisiting an old favourite in new livery - Yamaha's YZF-R6 60th Anniversary Edition. Here's our 2016 Yamaha YZF-R6 review. Test & Photography by Kris Hodgson, David Hodgson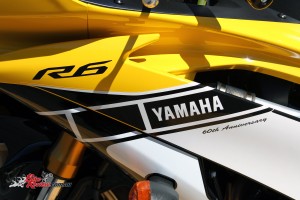 There are some bikes you can jump on after a lengthy hiatus and just gel with the machine immediately. Sometimes it's because you owned one for years. Other times it's just because it's an amazing machine. For, me Yamaha's R6 falls into that category – and I've never owned one.
I'll be the first to admit I'm also a huge fan of the Special Edition 60th Anniversary colour schemes that Yamaha has released for the year across a number of models, with my particular favourites being both the YZF-R6 and the YZF-R1.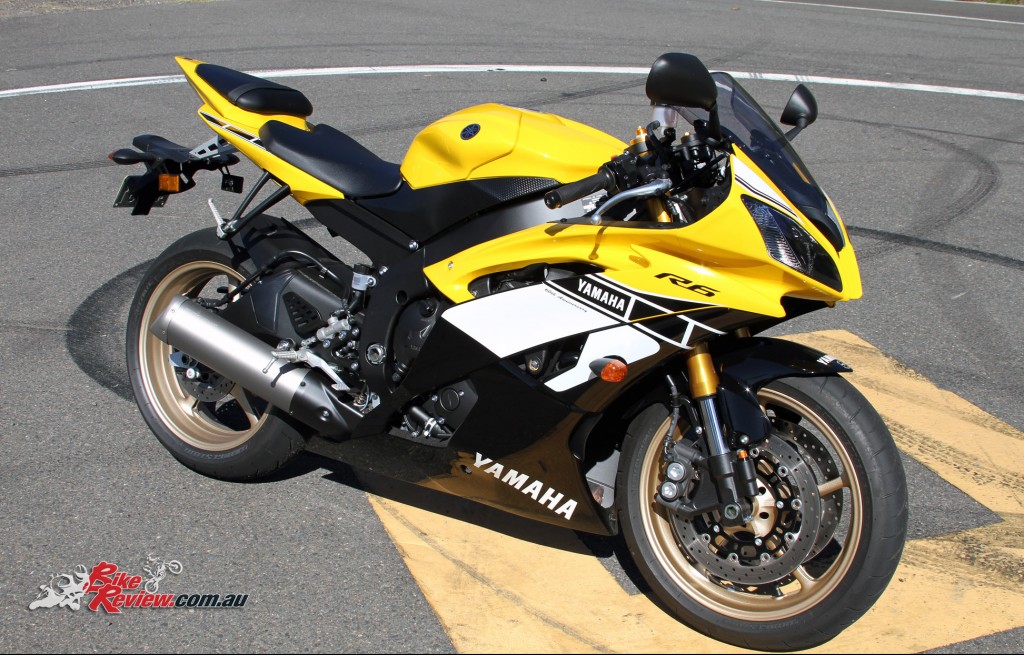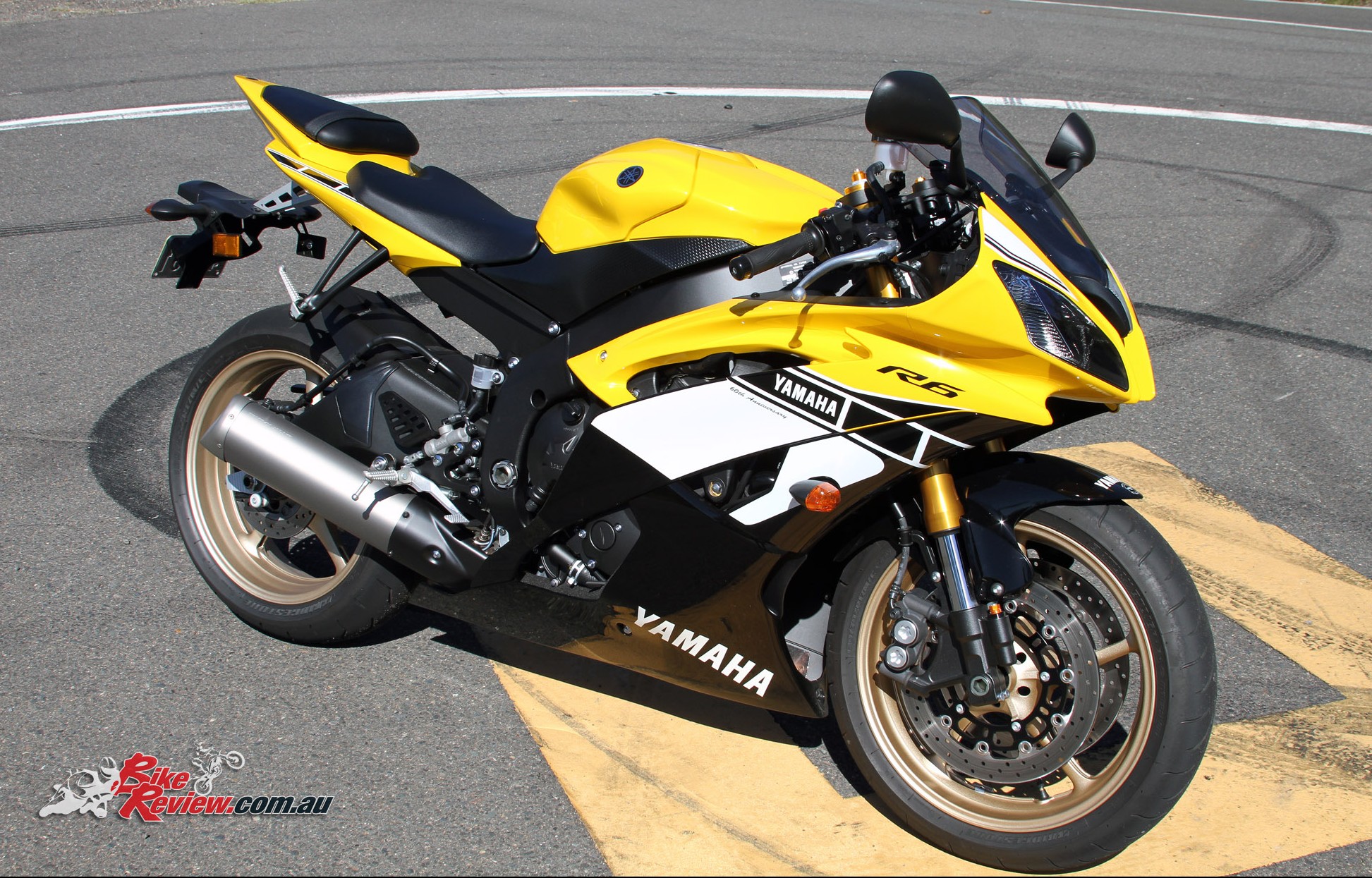 Of course where the YZF-R1 is a very new machine, the faithful old R6 has been around relatively unchanged since 2008 and it's always been recognised as one of the premium options for a track or race bike.
With just a colour scheme change on the 2016 model YZF-R6, I spent two weeks on the bike, using it for an everyday ride plus some weekend fun and was suitably impressed, with the bike feeling like it's picked up some low end torque since I last tested one properly in 2013. The YZF-R6 has always been an awesome machine on the track or even on the open road, but it's peaky nature could leave you wanting a little more low down torque at times.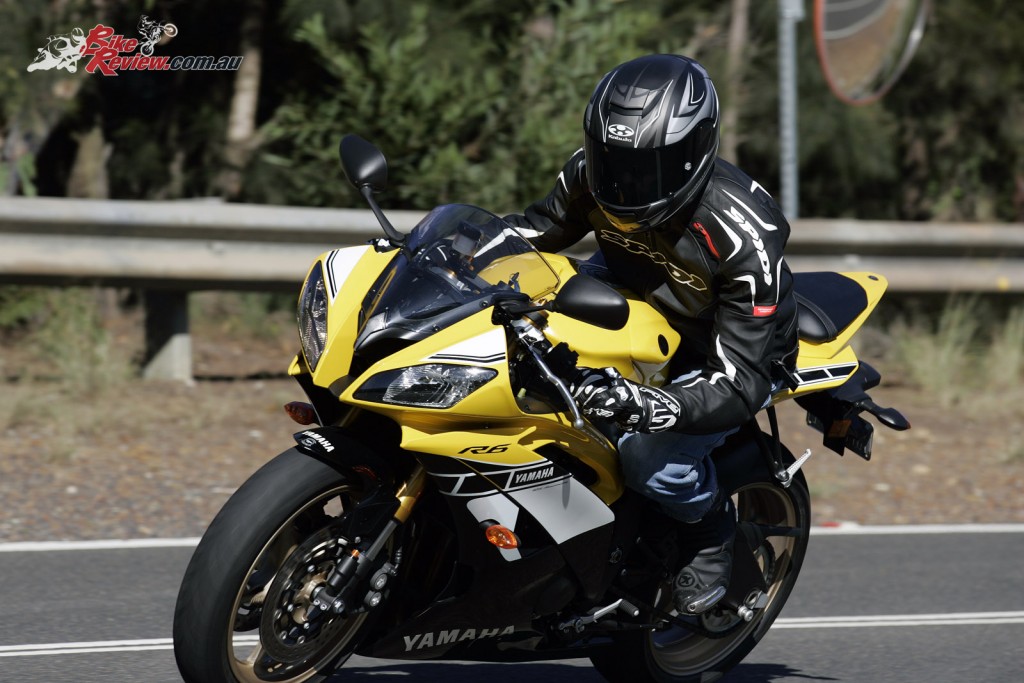 The in-line four produces sensational power delivery. Fueling is basically perfect, with transitions effortless and the bike's slipper clutch allowing aggressive downshifting and entry speed.
The intake growl is also absolutely addictive and starts low enough that on the road you can have a bit of fun at every set of lights without risking your licence, much. Combine that with knocking down through the gears as you come to a stop and you're that motorcyclist people are probably rolling their eyes at. It's just awesome fun though.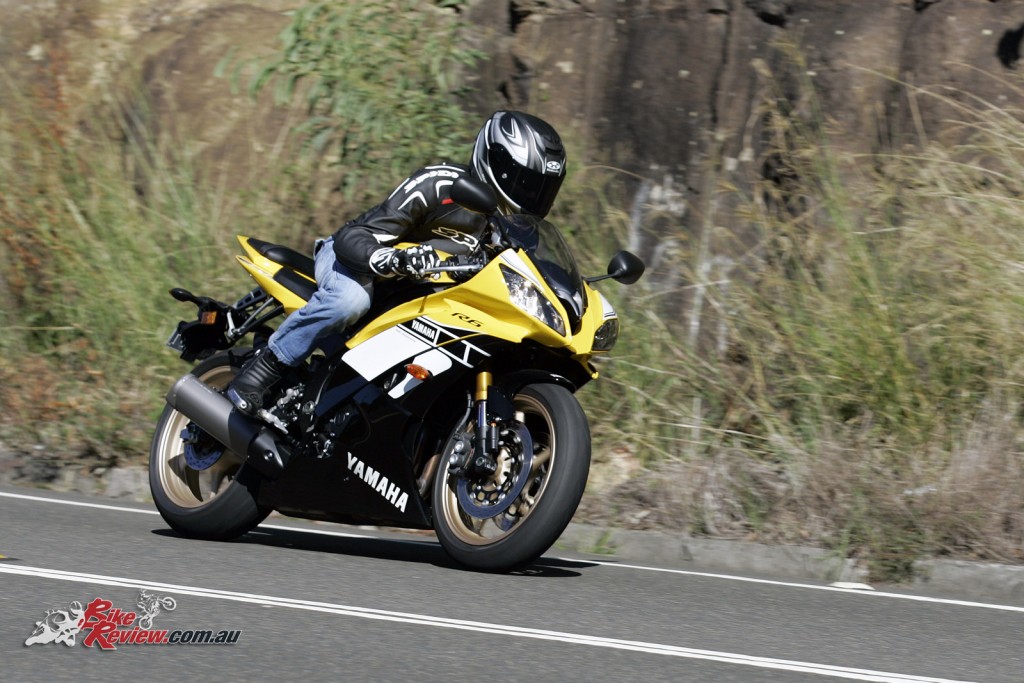 The YZF-R6's stock suspension also offered an exceptional ride for my 70kg weight, through our local twisties, for the daily commute and everything in between. The bike handles like it's on rails, with an aggressive telepathic turn-in that had me at times wondering if I was actually telling the bike what to do, or whether I was just along for the ride. The Battlax BT016 tyres were also great, although we had dry weather for the period.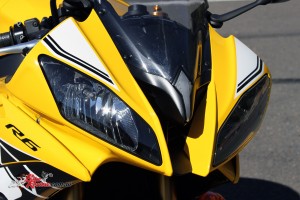 The YZF-R6 is a pure racebike so of course an aggressive machine ergonomically and I noticed the extra weight on my wrists, even coming from riding a supersport machine as my everyday ride. Taking up a little more weight through my legs and core solved that problem however. I also really noticed the heat coming off the bike in heavier traffic, when I wasn't in full leathers or wearing pants with heat protection in the lower legs.
It wasn't bad enough to burn, but testing in Autumn, I can see it being worse in summer. The bike did maintain a stable operating temperature even in the worst of traffic though.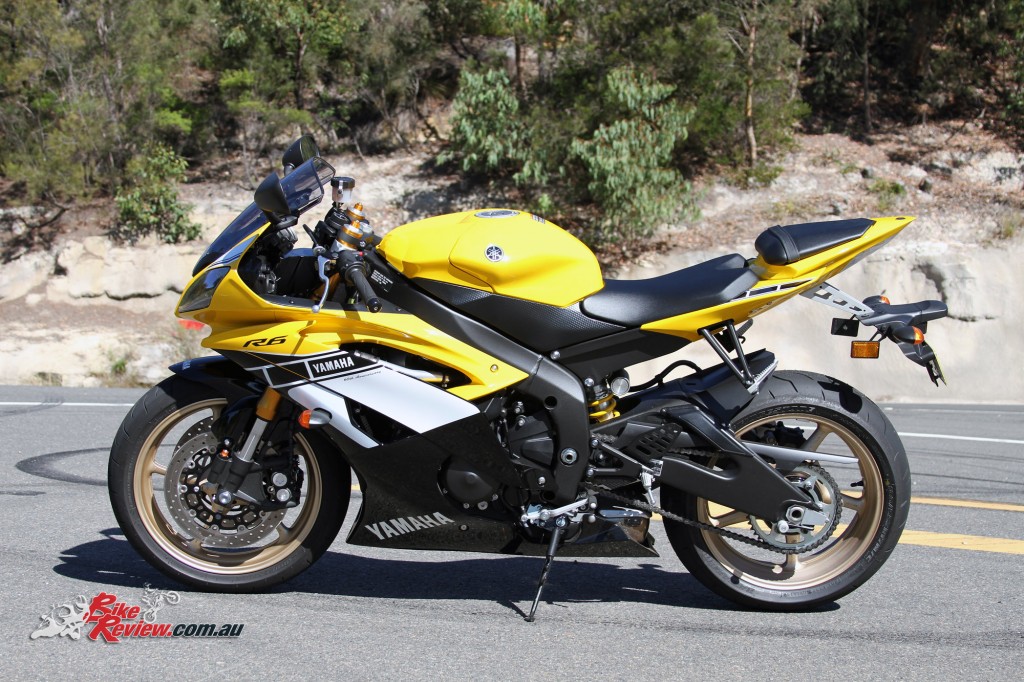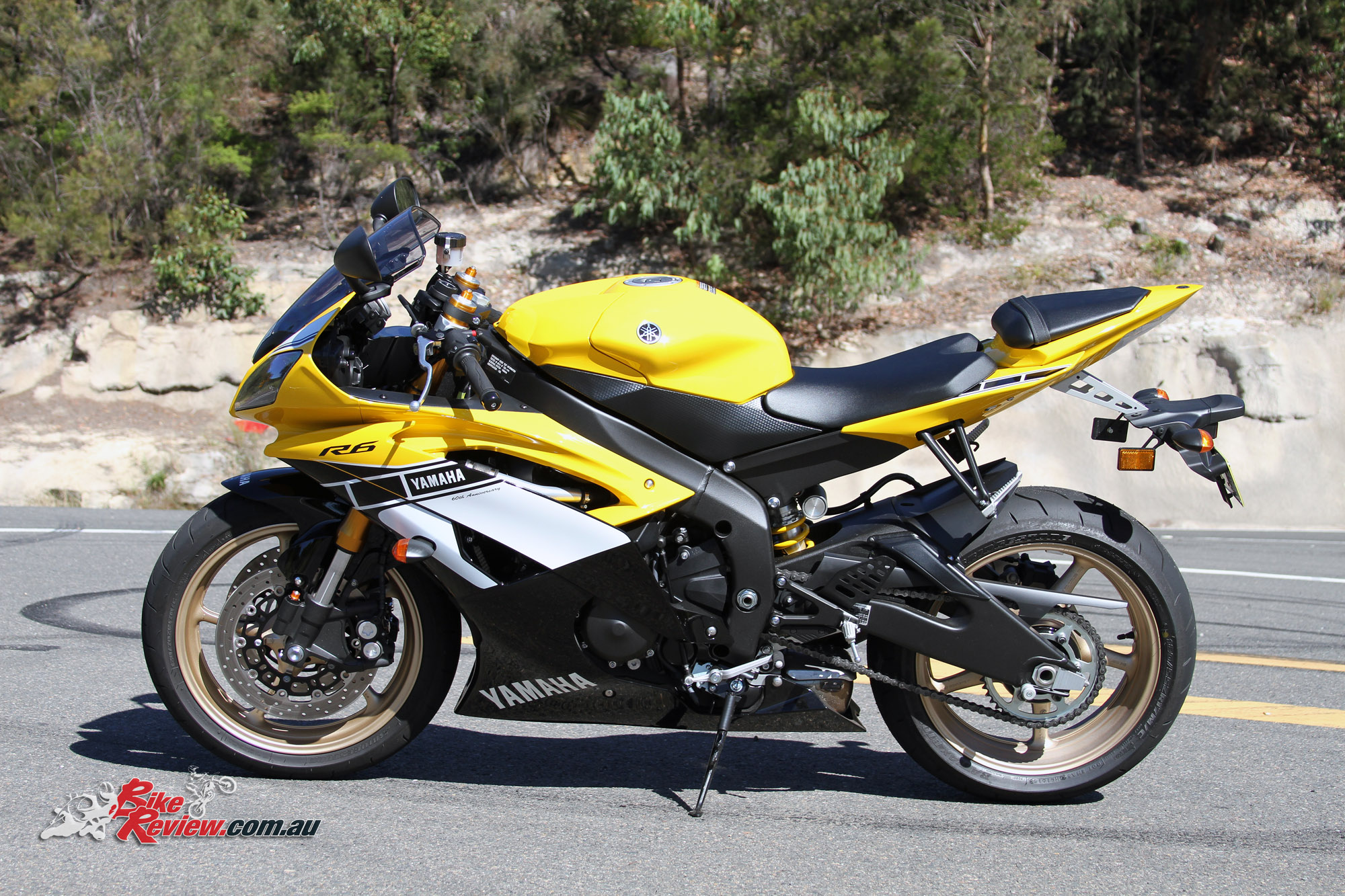 The gearbox is super slick, offering solid gear changes with easy clutch-less upshifts, and the brakes, both front and rear offered great feel, bite and stopping power.
It's a stunning package and one that caught plenty of envious looks on the road and every time I stopped, including a few people feeling the need to come up and compliment the bike, and it was all generations, showing there's definitely some universal appeal there.


The yellow, black and white Speed Block graphics are definitely something unique in the current motorcycling landscape, and while they may be harkening back to the racing of the '70s and '80s, before I was alive, it's still iconic and a very meaningful colour scheme and well worth the small premium you pay in my opinion.
It's great to have the opportunity to reassess an old favourite and Yamaha's YZF-R6 is as good as ever! Consider this bike in the market for a supersport machine.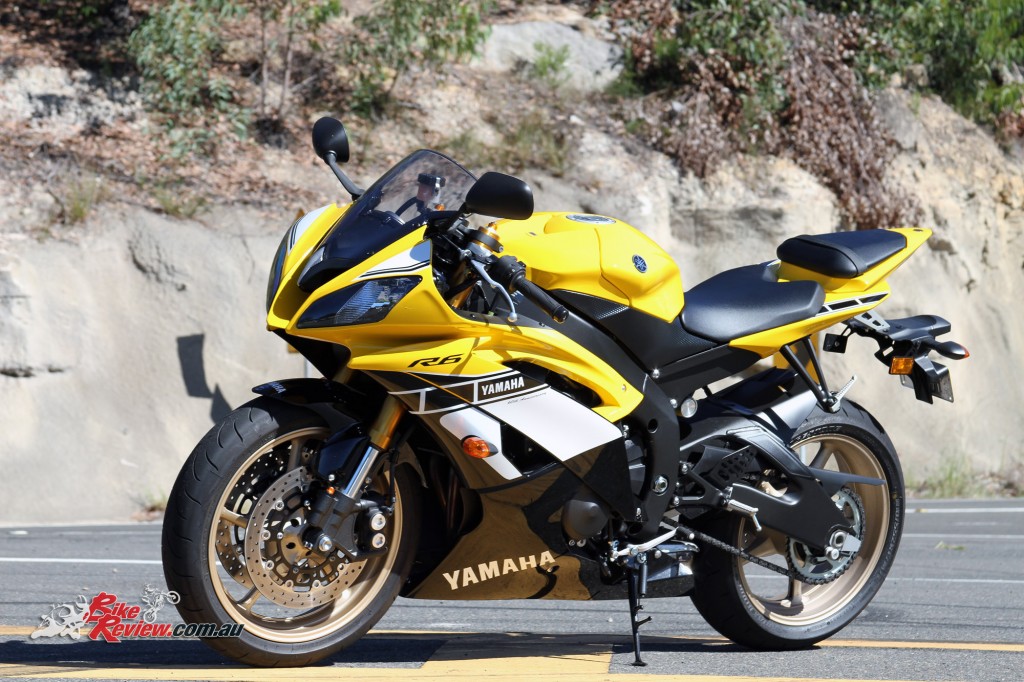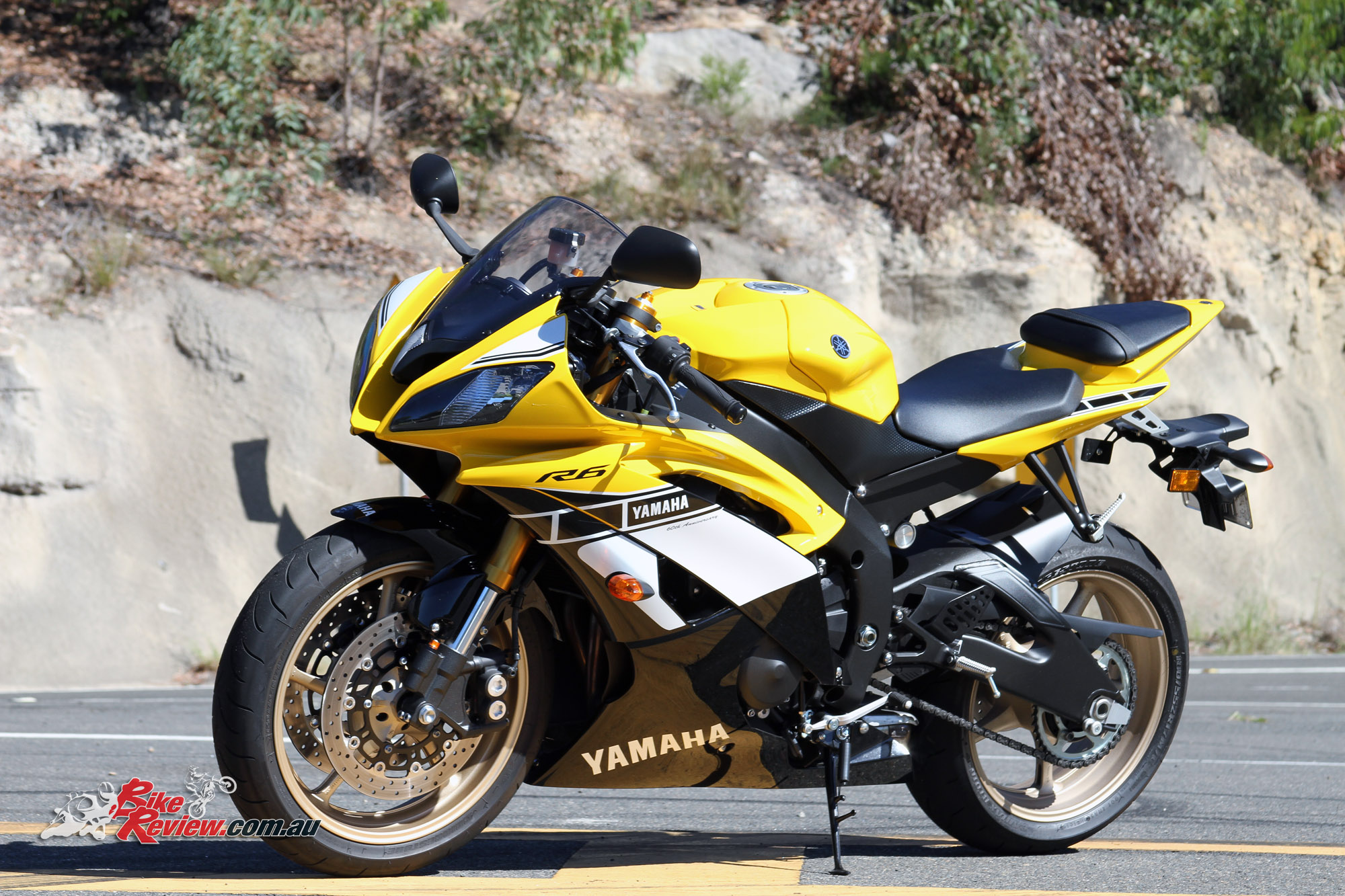 Second Opinion:
The R6 is an impressive looking package in its yellow and black race livery. With a compact, centralised mass structure and eye catching styling, you just know it is one performance orientated supersport motorcycle. Visually it screams race replica, and on initial inspection, it sure looks like one, following on from previous R6's with their track focus.
Finish on all the visible components rates from excellent on the fairing and controls/dash to acceptable on some of the ancillaries. I found the choice of style, colour and finish on the wheels uninspiring but that is just me.
At 90kg all kitted up, and being of 'mature' age, I fully expected the R6 to be stiffly sprung and requiring quite a bit of muscle and body English to weave along the sports bike roads around Sydney. Wrong on all counts.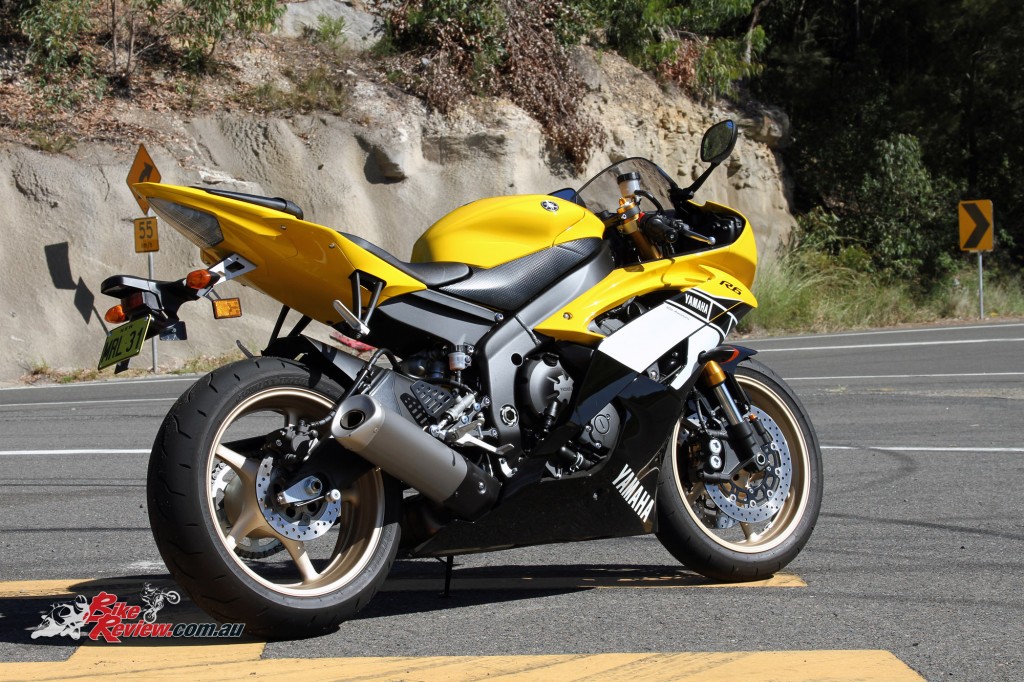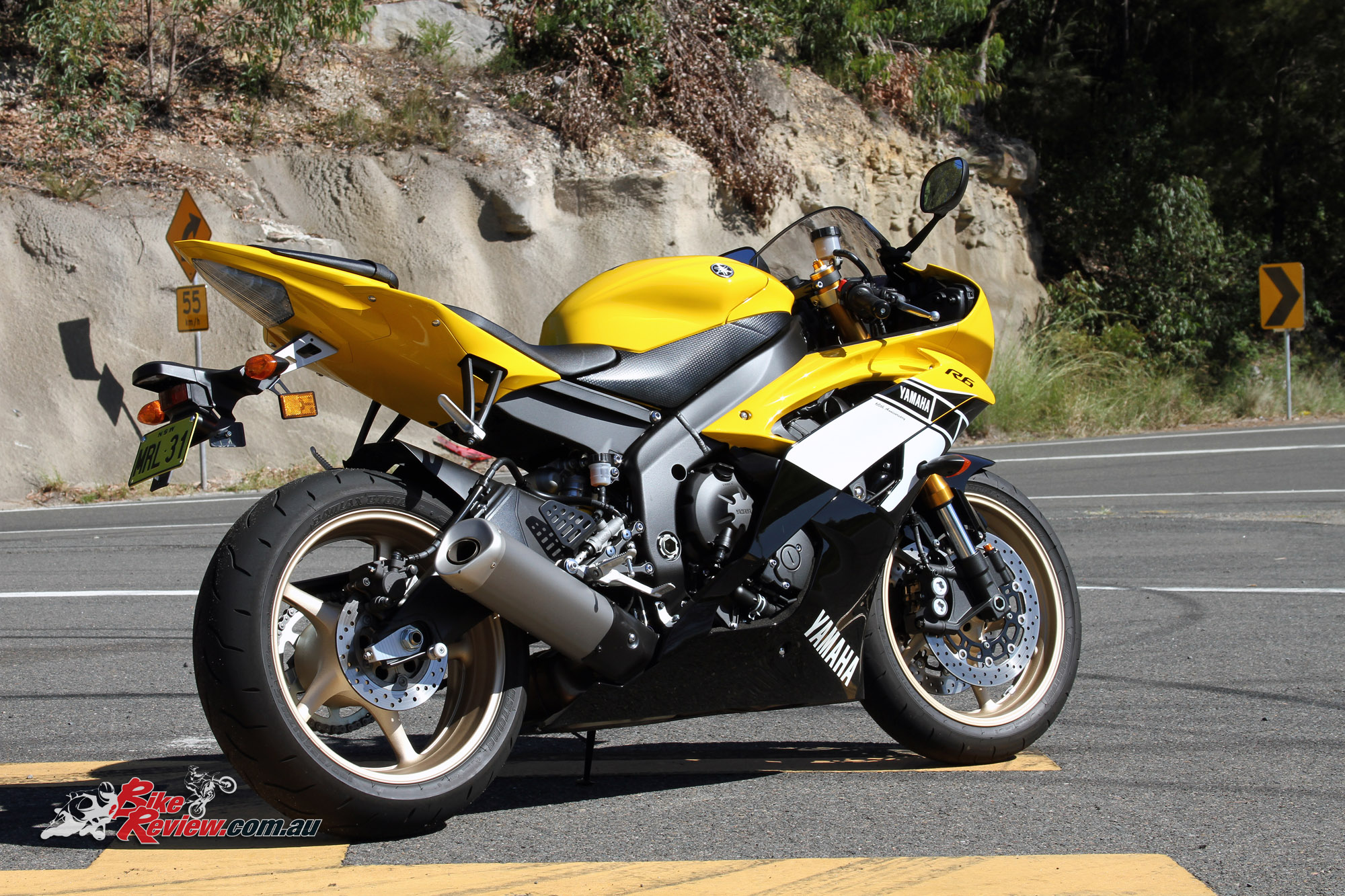 Corner turn in is almost telepathic, from slow corners right through to fast sweepers, with only the much slower corners requiring a more aggressive approach, and even then, just a slight change in body position and weight transference forward made a large difference in holding the chosen line.
Mid turn was excellent, while corner exit was dependent on throttle control.  No worries with anything scraping, even on some severe road depressions during cornering. The term 'it goes where you think' is very apt.
The bikes suspension works beautifully on rough and smooth tarmac, soaking up all but the most severe bumps without unsettling at road pace. I was intrigued that the rear suspension delivered fierce kicks from slab edges on a short motorway run, but have no doubt that could be tuned out by an owner.
The controls are light and provide good feedback, although the clutch took some working out, with a very sharp take up point. Moving off from standstill required a lot of revs to stop the bike from bogging down. From closed throttle, a stutter could be felt on mild throttle opening, but a more aggressive opening resulted in a smoother transition – a fairly typical result on fuel injected bikes.
The front brakes are powerful, though a trifle wooden in feedback. The rear brake is just right, not too powerful or ineffective. The dashboard is simple and gives all the information I require on a sports bike – speed and engine revs. It has more info available, but I didn't use it.
Being of compact stature with race bike like mass centralisation, the bike is short and high. Wheeling it around initially gives an uneasy, top heavy feel, and while this never goes away, it does diminish the more you move the bike around.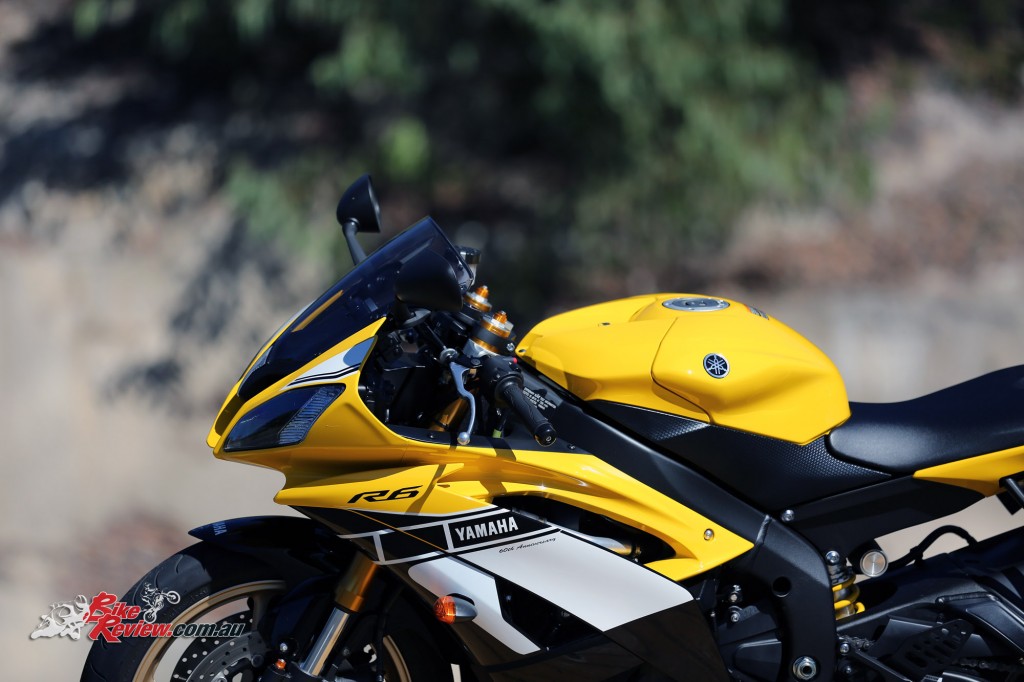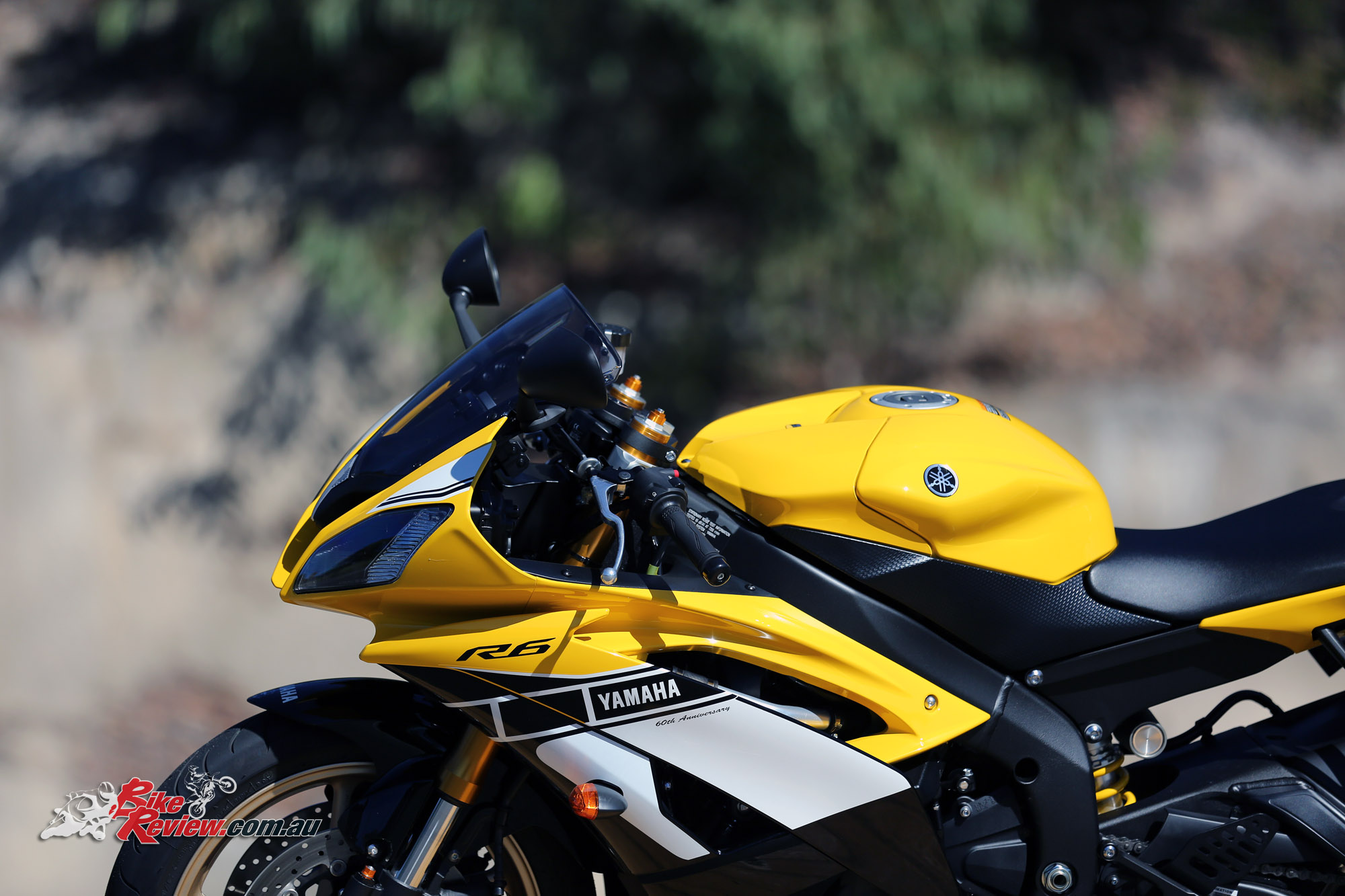 On the move, there is no evidence of this top heavy feeling, it just works superbly, flicking from side to side without any evidence of a high centre of gravity. On reflection, it is only the really low speed corners that this becomes noticeable, and as stated above, a change in body position and weighting easily solves that.
As the seat and tail unit are quite high, getting on and off can be a tailpiece scraping experience for those of us blessed with modest stature. The seat and riding position is surprisingly comfortable, with a reasonable reach to the bars allied with high footpegs that provide an acceptable knee bend for an older bloke or blokette, allowing body positioning and weight transfer to take place easily.

No crushed knackers on the R6, which makes a nice change from some other super- and hyper-sports bikes.
A large amount of pressure is felt by the wrists and arms in 60km/h traffic doodling. This is not a bike for riding to work in peak hour traffic. I doubt if one would do large distances in a day without major discomfort, though in this case, it would be like most of its competitors.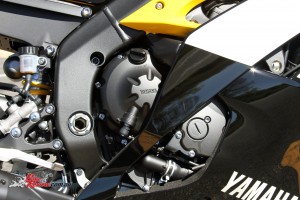 Finally the engine. The engine is a gem, absolutely linear through the rev range, the power comes on strong and just keeps on coming and coming until up-shift time. Fuelling is excellent other than mild openings off a closed throttle. The bike does not have a quick shifter and nor does it need one. Short, crisp changes are the go both up and down the gearbox, with just a snick on the gear lever required.
The ability to ride the huge rev range and hang on to a gear in the tight and twisty stuff makes the R6 an absolute joy to ride on the road.
Yamaha have made the R6 a most enjoyable supersport road bike out of a track orientated device. Did they mean to? I'm not sure, but it is one very nice bend swinger, suited to mid-week blasts up your favourite twisty road. – David H.
SPECIFICATIONS: 2016 Yamaha YZF-R6 Special Edition 60th Anniversary
Price: 16,799 + ORC
Warranty: Two-year, unlimited kilometre
Colours: Special Edition 60th Anniversary, Yamaha Blue, Matt Grey
Claimed power: 91kW[123.7hp]@14,500rpm
Claimed torque: 65.7Nm[48.5ft-lbs]@10,500rpm
Wet weight: 189kg
Fuel capacity: 17L
Engine: Liquid-cooled, four-stroke, DOHC, four-valve, forward inclined parallel-four, 599cc, 67 x 42.5mm bore x stroke, 13.1:1 compression, YCC-T, YCC-I, titanium muffler
Gearbox: Six-speed
Clutch: Multi-plate, slipper clutch
Chassis: Aluminium Deltabox frame, Rake: 24°, Trail: 97mm
Suspension: Fully adjustable 41mm USD forks, 115mm travel, fully adjustable Monocross rear shock, 120mm travel
Brakes: Dual 310mm front rotors, four piston radial calipers, 220mm rear rotor
Wheels & Tyres: 120/70 ZR17 MC (58W), 180/55 ZR17 MC (73W)
Dimensions:
Wheelbase: 1380mm
Seat height: 850mm
Overall height: 1100mm
Overall width: 705mm
Instruments: Digital multifunction display, analogue tachometer
The Verdict | Review: 2016 Yamaha YZF-R6 – 60th Anniversary Edition
Yamaha's YZF-R6 may not have been updated in a while but it's still a total weapon and amazing fun.