Review: 2017 Suzuki DR-Z400SM
Looking for a LAMS legal Super Motard? Check out the Suzuki DR-Z400SM, here is our DR-Z400SM review! Test: Kris Hodgson Photography: Kris, Jeff
Suzuki's DR-Z400SM is the latest machine to truly impress me as a great all round package, especially for a LAMS motorcycle, considering its relatively niche position in the market.
Featuring a liquid-cooled 398cc single-cylinder four-stroke engine, beefy 47mm forks and a wet weight of just 146kg you know there's something special going on with this Super Motard that has been built by converting the awesome DR-Z400 and that's made very clear once on the bike.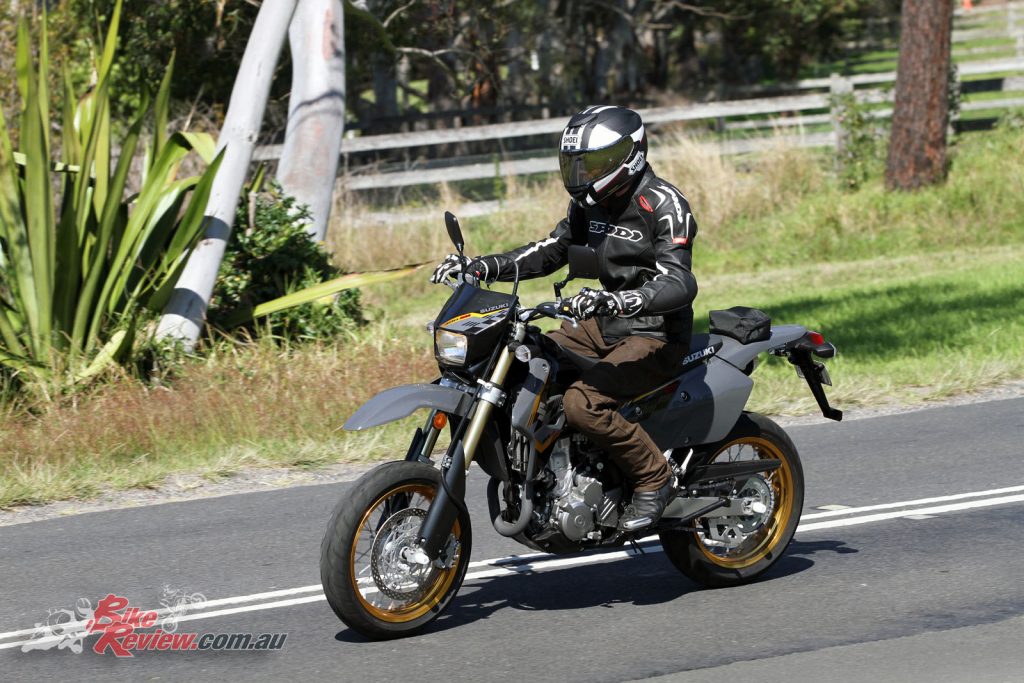 With a relatively tall and thin seat it's easy to assume the DR-Z400SM will be uncomfortable, however with the exception of hours in the saddle, it's not only comfortable but also light, nimble and agile.
Everything is simple, from the dash and controls through to the plastics, with adjustable Renthal 'bars, tall mirrors and dirt bike themed looks of course thanks to its roots as a trail/enduro bike.
Firing up the single-cylinder engine required the choke/cold starter on a cold winter's morning, and it's worth noting there's a steering lock but it is hard to find, with a fuel tap forward and under the seat. Once started the single revs away happily and throwing a leg over the high seat and settling your weight onto the bike the rear end sags down to a far more comfortable level, and I was able to get both feet down flat and I'm 180cm.

Fuelling is exceptional, with great control from closed throttle and linear power generation with strong mid-range. Gearing is relatively short which helps give the DZ-R400SM a more hoonish nature, keeping in mind that this is the LAMS restricted version.
On the road there's more than enough power for keeping up with traffic, and a more aggressive approach with the throttle and active use of the gearbox allows you to really power along. Sure you're not actually going super-fast, and while it is possible to break the speed limit, there's plenty of fun to be had without going crazy.

The gearbox is also smooth, with positive shifts and a nice light clutch action, with is particularly good as you're using the clutch a fair bit unless you're just cruising around.
The DR-Z400's tall front end and wide 'bars make for easy manoeuvring, with confidence inspiring mechanical grip backed up by Dunlop Sportmax tyres.
The 47mm front forks offer rebound and compression adjustability and were spot on for my 70kg weight, offering exceptional front-end support and really smooth tracking even over poor road conditions. The brakes, which are a single large 310mm front rotor and twin-piston Nissin caliper provide plenty of stopping power for the light machine, and the bike was rock solid when hard on the front brakes, with only a tiny amount of well controlled dive.
The rear suspension was also well balanced for the variety of conditions I threw at it, which included city commuting, highway, twisties and the usual really rough sections you can't avoid. It was on the softer side but like the front suspension had a well-controlled action that was capable of absorbing bigger bumps and potholes, as well as allowing for aggressive riding through the twisties without any wallowing.
The rear brake is a single-piston item and is matched to a smaller 240mm rotor but offers reasonable stopping power in traffic and combined with the front brake is a great system for the DR-Z.

The thing about the DR-Z400 is that it's more than the sum of its parts – all of which are impressive on their own – but combine to create an incredibly fun machine to ride. The DR-Z400SM is the ultimate LAMS hoon machine, and the dirt-bike DNA is well and truly present.
Chucking road tyres on a dirt bike isn't anything new of course, but the way Suzuki have created such a great LAMS option, which also easily stands up to fully licenced rider expectations is incredible.

There's some noticeable limitations on the amount of power on hand if you need to do more than 130-140km/h, because at the end of the day this is a LAMS machine, but it's also the kind of LAMS machine that'll suit someone looking for a more dirt-bike themed experience and provide years of fun. It would be an exceptionally hard bike to give up once you finish your Ps and is an ideal second motorcycle for the shed.
The DR-Z400 is even capable of short two-up sections, and with the snazzy gold spoked wheels and great finish quality looks the business if you ask me.
Add an aftermarket exhaust for a more audible note and it's perfect!
KRIS'S GEAR: 
Shoei NXR Helmet | Spidi Track Leather Jacket | Five RFX1 Gloves | DriRider Rapid Jeans | XPD XP3-S Boots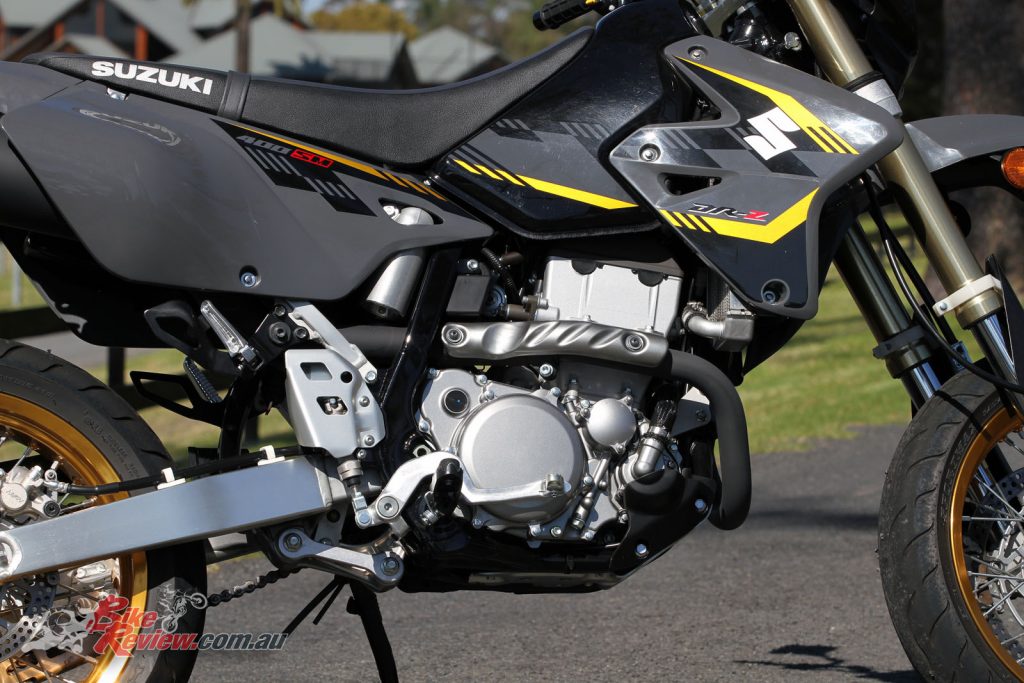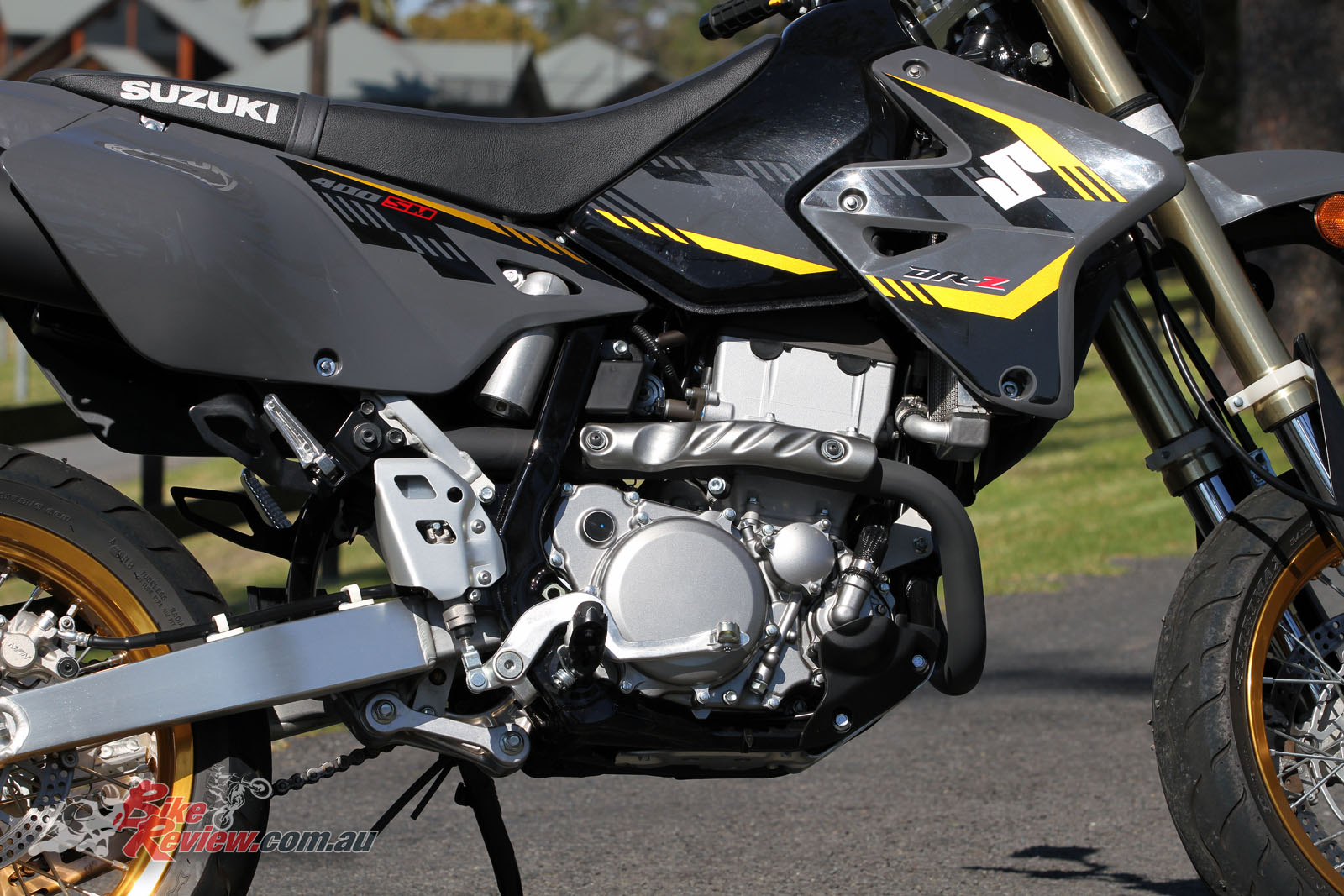 TECH TALK – SUZUKI'S DR-Z400SM
The Suzuki DRZ-400SM features a four-stroke liquid-cooled single-cylinder with four-valves and a SCEM plated cylinder, while a dry-sump oil system keeps the engine compact, with lightweight clutch, magneto and cam covers all made of aluminium alloy.
The DC-CDI system monitors throttle position and rpm and adjusts ignition timing automatically for efficient combustion, with a compact electric starter motor and automatic compression release system ensuring easy starting.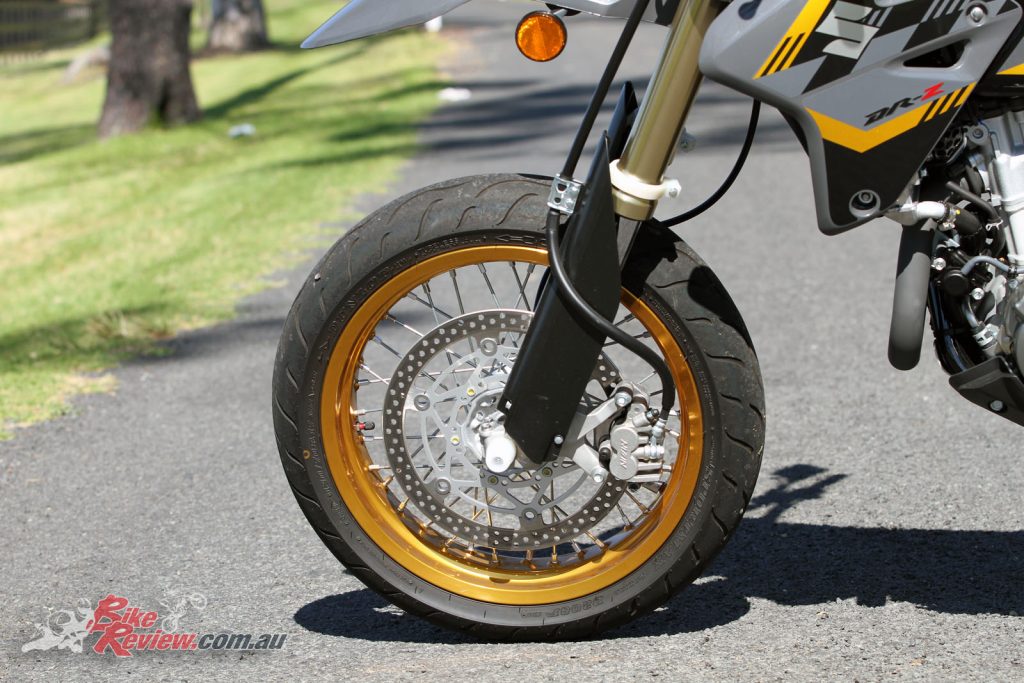 Nissin calipers, two-piston and single-piston respectively, provide stopping power on a 310mm front rotor and 240mm rear rotor, with 47mm Showa USD forks offering compression and rebound damping.
The rear shock offers compression, rebound and preload adjustability, with an aluminium swingarm and progressive linkage.
Wheels are 17in anodised aluminium spoked items, which take radial tyres.
The dash is a multifunction digital display, but does not include tachometer, while a bright 60/55W halogen headlight and maintenance free battery ensure easy night riding.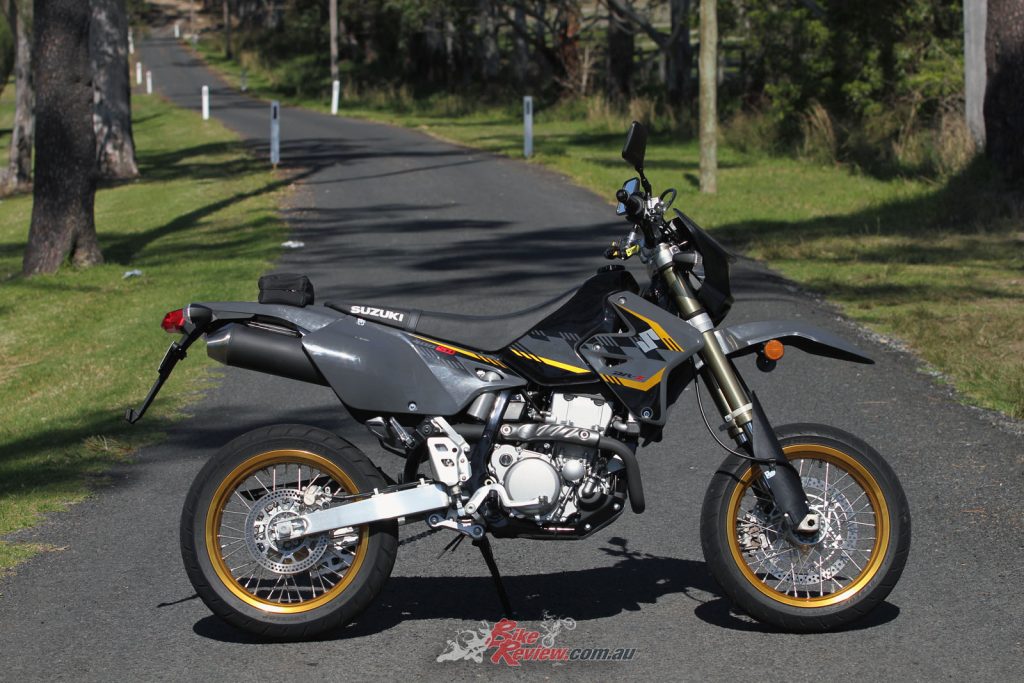 2017 Suzuki DR-Z400SM Specifications
Price:  $9,990+ Ride-Away
Warranty: One-year, unlimited kilometre
Wet weight: 146kg
Fuel capacity: 10L
Engine: Liquid-cooled, single-cylinder, four-stroke, DOHC, four-valve, 398cc, 90 x 62.6mm bore x stroke, 11.3:1 compression ratio
Gearbox: Five-speed, constant mesh
Chassis: Chrome-moly steel backbone frame, aluminium swingarm
Suspension: 47mm Showa forks, adjustable rebound and compression, Showa fully-adjustable Link type rear shock
Brakes: Floating 310mm front rotor, Nissin dual-piston caliper, 240mm rear rotor, Nissin single-piston caliper
Wheels & Tyres: 120/70R17M/C 58H, tube type, 140/70R17M/C 66H, tube type
DIMENSIONS:
Wheelbase: 1460mm
Seat height: 890mm
Overall height: 1185mm
Overall width: 870mm
Instruments: Digital multi-function display