Review: 2016 Victory Octane
Built for the perfomance cruiser fan, the Octane boasts 103hp and features a liquid-cooled 1179cc 60º V-twin. Here's our Victory Octane review. Test by Jeff Ware Photography by Heather Ware
Never late in a V8! That's the saying I loved to drop when I had my beloved midnight metallic black Holden SSV Sportwagon 6.0L before four kids arrived and I had to buy a Kia Carnival.
I'm a muscle car fan and although I've had plenty of fast turbo fours, the old school grunty V8s always give me the biggest grin.
Victory has made it clear from the start that the much-anticipated Octane is the bike equivalent of a pure muscle car. In fact, their press release even states that the Octane is the two-wheeled expression of the muscle car formula of a lightweight chassis, lack of creature comforts, mated to a big motor.
So what is the bike, really? Is more than just a retouched Scout? Yes, same platform but actually the two only share 35 per cent of the same part numbers. However, there is no hiding that the bike is basically a modified Scout, with a 2mm bore and 4hp increase, smaller wheels and some restyling.
A 15-25hp jump on the Scout would have been more exciting. Read my tech breakout for the full details on the engine, chassis and styling. With that said, the Octane is a sensational bike anyway, so who really cares.
I tested this bike with an open mind and a view to not compare it to anything else including the bikes used to market it. What I found was a fantastic motorcycle that, if dealers do their job and get bums on seats for test rides, will sell well. I hope it does, as it deserves to be popular. It's a good thing.
THE RIDE – VICTORY OCTANE
Jumping on the Octane reveals a riding position that is a good combo of cruising comfort and sportier cruising. The bike is narrow between the knees, low at the back, tall at the front around the triple-clamp and tank area and the 'bars are wide and up-swept back.
It's not like anything I've sat on – I guess it is best described as a nakedbike cruiser stance. The feet-forward 'pegs are well placed as are the gear and rear brake levers. The dash is centrally located and an easy glance, the swichgear all falls to hand easily but the mirrors are small and hard to see through.
The clutch and front brake levers also feel a bit chunky for my liking. The clutch action is on the heavy side. There's not much more to cover there – there is no pillion seat. It's a good feeling back to basics set-up.
Firing the Octane up presents a smooth rumble as the 60º DOHC four-valves per cylinder liquid-cooled engine idles away silky smooth. It doesn't have that endearing lumpy rumble of its big oil-cooled brothers, more a refined turn over, which I am more used to coming from a sportsbike and nakedbike background, so I really appreciate that aspect. The slash-cut pipes look great but need to go – this bike should be loud and most will end up that way.

Hitting the road, it doesn't take long to get my hoon on. Around town the Octane is well behaved, silky smooth on the fuel mapping with a nice soft throttle, and a smooth, easy shifting gearbox and clutch action. I found it a little wide for rapid lane splitting but still worked my way to the front of most sets of traffic lights.
The low seat height also made the task easy and with a full tank of fuel the bike remained composed at ultra slow walking base, with both feet on the 'pegs and a little rear brake it behaves a lot nicer than some bigger cruisers that have lazier geometry. But, as mentioned, out of town the Octane begs to be pushed harder and after accelerating hard off multiple sets of lights on my way out of town I was definitely setting myself up for some harder cruiser riding!
Acceleration is really impressive, with the short-ish final gearing and low enough first gear really giving a strong 0-100km/h run. 100 and beyond is also rapid and the bike accelerates quite well. I had a VRod along on the test and we did multiple back-to-back tests including first, third and fourth gear roll ons and all gear runs.
Both riders were the same weight and the Octane held its head high but was not able to beat the VRod in any of the runs. It was close in the lower gears thanks to a much more responsive engine than the sluggish down low HD but once the peaky 'Rod got revving it was well ahead.
From a dead start on the strip I reckon the Octane would just about beat the Harley – so we need to get them to Sydney Dragway on one of the BikeReview.com.au sponsored bike nights.
Out on the open road for a freeway stint the Octane cruises beautifully with no sign of vibrations at all. The big Twin pulls from as low as 1300rpm too and once up to speed ticks along nicely at 110-120km/h, a little revvier than some but the trade off of the better acceleration is worth it.

When corners appeared, however, the VRod should have just stayed home, as it has no hope in hell of staying with the Octane. I need corners in my life so the Octane gets my money here. the only HD that would give the Octane a run in the corners would be the XR1200 from a few years back but that's gone now.
With a 29º steering angle and 129mm of trail you would not expect the Octane to steer as quickly as it does but initial turn-in is quick, accurate and very confidence inspiring. The size and shape of the wide 'bars really helps here and the 129mm of trail means there is a big front tyre footprint to help give rider feedback on turn in and initial lean, on or off the brakes.
I found the front end great on the brakes, trail braking into turns, off the brakes through wide sweepers or even in tighter switchbacks – and a good front-end is everything on a motorcycle so top marks to Victory there.
Overall for a bike with that geometry, a 1577mm wheelbase and 242kg dry weight it is surprisingly very nimble and lightweight in feel. The 130 and 160 tyres help here too and I am glad Victory stuck to the narrower rear rather than moving to a 180 or larger, which would have taken a lot of that lovely nimble performance away.
The forks, although basic, are well sprung and well damped for the bike and conditions I encountered, although I would have appreciated it if I could have slowed down compression damping to prevent the forks diving so quickly through their stroke when pushing hard.
Up the back, the shocks, again do a good enough job in most situations but needed rebound control and more travel would make a huge difference, not only raising the ride height and helping with more ground clearance but also preventing any bottoming out over harsher Australian roads.
The seat soaks a lot of it up but I would like more travel, so I would fit good quality fully adjustable shocks and the bike would be unreal. Throw in a set of emulators up front and you have solved the issue.
The brakes are adequate but not overly impressive and either a larger 310 or 320mm front rotor or a four-piston caliper would have made all the difference. They pull up but really need a good strong squeeze due to being two-piston sliding style calipers and having a master-cylinder ratio that needs a strong hand.
There is not much initial bite on offer and modulating the brake pressure into turns or on wet roads is hard as there is not a lot of intimate feel at the lever. The rear brake was wooden and lacking in power or feel but did the job.
A pad change to a softer compound would work wonders. The ABS is great and I tested that out plenty of times, even relying on it a lot when pushing on hard.
Drive off turns is limitless as there is power on tap everywhere and that engine just hooks up and revs, the front-end even gets light. The only thing holding the Octane back for me is ground clearance. Sure, it has more than other Victory models and just about any cruiser, but I still decked it out everywhere.
For me, that was a bummer, as mentioned – I love to cruise but still need corners in my life.
I understand that many owners will not lean over that far but any that come from a nakedbike or sportier background will find it limiting.
I didn't keep a record of the fuel consumption – I was riding flat out everywhere anyway.
Overall I enjoyed my time with the Octane. If I owned one I would put some open pipes on it, bolt on some aftermarket shocks, fit emulators to the forks and change the brake pads to more aggressive ones. The bike would then be a weapon!
If you are interested in the Octane get down to your local Victory dealer and head out for a spin.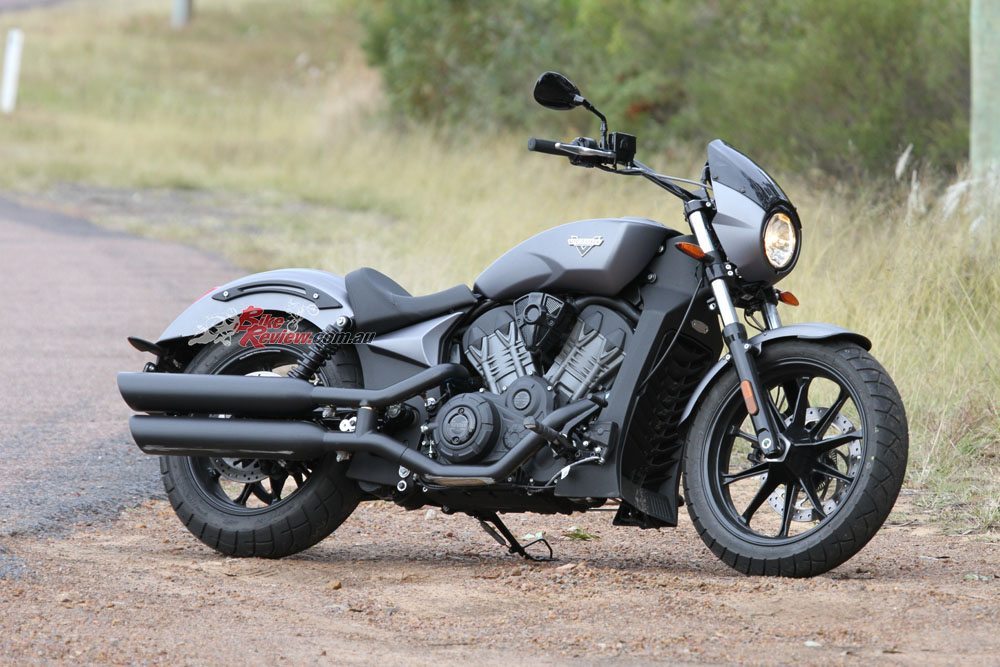 KRIS'S RIDE – VICTORY OCTANE
Picking up the Victory Octane from the Victory & Indian Motorcycle Sydney dealership the first thing that struck me was the motorcycle's styling. In the Matte Super Steel Gray, with mainly blacked out components the bike looks pretty mean – in a good way, but is a fair step away from traditional cruisers.

I'm not a cruiser owner myself either, so while the futuristic look appeals to me, I'm not sure how it'll be received by the more traditional members of this segment. Whether that's what Victory were aiming for in the first place is another matter entirely, with younger riders always an area of possible growth.
Powered by a 1200cc V-twin with four-valve heads, DOHC and liquid-cooling the Octane is also proud to advertise its power figures, with great torque and drive thanks to ideal road gearing. 103 horsepower is nothing to sneeze at either, with Victory claiming four-seconds to reach 60mph and a 12-second quarter mile.
Setting off into Sydney traffic, it's been a while since I've ridden anything with forward feet controls, while the morning's constant rain had lessened to a drizzle. It's not the funnest weather to be riding around in but it is great conditions for around town testing, with the wet conditions giving a strong indication of the bike's low speed handling.
Confidence is immediate however, with an easy stretch to the feet controls and relatively high 'bars, with that tall front end offering a very different steering feel. Gear changes are mechanical with an audible thunk, but positive and without a tachometer it's all about riding the torque.
Acceleration is strong and as I head out onto the open roads I get more opportunities to open the Octane up a bit, with good results. Where in town I was using more 'bar input for turning in traffic than I'm used to, out of town it's easy to just shift your weight a little and sail through the twisties.
The 41mm forks offer good performance during my testing, while the twin rear shocks with preload adjustability are generally good but can become overwhelmed over big bumps or large areas of poor road surface. I'm also only around the 70kg mark, and didn't change the rear preload in the time I had to test the bike, so I'm probably not the designed for weight.
The brakes are an area of note, with dual-piston calipers front and rear on 298mm rotors, with ABS as standard. There's only one brake on the front though, which is a noticeable constraint on performance, which means using engine braking more actively. There's plenty of acceleration on hand so really it would be ideal to have brakes more matched to this aspect of the bike, but that might be my sportsbike rider side talking.
The rear brake system does provide good bite and control, while the front end was a little wooden as it tried to pull up almost 300kg, including my weight. Obviously with this kind of machine you won't be riding the Octane like a sportsbike, but with the styling and performance on offer and the relatively premium price tag a second front disc brake would lend the bike even more credibility.
Obviously there was a lot of hype around the release of the Octane, which I think actually worked against the motorcycle. Hype's great but it should never overshadow the actual motorcycle, or it just leads to disappointment and angst, even when you've got a really strong motorcycle.
I was impressed by the Octane, although that's keeping in mind its styling appeals to me and I enjoy that mixture of laid back riding and performance, with a the finish quality being good with just a few areas that stood out for the wrong reasons, mainly due to rust visible on hidden areas.
My one concern is the price of $18,995 On-Road, with the Octane being a really reasonably priced machine in the US, but seeming to attract a more premium price tag here – Kris Hodgson.
TECH TALK – VICTORY OCTANE
The Octane is powered by Victory's first ever liquid-cooled engine, an up spec larger capacity version of the 60º V-Twin in the Indian Scout. The DOHC four-valves per cylinder Octane engine is 1179cc and has a compression ratio of 10.8:1.
It is fuelled by a single 60mm throttle-body and produces 103Nm and 103hp, revving to peak power at 8000rpm with peak torque at 6000rpm, with the short conrod ratio making the engine fast revving and tractable at the same time.
There is a wet multi-plate clutch and a six-speed gearbox and final drive is by belt. The exhaust gasses exit via a dual slash-cut set-up with a common volume. The engine is fast revving and with the short gearing accelerates hard. It's a fun engine.
The Octane chassis incorporates the engine as a stressed member that joins the front and rear cast alloy sections. There are also twin tubular steel backbones for extra bracing, giving a direct line from the steering head to the swingarm pivot point.
The forks are basic conventional 41mm non-adjustable items and the shocks are 53º laydown items adjustable for preload only. Both ends feature dual rate springs. The brake system features 298mm rotors front and rear, with a single on the front, and twin-piston sliding calipers squeezed via a conventional master-cylinder and stainless-steel lines. The bike features ABS as standard.
Wheels are 10-spoke cast-alloy and with an 18in front and a 17in rear, while tyres are Victory 130/70-18 and 160/70-17. Seat height is just 658mm and the seat is a solo only.
Rake and trail figures are 29º and 129mm, while the wheelbase is 1577mm. Fuel capacity is 12.8L and the weight, dry, is 242kg.
Styling-wise the Octane is, in my opinion, a good-looking bike. Labelled by Victory as the most aggressive bike they have built, the Octane has harder lines, sharper creases and a bullet top cowl. Most of the bike is blacked out and the Matte Super Steel Grey bodywork is the only colour.
SPECIFICATIONS: 2017 Victory Octane
Price:  18,995+ ORC
Warranty: Two-year, unlimited kilometre
Colours: Matte Super Steel Gray
Claimed power: 103hp
Claimed torque: 76ft-lbs@6000rpm
Dry weight: 242kg
Fuel capacity: 12.9L
Engine: Liquid-cooled, 60º V-twin, four-valves per-cylinder, DOHC, 1179cc, 10.8:1 compression ratio, 101 x 73.6mm bore x stroke, 60mm throttle-body, belt final drive, dual slash-cut mufflers
Gearbox: Six-speed
Clutch: Wet, multi-plate
Chassis: Cast aluminium frame,
Rake: 29.0°
Trail: 130mm
Suspension: 41mm forks, dual rate springs, 120mm travel, dual rear shocks, dual rate springs, preload adjustable, 76mm travel
Brakes: ABS, Single 298mm front rotor, dual-piston caliper, single 298mm rear rotor, dual-piston caliper
Wheels & Tyres: Cast 10-spoke wheels, 3.50 x 18in (F), 4.50 x 17in (R), 130/70-18, 160/70-17
Dimensions:
Wheelbase: 1578mm
Seat height: 658mm
Overall length: 2286mm
Instruments: Analogue speedo
The Verdict | Review: 2016 Victory Octane
Relaxed cruising or hard charging the Octane will match your mood…