MotoHUB Motorcycles & Accessories is a multi-franchise dealership in the Hills District of NSW. We dropped in to check it out... Words & Pics: Kris Hodgson
MotoHUB Motorcycles & Accessories is a Kawasaki, Suzuki, KTM, Husqvarna and all used motorcycles dealership located in the Hills district, Sydney. MotoHUB offers competitive In-house finance and insurance, full workshop facilities including servicing, log book repairs and smash repairs plus stocks genuine parts for KTM, Husqvarna, Kawasaki and Suzuki motorcycles along with most aftermarket parts that are also available. They also carry a wide range of riding gear. We recently dropped by for a look and a chat with the Business Manager, Ryan Santoso and Workshop Manager, Tony Bowman…
What is the history of MotoHUB?
RS: We were formally known as Hills motorcycles five years ago.
---
Anything you would want prospective customers to know?
RS: We are fair and always striving to exceed customer expectations.
---
What's your favourite thing about this line of work?
RS: Meeting new people and working on new and exciting bike models.
If you only gAve one TIP TO new riders, what would it be?
RS: Regular maintenance is very important to ensure your bike runs reliably, safely and retains its value. New owners should study the regular maintenance section of their owner's manual and become familiar with the regular checks the manufacturer suggests, such as tyre pressures, chain tension and lubrication and engine oil level.
---
What are some of the most common issues with new rider's motorcycleS?
RS: Mainly premature wear of items such as tyres and chains due to lack of regular checks.
---
What about more experienced riders?
RS: Even very experienced riders can become complacent about checking the basics: tyres, oil level, etc, which can lead to expensive repairs and unroadworthy bikes.
Any workshop horror stories you want to share?
TB: In extreme cases we have seen tyres worn right down to the inner casing, chain worn so badly they have come off the sprockets while riding and destroyed the entire engine, brake pads worn down to the metal backing, which destroys the rotor… I could go on and on. It all comes down to getting regular servicing done, owners doing their own regular checks and becoming aware of the workings of their bike. The service schedule for all manufacturer's first services is very comprehensive and it is one of the most important services in the life of the bike. A lot of things settle in and need checking and adjusting, the original oil and oil filter need to be changed, etc.
A well maintained bike will be more reliable, be generally nicer to ride and hold its value and be easier to sell or trade in when the time comes. Scheduled maintenance of a bike while inside the warranty period is essential for the manufacturer to consider any possible warranty claims.
Is the INTERNET making it harder to build a customer relationship?
RS: For sure we are finding people are very time poor now and don't have a lot of time to visit dealers. As most of the time they can research and get the info online, which is very worrying as a lot of information may not be the right.
I urge people to be very wary of what they read on forums, there is a lot of misinformation out there. For example if a few people post that they have a similar problem with a bike, owners panic and assume that all bikes of that type will be effected. It's important to remember that only the people with problems post on forums, the majority who have no problem don't.
what are riders missing out on by not shopping at actual stores?
RS: When you purchase online you may not be getting the right product that is right for you. This can include fitting or even the right product for what style of riding you do. By shopping in store you are forming a relationship with the dealer and if you ever need advice or need some help with your own bike or gear we are here. We are trying to make it a one stop shop so people have variety when coming to our store we also carry a large range of demos and encourage customers to ride before you buy. We can cater to most people with the brands that we stock either new or used.
---
You're a Premium Kawasaki Dealer, what does that mean?
RS: We are privileged to be able to sell the H2 Supercharged range from Kawasaki. Not all Kawasaki dealers are able to sell these models as they are a premium model.
How long has the MotoHUB workshop been open?
TB: MotoHUB has been operating for five-years now.
---
Why did you go into business?
RS: Gavin and myself worked at Action Motorcycles for over 10-years and when an opportunity came up at Hills Motorcycles to do our own thing, we jumped at the chance.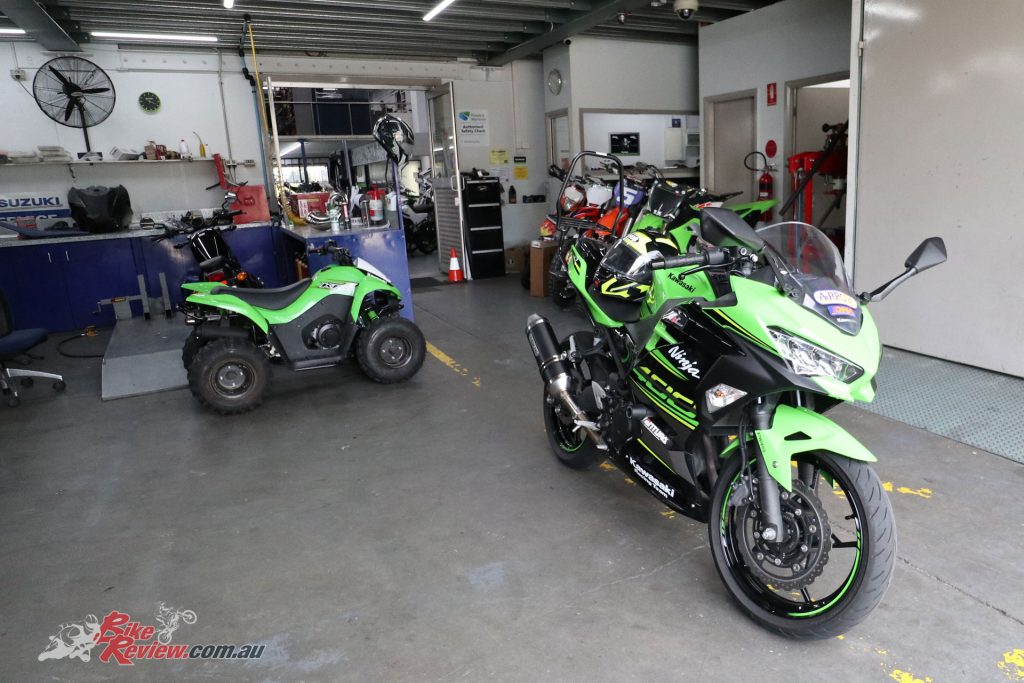 Was it difficult to start the business?
RS: The previous business was run down and needed a lot of love, so yes. We knew it wasn't going to be easy but we are always up for a challenge.
---
What is your background?
RS: I started riding at the age of two. A school friend of mine was working at Action Motorcycles while I was finishing my HSC when he asked if I wanted a job in Parts & Accessories. I gladly accepted and here I am now. My dad always rode bikes so it was a given that I would to.
What machines and equipment do you have in the workshop?
TB: We have a full functioning workshop equipped with a tyre machine and special tooling required to work on the makes that we do – Kawasaki, Suzuki, KTM and Husqvarna along with the special computers to diagnose any electrical problems.
---
What's unique about MotoHUB?
RS: We are well regarded in the riding community and have good relations with a lot of local riding groups in the area – one of them being Sydney Riders, which have thousands of members. We are also the only motorcycle dealership in the Hills area.
What's one of the more interesting bikes you have done?
RS: We had a customer who purchased a brand new Kawasaki H2 SX SE then wanted more power so we installed a full Van Demon Titanium exhaust and had it tuned at BC Performance!
---
What are your plans for the future?
RS: We are always looking for business opportunities. Our next step is to launch our new website, which will give customers the opportunity to order parts online. Our website at the moment is not very functional.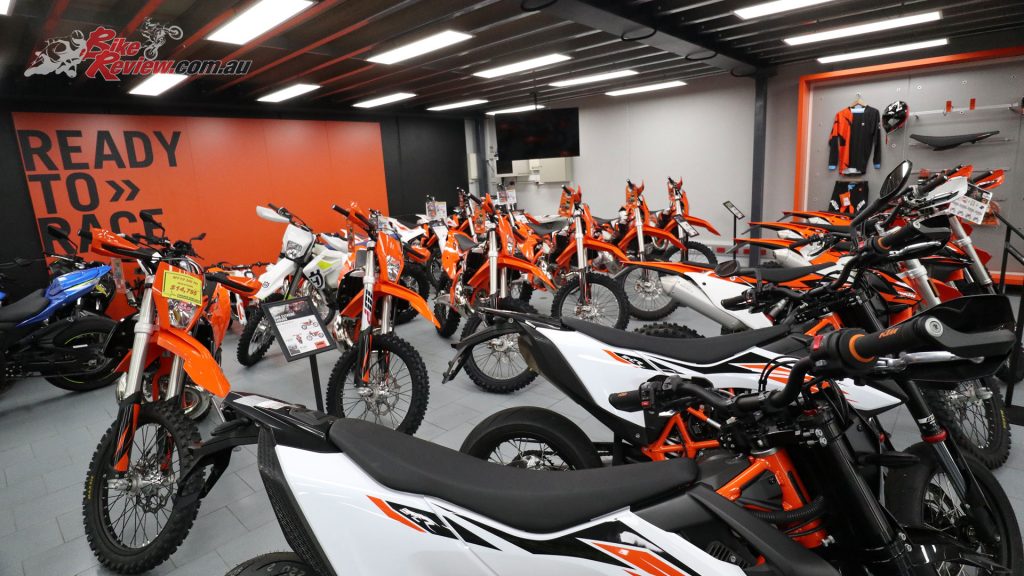 MotoHUB Motorcycles & Accessories Team
Tony: Workshop Manager
Luke: Qualified Technician
Jim: Qualified Technician
Liam: Apprentice Technician
James: Parts & Accessories
Michael: Sales Manager
Angus: Sales Consultant
Ryan: Business Manager & Dealer Principal
Gavin: Parts & Accessories Manager & Dealer Principal
Location: Unit 7/4 Victoria ave Castle Hill, NSW, 2154 www.motohub.com.au
MotoHUB Gallery