We have Aussies scattered across the world, making us proud in their two wheeled disciplines. Ed has us covered with his monthly "Aussies Racing Abroad" Column! Words: Ed Stratmann
Our homegrown talent has been battling it out on track and making us proud! Check out our monthly column that follows all things Aussies racing Internationally on and off-road, from MotoGP to AMA Motocross. See what our future and current champions are up to…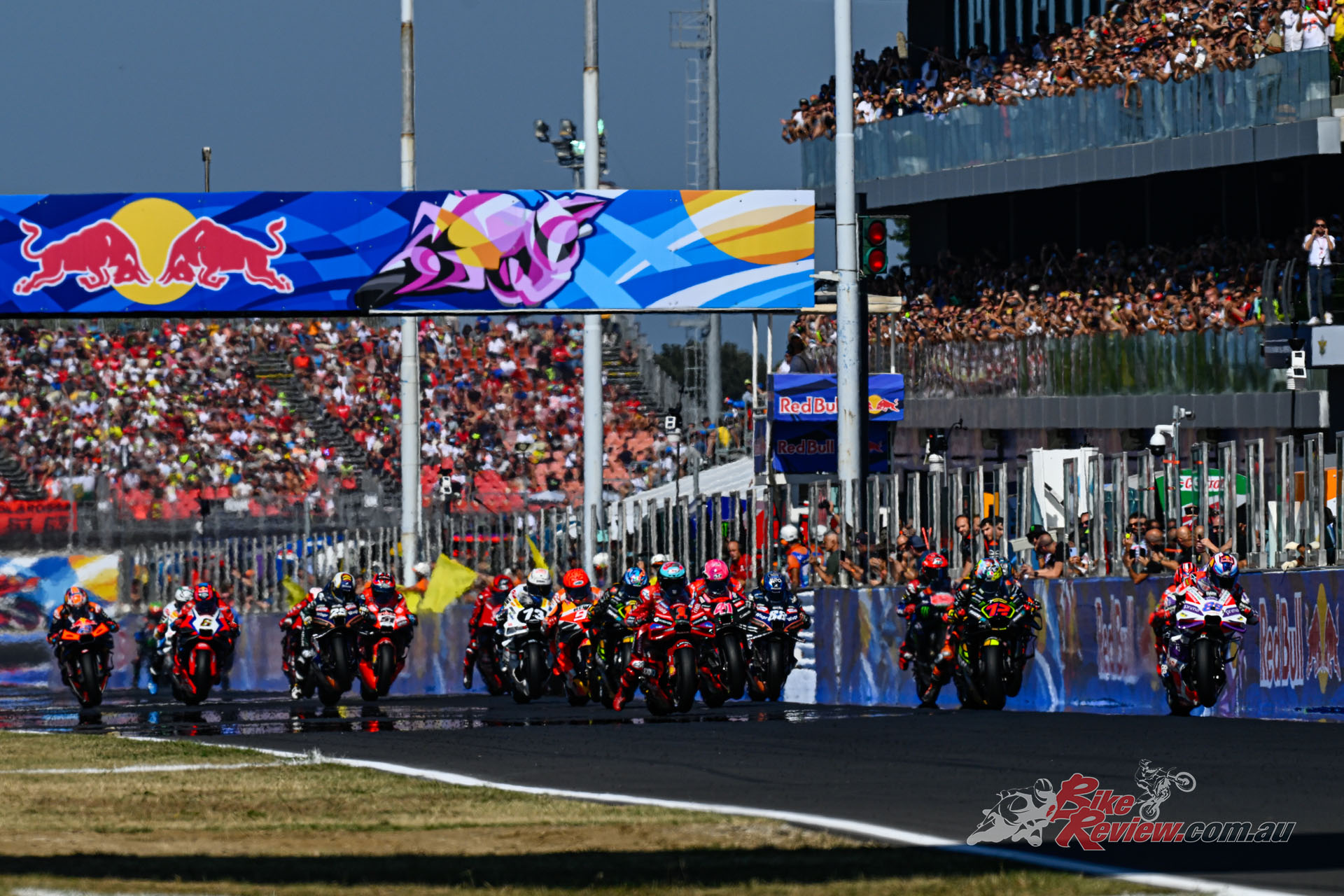 Jack Miller – MotoGP
Starting his September with a solid eighth in the heat at Catalunya, this was a good way for Jack Miller to end the weekend considering he missed Q2, meaning he had to start the Sprint and the main race 13th. Desperate for improvement on the Sunday after 16th in the Sprint, the team worked their wonders by making some crucial bike changes, with these the key catalyst to him being able to push through the pack to claim eighth.
Struggling again at Misano on the Saturday, 15th in the Sprint was the best he could muster. Frustratingly this was as good as it got for Miller, who was bundled out of the race by Michele Pirro when running 14th. The first ever Indian Grand Prix was next on the cards for the KTM ace, and Miller began the round strongly by charging from 16th on the grid to secure an admirable 7th in the Sprint.
The Sunday posed a new set of challenges for the number 43, as he battled for feel and grip, which ensured he wasn't able to keep up with the frontrunners to ultimately come across the line in 14th.
"Not too high, not too low this weekend," he reflected. "I struggled today. I didn't have the grip I needed from the get-go both front and rear. I couldn't carry any corner speed at all. I had a bit of contact into turn one as well, which wasn't ideal and then tried to make up too many positions in one go on the second lap. It was an uphill battle from there and our pace wasn't anything like Saturday. It is a bit of a head-scratcher. Fingers crossed we can work on what we found out this weekend and what we tried at the Misano test for Motegi."
Joel Kelso – Moto3
Even though his 2023 campaign has been littered with ups and downs, Joel Kelso deserves credit for sticking at it, as he continues to illustrate his talent.
The highs this month have included him bagging another front row spot in qualifying at Catalunya and from how he had some fantastic early pace in Misano. Meanwhile, the negatives have arisen from him admitting he needs more aggression in the races and from him crashing out in India.
"I got caught up in turn one and then made four positions on the first lap  but I had contact with a rider into turn three and that ruined my exit. When I opened the gas – race over," he told the team's website. "I've been struggling a bit with being aggressive in races so that first period before the crash was a small positive from today. We'll be ready for much better in Japan. We'll be fighting."
With plenty to work on and the Darwinian motivated to close the term on a good note in the upcoming outings, it'll be intriguing seeing if he can piece it all together starting in Japan.
Senna Agius – Moto2
Back in action in Moto2 filling in for Darryn Binder on the Liqui Moly Husqvarna Intact team, Senna Agius' stint started in unsatisfactory fashion at Catalunya, with him falling short of his expectations on an eventful weekend that ended with him crashing out on the Sunday.
Eager to put that effort behind him, a fired up Agius demonstrated some notable pace in qualifying at Misano – coming in less than eight-tenths from the pole sitter. An early crash in the race ruined his momentum, however, with the youngster high siding to end his day. Leading the European Moto2 Championship, Agius will recalibrate his attention to this competition in his quest to reign supreme come season's end.
Jacob Roulstone – Red Bull Rookies Cup & JuniorGP Moto3
Fresh from finishing fifth in the hugely competitive Red Bull Rookies Cup following his 6-10 race finishes at Misano, in a year that's seen him make some brilliant progress, Jacob Roulstone has been rewarded by earning a ride in Moto3 for 2024 with the outstanding Red Bull KTM Tech3 outfit.
Following in the footsteps of the likes of Miller, Miguel Oliveira, Brad Binder, Deniz Oncu and Pedro Acosta, who have all come through this KTM pathway, the Aussie prospect is in good hands to continue along on his upward trajectory.
"I'm really excited to be joining Red Bull KTM Tech3. They are a very experienced and professional team that have brought through many great riders. Stepping up from the Red Bull MotoGP Rookies Cup and FIM JuniorGP won't be easy, but with the team, the people around me as well as my own determination, I believe we can have a decent rookie season," a delighted Roulstone explained.
"Thanks to Herve, KTM and Red Bull for this amazing opportunity. I cannot thank my family enough for all their support so far. I want to end this year strong and then I cannot wait to get into the 2024 season already."
Josh Brookes – British Superbike
After enduring some difficult rounds, plentiful positivity could be extracted from Josh Brookes' round at Oulton Park. Kicking off this stop on the calendar with fifth in qualifying, this set the tone for him to enjoy a handy weekend at the office aboard his FHO Racing BMW. Going on to notch a trio of fifth place scores, this represented a quality, consistent event for Brookes, which was a much-needed uplift given his recent struggles.
Situated seventh in the championship hunt, Brookes offered some fantastic insight in his post-race debrief, stating: "We scored three fifths this weekend, which is an improvement on previous rounds; I wasn't even going to be greedy, I was hoping for a podium this weekend rather than a win.
"The three fifth places are the best we could achieve, the last race was strong and I stayed close to the lead group for the longest period of time, but we're still missing a couple of tenths, and we have to be realistic that the lap times I'm able to do aren't good enough to rival the podium. We have got to keep our heads down, keep working away and improving. I think coming to a track we've been to already this season meant we didn't have to make adjustments, we just set the bike up the way it was before and focused on the electronics.
"People forget we've got a new bike this year, so every time we go to a new track none of the information we have from years before is valuable, and in fact it does us an injustice as those settings compromise our progress because the bike is different now. I think people just assume you're going to go to the next round and pick up where you expect and it's proven not to be like that, as we've had a lot of work to do. But I think coming back to a circuit we've been to before has boosted our results and the next two rounds we've also been to before, which I anticipate to work in our favour."
Jason O'Halloran –  British Superbike
While he was unable to carry over his sensational form from Thruxton to Oulton, Jason O'Halloran did his best throughout on his way to claiming two eighth places and a ninth. Aside from experiencing a minor bike issue, the team and rider were largely left searching for answers as to why they were missing that little something extra compared to their competitors.
"It's been a difficult weekend really. It's not ideal but I did the best job I could – we've just been lacking something and no matter what we did we couldn't improve the feeling," he lamented.
"I finished all the races which is positive, so we'll go through everything and try to understand. Donington is a different track compared to Oulton, so hopefully we can turn up there in a different place, reset after this weekend and go again."
Onwards and upwards will be the order of the day as the series heads to Donington Park, where an uptick in performance will be on the cards for O'Halloran, who sits sixth in the standings, and the McAMS Yamaha squad.
Jett Lawrence – AMA Pro Motocross and SMX
Having achieved the absolutely remarkable feat of going undefeated in his debut campaign in the 450 class of AMA Pro Motocross, Jett Lawrence immediately altered his focus to the new SMX Playoffs. And he didn't disappoint by reigning triumphant in the three race format, with his clutch effort at the finale at the LA Coliseum to go 1-1 ensuring he got the job done and took home the one million reserved for the winner.
"On the track it's a one-man show, but behind the scenes it's so many people,"
he explained after his SMX success.
"The team is awesome, and that's what allows Chase, me and the other riders to have the best equipment we can. That also goes for my trainer O'Show [Johnny O'Mara], my dad was a big key, and also my brother – every day we were grinding to try and be better. To go out and get that [championship] is not only a massive achievement for me; it's a big thank-you to the people who support me and helped me get to where I am now."
Up next for the Aussie sensation is the Motocross of Nations in Ernee, where Australia, whose team consists of the Lawrence brothers and the immensely experienced Dean Ferris, head in as one of the favourites.
Hunter Lawrence – AMA Pro Motocross and SMX
After wrapping up the 250 AMA Pro Motocross title at the final round to accompany his 250 Supercross crown, Hunter Lawrence was ideally poised to join his elite sibling to claim SMX glory. But sadly it wasn't to be for Hunter, as a nasty crash in qualifying at the LA Coliseum forced him to miss the night show due to him aggravating an existing back injury.
"Unfortunately, Hunter Lawrence will not take part in tonight's motos at the Los Angeles SMX round. The reigning AMA Motocross 250 champ and 250SX East champ was already banged up from a hard fall in free practice yesterday. Then in today's second timed qualifying session, he landed wrong from a jump and aggravated his back to the extent that he's in too much pain to race. Get well soon and great job on an amazing season," read the team's statement.
His focus will now immediately shift to his recovery ahead of the MXoN at Ernee as well in his search to be at full fitness for the prestigious event.
Mitch Evans – MXGP
Mitch Evans' MXGP season ended in disappointing fashion, with the superbly skilled pilot having to miss the last two rounds courtesy of his previously injured wrist flaring up. In immense pain and wisely opting to head to Belgium to begin treatment, sadly the injury also meant he had to take himself out of the running for the MXoN, which came as another brutal blow to end what's been a hugely challenging term for the departing Kawasaki star.
"It's a real shame to miss the final race of the season and my last race with the team; however it is time to take the right steps to heal correctly. I would like to thank Kawasaki and the team for their understanding and patience and for always believing in me this year. Unfortunately we weren't able to achieve the results we both deserved, but I thoroughly enjoyed my time working with such professionals. I want to wish the team and Romain the best of luck for Matterley and the Motocross of Nations," he insisted.
---
Editor's Note: If you are reading this article on any website other than BikeReview.com.au, please report it to BikeReview via our contact page, as it has been stolen or re-published without authority.