Avon's 3D Ultra Sports are a high performance street tyre, designed for a broad range of common road conditions.
Being handed a set of new tyres for testing is always a great opportunity to see what another brand or model of tyre is like and testing out the Avon 3D Ultra Sports was no exception.
I went straight to Sydney Dyno to have the tyres fitted to my Daytona 675 by Dyno Dave Holdforth and a short time later was carefully scrubbing them in. We'll be doing a feature on scrubbing in these 3D Ultra Sports and indeed any tyres so stay tuned for that!
As a quick disclaimer, I'm an everyday rider, who doesn't own a car. I ride everywhere, sometimes with a pillion; and ride rain, hail or shine. Well maybe not in hail if I can help it. This said, the 3D Ultra Sport is the street version of the 3D Ultra family from Avon, where the Supersport is a more street and track oriented version, while the Xtreme is track only.
Being mid-winter the weather has been cold, in some cases very cold, with sporadic heavy rain and plenty of dry clear weather, with most of my riding on the 3D Ultra Sports being in dry conditions so far.
Probably my first consideration with any tyre is how quickly they warm up with natural riding, keeping in mind that acceleration and braking both help build heat in your tyres, so your riding style will have an effect in this area.
With the 3D Ultra Sports I was happy to discover the tyres warm quickly, offering good grip and performance soon after leaving the garage, which is keeping in mind the temperature has been well below 10-degrees of a morning lately.
The design of the front Avon 3D Ultra Sport also feels slightly more aggressive than my previous tyre, without being overly triangular which can make a bike feel eager to fall onto the side of the tyres. There's a nice progressive feeling with the Avon 3D Ultra Sports that includes good mid-corner stability while leant over.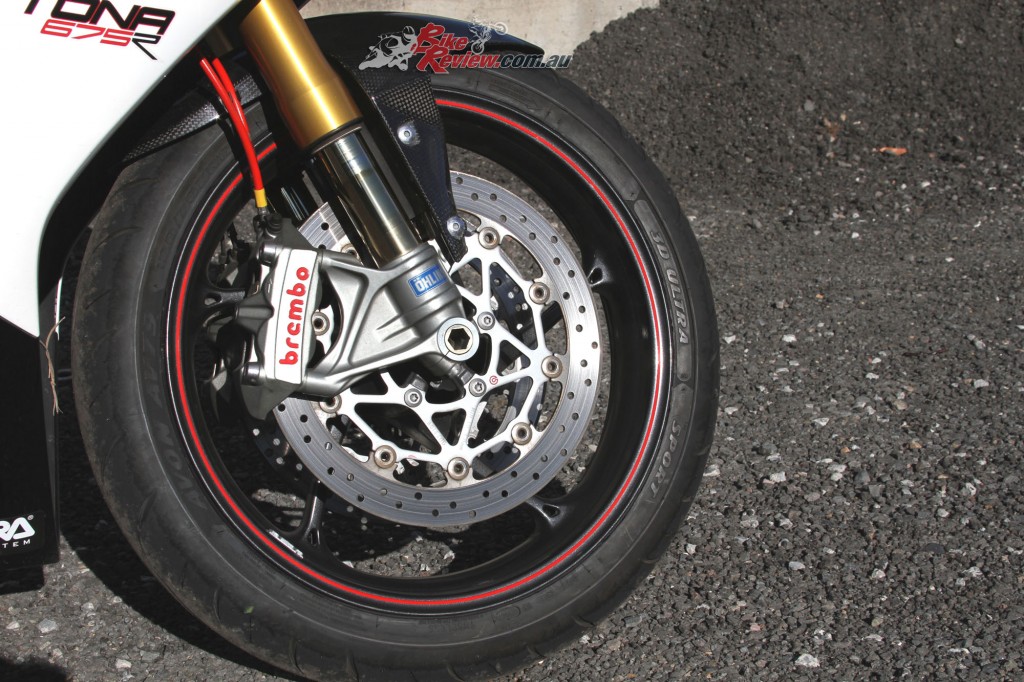 Grip itself is exceptional and I took the tyres through a few loops up and down the Old Road where the confidence the 3D Ultra Sports inspired was unquestionable. Even over the damp, green mossy sections there was ample grip with good feedback.
Now I wasn't doing track pace, and a high police presence did keep a lid on my exploits, but first impressions of the 3D Ultra Sport as an all-round road tyre were very positive.
I also had some good opportunities to test the 3D Ultra Sports in the wet, including with a pillion and have to admit I was also very impressed with wet performance. Jumping straight on the bike and heading out on very wet roads with the rain pouring down you've got immediate confidence in the relatively cold tyres. There's no feeling of iceskating and for gentle initial riding there's plenty of grip, while you build up some heat. Once the tyres are warm it's honestly hard to tell wet performance from dry, and there was quite a few times I caught myself thinking how good the tyres were only to look down at the speedo and have to slow down.
The tyre design also ensures you feel comfortable taking turns in the wet, with exceptional edge grip when you do get the bike leant over more. Roadsnakes and other road imperfections are also always a good reference point for tyres in the wet and the Ultra Sports were unfazed traveling over these conditions, even with the bike leant over. You can feel that slight change in road consistency, but there's no sudden change or loss of traction, and tracking remains particularly good if you're unlucky enough to get caught riding along a road snake. Even in the dry when I did it on purpose steering remains unaffected.
The 3D Ultra Sports so far have offered impressive warm-up times, great grip and feedback, haven't had an impact on my suspension or the comfort of my ride and impressed me in every way the conditions have allowed. The strong performance in the wet, particularly in dodgy conditions, further cements the Avon 3D Ultra Sports as an all round sports tyre that I'd highly recommend.
I've been running a set of Avon 3D Ultra Sport tyres on my retro Project Tiger Fireblade for 12-months now and have done a few track days in that time along with daily riding duties. I back up everything Kris says about the tyres, having clocked up just on 4000km on them now and they look to have another 4000 in them.
My bike is off the road at the moment but last winter, in the wet conditions and cold, the 3D Ultra Sport were great road tyres giving reliable wet weather grip, good feel (even the 16in front on mine) and great confidence in cold conditions. In summer, in the heat, they were also good and unless pushed very hard repeatedly in the twisties, over the entire Sunday scratching day, they did not overheat or start to move around.
What really impressed me though was how good they were on the track for a street sports tyre. I could have gone for the 3D Ultra Supersport or even the Xtreme for track use, but, needing that wear and versatility on the road I took a punt on the more street use Ultra Sport.
The compromise at ride day level in negligible. In fact, I was at the limit of my bike not the limit of the tyres and the best thing was there is such a wide operating temperature with the 3D Ultra Sport that I can ride to the ride day from home (100km), do six 15-minute sessions without tyre warmers, then ride home, without tearing my tyres up.
On track they give good feel for a road sports tyres and plenty of warning before they slide if you push that far. They also offer stability on the gas with a firm rear sidewall and also stability on the brakes into turns also thanks to the sidewall. Edge grip is good and overall a fantastic all-round sports tyre that should not be discounted.
One of our contributors, Brownie, is on his third set on his 2013 Fireblade (see picture) and is getting 10,000km a pair including track days. A great tyre. – JEFF.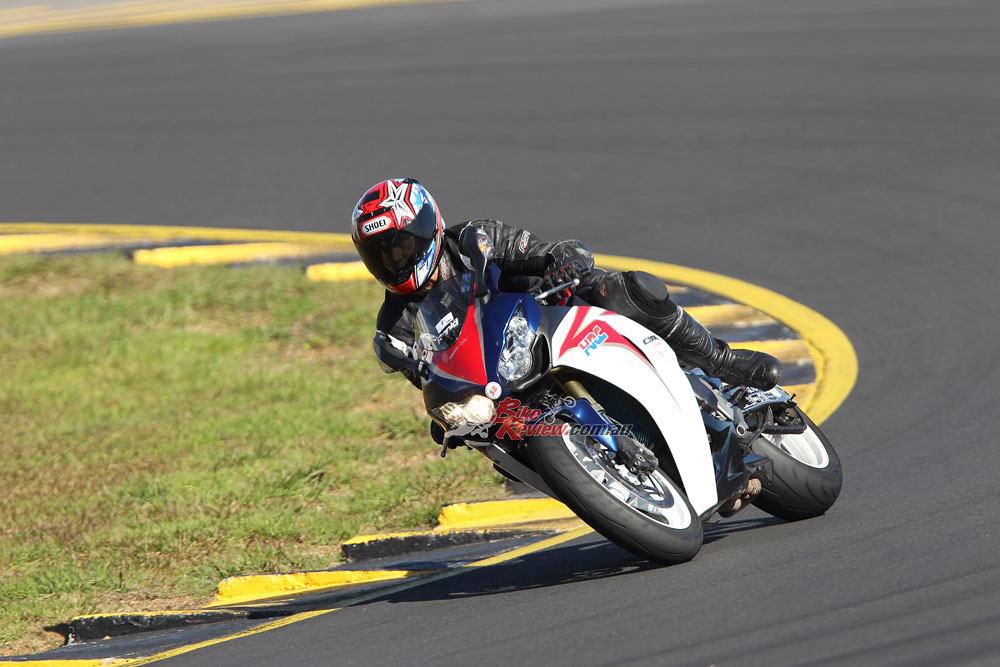 If you're interested in how Avon have achieved this, then keep reading, if you're just after a new set of tyres, I'd strongly recommend giving the 3D Ultra Sports a try if you're after a road tyre. I will be adding wet performance as soon as I get a chance, and we'll do a long term update to see how the tyres hold out in the long run.
See your local Avon stockist for pricing pending size. The 120/70-17 costs $229.95 RRP and the 180/55-17 $319.95 RRP.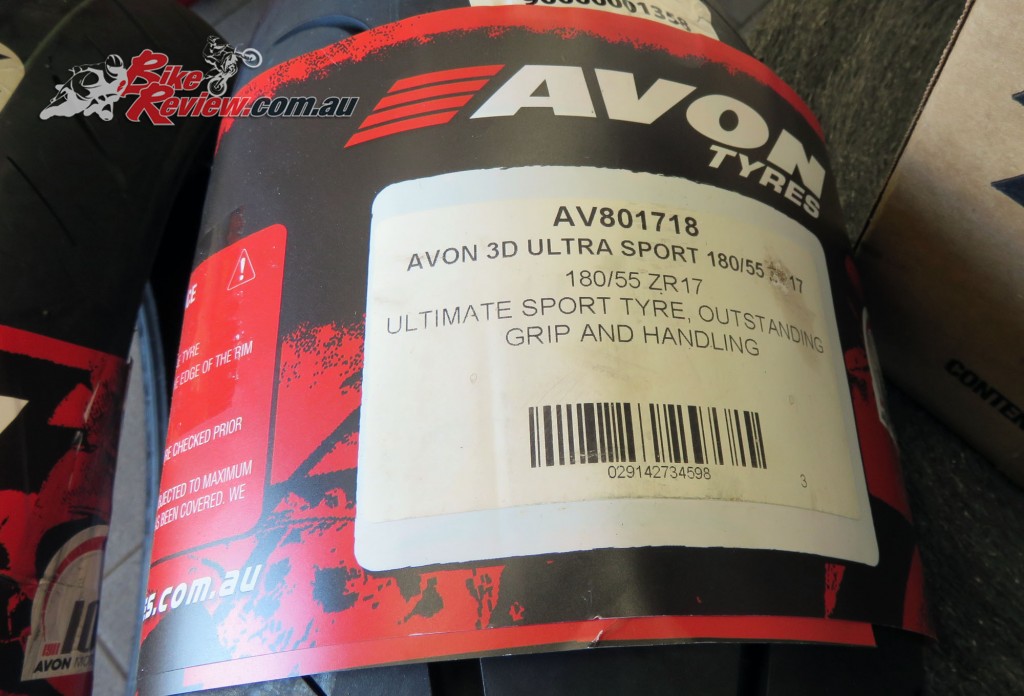 TECH TALK:
Technology wise the Avon 3D Ultra Sports feature what they call the Advanced Tread Arc Combination, or Tri-Arc, which varies the tread profile across the tyre to ensure handling and stability regardless of your lean angle, or lack there-of.
This works with the Advanced-Variable Belt Density technology found on the rear tyres, with a jointless belt of ultra-strong steel or aramid strands running the tyres circumference. Towards the centre of the tread the strands are closely spaced to ensure stability and high wear resistance, while towards the edge they are spaced out, allowing for a larger contact patch when leant over, or with a knee down.
The Enhanced Stability System ensures the carcass, sidewall and tread pattern design work to reduce localised flexing in the tyres contact patch, which ensures grip and stability and promotes better wear properties. Force Following Grooves are the tread design with deep cut grooves that follow the force transmitted through the tread and carcass to reduce wear, while balancing water dispersal with stability and wear resistance, and works with the Enhanced Aqua Flow pattern for clearing water from under the tyres.
The quick warming properties of the Avon 3D Ultra Sports is actually partially thanks to the 3D Siping, which is interlocking three dimensional points that limit tread flex and improve stability and grip, while ensuring the tyre warms quickly. Heat is caused by friction afterall!

Super Rich Silica (SRS) compounds have also been formulated to ensure good grip in the wet and cold, while also helping reduce excessive heat build up, helping protecting the tyre from excessive wear in these circumstances.
On the front tyre a system called Inverted Front Grooves (IFG) that was developed by Avon in the '80s and continues to be used, and resists stepped wear and cupping, as well as improving wet braking properties and shortening brake distances. This has the benefit of ensuring front tyre performance remains stable throughout the tyre's life.
The rear tyres benefit from the Hybrid Belt system which uses a ultra strong low extension steel wire of different tensions bound together to create a tape component which is wound around the tyre at 0 degrees, ensuring high speed stability and flexibility, as well as exceptional mechanical grip.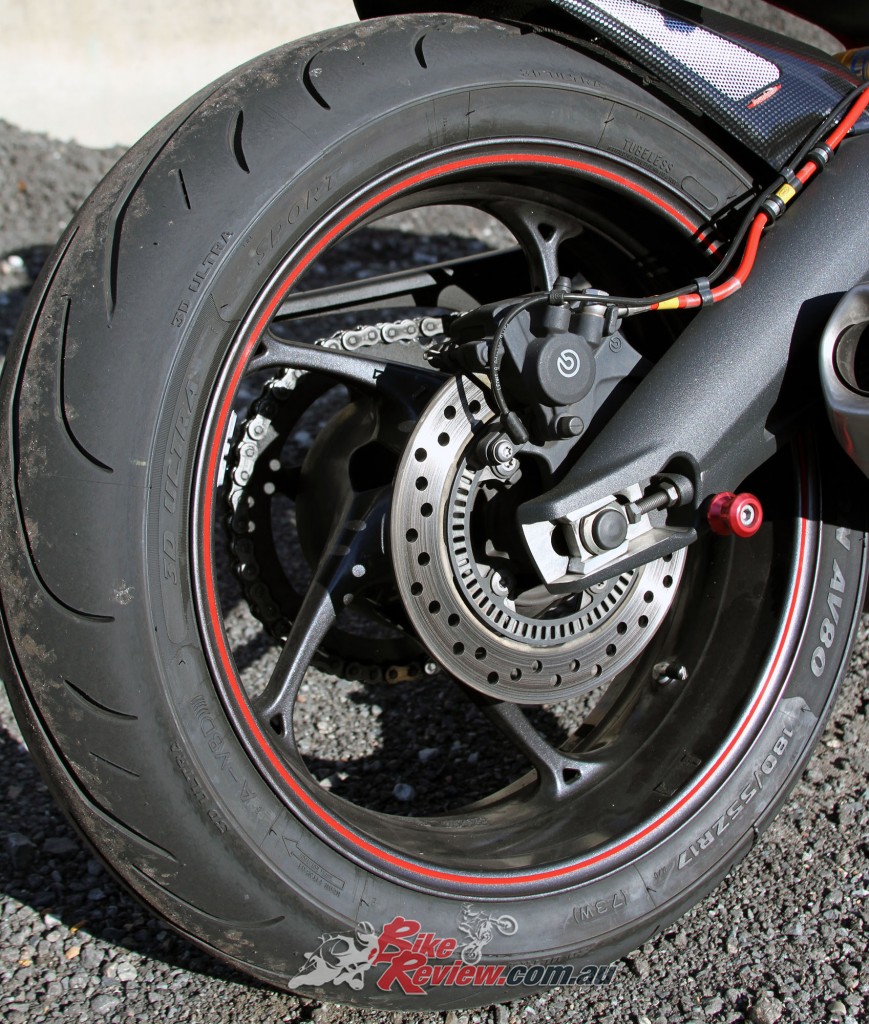 The rear tyres also feature Triple Tread Extrusion, which is essentially a three compound design, where a durable medium compound is used in the centre of the tyre for improved mileage, while a soft compound is used for the edges to ensure grip at lean angles. These are on top of a soft low hysteresis compound which improves the bond between the other two compounds and the carcass.
Reactive Footprint technology also combines the Advanced-Variable Belt Density carcass and Life Profile Engineering (which ensures consistent handling for the life of the tyre) to provide a footprint or contact patch which changes side and shape depending on lean angle for the entire life of the tyre, giving good straight line mileage, with great cornering grip.
Special Thanks:
Pro Accessories Australia, ProAccessories.com.au
Tyre Review: Avon 3D Ultra Sport – Road and Track