2009 Yamaha YZF-R1 Turbocharged by Extreme Creations Words: Jeff Ware Photography: Heather Ware
As far as we know this is the first turbo big bang R1 in Australia and the very first turbo big bang R1 streetfighter in the entire world – yet another world first for Sydney bike builder, Ben Shaw of Extreme Creations and BXP fame.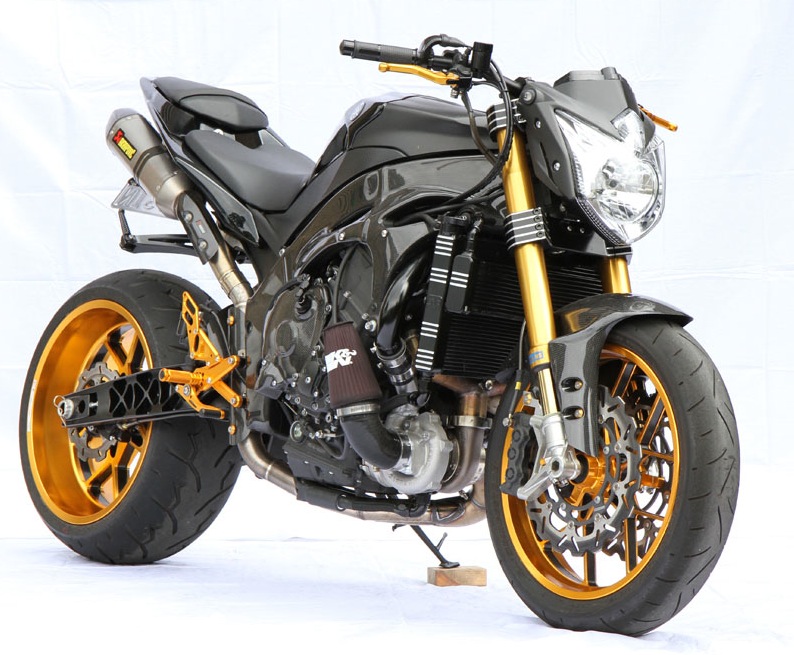 This bike was no overnight bolt-together special, no way. This $100,000 machine took years of hard work by Ben, owner Brock, and a large number of equally important specials and contractors to complete.
Brock purchased the R1 brand new in 2009…
"I always liked the R1 and had owned a few as a streetbike. I thought I might give a streetfighter a go and I had seen a few done. I wanted something different and thought a crossplane with a turbo would be quite a rare streetfighter," says Brock, "I bought the bike and delivered it to Ben in December 2009. The rest is history!"
Ben got straight to work planning the build with Brock. Like most custom bikes, this one was allowed to wander off the leash and follow the direction of scent as various components and ideas come to light, succeed or fail.
Firstly, agreeing on a budget is never going to work with a bike like this. Brock's R1 is far from your traditional streetfighter that is a crashed and resurrected sportsbike.
Timeframe for the build? Forget it – a bike like this can take anywhere between three months and three years!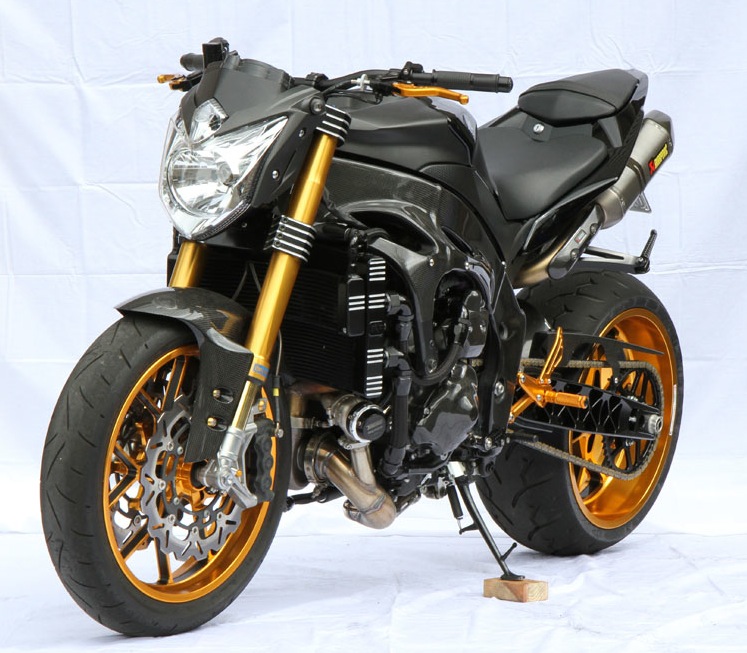 Ben Shaw, "After I spoke with Brock and had a fairly clear picture of what he wanted I began to look at the bigger picture. Brock is handy with design and C.A.D so he had a lot of input into what he wanted and what came out of my CNC machine; for example, the billet triple-clamps were designed by Brock and fabricated by me.
"I know it was going to be a long and expensive build and I also knew that it would have to look perfect as the R1 can either look stunning or butt ugly depending on what you do. It's a fine line".
Stepping back and admiring Brock's bike is a fantastic experience. It looks tough from any angle. It screams performance yet somehow retains the same subtlety that a standard black R1 has. The attention to detail is incredible…
Starting with the stock machine, turbocharging was the option chosen early on. Internals remain factory including 12.7:1 compression ratio, cams, valves, the lot.
Crossplane R1s run incredibly hot and this has always been a major problem with the 2009 and its closed deck cylinder-head. Ben overcame this by designing an air/water-cooled intercooler using a second R1 radiator. He also modified the radiator to dual pass to better suit not only the look and plumbing of the bike but also flow better. Huge billet BXP end tanks also went on and the BXP plenum chamber is water-cooled.
Next the turbo system. A Garrett GT271 turbo with Tial stainless exhaust housing was adapted with custom Extreme headers. A Turbosmart Compgate 40 external wastegate and Turbosmart Kompact BOV went on for the trademark Pssshht. On the intake side of the turbo sits a K&N pod and pre filter. Turbo piping and related plumbing is incredibly neat and just adds to the fine detail of this machine. The oil feed and return system is also an Extreme custom set-up.
Keeping it all under control is a Moristech piggyback fuel and ignition control unit, Turbosmart fuel pressure regulator, Deatsch fuel pump and custom upper fuel rail feeding the original injectors and auxiliary injectors in the plenum chamber. Brisk racing plugs fire the mix and the stock throttle-bodies are retained.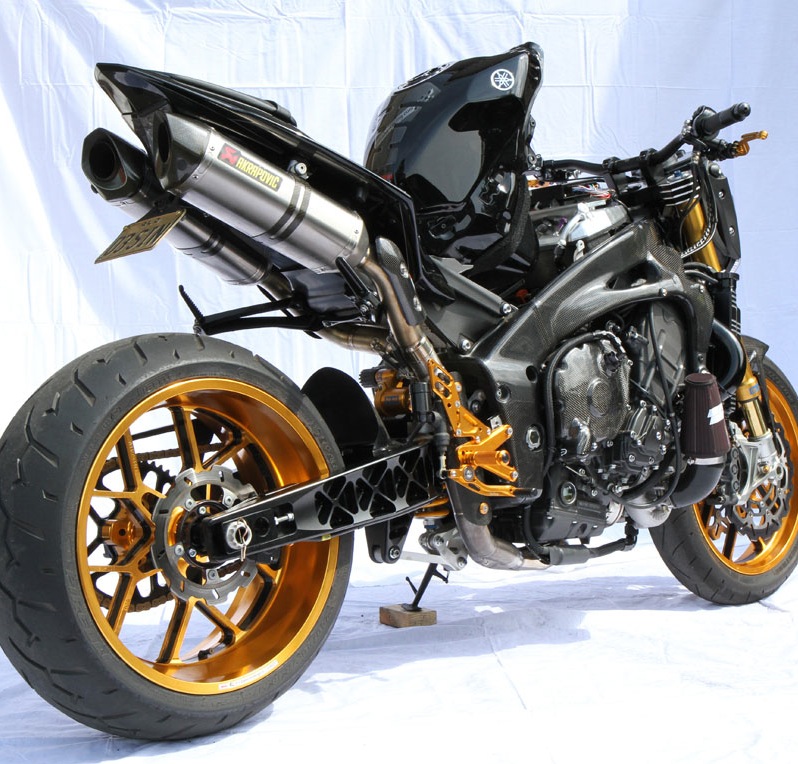 "The turbo system will support over 300hp at the rear wheel although the engine internals would need to be modified with lower compression, stainless valves, stronger conrods and so forth.
"We are getting an incredible 240hp now running just 5.6psi of boost," adds Ben Shaw.
The gearbox is standard aside from a set of Hayabusa drag racing clutch springs. Final drive is by EK ZZZ 530 chain and BXP billet offset sprockets to accommodate the wide-arse set-up.
Several successful dyno sessions and tuning by Extreme tuner Jake netted 240 safe ponies on low beast.
With the engine sorted the team turned their attention to the chassis and related running gear. No expense was spared!
The stock frame and sub-frame were retained along with the stock fuel tank – and that is about it!
Custom BXP triple-clamps were made and anodised black with bare alloy pattern marks setting them off. Super chunky and menacing, the clamps are seriously tough.
They pinch Ohlins FGRT800 43mm forks, four-piston radial-mount callipers, a Carrozziera forged alloy wheel, Galfer rotors and Hel lines. Rizoma 'bars are bolted to the top and hanging off those are very, very trick BXP billet switchblocks, BXP reservoirs, Pazzo levers and Rizoma billet grips. The headlight comes form a Yamaha FZ1 and the dash is R1 with Motogadget back up.
Heading south, an Ohlins TTX36 shock supports the sprung weight while the unsprung mass includes a stunning billet BXP CNC machined swingarm and a huge 8.5in Carrozziera billet alloy rear wheel with a massive 240-section Pirelli wrapped around it. Another BXP reservoir is fitted along with a mini billet caliper.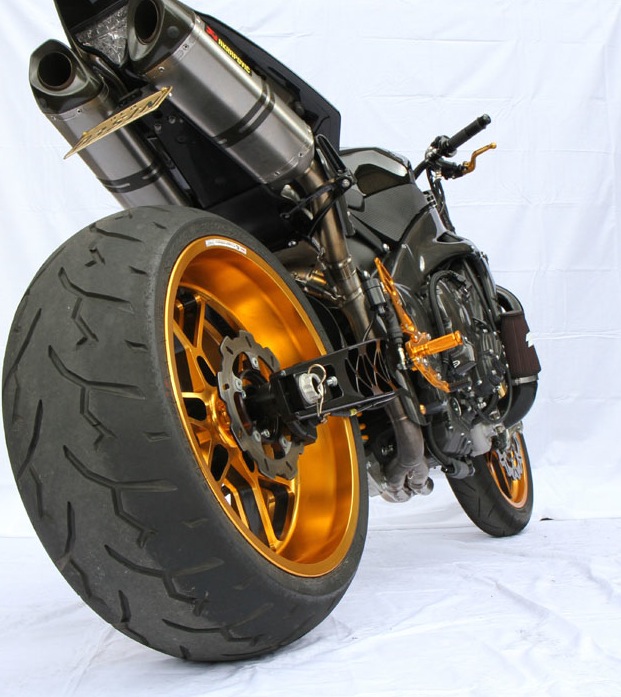 Sato rearsets hold Brock's feet in place. Crazily enough – the bike still has pillion pegs!
Tiny billet indicators with LED lights are a fantastic addition but for me, the coolest bit? The remote tap and go fob on the rear seat cowl (see image).
"I would definitely do this again," admits Brock, "But maybe with a different bike and Ben was tearing his hair out at times. The build took almost three years and in terms of cost, I stopped counting after the Ohlins suspension!
"I could have bought a Desmosedicci RR but I wanted something that really stands out! Next on the list is the engine. Change the internals and go for more horsepower"…
SPECIAL THANKS
Tony Bryce of Gladstone MC, Terry Hill, my dad and wife, Extreme Creations, Simon Moore, Shock Treatment
ENGINE:
2009 YZF-R1 crossplane crankshaft engine. Liquid-cooled four-cylinder DOHC 16-valve four-stroke, 78 x 52.2mm bore x stroke, 998cc, 12.7:1 compression, eight injector EFI with YCC-T and YCC-I, six-speed constant mesh gearbox, slipper clutch, Akrapovic full system modified for turbo, modified R1 radiator with BXP billet end tanks and dual pass plumbing, second R1 radiator cut down and modified to make air/water intercooler, Brisk Racing spark plugs, Moristech piggyback fuel and ignition control unit, Turbosmart fuel pressure regulator, Deatsch fuel pump, custom BXP fuel rail, Garret GT2871 turbo, Tial stainless exhaust housing, Turbosmart Compgate 40 external wastegate, Extreme Creation headers, Turbosmart Kompact BOV, K&N filter, BXP billet plenum chamber with built in water/air intercooler and secondary injectors by Extreme, Hayabusa turbo clutch springs
CHASSIS & SUSPENSION:
Alloy Deltabox frame, 1415mm wheelbase, 24 rake, 102mm trail, 43mm inverted forks, Monoshock rear suspension, 310mm rotors with six-piston callipers, 530 chain with BXP offset sprockets, carbon-fibre frame and engine covers, custom BXP triple-clamps, custom billet swingarm, Ohlins FGRT800 43mm forks, Ohlins TTX36 shock, Galfer rotors, Hel braided lines, BXP reservoir, Mini billet rear calliper, Carroziera wheels 3.5 x 17(f), 8.5 x 17(r), Pirelli Night Dragon 240/40/18 rear tyre
BODYWORK & CONTROLS:
R1 fuel tank, carbon-fibre guards, Rizoma bars, Rizoma billet grips, FZ1 headlight, mini LED indicators, BXP billet switchgear, MotoGadget M-Unit control unit, Sato racing rearsets, MotoGadget M-switch RFID ignition
PERFORMANCE:
240 rear wheel horsepower, mental torque!