Barry Smith is one of Australia's true motorcycling heroes. His story is epic and you need to read it! Review: Jeff Ware
Easy reading, lots of fantastic rare captioned images and an ability by the author, Barry Smith, to make you feel like you are living the racing dream yourself, makes Whispering Smith one of the best autobiographies I have read.
Barry has a enthusiastic knack of making the pages of the book come to life, with incredible detail and step by step commentary on the methodical, never-give-in, single-mindedness that took him to the top of his beloved sport, motorcycle racing.
With the dogged determination only found in world championship level riders, Barry overcomes every bump in the road imaginable and always somehow manages to find a solution and more often than not, success.
Not only is Whispering Smith an inspirational story for any budding motorcycle racer (and let's face it, there are quite a few young riders these days that could do with an insight to how it used to be…), it's also a story about the amazing strength of the human spirit and just how far we, as people, can push ourselves if we have confidence.
This book has it all, the ups and downs of friendship, love, parenthood, injury, business and really is more of a celebration of how motorcycles can make us happy more than any other man made object.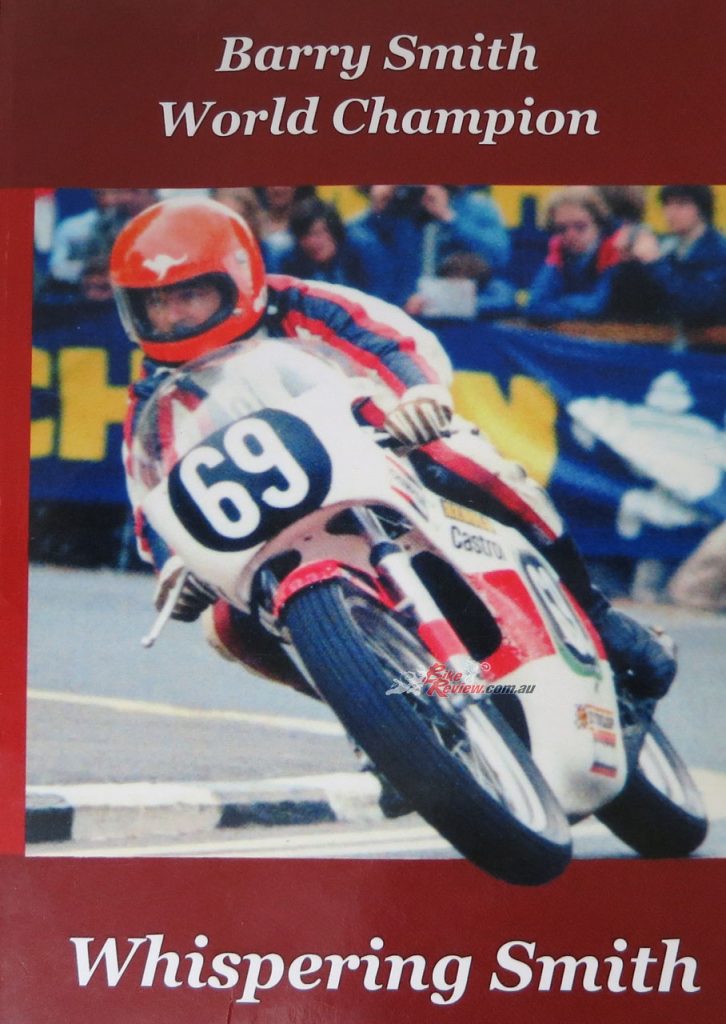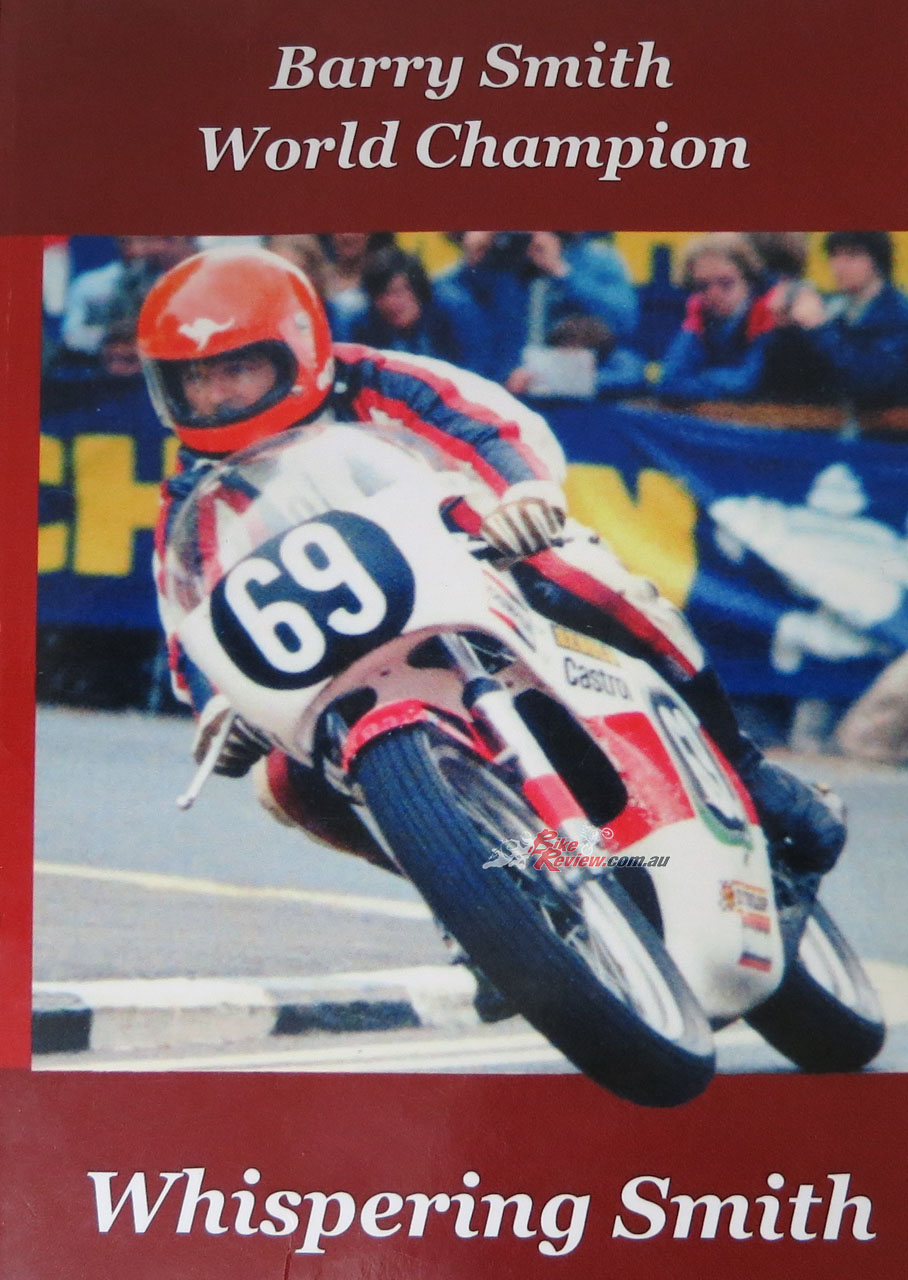 Barry was born in 1940 in Macclesfield, UK, as WWII was at full tilt, and had three siblings. He soon developed an interest in mechanical things and would even sit in the attic room with his brother Brian and watch V1 and V2 rockets fly over. There was an occasion once, where a Shackleton bomber just missed the roof of the Smith home, landing in a nearby field, so he was right in the thick of the War.
His addiction to speed possibly started with a high speed sled built by his father, called BluBird, when he was seven-years-old. He soon had a bicycle built by his father, which he immediately tried to modify!
Barry enjoyed the usual outdoor activities as a kid, with a particular talent for cross-country running, which he believes helped him pace himself later in his racing career. He also had a huge interest in acrobatics but the interest in mechanical things remained.
By 15 Barry was working in a Ford dealership that sold bikes, furthering his knowledge on four and two-stroke engines with youthful rev-head enthusiasm.

This is when he bought his first bike, a 250cc BSA side-valve complete with spares and a 350 barrel. He immediately stripped and modified it, then almost crashed it! In the meantime he was drooling daily over the head mechanic's AJS 7R and the boy racer seeds were permanently planted.
There would be no looking back for Barry Smith and motorbikes… In fact, by early 1959 he was living and racing in Australia, and addicted to it. His career would last 25-years.
The Smith family immigrated in 1958 and settled in Melbourne, where Barry fully indulged in motorcycle racing. His BSA Bantam was used for his first scramble race, but soon turned into a road racer, where Barry really found his niche.
The list went from there, Triumph Thunderbird, Honda Benly SuperSport (brand new), BSA Gold Star, and lots of events and dicing with the likes of Kel Carruthers, Alan Osborne, Ken Rumble and even Tom Phillis. The Aussie racing set Barry up for what was next, a huge adventure back over to Europe, with his brother Brian in tow, to take on the best. He arrived in 1963 and, it could be said in racing terms, didn't leave until 1981!
Over the next 23-years Barry would compete almost every other weekend, competing on Greeves, Ducati and Aermacchi machines as a semi-supported privateer for the first three years, with 10 podiums in that time, before starting a famous relationship with Derbi in 1965 when he purchased a 50cc production racer.
Riding his 250 Bultaco, 50cc Derbi and 125 Bultaco all season, Smith impressed, with a whopping 12 podiums. In 1966 he was rewarded by a little more direct support from Derbi, and success on a production Suzuki, before he really started to gain momentum in 1967 as a proper factory rider on the 50cc bike, finishing fourth in the World Championships, while still racing his 125 Bultaco and a 250cc Suzuki.
In 1968, Barry finished third in the 50cc World Championship for Derbi and set a world endurance record for Suzuki. His third was backed up in 1969, again for Derbi, then he returned to Australia to dominate small capacity racing here in the early 1970s.
Barry started a family and a bike shop or two (plus a load of other business ventures) and had a decade-long career racing large capacity two and four-stroke production bikes and small capacity grand prix machinery locally, proving his flexibility as a rider that could adapt and go fast on anything with two wheels and an engine, all while being a single dad of two girls…
The overseas bug soon bit Barry again and he was off overseas, where, in 1979 he became the F3 TT World Champion on an incredible self engineered 250cc Yamaha. He also won the Belgium 125cc Grand Prix, and multiple titles and races Down Under.
In 1980 he headed to Daytona, finishing sixth on a TZ250, before backing up 1980 and taking the TT F3 World Championship crown for a second time, with the Australian 125 GP title as a bonus! Barry then retired from racing for good at the end of 1983.
The racing and the sheer volume of races that Barry competed in is mind boggling and the blow-by-blow accounts of these epic battles makes for highly addictive reading. However, what really sets this book apart form the regular racer autobiographies is the human element Smith has been able to work into his own words, without detracting from the excitement of the motorcycle racing and tuning.
The adventures are endless, traveling all over Europe in a variety of vans, caravans, the amazing parties, the girls, and the break downs, all a weekly series of almost comedic misfortune on the road followed by epic highs and champagne nights at the track.
It is a highly entertaining, technically interesting, motivational and emotional ride to read. Whispering Smith is like an endless race meeting, where one man lived his dream for 25-years and made it happen against all odds. It will leave you wanting more yet exhausted at the same time, a lot like a real race meeting!
Grab yourself a copy for only $40.00 AUD from barrysmithbook.com.au – Barry will even sign it for you if you ask! It is a must read!

The Verdict | Book Review: Whispering Smith, Barry Smith World Champion
A trip through an incredible life with an International racer…