For those who didn't consider the Night Rod enough, came the Night Rod Special. Now further customised with NOS. Words by Kris Hodgson, Photography by Heather Ware
What's better than a Night Rod Special? How about a Night Rod Special with two nitrous oxide bottles strapped to the side, putting out 150hp on gas! 
It's not hard to see where the V-Rod following stems from, with aggressive Harley-Davidson styling built around the Revolution engine, which was developed with Porsche featuring both liquid-cooling and an overhead cam.
The Night Rod takes this a step further with an even more aggressive take on the concept, while the Night Rod Special… well this is one mean beasty and for Joe he knew the minute he first saw the Night Rod that he needed one!
With a background of sportier bikes this was somewhat of a change of pace for Joe, coming from R1s, GSX-R1000s and similar and he described the Night Rod as, "the right mixture of cruiser, power and handling!"
Purchased in 2009 from Fraser Motorcycles in Newcastle for $24,990 second hand the bike was in good condition, but had already covered over 20,000km – quite a few miles.
Taking the already impressive Revolution engine, Joe added Screamin' Eagle Stage 2 cams and Tab Performance mufflers, only to find on his return trip from a dynotune that one of the stock headers had cracked in half…
This necessitated a rather more hefty investment and he ordered a Vince & Hines Indy Outlaw Competition two-into-one race pipe with a Vance & Hines Outlaw megaphone muffler to match from the US to replace the damaged system.
Joe also sourced a DynoTune Nitrous twin-bottle system to fit the Night Rod, and with the help of Jamie from Sportcycles Dynotune & Performance Centre fitted the dry 30hp shot system.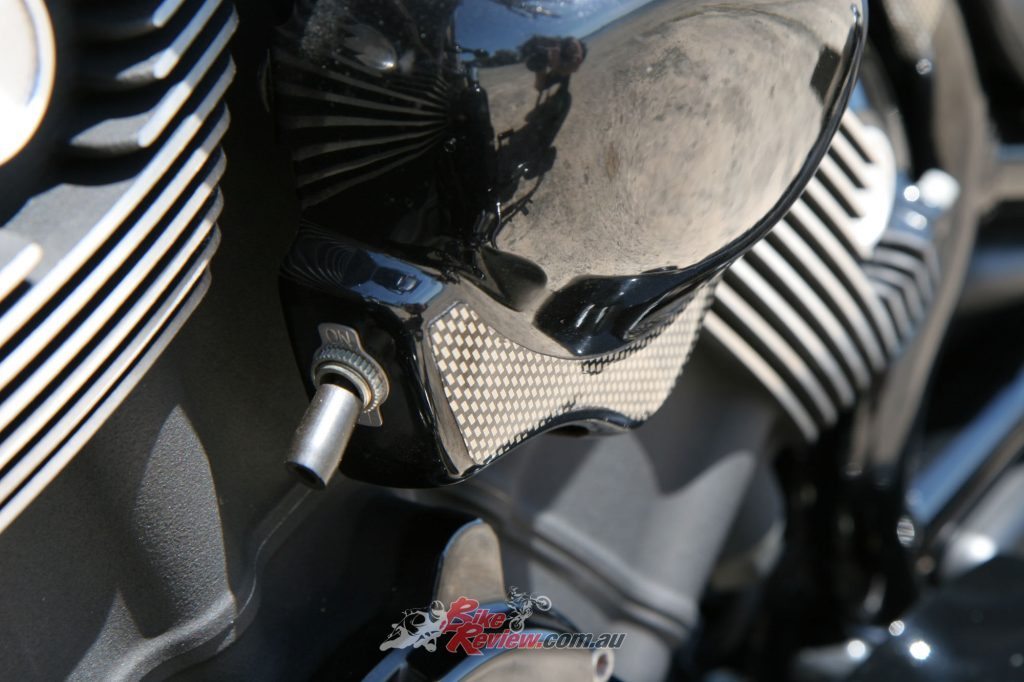 The NOS is then controlled via a Power Commander III with a hub for activation. This also meant fitting the nitrous jet that came with the system via the stock velocity stacks, along with a Screamin' Eagle airfilter and Screamin' Eagle Stage 2 airbox mods.
The kit comes complete with mounting brackets, a high flow solenoid, stainless nitrous lines, two nozzles with mounts and the electrical switch and terminals for full installation, with the provided jets allowing a choice of boost levels. For full information on what is included in the DynoTune Nitrous kits check the breakout.
With the nitrous fitted, Jamie was also responsible for tuning the bike with 148bhp coming up on the dyno with the nitrous oxide activated. Not bad for a bike that rolls off the factory floor with 120hp claimed!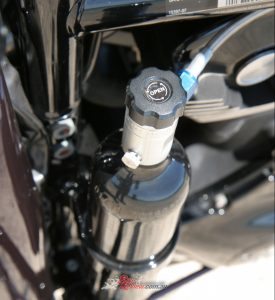 The five speed gearbox was retained while the belt final drive was modified with a 28T front pulley and 72T rear, along with an upgraded belt thanks to Scott at Bubs Customs at Somersby.
The already blacked out frame was also retained, suiting the look Joe was going for, while his mate Auz helped out with blacking out the rest of the bike to match.
The bodywork meanwhile received a coat of stunning Mazda Cherry Black Ice Pearl thanks to painter Mel Carrall, while Harley-Davidson WillieG skull designs were airbrushed onto the sides of the tank.
Joe admitted that while he chose the airbrush designs, his fiancé chose the colour itself, definitely a good move on his part since they hit a winner.
The stock 49mm forks were retained but received a fresh squirt of Screamin' Eagle fork oil to ensure everything was working at its best. On the rear Arnott's Air Shocks upgraded the stock offerings, with an onboard compressor mounted in the airbox and controlled via a handlebar switch for absolute ease of use. Plus they look pretty sweet too, replacing the more traditional looking sprung rear shock look.
The stock brakes have been retained, as the original four-piston calipers both front and rear provide good stopping power to the 300mm rotors, two on the front, one on the rear.
The original wheels have also been kept with red wheel striping replacing the original orange, and are now clad in Metzeler ME880 rubber – perfect for spirited cruising.
Small details like the black Sportster bars, relocated front indicators, smoked lenses, custom laser cut clutch and derby covers with the WillieG skull all add to the awesome end result, along with a black billet shifter link, Arlen Ness teardrop mirrors hung upside down from the 'bars, HD knurled grips and the custom number plate – which we won't reveal but is pretty tough.
This certainly isn't the most extreme Night Rod we've seen, but you wouldn't be hard pressed to image this was a limited edition factory special thanks to the paint and finish quality, with the dual front mounted nitrous oxide canisters only serving to beef up the bike's already impressive street cred.
Joe admits he's lost count of the hours poured into his Night Rod, but does remember the total cost including the bike is somewhere between $35k and $38k and it's not done!

"Custom fenders, new 'bars, a new headlight, some more paintwork, a new clutch, big bore engine build and maybe even a bigger nitrous jet for a few extra ponies are on the cards," says Joe. "Maybe even new wheels, but that will be last!"
"I couldn't put a price on the bike either, it is priceless to me," he admits, explaining the project has been a great experience, "It was definitely worth the effort and I would do it again, maybe as a big bore straight up, or a turbo!
"Nitrous is great but the bottles run out and it sucks when it happens… Now I've just got to have a few runs down WSID and see what sort of numbers I can put down," he added.
Hopefully we'll see him there, maybe at Bike Night!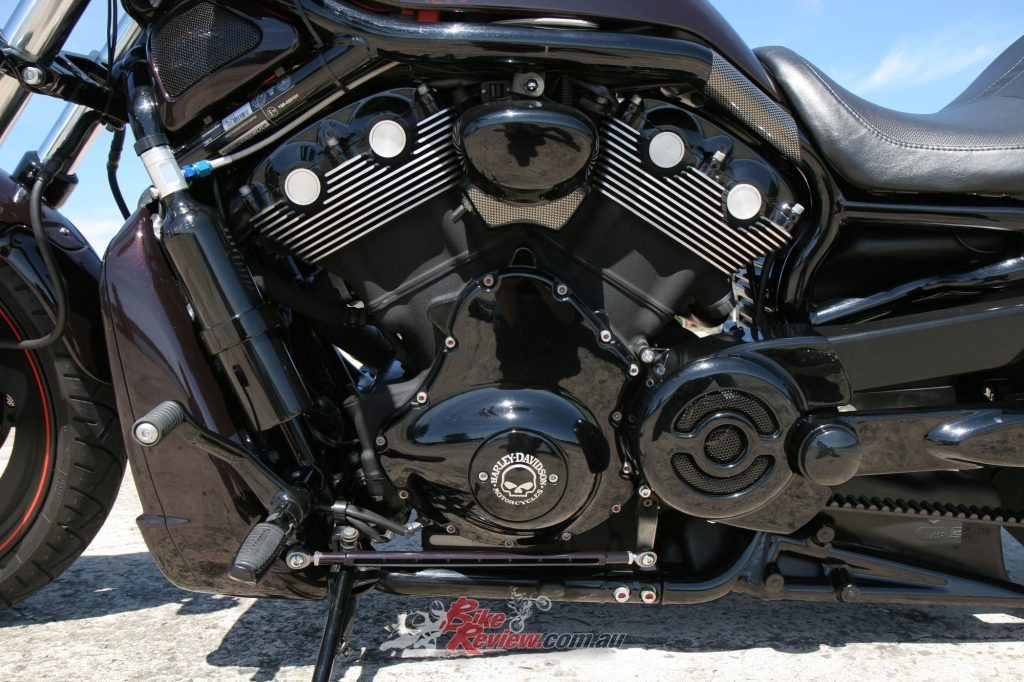 DYNOTUNE NITROUS
Tune Nitrous systems are a great way of easily adding nitrous oxide to your bike, and coming in a variety of packages, including generic kits for EFI or naturally aspirated bikes, as well as some bike specific systems. Options also include multi-bottle systems.
In this case a universal DynoTune Nitrous dry motorcycle system was used which came with two 12oz black powercoated NOS bottles, two billet mounting brackets, two two-foot stainless braided nitrous lines, two nozzles with mounts, a high flow Nitrous solenoid, three nitrous jets, the electrical switch and terminals, high pressure Teflon tubing and compression fittings, and the nitrous bottle fill adapter which allows easy twist on and off.
The three jets provided allow for 15hp, 30hp and 40hp, and the kit is complete for a full installation, with the added benefit of being able to be routed via your bike's air temperature sensor (if the bike has one), so the charge passes the sensor in the intake track, which then causes the EFI to add a little extra fuel.
The kit also comes with full instructions on how to connect the NOS activation through your horn or starter and the twin inlet system allows the user's configuration of choice – including single or dual snorkel intakes.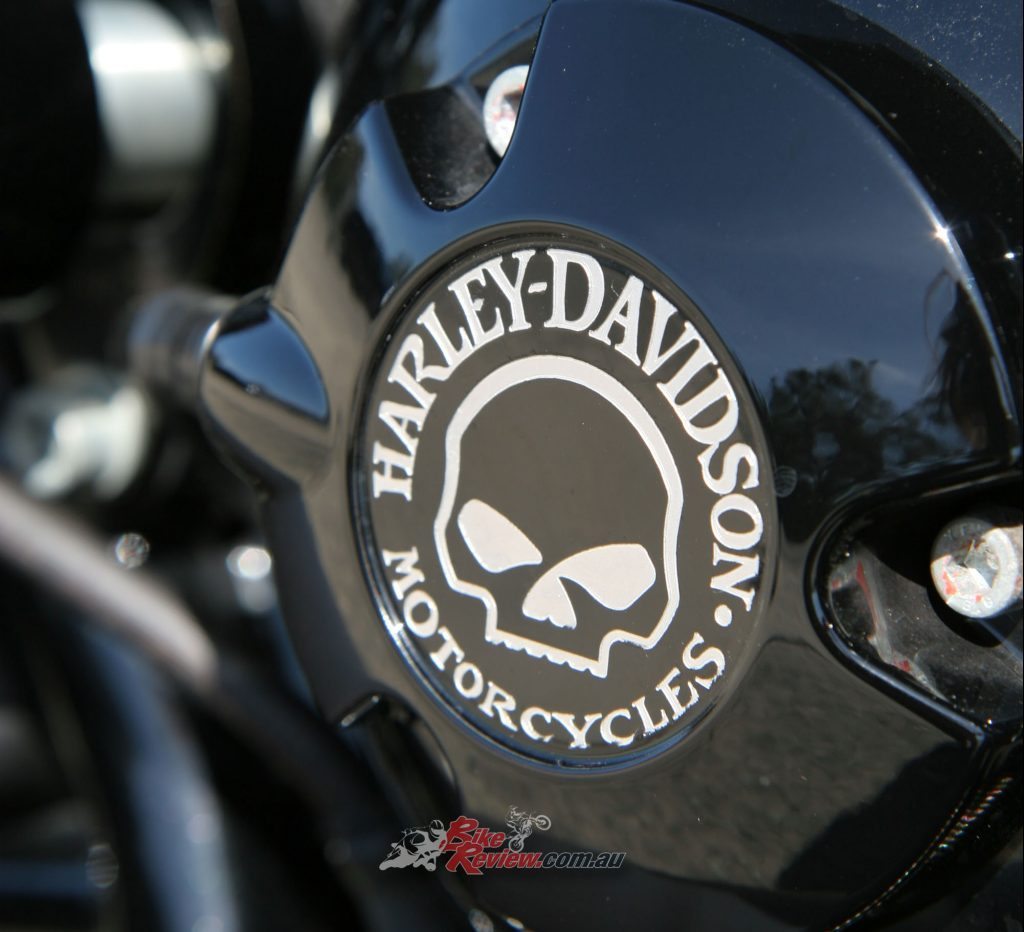 THE NIGHT ROD SPECIAL
The Harley-Davidson Night Rod Special (VRSCDX) is part of the V-Rod family, which utilises an engine jointly developed with Porsche for the original 2001 model. VRSCD – stands for V-Twin Racing Street Custom, with the D being the Night Rod and X the Special.
The engine – the Revolution started as a 69ci (1130cc) donk, based on the VR-1000 superbike race program and featured liquid-cooling as well a DOHC on the 60° V-Twin design, for the first time in Harley public production history.
Power output was originally 115hp, while the engine was increased to 1250cc in the Screamin' Eagle version in 2005, which was to become standard in 2008 to all models. This version created 123hp. This 2007 model uses the original 1130cc engine.
The Night Rod itself appeared in 2006 and was 'hot-rod inspired', with mid mount controls, highway pegs and straight-shot mufflers, producing 120hp. Other features of note included a black frame and more black paint on the engine, Brembo brakes and slotted aluminium disk wheels.
BOOSTED NIGHT ROD SPECIAL SPECIFICATIONS:
ENGINE: 2007 Harley-Davidson Night Rod Special VRSCDX 'Revolution' engine, Screamin' Eagle Stage 2 cams, Power Commander III with Multifunction Hub, DynoTune Nitrous dual bottle system – 30hp shot, Screamin' Eagle – airfilter, Stage 2 Airbox mods, Vance & Hines Indy Competition pipe, Vance & Hines Outlaw Megaphone muffler, 28T front pulley and 72T rear, upgraded belt final drive, custom 'WillieG HD' laser cut clutch and derby covers
CHASSIS: 2007 Harley-Davidson Night Rod Special VRSCDX frame and subframe, stock 49mm forks, Screamin' Eagle fork oil, Arnott's Air Shock rear shocks with onboard airbox mounted compressor
BODYWORK: Mazda Cherry Black Ice Pearl paint by Mel Carrall with WillieG HD skull motifs, all chrome blacked out, black Sportster 'bars, relocated front indicators with smoked lenses front and rear, black billet shifter linkage, Arlen Ness Teardrop mirrors, Harley-Davidson Knurled grips

SPECIAL THANKS:
Jamie and Andy at Sportcycles Dynotune & Performance Centre for all their help.

Scott at Bubs Customs.

My mate Auz for all the black-out painting.

Mel Carrall for the paint and airbrush work.

My fiancée for all her help, input, ideas and patience.