35-years after the Bob Brown Ducati kicked arse in the hands of Kevin Magee, the same bunch of mates were at it again. Enter the MY17 Bob Brown TT2 SuperSport... Words: Jeff Ware Photography: Knackers BDP
The bike you are looking at is more than just another modernised replica of an iconic racer. This bike is hand built by the same iconic builder, to be ridden by the same iconic rider as the original. The bike might be new, but the team are bloody ancient! Same blokes, less hair.
Bob Brown explained, "It all started prior to the 2013 Broadford Bike Bonanza when I received an email from Sir Alan Cathcart followed by a phone call from Motorcycle Australia's then CEO, David White. Their plan was to bring the old race bike (located in a museum in Barcelona, Spain) to Australia and for myself to restore it to its former glory for the Easter Broadford Bike Bonanza meeting. My instant reaction was an adrenaline rush and I was very excited that once again, I would see my old girlfriend!"
The original Bob Brown Ducati TT2 was crated up in Spain and shipped to Bob's workshop in Riddells Creek, Victoria, to be prepared for the meeting.
"The initial sight of her was very depressing," admits Bob, "A band of gorillas had got her and I was pissed off! My baby was now a bitza and in very poor condition."
After giving the bike a good go over to prepare for the meeting, the guys headed to Broadford where Kev eagerly geared up ready to ride the bike that helped pave his career (see breakout for the full history).
---

---
However, after a few laps Magee pitted and said to Bob, "This is not the bike I raced…"
"I was really annoyed when I noticed that my #1 race engine had been replaced for the one I had sent to Cathcart in the Tingate alloy eight-valve machine," explains Bob.
"Long story short…" Bob cringes, "They refused to pay for the work to be done (as agreed on) so the machine went back to Spain after the meeting, basically as it had arrived. A shame really, and it upset me greatly."
After Kevin Magee got a taste for the old girl he really wanted to get it back and ride it properly, set up with grip and to have a go. One thing led to another and it was decided that a modern interpretation would be built, with modern suspension, rubber and brakes so Kev could dig his heels in a bit…
Kevin Magee, "Riding the original TT2 brought back great memories, it was a real time warp. But the state of the bike was an issue and I think I put about 14-turns on the rear spring!"
Graeme Brooker, who was part of the original crew in the 1980s, had built an exact twin to the original Bob Brown/Magee TT2, using the spares from the era, which he obtained through Bob. Magoo started to use this bike from 2014, and, as Bob puts it, "Was starting to hook up and push harder."
Magee needed more grip, modern running gear, but there was no point modernising the Brooker TT2, as it would no longer be ridgy didge… Brooker and his wife Poppy were having dinner with Bob not long after, when Graeme stated that they would just have to build a bike from scratch for Kev to ride.
"I was sort of listening and did not even lift my head from the meal I was enjoying. I just mumbled, 'I'm in'," explains Bob.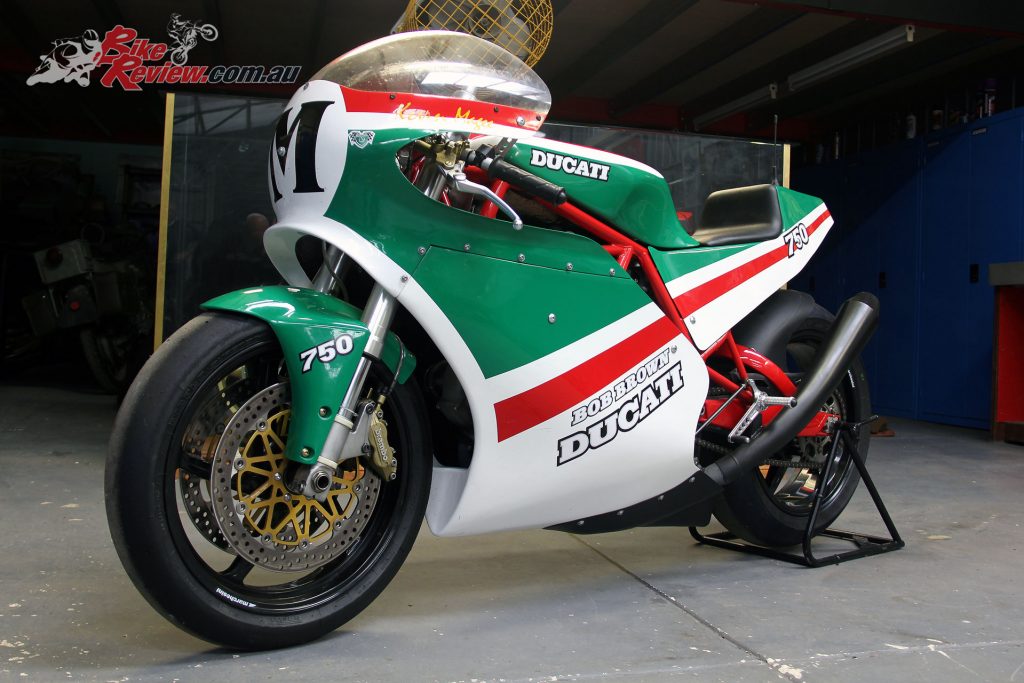 The 'Kevin Magee' MY17 Bob Brown TT2 SuperSport
Bob, who has been in the bike industry for 50-odd years, is a builder more than a rider; in fact, he reckons he has probably only done 20-odd-thousand kays in his lifetime. So, a new project in the workshop was music to Bob's ears…
The build commenced in May 2016 and was completed 11-months later with a successful dyno run in the immaculate workshop of T-Rex Racing in Heidelberg, Victoria. The frame was purchased from Europe and is a steel TT2 replica, which came with a fibreglass fuel tank, rearsets and handlebars.
Once the frame was chosen and arrived, Bob got to work on sourcing a donor bike to bring the frame to life. The chosen machine was a 2006 Ducati DS1000 SuperSport. The frame was heavily modified first, with extra bracing and gusseting, then the frame was coated in Ducati Red and the running gear was transferred over.
The Showa 43mm forks, cast alloy triple-clamps and Brembo four-piston calipers went up front, with the forks re-sprung and re-valved to suit. RedFox 'bars were fitted along with Brembo master-cylinders for the brake and clutch, and a Marchesini front wheel went in, wearing Brembo 320mm rotors and a Pirelli SC1 racing slick.
At the back of the bike, a steel modified SuperSport swingarm was fitted along with a custom linkage, and an Ohlins shock went in, which was a lot of work, and the shock mount had to be refabricated to accommodate the Ohlins and the swingarm. A Marchesini 17in lightweight wheel was slotted in once the swingarm was painted up, again wearing a Pirelli slick tyre.
Rearsets are billet CNC machined RedFox items and the rear brake caliper is a two-piston Brembo, while the rotor is a fixed stainless steel item. With the rolling chassis sorted, Bob turned his expertise to the engine. "I didn't want to do too much to the engine for the first year, as I was uncertain about the frame and how it would handle the grip of the modern slicks," he explained.
Bob of course went over the engine and gave it a mild warming over, with a set of NCR camshafts and a HDESA USA clutch pressure plate, along with a tasty pair of 41mm Keihin FCR carburettors with accelerator pumps. The exhaust system is a custom one-off by MegaCycle. The crankcases were strengthened as well. The cases were bead blasted and some neat billet covers added.
Once the engine was in the frame, it was time to start work on the stunning bodywork. "Amazingly we managed to find where the original molds taken from the Tingate alloy fairings were," says Bob, "So a new set of originals were fabricated and we modified them to suit, then they were painted by Brian at Custom Colour."
I'm sure you will agree that the finished product is mind blowing. The MY17 Bob Brown TT2 is an instantly recognisable modern classic and has to be one of the most nicely balanced blends of new meets old we've laid eyes on, and the colours are perfection. So how does Kevin Magee rate the bike?
"Fat Head loves it," laughs Bob, "He came to my workshop the day before Broadford and we took it off the bench and he had a bit of a bounce here and there, clicked a few clickers and set it up a little, and didn't touch a clicker all weekend. The bike was on rails."
Kev agrees, "I just love it. It does everything I want and more. It has heaps of torque, loads of grip, unreal brakes and that awesome TT2 handling. I was short-shifting around Broadford and just using the torque and corner speed. It feels like a proper racebike. It just doesn't do anything wrong, it's like a four-stroke V-twin version of a good TZ350 but with modern running gear, if that makes sense!"
Ben Henry had a spin on the bike over the weekend also and he raved about it. Even Troy Bayliss was drooling over the bike and asked Bob to make him one. Bob said no way!
So what is next for the MY17 Bob Brown TT2? Is this the start of a new chapter of Bob Brown Ducati Racing? We can only dream… But it'd be great to see a few customer versions of this bike roll out the door. Another dream!
"Next up I'll do the motor. There is another 30-horsepower lurking in that engine," grins Bob, "I just can't help myself. See you all at Broadford next year!"
2017 Bob Brown TT2 Specifications
Engine: Desmodromic dual-spark air-cooled two-valve belt cam drive 90º L-twin four-stroke, 94 x 71.5mm bore x stroke, 10.5:1 compression, NCR camshafts, dry multi-plate clutch, six-speed gearbox 1st: 2.466, 1.764, 1.350, 1.091, o.958, 6th 0.857, Krober ignition, 41mm Keihin FCR carburettors, MegaCycle exhaust system.
Chassis: RedFox Steel TT2 Replica frame, RedFox fibreglass fuel tank, custom rearsets and 'bars, Showa 43mm inverted forks, Ohlins shock, Marchesini wheels, Brembo 320mm rotors and Brembo four-piston calipers, Brembo twin piston rear caliper and 220mm rotor, stainless-steel braided lines, Brembo master-cylinders front and rear, DS1000 triple-clamps, modified swingarm and custom linkage, Rod Tingate designed fairing off original Bob Brown Ducati mold taken from original Tingate aluminium fairings, Custom Colour Paint
Performance: 100hp, 85Nm, 138kg.
---

---
The Original Bob Brown Ducati Story!
In 1982 Magee started to think about racing a bit more seriously. He realised that he could do something with this talent…
"I bought a 1976 TZ350C for $800, or $1000 with rims for wets… I crashed the thing but thought, OK, where next? I needed to get to A grade… At the time I was racing in anything I could, 250 – 1000cc events and all that. I raced a borrowed 350LC and won the Milledge RD350LC championship again, and I got to A grade on the TZ."
At the time, Young Magee was watching the likes of Rob Phillis, Malcom 'Wally' Campbell and Andrew 'AJ' Johnston, and aspired to the factory guys – mainly because he wanted to ride the bikes and test himself against the best…
In August or September 1982, at the final round of the Milledge RD350LC series, Magee was in the pits hand fitting a front tyre to his LC. He'd been getting front chatter and was dead set on beating John Harmen for the title. Magee continues the story…
"I was busy with tyre levers and all that, and I looked up and there's this guy looking over my shoulder. I shrugged him off watching and kept working. Then he came back and introduced himself as Bob Brown. He told me he needed a rider for his Ducati for the Swann Series. It was a Friday and that afternoon I was on the bike testing. I went 2.5-seconds faster than the fastest guy!"
Magee went on that weekend to take the LC series and also race the Bob Brown Ducati, winning both races from Peter Muir at the Swann Series at Sandown. It was the start of an incredible decade for Kevin Magee, and the biggest turning point in his racing career.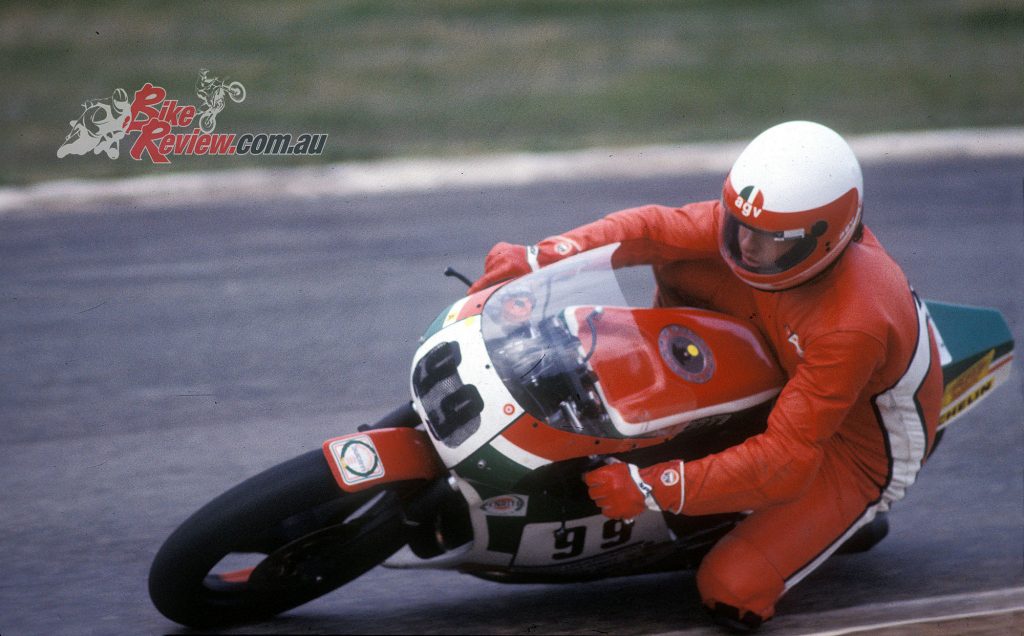 The tuning skills of Bob Brown coupled with the talent and determination of young Magee was to become an unbeatable force. It was meant to be…
The bike was a Ducati Pantah that started life as a wreck. Bob had rebuilt it and, as Magee points out, "Had turned it into a superbike and 'Bob Browned' it." Magee took to the bike like it was built for him.
"I'd heard a lot about this young kid," says Bob Brown, "People said he crashed a lot. But I watched him and kept an eye on him when he raced the RDs. I needed a rider as my rider at the time, Jeff Thyme, was getting married on race weekend. I decided to give Kevin a chance. It was the right decision!"
Kevin tested the bike and was immediately on the pace. In his first meeting on the Ducati, Magee won both Thunderbike races from Peter Muir. It was an astonishing result.
"I remember his face at the trophy presentation," recalls Bob, "I think at the time Fat Head, as I called him, was an apprentice and he earned about $29 per week. You should have seen his face when he was handed a cheque for $700 with his trophy! He handed it to me, and I passed it back and said, 'No mate, that is your winnings'. He just couldn't wipe the smile off his dial…"
---

---
"He spent all of his money racing and he was always broke. I'll never forget the time he drove his old ute into the Kookaburra Petrol Station at Melton and asked the attendant to put one-litre of gas in his car so he could get to my workshop. It was absolutely pissing down, dark, thunder and lightening, and he made this poor bastard walk out to put one bloody litre of fuel in his ute. He really was a f#cking idiot!"
The 1983 season was a huge success for the duo. Kevin won the Victorian Thunderbike Series and the NSW Formula European Championship, a series that he won all but one race in, and that was because he snapped a drive chain off the start!
"We also raced in the Eastern State rounds of the Australian Superbike Championships," adds Kevin, "Plus the Mallala round, where I set a new outright lap record. I won the Tom Phillis Memorial meeting at Winton also.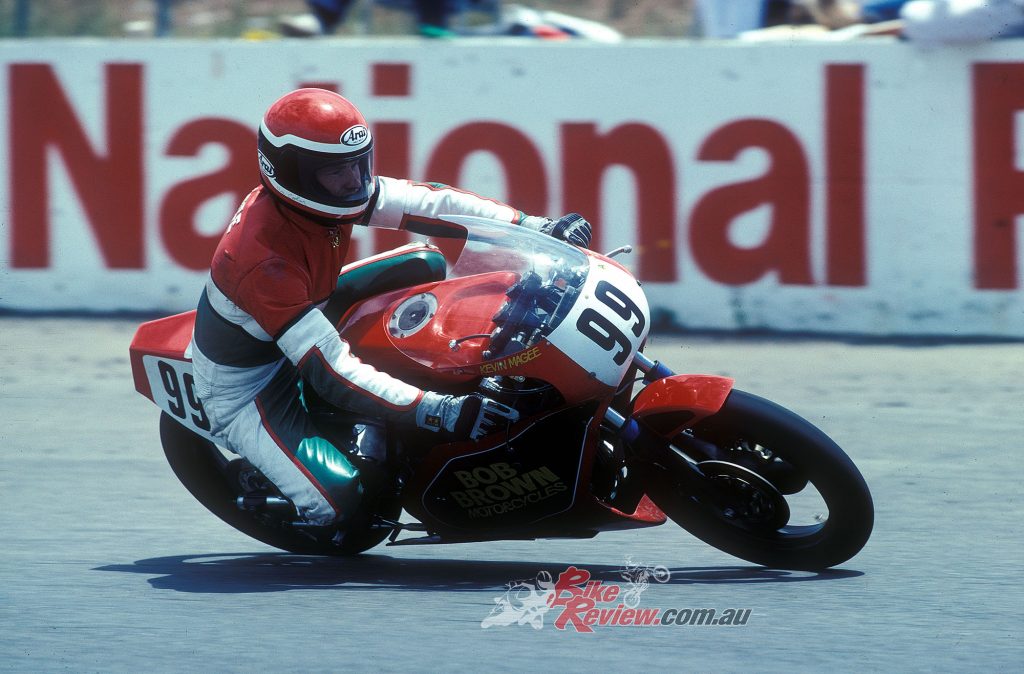 "It was a good deal for me. Bob paid for tyres, entry fees and tent site fees, because we stayed in a tent. I got to keep the prize money!"
The essential element of 1983 was racing against the factory teams on the 680 Pantah. They were on 1000cc and 1100cc superbikes and Magee was really giving them some curry. That year he scored a third in one race against the factory boys and finished the championship fifth against the likes of Rob Phillis, Wally Campbell and Andrew Johnston.
"It was a good learning year for me," says Magee, "Because I was finding out that I was pretty fast and getting faster against guys who I thought would hose me… We also did the Swann Series at the end of the year and I did well in that.
"Bob was a dedicated Seventh Day Adventist, so we wouldn't practice on Saturday. We didn't do anything and Bob wouldn't even open his shop. We would do Friday practice and if there was anything that needed checking we would do it in the warm up on Sunday morning. It didn't worry me at all though. I was being looked after very well and I had a great bike to ride…"
1984 saw Magee race the Bob Brown Pantah again, with the same race meetings scheduled as 1983, plus the plan to travel to NZ for the end of year races. But the season didn't kick off too well…
"All I wanted to do that year was race against the likes of Wally, AJ and Phillis. Early in the year I raced the TTF2 Ducati for the first time. It was like a real GP bike. I raced 500 – 1000cc. I was chasing down AJ, who was riding the factory Honda V4 860 and had a big lead over third place. There had been a sidecar blow up in the race before on the back straight, leaving oil everywhere. Five laps in I tipped it into the right-hander through the cement dust. The front tyre hit the curb and I went down, catching my right pinkie between the 'bar and the road. Now it's permanently bent and I almost lost it. That crash put me out for six weeks".
---

---
The next race was at Mallala. Bob Brown was on his way to Horsham to pick Magee up for the trip to SA. Meanwhile, Kevin was mucking around with a mate on a three-wheeler up in the back paddock of his family property. They were two-up, and Magee over stepped the mark and highsided.
Kevin continues the story, "I looked down and thought, 'Oops.' My foot was looking at me. I'd broken my leg. I was out for another six weeks. Bob wasn't happy!"
"Here I was driving into Horsham," says Bob, "When someone flags me down to tell me that Fat Head was in hospital with a broken leg. I could have strangled him!"
When fit, Kevin did all of the same races as 1983, plus raced in NZ at Gracefield International (the only time Bob let Kevin ride on a Saturday) and the Wanganui Street Races, where Magee finished second behind Dave Hiscock, the then World TTF1 Champion, who was riding his TT F1 winning bike…
"1983 was tough but a good year. We were really giving all the superbikes a tough time as I was learning more about riding and how to control a bike when going so fast," says Magee, "But by the end of the year I was really getting keen to get on the same machinery as the factory boys as I knew I could run with them…"
1985 was Magee's third year without Saturday practice but he didn't mind, as Bob was very good to him. It was a huge year in Kevin's career…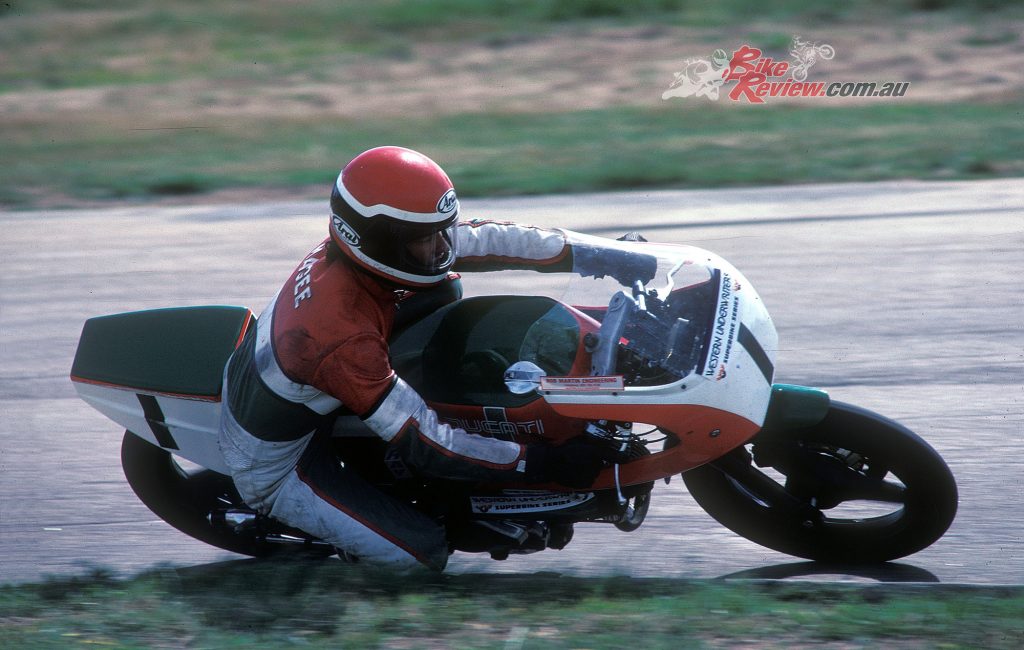 In the Australian Superbike Championships, Magee was really starting to get under the factory team's skin. At Winton, he broke the lap record in the morning warm up – by half a second!
"The factory team bosses rarely talked to each other," recalls Bob, "As it was very competitive back then. But that morning, all of the team managers were seen huddled together, talking to ACU officials and trying to get rid of us!"
Magoo continues, "We'd show up in a Falcon XD panel van with a trailer. They'd be in big trucks with all the gear. And we'd make them look silly."
Magee's results were getting him some recognition, and offers started to come in to ride other bikes. Bob was fine with it, as he could see that Kevin had a lot of talent and could go a long way. But they still had plenty to accomplish that year…
Yamaha announced the RZ National Invitation Series, plus all States had their own RZ Series. Bob bought a bike for Kevin to ride in the State Series, while the RZ National Invitation Series bikes were supplied. You simply turned up, dug the key out of a hat and raced your lucky bike. The winner of the series was to go on and race in the finals in Holland.
---

---
Magee and Bob went 50/50 in earnings and debt. They won both the Victorian State RZ Series and the RZ National Invitation Series that year. Magoo was over the moon. He now had a chance to prove himself overseas at the final… But it didn't happen…
"In May, Yamaha invited me to race in the Nippon Denso 500 with Michael Dowson," says Magee, "We won it. And that led to more offers. In June, Trevor Flood invited me to ride his Yamaha FZ750 road bike in the Calder round of the Aussieland Superbike Series. I finished third behind Wally and Phillis. That race confirmed to me that I could run with the best of them."
In July Magee went to Japan for the first time, to compete in the Suzuka 8 hour with Rob Phillis on a Moriwaki CBX750. It was one week before the final round of the RZ National Invitation Series. In the second session Magee highsided on some oil and broke his scaphoid. He didn't go to a doctor, but knew something was broken… Amazingly, Magee finished the race and he and Phillis crossed the line in ninth position!
Magee travelled home to compete at Oran Park, finishing third and winning the title. The Surfer's Paradise Three Hour was coming up, so Magee went to the doc and got his wrist put in a splint (not plaster!). In a gut-wrenching decision, he handed his trip to Holland for the world final to the RZ National Invitation Series runner up in the series… Opting to heal up for the Three Hour, which he competed in.
He also went on to finish third overall in a wet Castrol Six Hour, and second in the 750 class. Late in the year Magee competed in the Swann Series on Trevor Flood's awesome TZ750, finishing in the top 10 of the championship and having an impressive race at Surfer's with then GP star, South African Dave Peterson.
"Dunlop had been awesome at this time," adds Kevin, "Coming to the rescue with tyres, which no doubt helped me a lot."
Sadly it was around this time that Kevin and Bob went their separate ways. Kevin's career had moved forward but he was very grateful for what Bob had done and vice versa…
"Bob was the main reason why I was getting all these offers," says Magee, "Without him and those Dukes I wouldn't have been noticed…"
Bob agrees, "Those were probably the most enjoyable years of my life really. Fat Head was a great talent and I was happy for him to move forward. The old Pantah didn't die. In fact it ended up even more of a weapon, and in the end Alan Cathcart bought it to race overseas. It's in a museum in Barcelona now sans original engine…"
---
MY17 Bob Brown TT2 SuperSport Gallery
---
---