This custom Board Track Racer was created by Steve and sets the standard in its class. Words: Kris Hodgson, Photography: Knackers BDP
This BT Racer by Steve is an awesome custom machine, with stunning attention to detail and an end result which leaves nothing to be desired. Every component looks like it was designed specifically for this motorcycle and there's no doubt that this was a labour of love.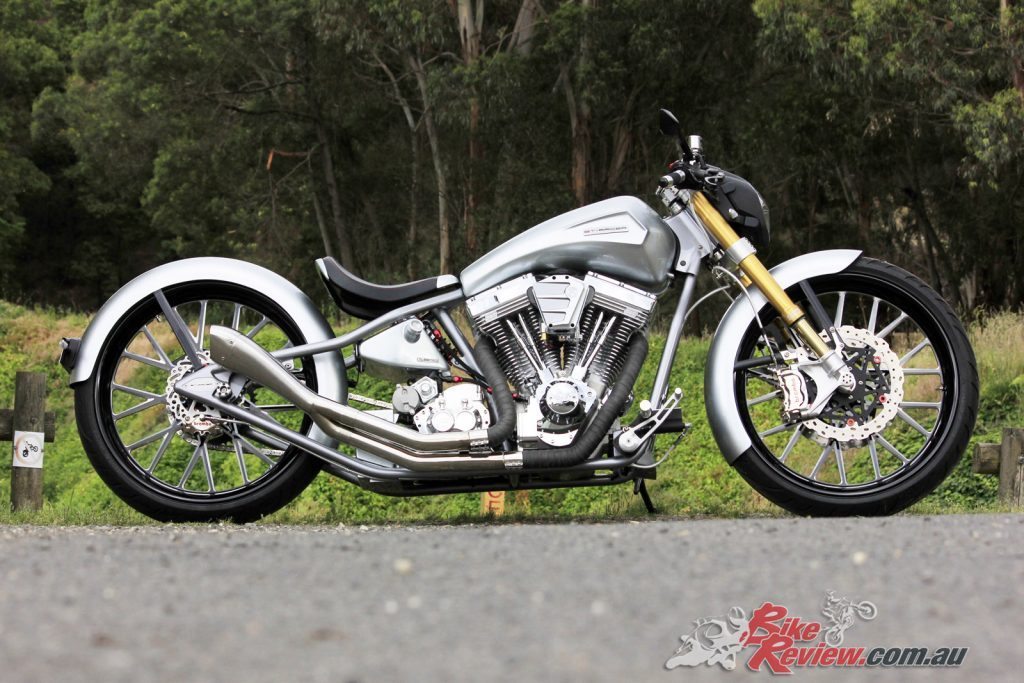 Stripped back to absolute basics and powered by an S&S V113 engine this BT Racer is performance incarnate and maintains the lean and mean theme, with massive but thin 23in wheels, a custom single seat and plenty of bespoke components made by Steve.
The basis of the bike is actually a custom frame, with rigid rear end and LA Lace 23in Metal Sport wheels front and rear. Bolted in is a S&S V113 engine, complete with 10:1 compression forged pistons, an S&S Super G carb, S&S 600 camshaft and Super Stock ignition, with polished covers and Performance Machine airfilter, offering great drive and reliability.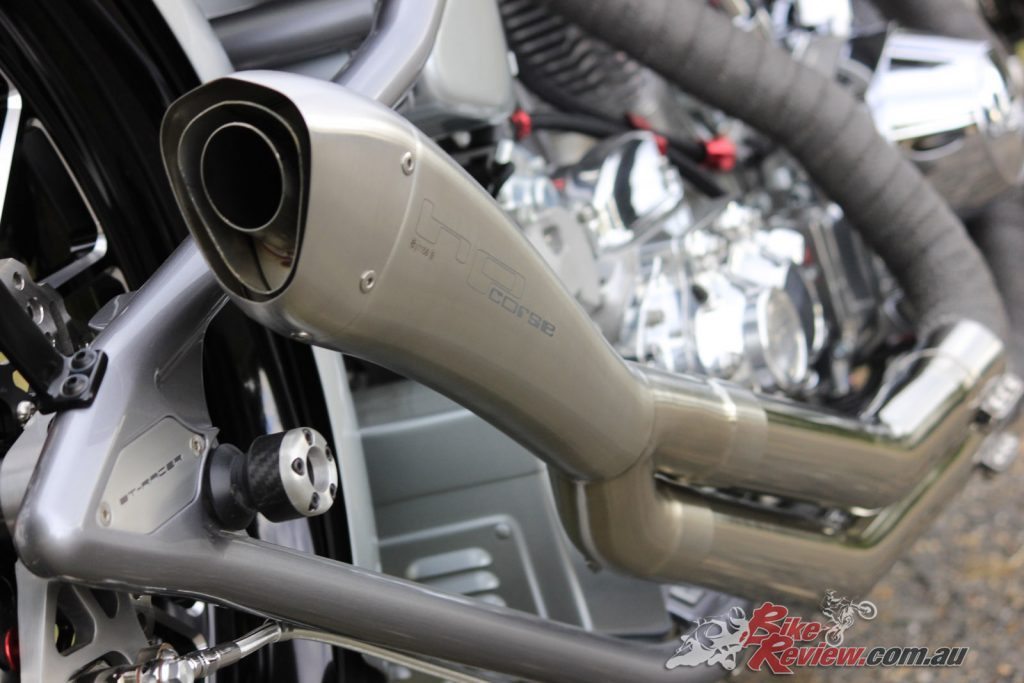 The exhaust system is a two-into-one with wrapped headers, that's joined to a stunning HP Corse muffler for a raucous exhaust note.
A Baker five-speed transmission and hydraulic clutch were added, along with a chrome contour Performance Machine primary belt drive with custom covers. The final drive is a nickel plated chain to match the overall colour scheme.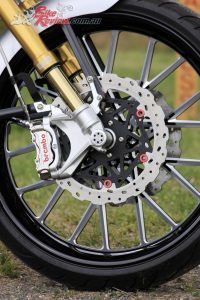 On the front end Ohlins forks hold the LA Lace 23in wheel, clad in Avon Cobra rubber, with dual nickel plated Brembo HP Billet calipers and massive 320mm Braketech rotors, with Magnum braided lines leading up to the Brembo master-cylinder and lever combo.
The front foot controls are also custom items sourced by Steve for the BT Racer.
The front guard is a bespoke item, while the triple-tree is an IMA Special Parts billet item and joined by LSL Sport Match High clip-ons. Dual Rizoma CT127 fluid reservoirs provide fluid to the front brakes and clutch, with Rizoma Sport Line grips and Rizoma Tomok mirrors.
An MT-03 headlight is seamlessly joined to the fork and triple assembly, with remote ignition keeping everything clean and minimalistic.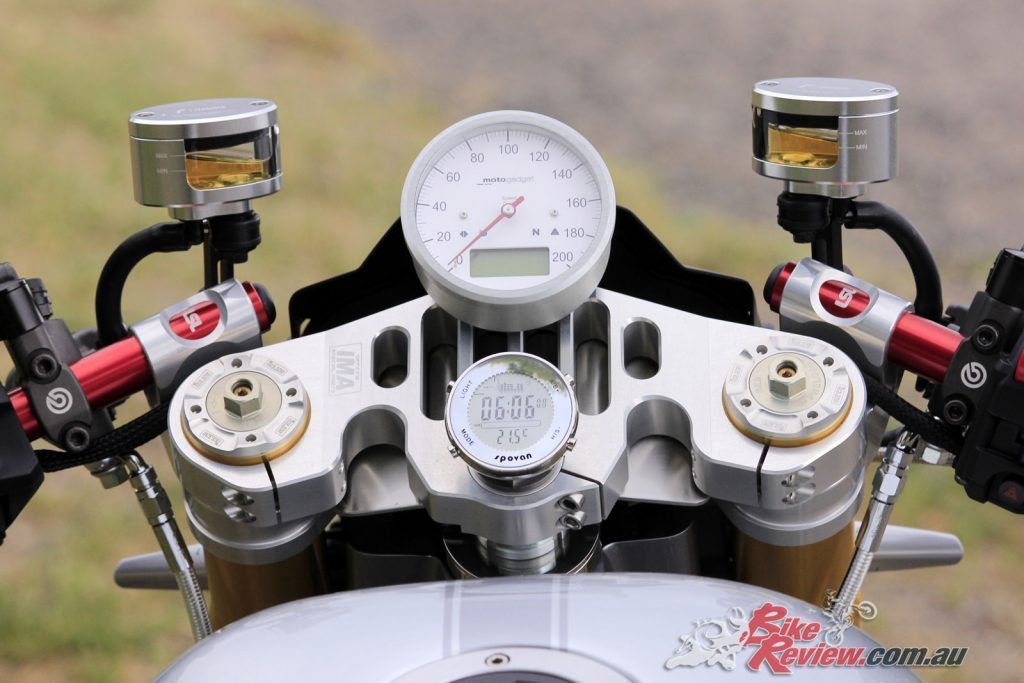 The display instrumentation is a novel solution, with a Motogadget speedometer with digital readout, while taking care of the more mundane secondary duties is a Spovan Outdoor Sports Pocket watch mounted to the top of the triple-clamp.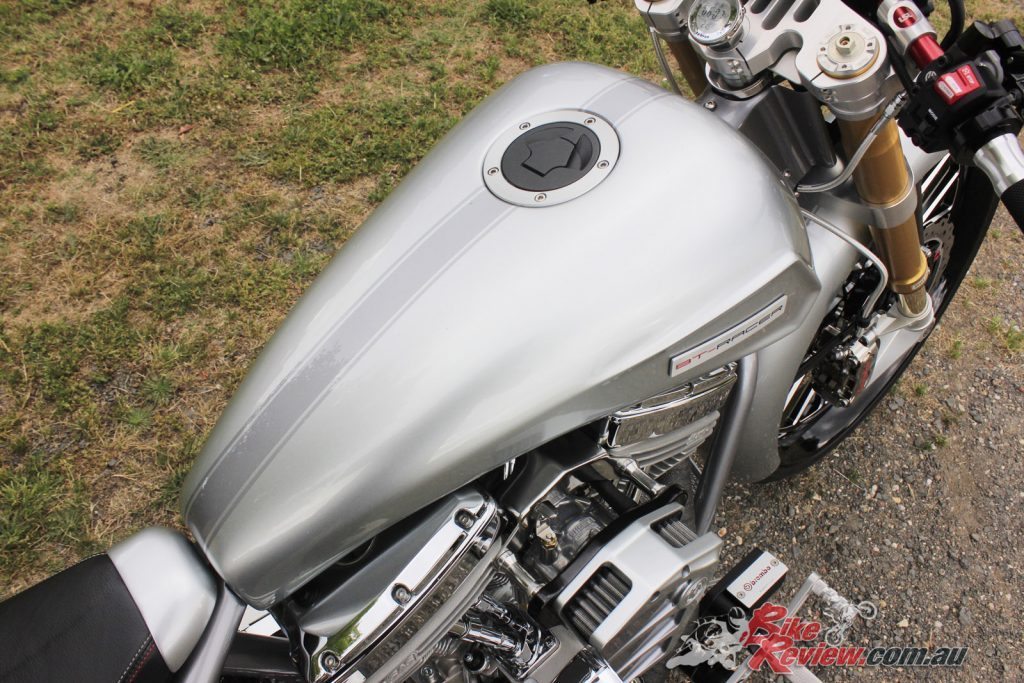 The tank is a custom item and flows seamlessly into the single-seat which is another bespoke item for the build. The seat itself is supported by an Elka five-stage rear shock, which sits in front of the custom oil tank, and above the custom starter. Below the starter is the battery box, helping keep the centre of gravity low – low enough to be unsprung weight.
The rear wheel like the front is an LA Lace 23in item clad in Avon Cobra rubber, with a Braketech 220mm rotor and nickel Brembo P2 34 caliper, also using Magnum braided brake lines with a Brembo rear master-cylinder in the forward foot control.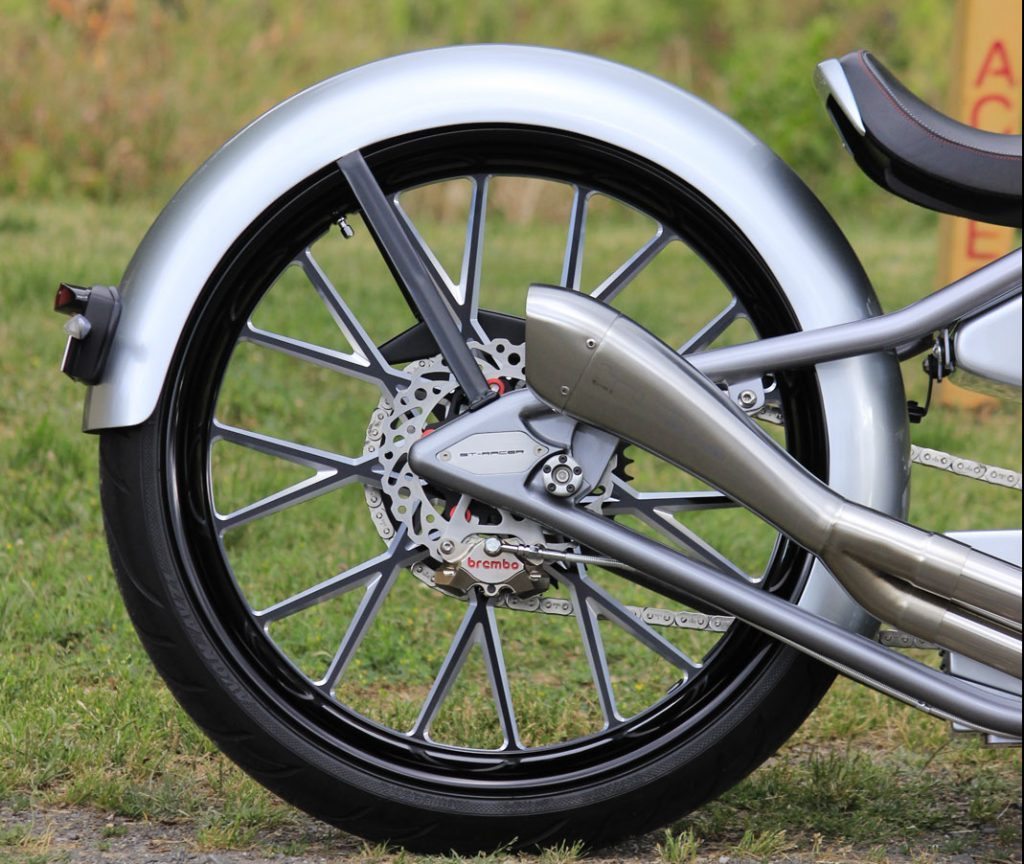 The rear guard matches the front and is another bespoke item by Steve, with an LED rear brake light and LED Rizoma indicators.
Steve's BT Racer is as much a work of art as it is a motorcycle, taking the traditional board track racer theme and using a tasteful application of blacked out components like the wheels and exhaust tape combined with a two-tone silver paint job to both stand out and subtly emphasise this amazing creation. This is further highlighted by the dashes of red, on the clip-ons, rear shock and oil hose connections.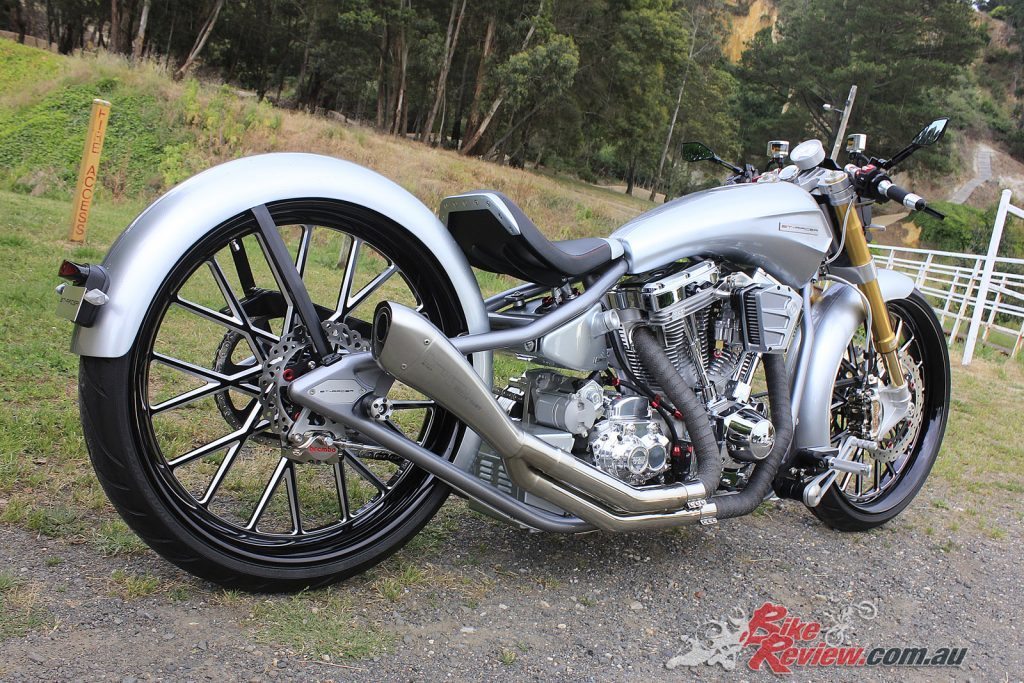 Components are top end, from the S&S V113 engine, through to the LA Lace wheels and Ohlins forks and full Brembo calipers, with little details like the extra contours on the tank, slim headlight and old-school guards working together.
Many of the custom components even carry the bike's moniker, from the rear axle plates, through to the primary drive drive cover and tank.
Steve's currently looking to sell his BT Racer, so if you're interested contact us and we will pass the message on to Steve.
Custom Board Track Racer Specifications
ENGINE: V113 S&S, 10:1 compression forged pistons, S&S Super G carb, S&S 600 camshaft, Super Stock ignition, polished billet gear cover, Remote Ignition, Performance Machine airfilter, Baker five-Speed gearbox, hydraulic clutch, Performance Machine chrome contour primary belt drive, hand made covers, nickel plated chain final drive, handmade two-into-one exhaust, exhaust heat wrapping, HP Corse muffler,
CHASSIS & BODYWORK: MCC Boardtrack Racer chassis, Ohlins forks, IMA billet triple-trees, Motogadget primary display, MT-03 headlight, Spovan Outdoor Sports pocket watch secondary display, LSL Sport Match High clip-ons, Rizoma Sport Line grips, Rizoma CT127 fluid reservoirs, Rizoma Tomok mirrors, Brembo master-cylinders and levers, dual Brembo HP Billet calipers  nickel plated, Braketech 320mm rotors, Magnum braided brake lines, Nickel Brembo  P2 34 Billet SuperSport rear caliper, Braketech 220mm rotor, LA Lace Metal Sport 23in wheels, 23in Avon Cobra tyres, ELKA Stage 5 rear suspension, custom – seat, forward controls, front and rear guards, fuel tank, oil tank, battery box, Rizoma indicators, two-tone silver paint by Sam

Custom Board Track Racer Gallery: