Rupert's custom TL1000S is a work of art, with the rare attention to detail that creates a masterpiece. Words: Jeff Ware Photography: Peter Pap
Rupert Findlay is a perfectionist. The kind of custom builder that just can't sleep if there's even the most microscopic imperfection in a section of his paint. Even if that section is out of sight, Rupert, or Rupes, will just toss and turn all night long like an insomniac.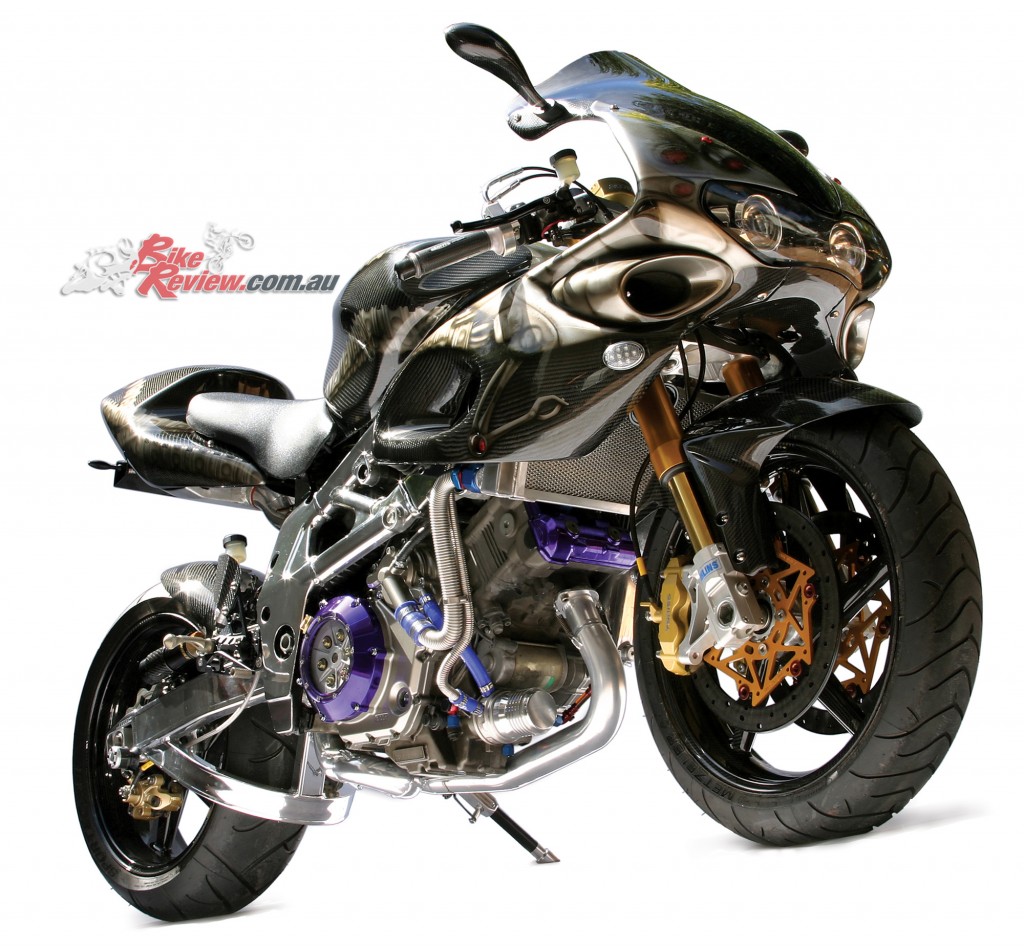 It's a mental disorder that I like to call 'Fussy Bastard Syndrome' or FBS. Helping him to cope with such a disorder is fellow builder Dave Reid. Anyway, Dave is also what I call a sufferer of FBS and, funnily enough, happens to have had a hand in building the sickeningly immaculate and disgustingly spotless TL you see on these here pages.
I've always said that FBS sufferers stick together and now I have my proof. And when I say fussy, I mean it.
Rupert's TL is one of the cleanest bikes I have ever laid eyes on, not to mention the most perfectly aligned, balanced and presented. It is right up there with Wolf Ulhorn's (another FBS sufferer) immaculate NOS R1 in terms of paint finish and presentation and that's saying something. And the bike is an absolute weapon.
Rupes has stuck to his theory of 'lighter is better' by shedding pork all over the place. I mean, just look at all that carbon-fibre. Not to mention the hundreds of titanium fasteners!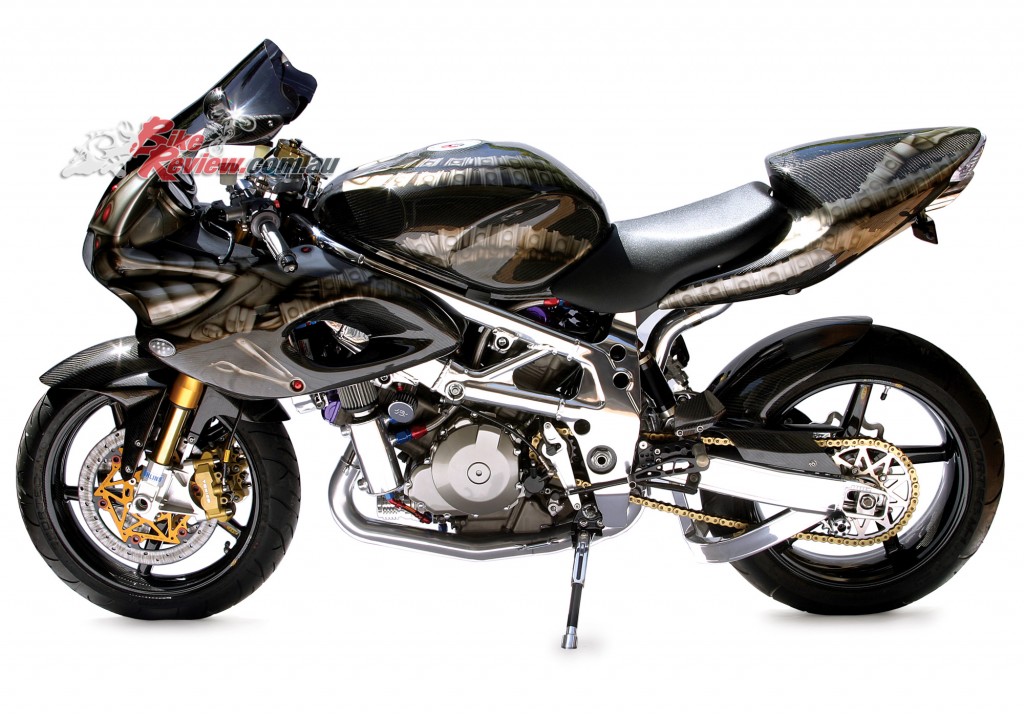 The bike in question started its' life in Rupert's hands straight from the crate. "I bought the bike brand new in February 2001 for $14,000. It was old floor stock and I purchased it during a run-out sale. I think it was the last new Black TL in the country. "Rupert then went about hammering the TL for 15,000km before starting on the Sentinel project.
"I was a motorcycle courier when I bought the TL and I had to pay for the bike somehow!" With more than enough mumbo on tap for Rupes riding habits it was decided that, aside from a Power Commander, some mild inlet flowing, the crankcase breather system and the exhaust system, the engine would remain stock.
Rupert adds, "Dyno Dave Holdforth re-mapped the bike for me and Colin Linney from 10/10ths tweaked a few things here and there. The end result was 121.8-horsepower at the wheel, which is fine when you add in the weight savings. We also modified the cooling system for increased efficiency. I had a custom radiator made that is slightly wider and has larger end tanks. We also incorporated an extra inlet for an oil-to-water oil cooler and fitted a twin-outlet water pump cover."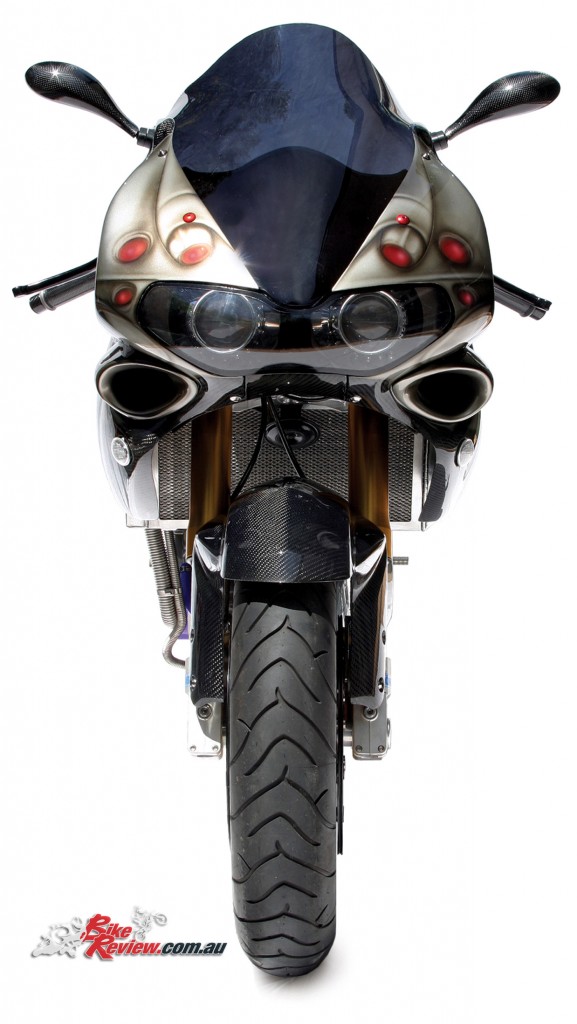 The exhaust system started as a Hindle two-into-one and was modified by Extreme Creations, eventually into the undertail set-up you see today. The muffler is a perfect fit under the tail and is a straight-through jobbie. The system has been ceramic coated by Competition Coatings and Rupes runs the bike on Mobil Synergy or, on payday, Elf BFK07.
The clutch has been converted to hydraulic actuation via the fitment of a Brembo 19 x 20 billet clutch master cylinder and a smoke-coloured braided clutch line. Rupert also acquired an awesome component to set the look of the engine off – clear clutch basket cover.
All the hoses and wiring are encased in either Motorsports Connections hoses, braided lines or convoluted stainless steel tubing. It's a top look that really adds to the 'Sentinel' theme.
Chassis-wise the TL frame and seat are all that remain of the standard bike – although the frame has had quite a few unnecessary tabs removed and was then polished to a mirror finish by Rupes. All fasteners were replaced with titanium, too. The rearsets are Gilles black-anodised fully adjustable billet alloy items and the stand is an awesome billet alloy/carbon-fibre unit.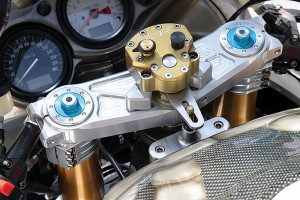 The triple clamps are high-end fully adjustable Attack Racing clamps that Rupert sourced from Indy Superbike in the USA. The clamps wear Vortex clip-ons with LP carbon tubes, a Scotts radial steering damper and pinch a pair of 43mm Ohlins FG311 fully adjustable inverted forks with billet radial bottoms, complete with Ohlins Superbike internal upgrades and .95kg/m springs and 5w oil. Steering bump stops were sourced courtesy of Rupes NZ contact, Les, who also made the stand.
Out the back is a stock length JMC swingarm from the UK running Lindemann Engineering linkages and spacers and housing a fully adjustable Penski rear shock and Eibach 800lb spring. A Lindemann Engineering link converts the set-up to a more conventional and effective rod-style damper rather than the original radial system.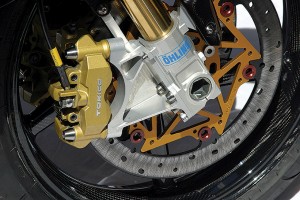 Rupes went for the good stuff on the anchors, too. "The front rotors are fully floating Braketech Superlight Axis units with teflon-coated billet carriers. The calipers are Tokico four-pad four-piston radial calipers with Ferodo sintered pads. "I also fitted a Brembo 19×16 billet radial master cylinder, Goodridge lines with stainless fittings and Motul fluid."
The back brake is just as impressive. "The rear Tokico squeezes a Galfer wave rotor via Goodridge lines, Ferodo pads and Motul fluid. The torque arm has been removed and the caliper fits on a channel in the swingarm."
The rolling stock is unbelievable. Try a pair of BST carbon-fibre wheels with 7075 billet centres, wrapped in a pair of sticky Metzeler hoops and the rear wearing a billet alloy Aluma-Lite sprocket. And those are only a sample of the carbon-fibre goodies.
All of the fairing is Replico twill-weave carbon-fibre reinforced with kevlar, including the front and rear mudguards. The fuel tank has been wrapped in twill-weave carbon-fibre also. Adds Rupert, "It took me at least 20 hours to do the tank but I preferred to keep the security of a steel tank rather than go carbon-fibre. The process was long, though, and I had to layer it in sections before adding over 20 coats of resin."
Once the bodywork was dummy-fitted it was sent off to Aaron Turner Airbrushing for the amazing Sentinel job. And by the way, a Sentinel is a creature from The Matrix.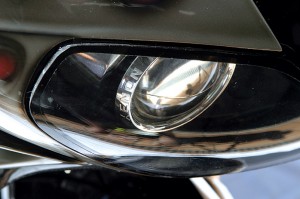 The headlight unit is fantastic. Rupert sourced a pair of BMW M5 HIDs and then made a perspex lens from his own mould. Ben Shaw then put the light together and the result speaks for itself. "Standard halogens are about 1000 lumens each but these are 3500 and only use 35 Watts."
All switchgear has been replaced by Domino equipment in Italy and they include a headlight and hazard warning switch. Rupes has kept the original clock but has fitted blue LED bulbs to add to the overall look at night. The TL also runs a remote control ignition switch.
Aside from a few more titanium fasteners and pivots on the waiting list the 'Sentinel' is sorted. And just in case you're wondering whether or not Rupes is going to ride the bike, I asked him for you.
"Of course I am. I'm going to flog it at every opportunity – even on the track. I built it to ride, not to show. I think I just got a bit carried away for two years, that's all!"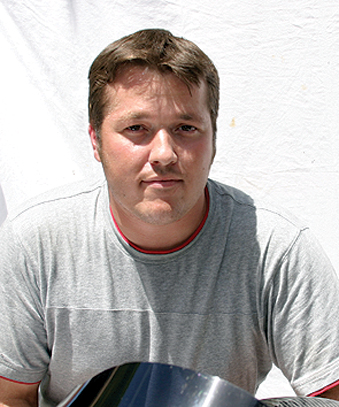 OWNER PROFILE
NAME: Rupert Findlay
NICKNAME: Rupes
AGE: 28
LIVES: Sydney
STARTED RIDING: Age 6
OTHER BIKES OWNED: RM80, CRM250, V-Max
BIKES DESIRED: Britten V-1000, Tuono R, 998R, TM450 Motard
OTHER INTERESTS: My dogs 
WOULD YOU BUILD ANOTHER CUSTOM? Yes, it's one of a kind. It has spoiled me for any production bike, though, but I would do it again. Next time I wouldn't hesitate in thinking big, though, because every time I didn't buy the best of something I ended up re-purchasing anyway.
SPECIAL THANKS
Tammy (for putting up with me), Eric (AKA Flood), Les (AKA TLDV8), Steve, Doug and all the good folks at www.tlplanet.com and www.madmodder.net for advice and shipping help. Also Paul Karis (MotoFX), Dave Reid (Reid Motorsports) and Ben Shaw (Extreme Creations)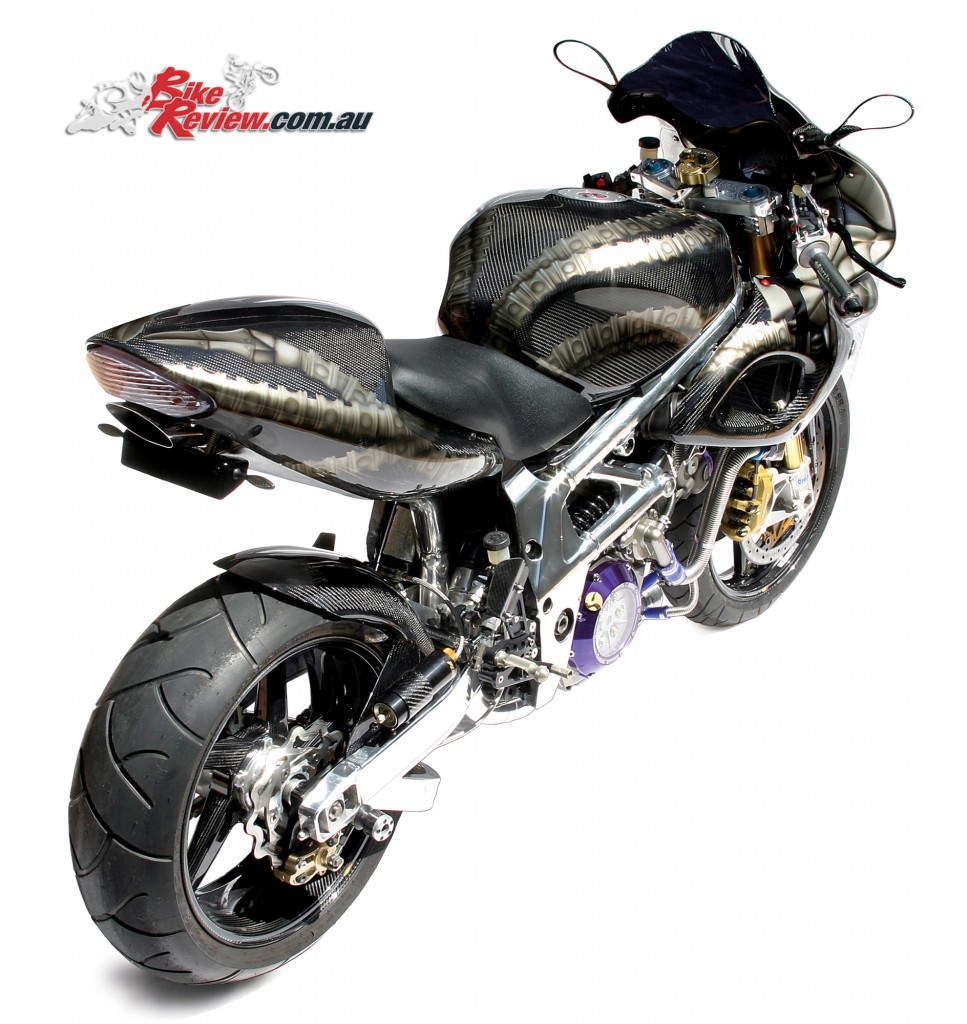 SPECIFICATIONS: Custom TL1000S – 'Sentinel'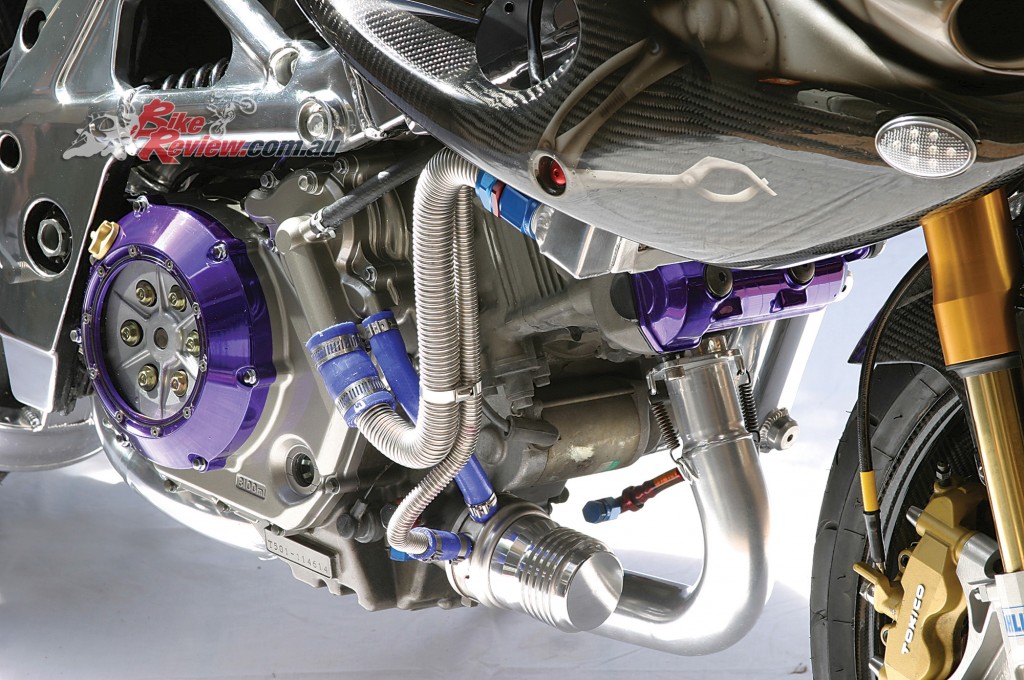 ENGINE: DOHC, eight-valve, liquid-cooled 90-degree V-twin four-stroke, bore and stroke of 98.0 x 66.0mm, 996cc, 11.2:1 compression, multi-stage EFI with 52mm throttle bodies, Power Commander II, digital ignition, K&N air filter and crankcase breather filters, carbon-fibre inlet tracts, Extreme Creations custom exhaust system, hydraulic clutch actuation conversion, Brembo clutch master cylinder, custom radiator, oil-to-water oil cooler, clear clutch cover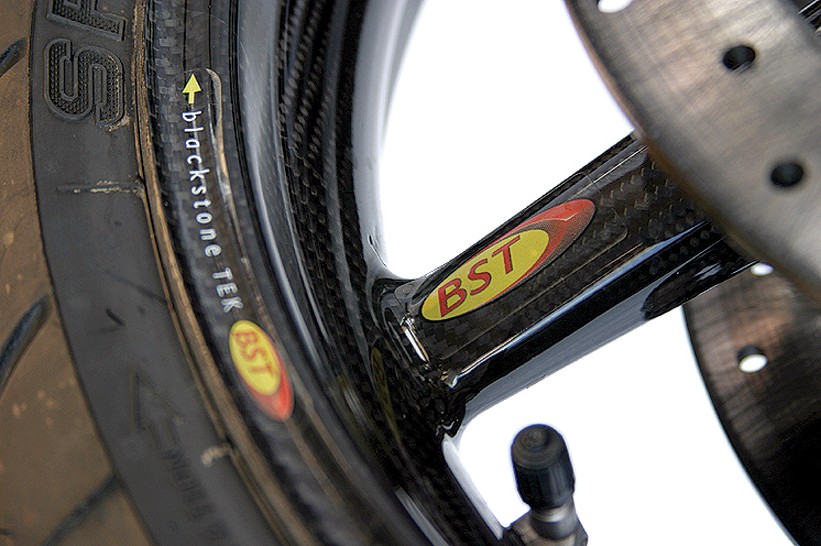 CHASSIS AND BODYWORK: 1999 TL1000S frame – polished, titanium fasteners, adjustable Attack Racing billet triple clamps, Scotts radial steering damper, Vortex handlebars with LP carbon-fibre tubes, Gilles adjustable rearsets, billet alloy/carbon-fibre sidestand, JMC polished and braced swingarm, Lindemann Engineering linkages, Ohlins FG311 43mm forks with upgraded internals and .95kg/m springs, Penske shock with Lindemann Engineering rod-style damping conversion, Eibach 800lb rear spring, Braketech Superlight Axis rotors (f), Galfer wave rotor (r), Tokico four-piston four-pad calipers with Ferodo pads (f), Tokico single-piston caliper with Ferodo pads (r), Brembo 19 x 16 billet master cylinder (f), Goodridge smoke coloured braided lines, BST carbon-fibre rims with billet alloy centres – 3.5 x 17in (f), 6.0 x 17in (r), Metzeler Sportec M1 tyres, Replico twill weave carbon-fibre bodywork reinforced with kevlar, carbon-fibre wrapped tank, air brush work by Aaron Turner Airbrushing, custom headlight assy, Domino switchgear, remote control ignition switch
POWER: 121.8 rear wheel horsepower
END RESULT: The best V-twin Jap streetbike in OZ