An 8-second stock wheelbase Hayabusa with 240-horspower at the wheel... Words: Jeff Ware Photography: Grant Stephens
Glen Northridge is well known in drag racing circles, loved by some, loathed by others but respected by all. Slightly eccentric and always thinking in numbers, Glenn thrives on the milliseconds of the quarter-mile time.
He is constantly looking for ways to improve and like most people with a competitive streak, is obsessive bordering on ruthless at times in his journey to be the best. Like many custom machines, this bike reflects the owner's personality. Fast, loud and purposeful – and short!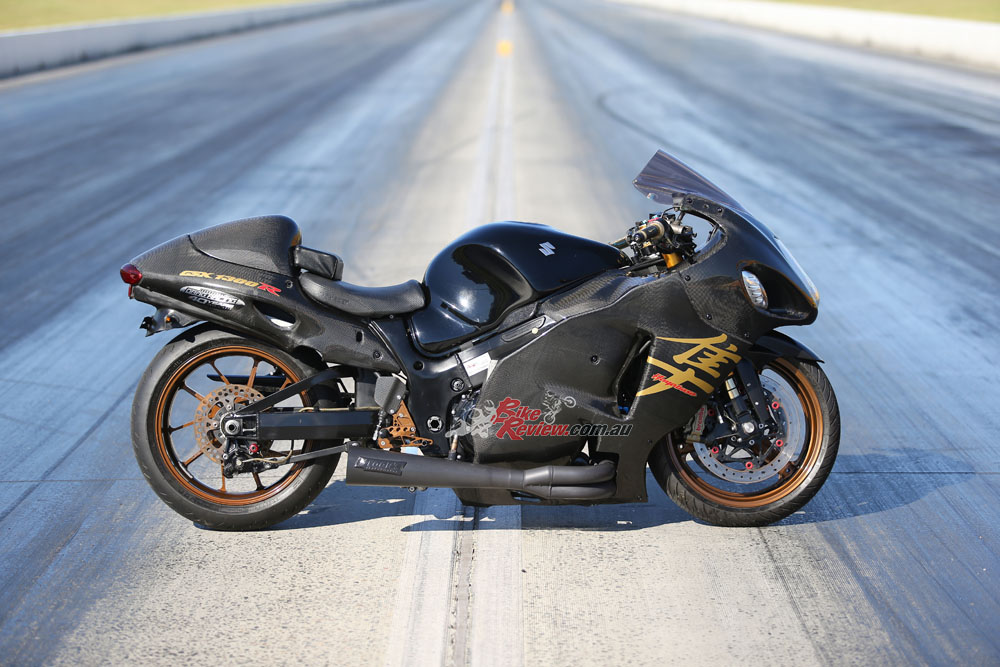 THE START
Glenn bought this 2004 Hayabusa back in 2007, "I rode my Dad's Hayabusa and the grunt seduced me. I was hooked and looking for a blank canvas to build the ultimate streetbike," says Glenn.
"I bought this bike for $13,500 from a Hayabusa forum member. I guess I liked the colour scheme and I was really keen. The condition of the bike was not quite what I expected for a three-year-old machine but you get that".
In the beginning, Glenn had not bought the bike as a drag racer, more as a streetbike to customise, however things developed slightly differently in the end…
"I did build the bike to be the ultimate streetbike," admits Glenn, "It was insanely fast on the road. So loud and quick, I was always looking over my shoulder for cops and eventually decided my Hayabusa had reached its used by date on the public roads and it was time to retire it.
"Rather than sell it for a huge loss I decided to reincarnate it as a drag bike. I bought a mellow Honda CB900 Hornet for the road and started to develop the 'Busa."
So what kind of goodies are hiding behind that luscious carbon glass? For a start the engine is pure balls – you just can't beat cubes. This one has a custom billet Marine Crankshafts stroker crank, adding a whopping 5mm of stroke and taking the bike out to 1507cc with the 84mm bore. CP forged 84mm pistons swing off forged Carrillo conrods and the crankcases are re-machined with additional oil feed supply. Yep, the dollars are already flashing by my eyes too!
Up top, the stock cylinder-head was ported and flowed in the USA by SAE Outlaw and then bolted down with dialled in Webb camshafts fitted up, 395 IN and 378 EX. The head got titanium valves from the Gen2 Hayabusa cylinder-head while Glenn was at it. A high pressure crankcase pressure relief valve was made to Glenn's spec by Extreme Creations to reduce pumping losses.
Glenn did all of the engine assembly himself and loved every minute.
Next on the list was a clutch. A Brock's Performance billet clutch hub was chosen, with heavy-duty springs and plates. While in the gearbox area, the gear clusters were undercut to cope with the torque of the big cc motor.
Now to get the beast running…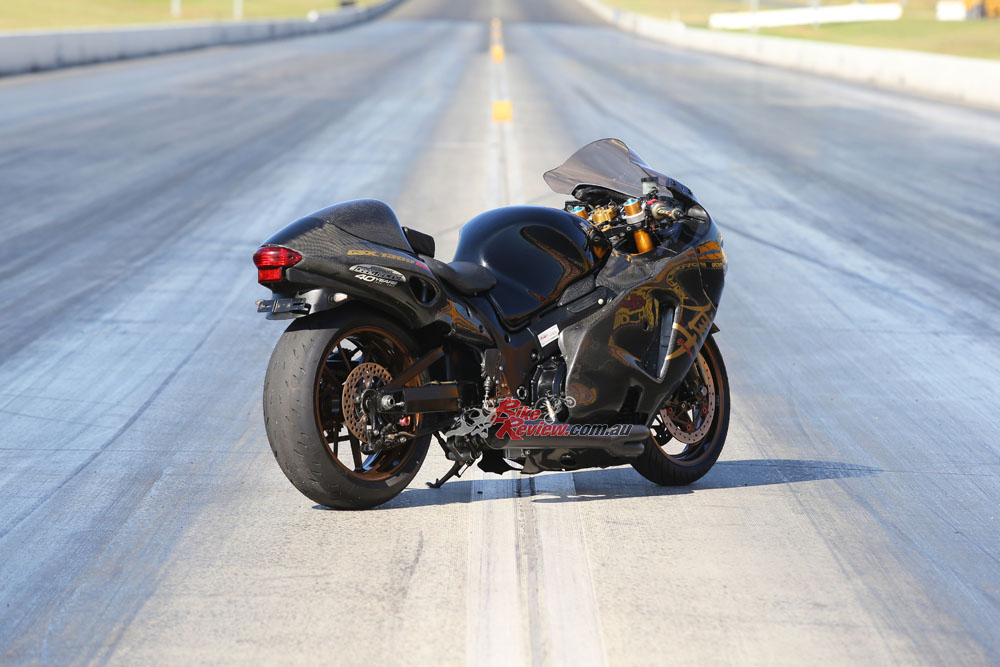 A Brock's Sidewinder exhaust was ceramic coated then fitted up. A Walbro high pressure fuel pump went into the tank, feeding a high pressure fuel regulator and an SAE Outlaw big bore fuel rail. An external fuel filter is used and the stock Hayabusa injectors have been replaced by Honda S2000 car fuel injectors.
Glenn tuned the bike to run on VP 109 fuel and uses a data logger to flash tune with RomRaider and an ECU editor. The standard airbox was replaced with a carbon-fibre IM Composites unit. To help with clean, fast and accurate shifting, a Quicklapper quickshifter was added.
With 240-horsepower on tap and endless torque, it was time for Glenn to focus on the chassis.
Glenn decided he wanted to run no bar and also stock wheelbase. The bike would be used to compete in the A/sb class.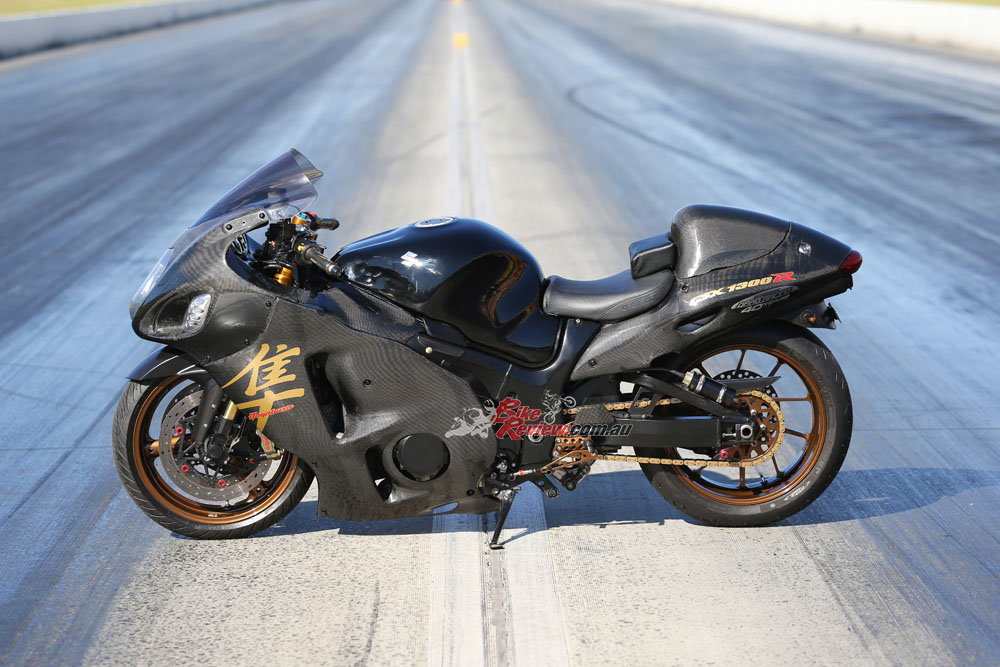 The forks were replaced by Ohlins units which were sent to Zenodamper to be set-up specifically for drag racing. Zenodamper also built the custom shock for the eight-second bike using a Penske base with Zenodamper internals. The fork springs are 1.05kg and the rear spring 550lb. The bike is lowered via adjustable dogbones and has an extremely low centre of gravity, as you can tell by the images.
The standard front wheel was retained for weight purposes to help keep it on terra firma. BrakeTech full floating ductile iron rotors were fitted and are squeezed by Brembo two-piece radial-mount four-piston calipers. A Brembo radial-pull master-cylinder is used with a 19/18 piston and ratio.
On the rear, a lightweight Galespeed forged magnesium 6.25in wheel wears a BrakeTech rotor. Final gearing varies and Gilles rearsets went on next along with Gilles handlebars.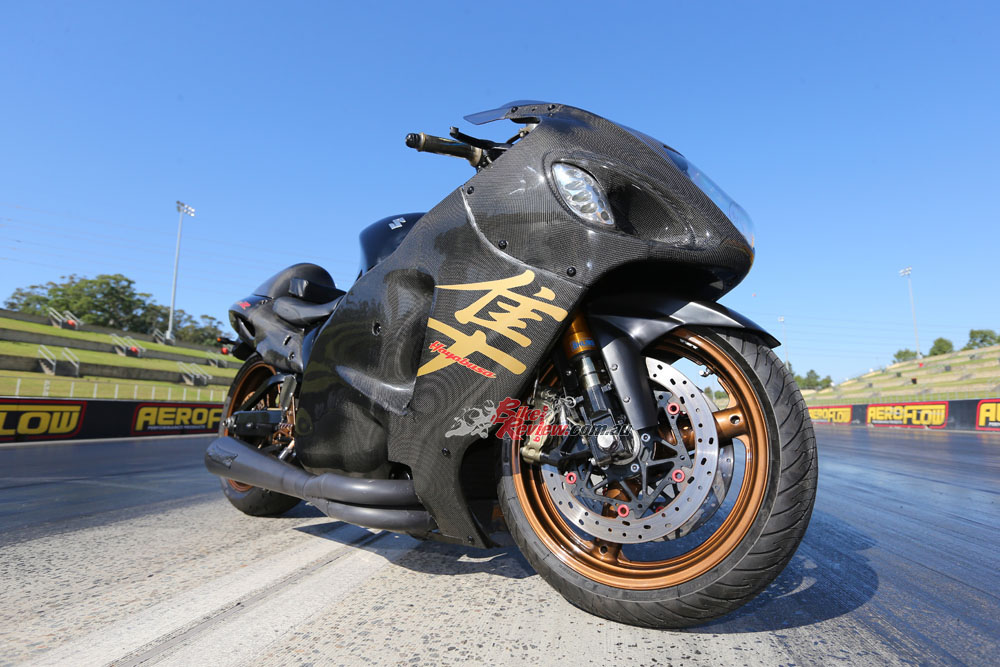 The stunning bodywork is what really sets this bike off. The clear coated carbon glass looks fast just standing still and the gold wheels and custom decals, along with the black sidewinder, look seriously tough.
Glenn has set an Australian record for mph in A/street with 165.60mph – now that's hauling arse. He is also close to Ross Smith's National ET record of 8.69-seconds with his 8.72-seconds so watch this space!
NORTHRIDGE HAYABUSA DRAG BIKE SPECIFICATIONS
ENGINE: 2004 Gen1 Hayabusa, 84 x 68mm bore x stroke, 1507cc, 14:1 compression, stock cases with oiling modifications, billet 5mm stroker crank from Marine Crankshafts, Carrillo conrods, CP Pistons, Webb 395/378 camshafts, Gen2 Busa titanium IN and EX valves, SAE Outlaw ported and flowed cylinder-head, Extreme Creations high pressure relief valve, Walbro fuel pump, high pressure fuel regulator, Honda S2000 injectors, SAE big bore fuel rail, IM Composites carbon-fibre airbox, stock throttle-bodies, RomRaider flash tunes ECU, undercut gearsets, Brock billet clutch hub and cushion spacer, Quicklapper quickshifter, Brocks Sidewinder exhaust.
CHASSIS & SUSPENSION: 2004 Hayabusa, powedercoated swingarm, adjustable lowering links, Scotts Performance top mount steering damper, Ohlins forks with 1.05kg springs and Zenodamper internals, Penske shock with 550lb spring and Zenodamper internals, Brembo radial-mount calipers, Braketech floating iron rotors, Brembo 19/18 master-cylinder, Galespeed forged magnesium rear wheel.
BODYWORK: Carbon-fibre/glass, TC Busa decals, stock fuel tank, Gilles clip-ons, Gilles rearsets, Innovate dl32 and ssi4 data logger
PERFORMANCE: 240hp, best ET 8.72 seconds, best MPH 165.60.