The Double Tap Royal Enfield Continental GT started a lifetime of drag racing obsession for Santina after years of watching from the sidelines... Words: Mick Withers Photography: Cackling Pipes
Inspirations can appear from unexpected directions. For Will and Santina Keith, owners of Revelry Cycles and no strangers to drag racing, the impetus for the Double Tap Royal Enfield Continental GT 650 came from 1971 in the form of cult motorcycle movie On Any Sunday. 
---
Check out our other custom ride features here…
---
"Will and I should not be allowed to watch motorcycle movies. They make us do things. It was March 2019. Royal Enfield had just launched the 650cc Twin platform and On Any Sunday played on our big screen. Every time we watch these movies and documentaries they give us crazy ideas."
---
---
"I'm not a stranger to racing. We had a successful Harley-Davidson drag race team at our previous shop. I was always the marketer, promoter, and supporter but that night I was inspired to finally take the handlebars and face the tree myself. Our current shop, Revelry Cycles, is a Royal Enfield dealership in Sydney, Australia.
---
Santina is already the world's quickest and fastest Royal Enfield drag racer…
---
My husband and business partner, Will, is a master mechanic and a wizard with motorcycles. He was motivated by the quality and potential of the new Royal Enfield 650cc twin cylinder models and was keen to see what they were capable of. So there, on our orange couch, under the dim light of scrolling movie credits, Revelry Racing was formed.'
"I've been riding motorcycles for over 25 years but I had never raced before. The Wednesday night Race for Real at Sydney Dragway offered me an opportunity to get started. We rocked up with two totally stock demo bikes. Frightened of embarrassing myself and with my knees shaking, I rolled up to the start. Leaving well after the green pop of colour I made my first quarter-mile pass on an Ice Queen Continental GT 650. I was slow, that first pass took 15.67 seconds!"
"I was hooked. I'd never felt before what I felt after crossing that finish line. It's hard to describe the rush that also feels Zen-like and peaceful. A moment of perfect clarity that made my heart warm and my brain crave more. I felt alive, awake, and thirsty for more. In the staging lanes, waiting to go again, I told Will It's too long to wait between runs, we need our own track!'
---
"One pass," Will said as he shook his head. "You've made one pass and you already have us building a track? I think I've created a monster."
---
"That night I cut 0.8 seconds off my time and that began the quest for faster, quicker and better. I learned early that those first seconds are the bargain seconds and with every quicker pass they get more expensive to remove."
---
---
Santina rapidly discovered the passion that drives committed drag racers. My own involvement in the sport dates to 1982 and I have seen this complete focus before. It comes from somewhere deep inside. It is beyond motivation, the force of it drives racers to improve their own riding as well as their bike!
Many have a temporary onset of symptoms and convince themselves that they have found their new life focus but after pouring every cent into their newfound passion, they break something and disappear to follow another new focus. It can also be found in other forms of bike racing. Our own Editor Jeff has the same focus and passion for road racing. He tried drag racing for a few years but went back to roundy round racing!
The true devotees work towards achieving their goals. While it may be an all-encompassing passion in their own headspace, they recognise that you've gotta pay for your toys before you play with them. One step at a time keeps you going towards your personal goals.
---
---
"As I gained confidence, we started making changes. First struts replaced shocks. Excess was removed to reduce weight. Open exhaust. Then an S&S camshaft and little wheelie bars. The bike got faster, and I got better at riding it."
---
---
"In the winter of 2019 we were invited to participate in the Royal Enfield Busted Knuckles Build Off. A wonderful opportunity for us to go full throttle into building the dragster that would later be known as 'Double Tap'. The 650 Twins were so new there weren't a lot of aftermarket parts available, and Will had to use his ample skills and experience to make it work.
"During the Australian Motorcycle Festival the build off bikes were unveiled publicly. We have refined it some since the original showing, but it hasn't changed greatly from that first reveal in November 2019.
---
The Base
"The base for Double Tap is a 2019 Continental GT 650. The stock frame is unmodified. To accommodate the Mickey Thompson 7 inch drag slick we looked to Trac Dynamics in California. Will provided precise measurements and they constructed a one-of-a-kind, Dual Adjust, Twin-Drive swingarm for us. When it arrived from the other side of the world it slid right into place, the pivot bolt landing with a satisfying "tink" as it easily slipped into place. A perfect fit.
---
---
"The Mickey Thompson slicks are mounted on lightweight, forged, RC Components wheels. The front is free of a mudguard and the rear is enveloped by a Beasley Composites wheel tub. It runs Pingel struts and ICS Raceforx topped with a Scotts Pro steering dampener. Ultralight Wilwood brakes bring enough stopping power to pull up after the finish."
---
---
"The most common questions we get are about the air bottle, as it is often confused for a nitrous bottle, but it's the reservoir for the Pingel air shifter and there is an onboard compressor for top ups between runs. The original and updated paint was sprayed by the ultra-talented Marc Houssenloge at Sydney Custom Spraypainting."
---
ENGINE ROOM
Surprisingly, the Royal Enfield 650 engine isn't that far removed from stock and has been upgraded with an off-the-shelf S&S Cycle 865cc big bore kit that includes camshaft, pistons and cylinder liners. These parts are well-proven in street bikes; my own Interceptor is fitted with these very parts.
---
---
Where Double Tap deviates from my own 865 is the cylinder-head that was CNC-ported by S&S Cycle. Retaining stock valves, the cylinder-head offers improved flow and an increased compression ratio for greater overall power.
---
"I compete in the BikeReview.com.au Modified Bike class in the ATURA Track Championship at Sydney Dragway."
---
Feeding the cylinders is a set of Revelry Racing's own 40mm throttle-bodies. The standard 34mm throttle-bodies are fine for a stock 650 but will certainly limit power production in a heavy-breathing 865. Filtering the incoming air with minimal restriction is a pair of K&N filters in place of the stock airbox.
---
---
Raising the engine capacity from 650 to 865 is reasonably straightforward with the cylinder sleeves supplied by S&S. The old sleeves are machined out as part of the process of making the holes much larger to take the larger jobbies. Precise machining is required and this work is entrusted to Serco.
The resultant 90mm bore provides 865cc and a compression ratio of 11.0:1, slightly more than the stock 650's stock bore of 78mm, and 9.5:1. With a bit of mechanical massaging and more of Will's attention to detail, Double Tap's compression ratio is set at 13.4:1.
---
---
The addition of a Rekluse Torq-Drive clutch kit was necessary to handle the increase in power, eliminate slipping and extend the life of the basket. Controlling the fuel and ignition tuning is a PowerTRONIC piggyback ECU with a specially constructed harness to allow a true rev extender.
Both the Rekluse clutch kit and PowerTRONIC are off-the-shelf items that are fitted to my own 865 Interceptor. Double Tap is a mobile catalogue of what you can do to your own Royal Enfield 650. Believe me when I say that I looked closely at it while planning my own mods. Will has modified a Dyna Shift Minder to work as an auto shifter and a Dyna DRL 300 to function as a two-step rev limiter.
---
---
"It runs true, and I'm elated that I'm the one that gets to ride this beautiful, magnificent beast," added Santina. "Covid put a big pause on drag racing last year and again on the 2021 season in NSW. I compete in the BikeReview.com.au Modified Bike class in the ATURA Track Championship at Sydney Dragway."
---
"There is a 10-second pass in this bike. It's just going to take a little more time and the right conditions for us to get there."
---
"It's been a great but abbreviated season and it's extremely frustrating. Nearly every pass this year has been a PB (personal best). The bike is going quicker and faster with almost every run!" Santina said with a shake of her head. "This can be problematic when racing a 'dial your own' class. Our fastest pass to date is 113.7mph (183km/h), and the quickest was 11.213 seconds. We're sure that in this current configuration, there is a 10-second pass in this bike. It's just going to take a little more time and the right conditions for us to get there."
Favourable weather conditions and track time are what all dragbike racers need. Covid and lockdown has prevented racers from getting on track in NSW and every single one of us is feeling it.
Santina is already the world's quickest and fastest Royal Enfield drag racer but the lack of racing opportunities has only further inflamed her determination and resolve to continue improving. That is the passion and drive that I mentioned earlier. It's all about the inspiration.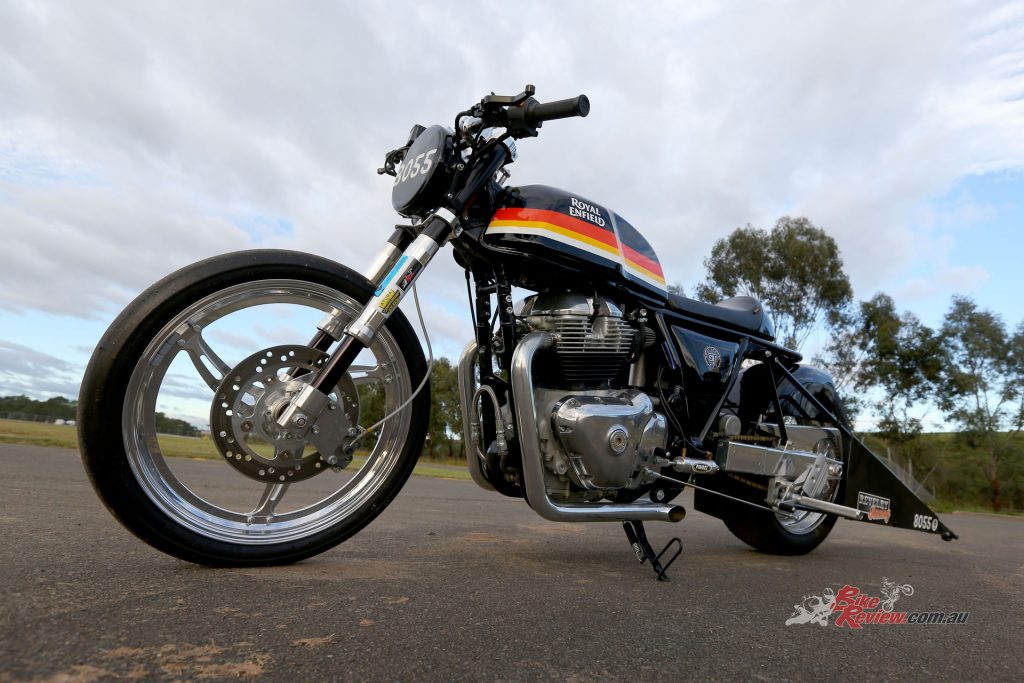 Double Tap Royal Enfield 650 Twin Drag Racer Specifications
ENGINE: SOHC air-cooled bored to 865 cc with S&S Cycles kit parallel twin four-stroke, eight-valve, 90mm x 67.8mm bore x stroke, 13.0:1 compression, PowerTRONIC piggyback ECU, stock 6-speed with air-shifter, Rekluse clutch kit.
---
CHASSIS: Double-cradle tuned tubular steel frame, ICS Raceforx topped with a Scotts Pro steering dampener, Trac Dynamics custom swingarm, Pingel struts, Mickey Thompson ET Drag Slick 2.50/2.75-18 rear, RC Comp forged wheels all round, Ultralight Wilwood brakes.
---
PERFORMANCE: Bike has yet to be dynoed, top speed 183km/h (Sydney Dragway)
---
OWNER: Will and Santina Keith, Revelry Racing, Sydney, NSW
---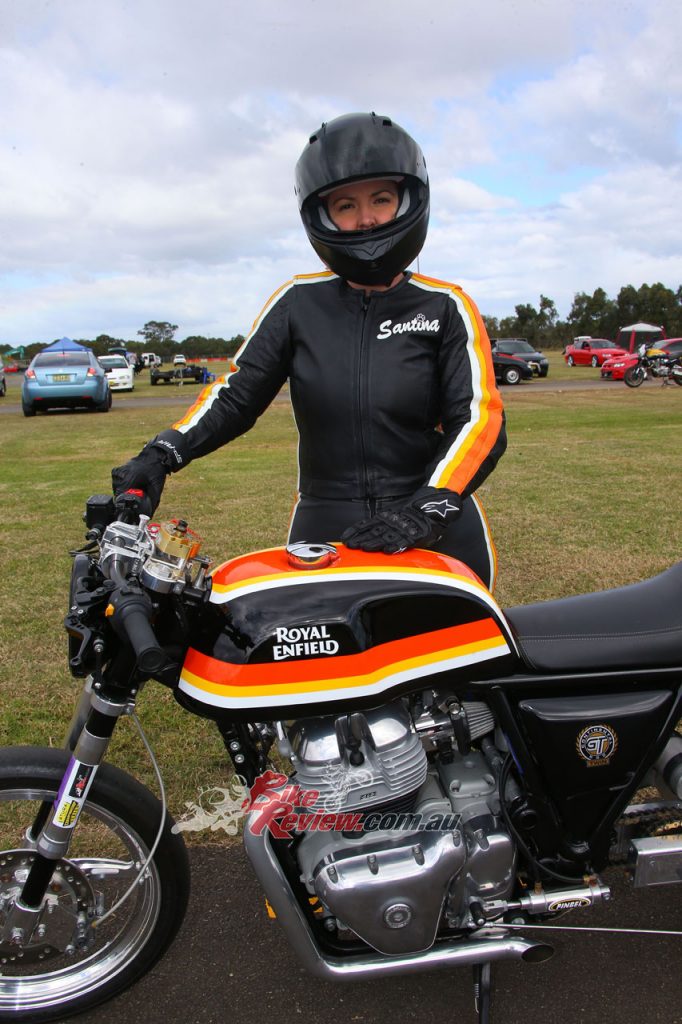 Double Tap Royal Enfield 650 Twin Drag Racer Gallery
---
---