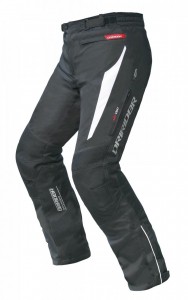 As an everyday rider there are times when it's too hot or cold to make do with a set of Kevlar lined jeans, or if the weathers taken a turn it's raining and something with waterproof properties are required.
The DRIRIDER GS Speed 2 'Grand Sports' are the answer, they're waterproof thanks to a Reissa Power Skin membrane, with a set of ventilation zips, one in each leg that help in the warmer weather.
I'm an ATGATT (All The Gear, All The Time) rider, so if I want to get to my destination in shorts I'll be wearing these pants and switching from motorcycle boots to something a bit more casual at my destination.
In the way of protection these DRIRIDER GS Speed 2 include CE Approved armour in the knees, with Eva rubber in the hips, while the legs are precurved for riding comfort and your calves are extra protected by heat resistant material, which can help cut down on the discomfort on a hot running bike. Reflective printing and piping also help keep you visible at night although it's hard to comment on the effectiveness, as the pants are otherwise all black apart from a stripe of white on each leg.
The bottoms of the legs do have a silicon strip which helps grip onto your boots and prevents the pants from slowly riding up, letting cold air or rain onto your ankles and lower legs. Plus you can unzip them at the bottom of the legs to make more room for getting the pants off without removing your shoes or boots, but mileage may vary depending on your boot size!
They are a comfortable set of pants in all but the warmest weather and after a year of daily use the waterproofing is just starting to allow a bit of water in at the seems in really heavy rain, although I haven't to be honest used any of the usual sealing/waterproofing sprays as they've been so good until now.
Length, fit and the price are good and the tall waist and good leg length mean you're well protected from the weather and in the event of an off. I wouldn't recommend them as a purely summer pant but for winter they are great and they can be used as an all year option.
The DRIRIDER GS Speed 2 'Grand Sports' come in both men's sizes: S – 3XL and women's sizes: 8-16 in Black/White, for $249.95 RRP.