G'day, I hope you are well and got some riding done between the flames, then floods, the killer beer flu thing and the completely mental dunny roll war. Me? I did. I rarely watch or read news but this time I couldn't seem to escape dunny roll fever.
I had to go for a ride to forget it. I sent the SMS to my original riding mates that I first met up the Old Road in 1992. We used to meet religiously every Sunday up there. It was part of the routine of life. That's what we all did. Usually by the time I was picked up from home the group was three or four. We'd head to Mt White or The Slab and the rest of the crew would eventually show up. The road was closed off for years, from Mt White to Jolls Bridge, due to a land slide. It was our own private track.
Being a dreamer and a magazine fanatic, if I was really lucky I'd catch a glimpse of local resident and then Streetbike editor and Performance Cycles publisher, Geoff 'Seddo' Seddon, as he popped into the shop for something. Sometimes he'd be on his Duke, with the numberplate SEDDO, the real one from the magazine. That was always a buzz… Remember, no internet or social back then so this stuff was it.
Sometimes I'd see bike journalist Mark Barnett in his Two Wheels / Revs Quinn leathers, whizz past on some latest thing. There was no way I could ever have imagined then that I'd end up one of them. Breaking into that World seemed impossible for a Woy Woy kid, just getting by…
---
---
As time went on, my older mates (I was the youngest by about five-years) started to get married, have kids (if they didn't already), buy houses and just sort of grow up. Some financed brand new bikes and had to work weekends, some moved in with non-riding partners, and it all started to fizzle away.
At my age then, I just could not understand how anything in life could possibly come before motorcycles and riding up the Old Road with mates, hanging out on Friday nights and watching Stone, standing around the fire up at Gingers Creek telling tall tales or or just generally sticking together and living and breathing bikes… Then I myself discovered the reason why! Suddenly I understood…
I soon turned to racing and my motorcycling family became a travelling one that lived from track to track. Friends, competitors, officials, photographers… one big family that watch out for each other off track but are ready for elbows out when the flag drops. I loved it and I lived it on and off for the next 23-years but my core group of mates remained and still remain the original Old Road crew. I didn't really ride on public roads again until 2001 when I started full time as a Staff Journalist at Two Wheels magazine, where I met an entirely new bunch of road and track riding family, motorcycle journalists.
---
---
The circle started again, this time I joined a family of fellow journo's that ranged from publishers to editors, staff writers, ad reps, designers and photographers. They were fantastic to me. Ken Wootton, who I'd already known for many years due to racing, fell asleep while interviewing me for a job at AMCN. It was an interview held at the domestic airport terminal at Sydney Airport. I was nervous… he was suffering jet lag. Halfway through it he started snoring. I sat there for a while and then left. Gold.
I went home and immediately called Two Wheels. I spoke to Jeremy Bowdler. He said to send my resume in as they just happened to be looking for two new, young, staff journalists to train up. Long story short, I got in thanks to Zara Kilfeather, then publisher Sean Goldhawk (of Yamaha) and Jeremy. To top it off, Matthew Shields was the other new blood. We became great mates. The road riding started, the trips away with Matho were epic. Big budgets for big comparisons, World launches to amazing locations… Sam Mac got the job at AMCN and I knew him from 250 racing. Happy days.
---
---
These days most of the same crew are around, particularly at the World launches. The Euro and USA guys that started around the same time as me are still there. So is Sam, Trev Hedge and Alex Gobert. It's nice to have some new blood coming in though, with Jack Maguire now employed as Staff Journalist with us. My brother Nick Ware has just finished Uni and you will read and watch more from him as well. He's 23 and has been riding for 12-years. There are others such as Spencer Leech coming through also. It's great to see.
---
---
---
Nick and Jack remind me a bit of Rennie Scaysbrook when he started with us way back in 2008. They have all the natural riding ability (maybe not at freak Rennie's level) and word skills, they just need to be steered on the right line, just like I was, and they will have long careers if they choose to.
The moto journo family is a nice family to be part of and this year marks 19-years for me as a full timer with 15 of those as an independent publisher. Since 2001 I haven't had any other paying job. Well, aside from the Foxtel gig doing WorldSBK for a few years on weekends, which is still moto media.
Bikes have been work for a long while so it is time to remind myself more regularly why I ride. Sunday rides can do that now that.
---
---
This year I am going to be much more regimented with my riding routine. As often as I possible, I'm going to fit in a Sunday morning ride. It's good for ending the week with a clear mind, releasing some stress and generally good for mental health and happiness. Just a cruise, a catch up and home…
---
---
I kicked it off a few weeks ago with that SMS I mentioned, to escape the bullsh&t on the news. It was great to meet up at one of our old meeting points, cruise along some local roads that we would have been pulling top gear rev limit on 25-years-ago, grab a nice breakfast and coffee (thanks mate) and talk bikes, life and just enjoy being around fellow motorcyclists.
One of my mates is also an ex A Grader, he was Australia's top privateer superbike rider for years and even had a wildcard in WorldSBK once. He rocked up on a 1967 CB72 that his Dad bought new. Man, it was funny. Another rode his 1957 Ducati 175cc. So hilarious. Top speed 60km/h. There was also a GSX-R750T and I had my 650. All of us ex or current racers and all of us taking the slow route…
---
---
Now that I have four rug rats of my own I certainly understand why a bunch of my mates vanished from Sunday mornings for a decade or so. Maintaining the Sunday ride vigil will be hard but I'm going to give it a shot. Maybe I won't use my own bike all of the time but at least I'll be on two wheels for personal reasons once every week or two, or at least that is the plan…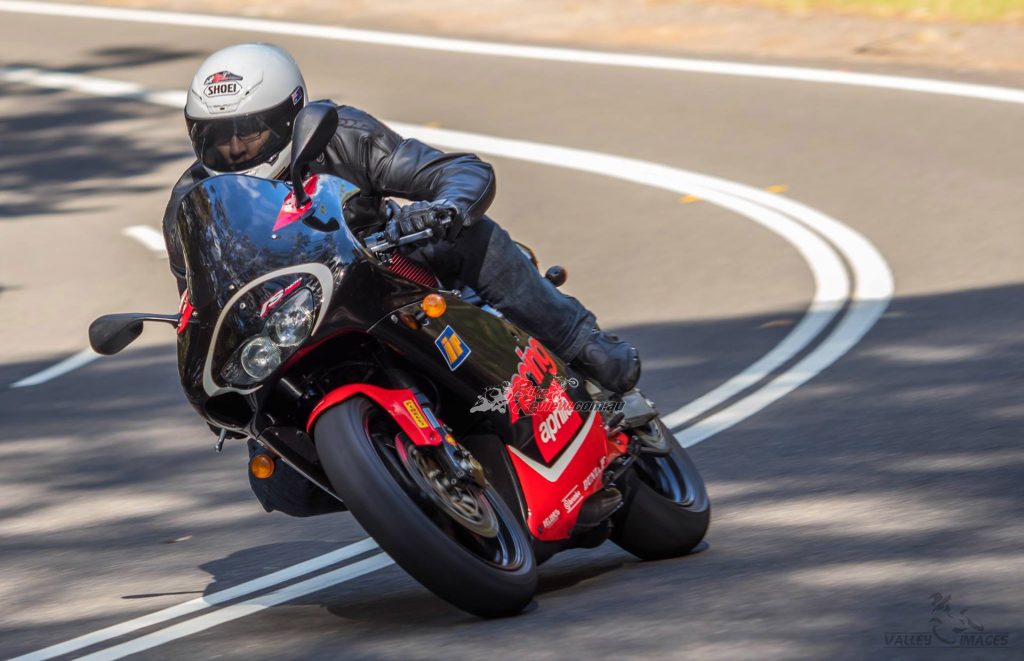 Heather still finds it amazing that after a 50 or 60 hour week working as a publisher/editor, to relax I will go and work on one of my Classic Motorcycle Mechanics restorations, go for a ride, take the kids for a ride or watch MotoGP. In fact it is 6:00am Saturday morning as I type this and I'm about to relax and watch Moto2 and Moto3 from Qatar before the gang wake up. That's just me and pretty much every other motorcyclists. We are obsessed. We live, breath and dream two wheels…
Speaking of work, it's all smiles here this week. February was a great month for traffic, with 145,629 of you visiting the site, reading 593,522 pages of content. We're really proud of that figure. It just shows the 60-hour weeks and commitment Heather and I have put in is paying off…
---
---
I would like to make a special mention of our valued advertisers: Aussie Streetfighters, BMW Motorrad Australia, Cassons, CF Moto, Genuine Yamaha Accessories, Harley-Davidson, Hel, Kawasaki, Kenma Australia, KTM, Kymco, Lawstop, Lambretta, Link Int, McLeods Accessories, Moto National Accessories, MV Agusta, Peugeot Motorcycles, Phillip Island Circuit, Powerbronze, Pro Accessories, Rated R Accessories, Royal Enfield, Security Gear, Shannons Insurance, Sherco, SMSP Ride Days, Suzuki Motorcycles, SWM, Ural, WorldSBK and Yamaha.
Please click on their ads and see what they have to offer, without them we could not give you amazing free content on our site and our YouTube Channel.
---