G'day,
Tributes are flowing on social media platforms after the sad news that motorcycle racing engineer and performance legend, Ian Irving, passed away on Friday, January 17, after a medical episode. Heather and I, along with all of our contributing journalists that knew Ian, are terribly saddened to hear about his passing. Ian was a long-term contributor to our Publishing Company, JPMedia P/L, having written for numerous titles and websites over the years, including Rapid Bikes for almost a decade.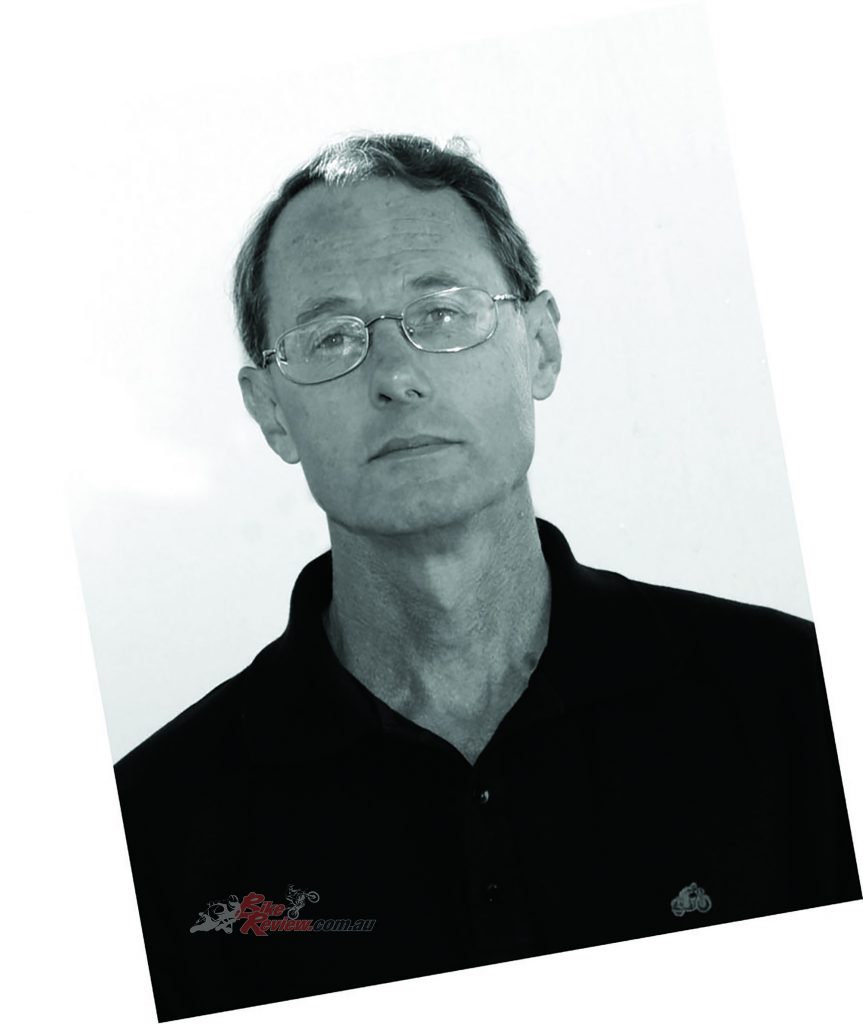 I first me Ian Irving when I was a young apprentice motorcycle mechanic, working at Parry's Performance Centre in Pennant Hills in 1994. Ian would be dropping off and picking up engines and engine parts from Bill Furlong, for the Parry's Kawasaki racebikes and other special projects. I'd been reading his Irving articles in Streetbike throughout high school, so I was completely star struck by Ian. I was also surprised he was just a normal guy, driving an old van, with a long plait down his back and usually wearing thongs, stubbies and a t-shirt or singlet. He looked like a bit of a hippie to me!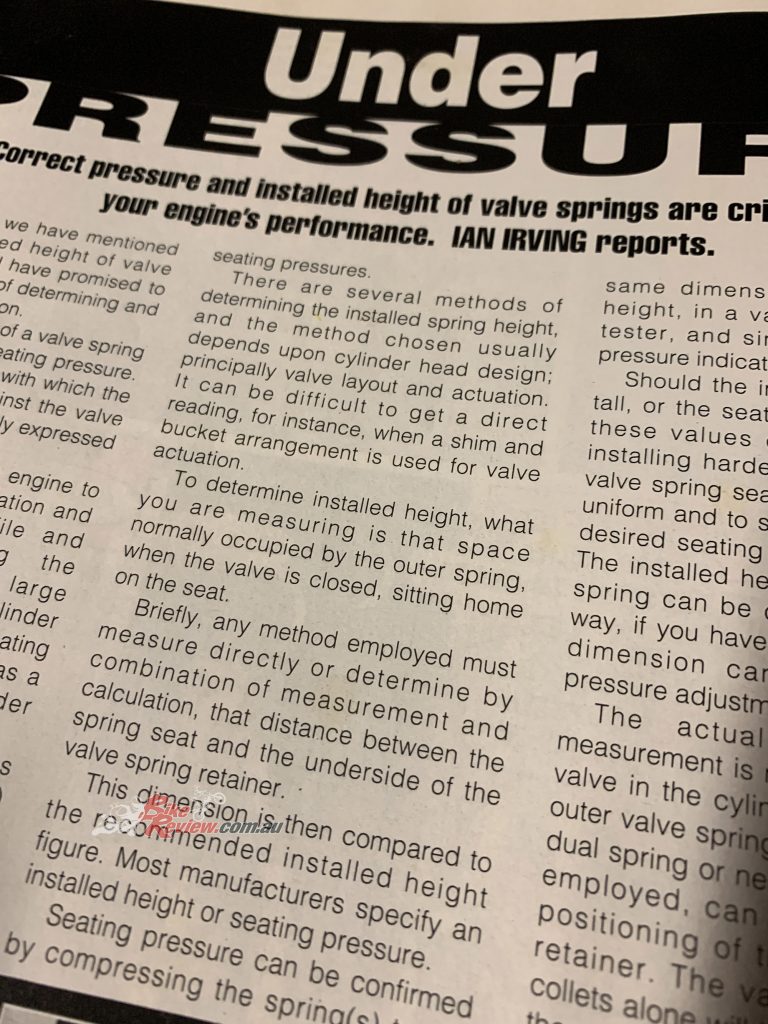 When I started racing, Ian helped me out. He oversaw me blueprint my first engine, an RGV250M motor, by talking me through it and checking in on how I was going with it. That engine was a cracker. The best RGV engine I ever had in all the years I rode them…
Seeing Ian work in his home workshop at the time in Western Sydney was a great experienced for a young apprentice. Crankshafts, cylinder-heads, camshafts… He was a magician…
He became a regular part of my motorcycling life, and many others in the paddock, for years of racing – for me it was from 1994 to 2015 when I stopped. He always had time for the privateer, for the underdog or for those that were passionate and determined. He had no advice for time wasters…
---
My small story is only one of hundreds from people he would have helped over the years. He has certainly earned a spot upstairs…
---
My life changed in 2001 when I was overseas trying to get a break in the All Japan Championship. Two huge 16-hour brain surgeries nailed me. While in rehab in Australia for a very long time, Ian was always in touch and checking-in. After I recovered, I moved into journalism and I ended up editor of Streetbike, the very magazine I first read his articles in. Crazy…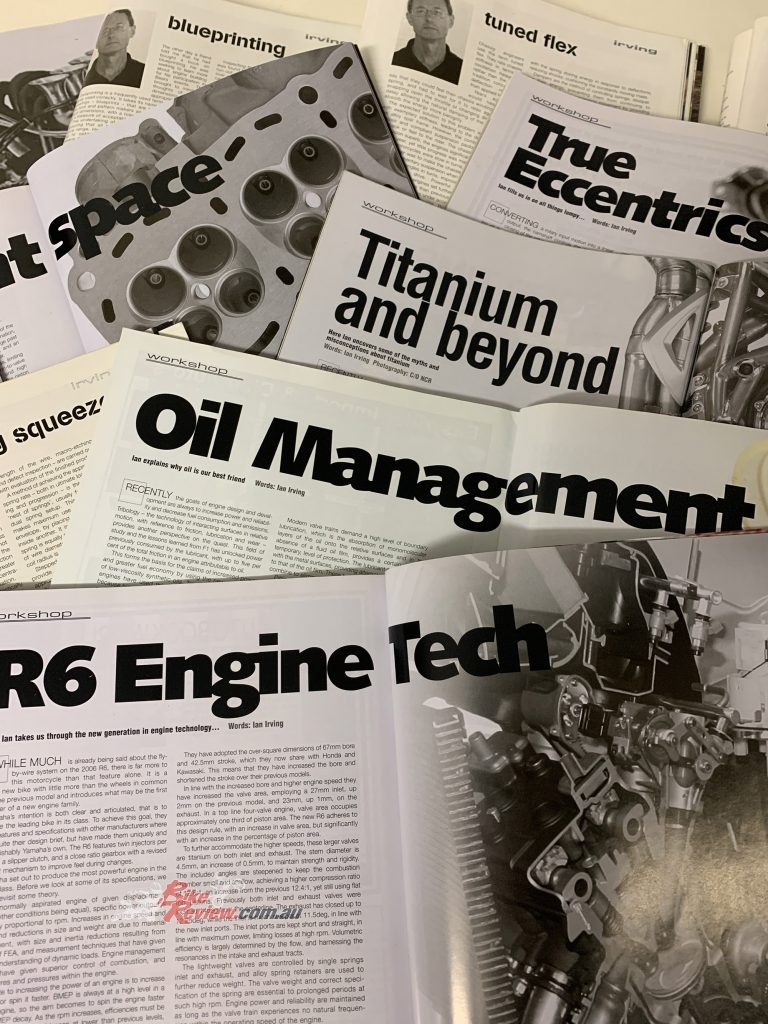 So when we started Rapid Bikes, Ian was very encouraging to Peter Pap and myself, providing all of the technical articles and technical testing advice. He was a huge help to us and had a keen eye for and broad understanding of publishing.
On a more personal note, Ian had a big heart. When I was in my late teens, in 1994, my mother passed away. She was a single stay at home Mum and Ian would regularly check-in on me, calling to see how my sister and I were going. Whenever I saw him, he'd ask how we were, how my sister was going. He continued to ask how we were coping for years… and never once mentioned to me he had his own hard issues going on in his own large family. That's just what he was like.
You only need to read the tributes to Ian Irving on social media, particularly the one from Ant West, to realise how many people's lives he touched and what a gentleman he was. He was such a private person, none of us really know a lot about him, his family, his life story or even have many images of him. I only have about three or four myself and I'm a publisher…
Ian seemed like he wasn't one to let people in on his personal life. He wouldn't give a sh#t that he has broken the Internet by dying. No interest. I don't even think he would read the posts about himself! He probably never even looked at Facebook once in his life…
We had a great mutual friend, Mitsuaki Kamiyama, from Kawasaki Japan. Arky was here on a working holiday for a while, working at Parry's. We all had some great conversations and good times together. Arky would help build my engines in supersport and Ian would oversee it. Ian really liked Arky as they could talk interesting technical stuff… Ian was always asking me about Arky, Rob and Bill, even when I saw him for the last time, October 14 last year at the 2020 Yamaha YZF-R1 launch…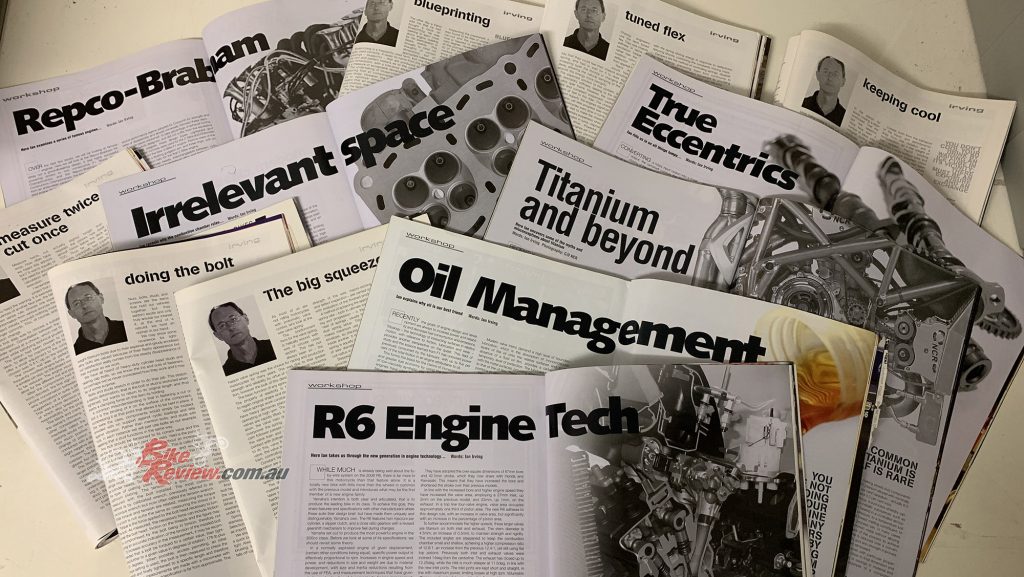 I don't know much at all about Ian outside of bikes. But I will say that, as a journalist, typing up these sad news articles is quite common. What is less common is when all of the tributes online are actually about the person, their nature, their kindness… They are usually about careers, skills, industry achievements… It just shows that Ian was a special guy and even though he was an absolute legendary engineer, he will be remembered for being a top bloke…
My small story is only one of hundreds from people he would have helped over the years. He has certainly earned a spot upstairs, that's for sure… Rest in Peace, Ian…
Our thoughts and prayers are with you, your family, friends and loved ones…