Ural have been developing and testing a Zero electric powered sidecar and it looks and sounds like it is going to be fantastic...
Ural Motorcycles finalised the first development phase of an all-electric sidecar
motorcycle. The electric prototype was built on the existing one-wheel drive cT chassis, utilizing Zero Motorcycles' proprietary powertrain package (motor, batteries, controller and other components).
California-based company ICG developed the overall design and was responsible for fabricating the initial prototype. Zero Motorcycles also provided the necessary engineering support during development and testing of the prototype that made this project possible.
"We always knew our sidecar is the perfect platform to build an electric motorcycle because it can offer what regular two-wheeled motorcycles can't: passenger comfort, stability and safety, not to mention more space for batteries," says Ilya Khait, President and CEO of Ural Motorcycles.
"We're very happy with the results. At a glance it's still a Ural, but the electric bike offers a totally new experience. It's very easy to control, thanks to a low centre of gravity and optimal weight distribution. It's very stable thanks to its three wheels. It doesn't have a clutch or gear shifter, twisting the throttle is basically all you need to operate the bike. And it accelerates very quickly – for a Ural … Overall it's fun and very versatile."
"Proof of concept was the main goal for this project,"- says Jason Rae, Ural VP of Operations and project manager. "We went through several iterations, searching for the best configuration of the electric powertrain package. One of the main challenges was to find the optimal location for the batteries while maintaining passenger comfort, storage capacity and stability distinctive to Ural sidecars.
"The bike was tested intensively in a real world conditions – in the rain and snow, on cold and hot days, on the highway and city streets. We accumulated a lot of data that will be used in the next phase of the project. Admittedly, I was apprehensive in the beginning that an electric Ural was something worth putting our resources into, but now I'm totally convinced and looking forward to development of our production intent prototype."
The decision to go ahead will be based on market research, consumer and industry experts' feedback.  Ural estimates it would take approximately 24 months to ramp up serial production upon final design approval. Production bike design would incorporate the latest battery technology and charging options.

IMZ-Ural has been manufacturing the legendary Ural motorcycles with sidecars since 1939 first
for the military effort during WWII and later for civilian use. Urals popularity has grown around
the world with international distributions in North America, Europe, Australia, Japan, China and
a number of other markets.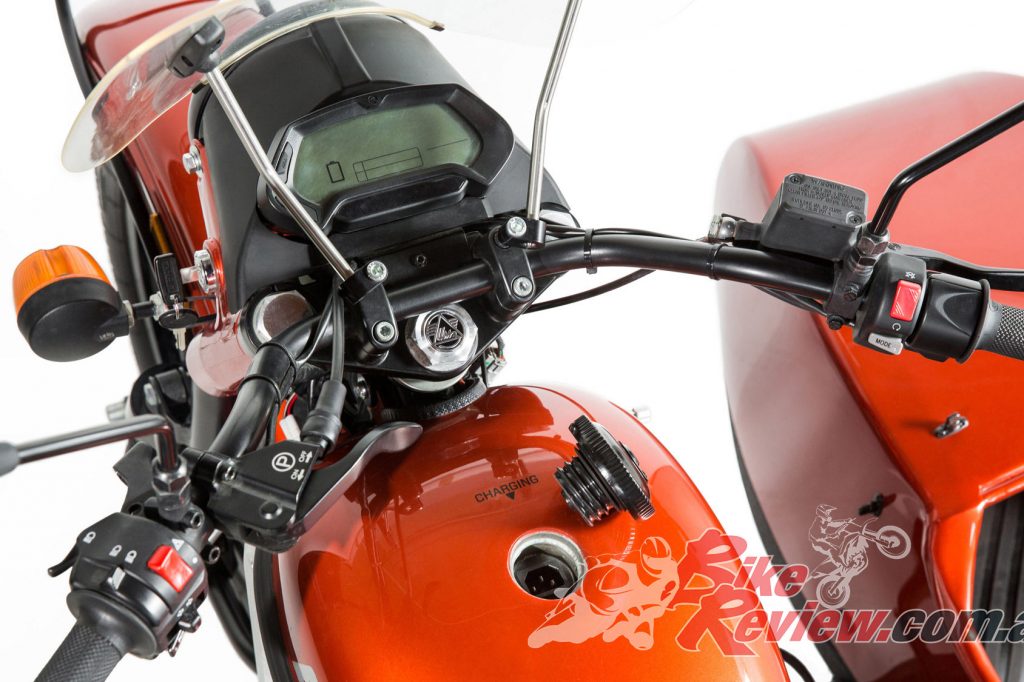 Ural Electric Sidecar Specifications 
Motor: Z-Force® 75-7 passively air-cooled, high
efficiency, radial flux, interior permanent
magnet, brushless motor
Max output: (hp) 60hp (45kW) @5,300rpm
Max torque: (ft-lbs) 81 ft-lbs (110 Nm)
Batteries as tested*: ZF13.0 powerpack, ZF6.5 powerpack (combined
peak power 19.5kWh)
Charging system: 1.3kW on-board charger from a standard
115V/15A breaker (estimated 13 hours to
charge from empty to 95%)
Range as tested: Up to 165km (* The newer batteries from Zero
(ZF14.4 + ZF7.2 for 21.6kWh Total maximum
capacity) will provide increased range over the
prototype)
Recommended maximum cruising speed: 105km/h
Maximum speed as tested: 140km/h
Overall length: 2330mm
Overall height: 1370mm
Overall width: 1620mm
Seat height: 790mm
Ground clearance: 234mm
Max permissible weight: 600kg
Dry weight: 373kg
URAL ELECTRIC SIDECAR GALLERY