We'll be riding the LiveWire ourselves very soon. In the meantime, check out this launch report. Sounds like a fun ride... Review: Dave Manning Photography: Harley-Davidson
Put your preconceptions to one side; both with regard to the usual production bikes that roll off Harley's Milwaukee production line and concerning those powered two-wheelers that aren't propelled by an internal combustion engine. Here's our LiveWire review…
The Harley-Davidson LiveWire is a motorcycle that shatters boundaries and it will be here in September. The clichéd Harley character is gone completely – the brakes work, the suspension doesn't wallow, there's ground clearance aplenty, there's a prodigious power delivery and the footpegs are much further back than you'd expect. This is not the motorcycle that you'd expect Harley to build. Yet it is a bike that each and every person who has an interest in any kind of powered two wheeler should ride, at least once.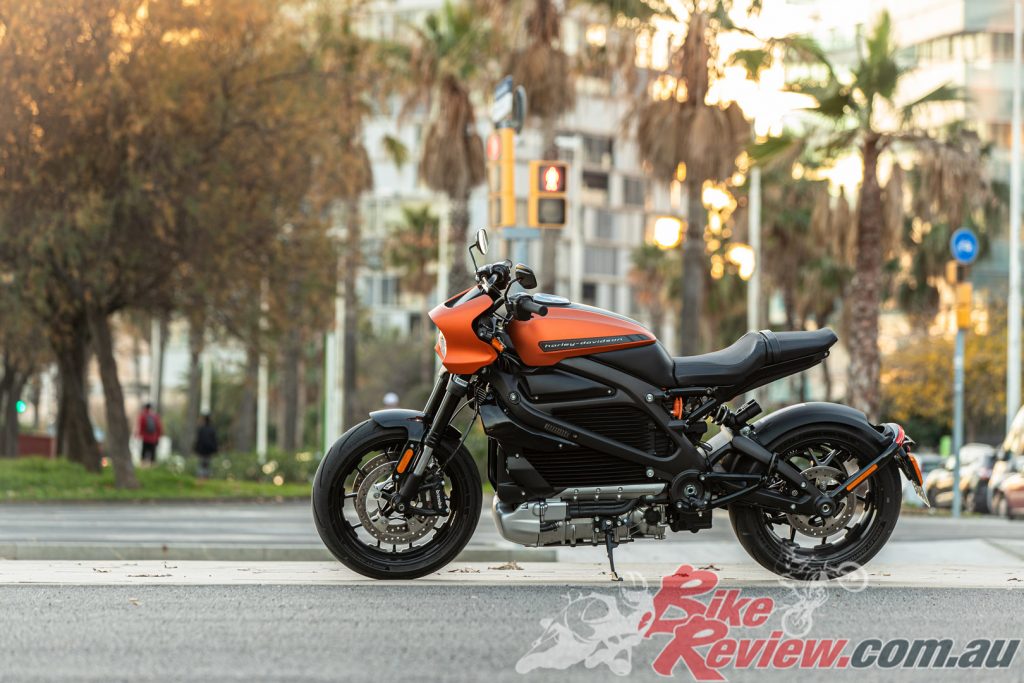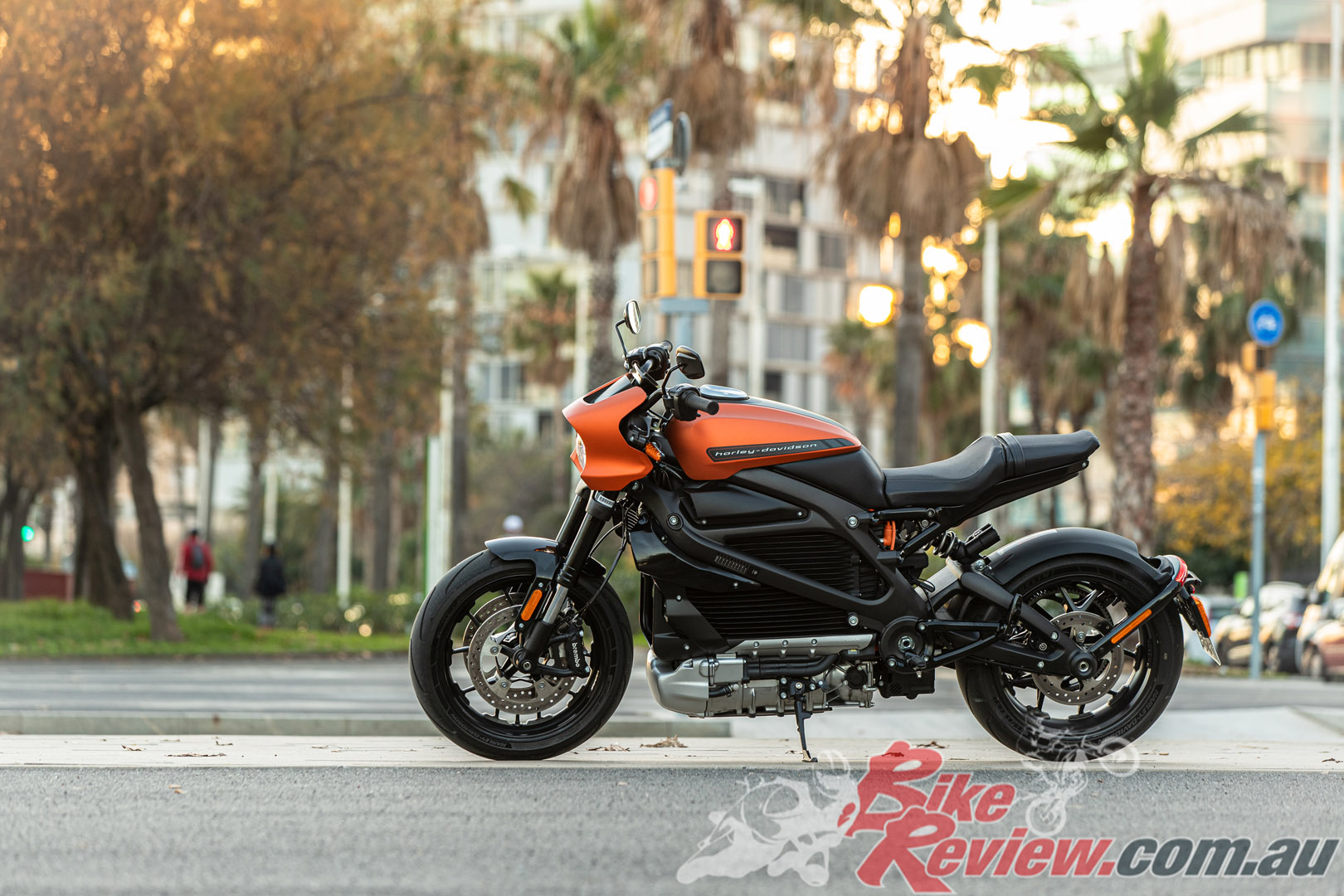 Why? Not because it is especially good at any one thing, but simply because of that boundary-shattering ability. This is a bike that opens eyes and pulls away blinkers. Rather conveniently (and in disregard of the fact that the LiveWire isn't actually listed on the Harley Australia website, however, we are having an Aussie test in early September), Harley have announced that many dealers will have a LiveWire on the test fleet, so anyone and everyone has the chance to try one out, and you should. I'll try and explain…
---
---
Slinging my leg over the seat of the LiveWire is like sitting astride a sports naked – the bike feels narrow, the seat is tall and firm, and the bars don't need the arm span of a large simian as they're neither high nor wide. The bike weighs in at a not-inconsiderable 251kg, although a lot of this weight is carried relatively low down, and it's still a skinny little thing in comparison to many of the Milwaukee factory's products…
But it can't be compared to any other Harley. It's simply too different to anything that has come before it. The original prototype was unveiled by HD in 2014, and while there have clearly been some changes over the last six years –primarily down to the changes in the technology used in electric vehicles – the LiveWire remains fairly true to what it was always intended to be.
Turn it on, and there is obviously no noise, although Harley have introduced their 'haptic pulse', to give some character and as a reminder that it is actually switched on. Essentially, this injects a little character and gives the feeling of it having a tickover, which an electric motor doesn't have, of course. It's a little 'bump' of vibration felt through the chassis and, in particular, the front of the seat, which is a rather other odd sensation, although not unpleasant, if you're not expecting it!
---
---
THE RIDE
The sensation of riding away from a standing start without using a clutch is not extraordinary if you're used to riding an automatic scooter, or a Honda with their DCT system, but what is really impressive is the incredibly smooth take up of drive with the LiveWire. No hesitation, no roughness, no unwanted surges – just smooth, fluid, consistent drive. Not even the finest of production or aftermarket fuel injection is as smooth as this. And there's plenty of go too…
The maximum torque figure of 86ft-lb is not only right up there with the current crop of litre capacity sportsbikes, but the real bonus is that the Revelation power plant delivers it from the very bottom of the rev range. To put it into context, the BMW S 1000 RR, which is itself no slouch, makes less torque  (82.6ft-lb) and only then when it is revving at nearly 10,000rpm! So, yes, the LiveWire picks up its skirts and hustles, right from the get-go…
Unsurprisingly, with that torque applying from a standing start, the Harley has an impressive set of rider modes. Road, Sport, Rain, and Eco (plus three customisable modes with which the rider can alter the combination of power, regeneration, throttle response, and traction control settings), which can be used to not only tailor how violent the acceleration is, but also to extend the range of the batteries.
Ah, yes, the range – the bugbear of all electric vehicles and the stick with which petrolheads have used to beat the idea of electricity into submission. And while the range of a maximum of 158km isn't what we'd expect from a modern motorcycle, bearing in mind the average motorcycle rider, particularly in Europe, is unlikely to go on a ride that exceeds that distance.
In fact, the range of the LiveWire could be compared to Sportster models with small fuel tanks – in the region of 160km – at which point the rider will be keen to stretch his/her legs, have a coffee and talk about the ride. The Harley 48 only goes 80km before the fuel light comes on! In fact, given that it'll take about 40 minutes to get an 80 per cent re-charge back into the LiveWire's battery pack (or an hour for a full charge), maybe that would be a couple of coffees and a bite to eat.
---
---
For the 40-minute fast charge, you'll need to find a Level 3 DC Fast Charge outlet, and Harley have stated that every single dealer will have one. Which is fine, right up to the time when two people arrive on LiveWires at the same time and need a charge, pronto…
But the vagaries of the accessibility of charging points are beyond the scope of this test. What you want (and need) to know, is how well the electric Harley works as a motorcycle.
---
---
In a word, superbly. There, you weren't expecting that were you? From that ultra-smooth pick up, storming right the way up to licence-threatening speeds (0-100 in three seconds, and 100 to 150 in just 1.9 seconds), the LiveWire is a thrill. It would be interesting to do a comparo with a modern litre sports machine, but the Harley is fast. Proper fast.
OK, so the LiveWire doesn't have the soundtrack that each and every petrolhead really wants, and there's not the involvement of gear-changes, but it's by no means silent. It's just different – a kind of space age, TIE-fighter meets Nikola Tesla's basement projects, with added tyre and wind noise. And it is surprisingly addictive.
My left limbs are left with nothing to do when jumping on the brakes, with no clutch or gear lever, and no point in blipping the throttle, but the Brembo monoblocks do a decent job of hauling up the 251kg bulk, and it's something of a novelty to be able to actually hear the interface between pads and disc, and to realise that the Harley-branded front Michelin tyre actually does howl at the load put through it!
Equally, on acceleration I can hear the rear protesting, and it becomes something of a game to see how much noise it'll make, with white lines and pedestrian crossings in built-up areas invoking a pleasing squeal when the throttle is squeezed.
I notice the weight when transitioning through tighter corners, but it handles like no other Harley ever built, with an available 45-degree of lean on each side, although those tyres do need some heat in them before trying to explore the limits of the chassis.
---
---
The frame is somewhat unusual in that it is basically the cast aluminium battery case with the steering head and sub-frames bolted to it, and while it doesn't have the visual appeal of an internal combustion engine, it is very neatly packaged, and the overall styling does fit into the modern sports naked idiom. As does the performance!
---
---
Being a modern motorcycle, aside from the Rider Modes there's also Bluetooth compatibility, and an app to suit, allowing sat nav and riding data such as distance travelled, charge levels etc. And, aside from the aforementioned Level 3 charging, the LiveWire can be 'refuelled' through a standard household supply, which'll be an overnight affair to get a full charge.
Aside from the electricity needed to charge it, running costs will amount to tyres and brake pads, while the first service (which will be little more than checking fluid levels, drive belt wear etc) is at 1000 miles, then every 5000 miles thereafter, and the battery has a five-year unlimited mileage warranty.
But the biggest issue of all is the cost, with the LiveWire being $49,995 R/A Down Under – equivalent to some of the most expensive Harley Glide models…
But the cost doesn't mean that you shouldn't head to your nearest Harley dealer to get a test ride on the LiveWire. Put those petrolhead preconceptions to one side and do it. You'll be glad you did.
---
---
2020 Harley Davidson LiveWire Specifications
Price: $49,995R/A
Colours: Vivid Black, Yellow Fuse, Orange Fuse
Claimed power: 78kW [105hp]@10000rpm
Claimed torque: 116Nm [86ft-lb)
Wet weight: 251kg
Fuel capacity: Er, it's black magic!
---
Engine: Water-cooled Revelation permanent magnet electric motor, single speed
Battery: 24kWh
Range: 158km
---
Chassis: Cast alloy
Rake: 24.5°
Trail: 108mm
Suspension: USD Showa SFF-BP forks, fully adjustable,114mm travel, Showa BFRC shock, fully adjustable, 114mm travel
Brakes: ABS, four piston radial-mount Brembo monoblock front calipers, 300mm dual rotors (f), single 260mm floating rear rotor, dual-piston caliper (r), ABS
Wheels & Tyres: Cast alloy five-spoke, HD Michelin Scorcher Sport , 120/70–17in (f), 180/5–17in (r)
---
DIMENSIONS:
Wheelbase: 1490mm
Ground clearance: 130mm
Seat height: N/A
Overall height: mm
Overall length: 2135mm
Overall width: N/A
Instruments: Full digital TFT multi-function display, Bluetooth connectivity.
---
---
The Verdict | Launch Report: 2020 Harley Davidson LiveWire