The HJC IS-Max II helmet is an award-winning modular lid packed with great features and is great value with the $349.90 RRP price tag... Review: Jeff Ware
At the start of the year I took delivery of the new HJC IS-Max II helmet, which was featured in New Products. I used the IS-Max II for all of my sports-touring, touring and commuter testing as well as a lot of my daily riding throughout the remainder of summer, all of autumn and a chunk of winter.
Although I have been riding road bikes for 27-years, and I've been a full time bike journo for 18 of those, I'd never owned a modular lid. I always viewed them as more of a lid that was a bit too grown up for me that are suited more to the highway patrol!
Thinking about it now, however, I wish I bloody started wearing them years ago when I was a motorcycle courier. They are a compromise over a full face top spec race lid but they are so convenient, I'm converted…
The IS-Max II comes in at just $349.90 RRP for the Magma graphics I have. That is cheap and you would be forgiven for judging the lid as too cheap to be really good, even I had my doubts, but six months later and I'm definitely a fan of this helmet. It's feature packed and definitely punches above the price point. The visor is quick release and scratch resistant and is also Pinlock ready, however, I had no issues at all with fogging in any weather.
The drop down tinted sunvisor is adjustable and a brilliant addition. It's quite a dark tint, which is good, and although a little reflective internally for glasses wearers like me it still offers fantastic glare protection and saves visor changing. The actual actuation system is on the top of the helmet shell and is a slide forward lever.
I understand the logic behind it as there is already a fair bit going on in the chin and jaw area but the system was my one gripe with the lid as the resistance when sliding the lever forward is enough to actually rotate the helmet forward, which was annoying. To release the visor, it's an easy push on the button.
The IS-Max II has a single button chin bar face shield release. It took me some time to adapt to this as it is hard to feel the button through either summer or winter gloves and the button could do with a slight redesign to assist in feeling it as it tends to blend with the rest of the bottom of the chin area. Once I was used to it, however, it was easier but there were still plenty of times in winter that I had to stop and use both hands to locate and open it.
Closing the face shield is best done with the support of one hand at the back of the helmet and one pushing it closed. At least, that is the way I felt was the way to ensure it safely clicked home. I found I could close it with one hand while on the move but it would need a decent push shut and this would rotate the lid forward and I'd have to adjust it.
There are two large stainless steel anchor points that the chin clips to when closed, so the force needed to close the face shield is no surprise and it wasn't a problem for me, I was happy to have the safety and security of the robust locking system and always felt my safety was not being compromised.
Comfort-wise the HJC IS-Max II is good. The ventilation is ample without being racetrack level but a good compromise and HJC have managed to retain a touring level of quiet while still giving ventilation. It's not the quietest lid I've ever owned but it isn't one that requires earplugs every ride, even on highways and in wind, it's fine.
The cheek support is good, solid but not overly squeezing. No headache from pressure across the forehead, no big air gap at the back of the head and my pet hate is getting an itchy head and that didn't happen even on the hottest days… The chin strap is quick release and hassle free but I still prefer D-Rings myself.
The visor is quick and easy to take off and put on. I only removed it for cleaning purposes. A feature I appreciate is the offset visor opening tab. This is a position us long time riders are used to and I find myself constantly going for that area on my lids that have a centrally located tab.
The glasses grooves are awesome. I wear glasses and they also easily fit under the flip down visor, so I appreciated that. The interior crown and the cheek pads are washable and I removed and washed those just the once…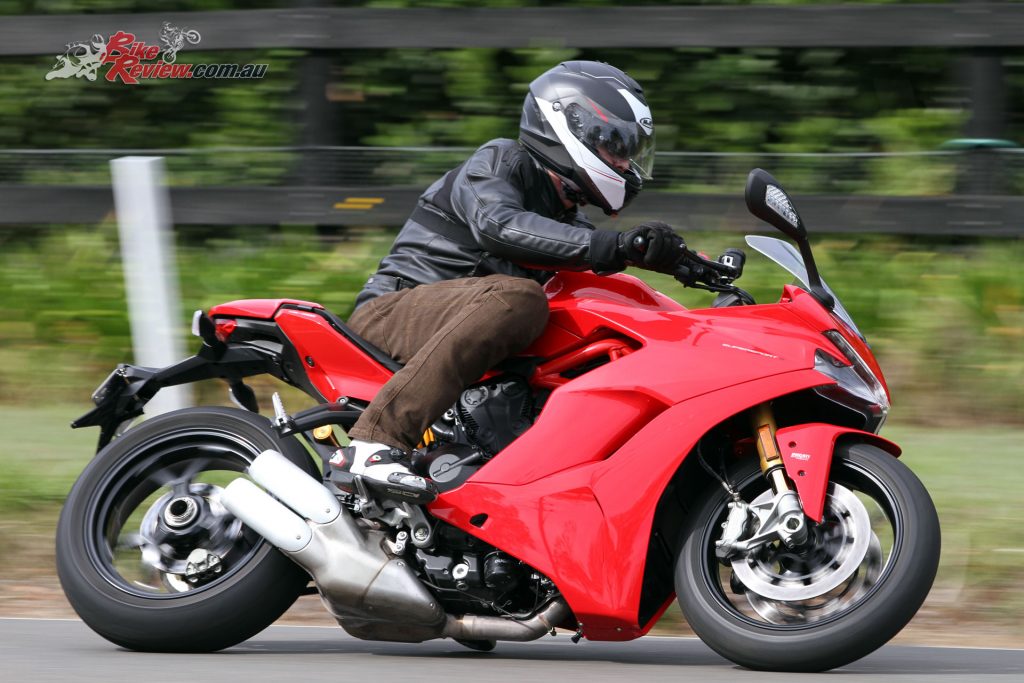 Overall I rate the HJC IS-Max II highly. It is an affordable modular helmet and when you consider the manufacturing costs and design and technology involved in making these safe and comfortable, the price is even more impressive. It is not the lightest helmet on earth, but it is very comfortable, convenient, stylish and feels as though it has been designed by motorcyclists for motorcyclists.
The HJC IS-Max II is $319.90 RR for solid colours and $349.90 for graphics and is available from most good bike shops. Visit McLeod Accessories for more info on sizes and designs.
The Verdict | Product Review: HJC IS-Max II Helmet
Priced at $319.90 RRP for solid colours or $349.90 RRP for graphics, the IS-Max II by HJC represents exceptional value for a modular helmet. Features include removeable, washable interior, quick release visor, single button chin or visor opening, drop down sun visor, plenty of ventilation and quick release chin strap. Jeff tested one for six months and has reviewed it…