Product Review: Kabuto Aeroblade-5 Helmet First Impressions
Kris puts the new Kabuto Aeroblade-5 helmet to the test and gives his first impressions on this competitively priced full spec helmet. Review by Kris Hodgson
The Kabuto Aeroblade-5 arrived just before the Christmas break and as such I've finally had enough time to go for a few rides and get a good feel for the helmet. 
I opted for the Reida (Matt White, Blue, Red) option because not only does it really stand out and have vibrant colours, but it also felt quite Australian to me. I still can't really pinpoint why, but there you go. It looks cool, is nice and bright, which is good for visibility and I like it!
The Aeroblade-5 also arrived with a separate Light Tint visor (which can be purchased separately) and this offers good flexibility, as it's ideal for most conditions except night riding, including overcast and dreary days. In fact at one point I found myself wondering if I'd forgotten to actually fit the visor, that's how natural the vision was. Visors are also ready for a Pin-Lock insert, which will help reduce fogging in cold and wet weather, but these are purchased separately.
This also ties into the wide perspective given by the view port, and it really is exceptional, meaning only smaller head movements are needed for head checks, as you've got great peripheral vision available, which is also a strong point for general riding, as you'll be able to see what cars beside you are doing more easily.
The new two-pivot ratchet system makes for smooth opening and closing of the visor, with the centre locking mechanism taking a little time to getting used to. Removing the visor is as easy as pressing the button on each side, while the tinted visor did present a small challenge as it's harder to see the mechanism and the visor tabs lining up which lock the visor in place. Of course becoming more familiar with the helmet will solve that, so it's not really a problem, just an observation.
The fit for me is good without being amazing and I think I'd fall somewhere between a Medium and Large size, with the Medium pressing on my forehead and causing discomfort, which meant I went for a Large. I'll check whether I can grab larger cheek pads to customise the fit a little, however as it stands the fit is solid. Obviously it goes without saying that helmet shapes vary so make sure you properly try various sizes when purchasing, so you get the ideal fit.
Also remember the additional shell sizes offered on the Aeroblade-5 help reduce the problems associated with different shaped heads, as more sizes mean a more tailored fit, rather than the more one-size fits all approach of simply using different padding/liners.
Both aerodynamics and airflow are also strong points with the Aeroblade-5, with almost no buffeting even at higher speeds, which helps reduce fatigue and neck strain, as well as making higher speed riding more relaxed. Airflow through the front vents was also good and I did find myself closing the chin vent at times to help regulate the flow on colder days. This is easily managed by a single hand, with a smooth action to close or open the vents.
Overall I'm highly impressed with the Aeroblade-5, and while I'll be providing a further update with more kilometres under my belt with this helmet, at this point I'm very happy. The helmet is light, with a great finish quality, it includes premium features like being PinLock ready, removable liners, and a great visor system, and being glasses friendly is just another boon.
No internal drop down visor is expected to keep the helmet light, so if that's a deal breaker for you maybe consider something like the Kabuto Ibuki, however I can get away with a Light Tint visor for the vast majority of my riding. Plus being glasses friendly, there's a real option of just wearing sunglasses, without trading off any comfort.
Overall it's an impressive offering and certainly excellent value for the price.
The Kabuto Aeroblade 5 is available now in all good motorcycle stores from $429.95 RRP for the Matt Black, and $479.95 RRP for graphics, in sizes XS to XXL. See MotoNational.com.au or Kabuto.com.au for more information.
Kabuto Aeroblade5 features:
ACT Evo Shell (Advanced Composite Technology)
Dual Density Impact Absorption Liner
Wake Stabilizer (Patented)
Aerodynamic Ventilation System
Center Locking Self Adjusting Visor
Glasses Friendly
Pinlock Ready
Compact, Four Shell Sizes
Coolmax Removable Inner Cheek Pads, Strap Cover And Crown Liner
Detachable Ear Cap Liner
ECE E9 Approved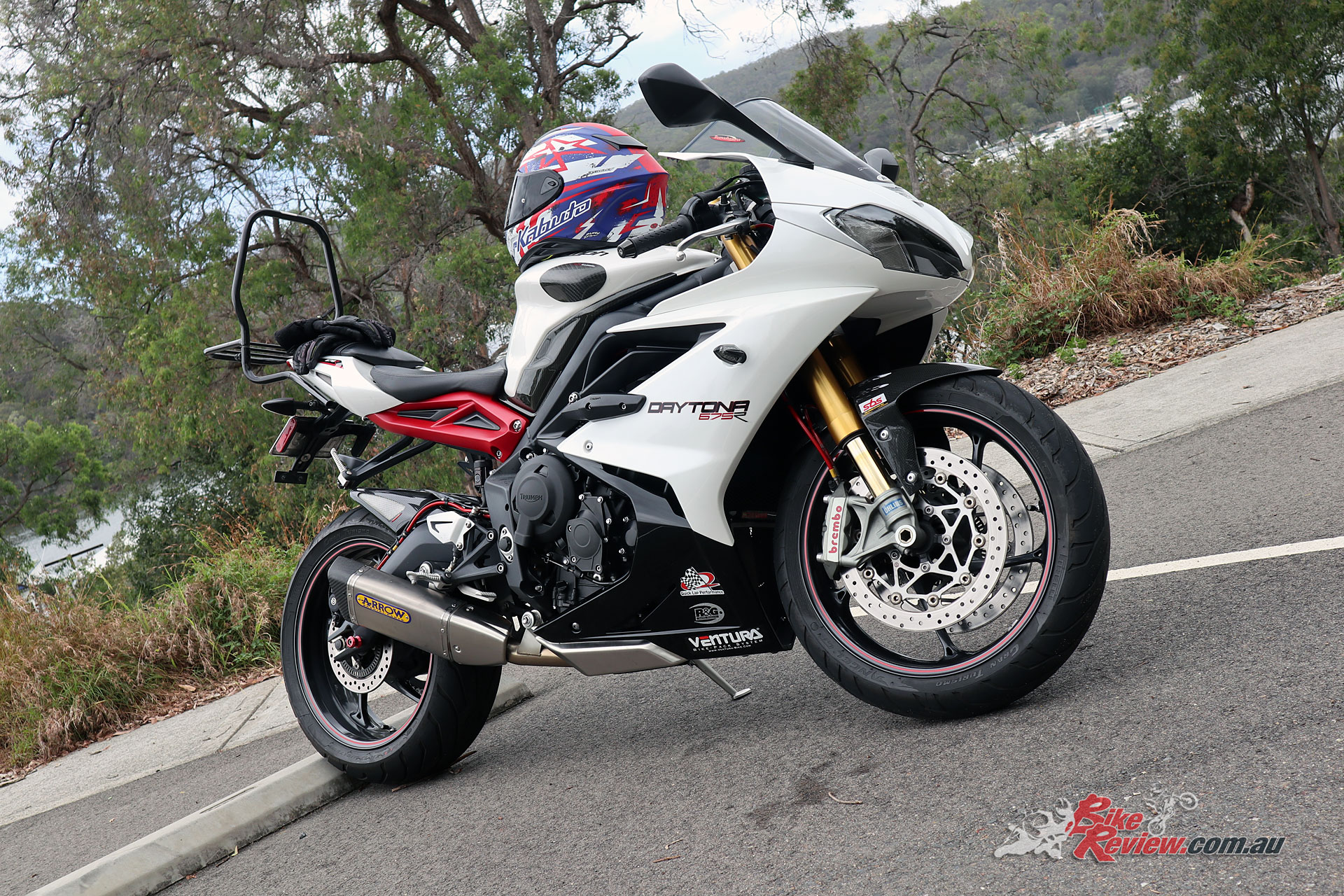 The Verdict | Product Review: Kabuto Aeroblade-5 Helmet First Impressions
Kabuto have further improved on the Aeroblade-3 with the new Aeroblade-5, offering a high specification helmet at an extremely competitive buy-in, and boasting a light weight, excellent build quality option.