The Profile-V is a sports touring lid from Arai and Nick has been putting it to the test for seven months. Here's his long term review... Words & Pics: Nick Ware
The Profile-V has been my main lid for seven months, with almost daily use since September last year. You can find my initial impressions here. It's the best lid I've owned so far, being super comfortable, incredibly quiet for the freeway commutes and with great styling.
The rounded, smooth design is specifically implemented by Arai to protect against repeated impacts as well as helping it to glance off any impacts. check out the videos on the Arai Australia site. The design is flash, but I would have loved a clear lacquer over the logo, as I've chipped it a couple of times just resting the helmet down and once on the handlebars, which was disappointing. Nothing a sticker can't cover though, right? Jeff put the first big scratch on the lid, after telling me not to damage it!
---
---
The size L Profile-V weighs in at around 1650g, which is heavier than a few of my other lids. Despite this, even on the longer rides of 2-3 hours, I really didn't notice. In my books, weight doesn't particularly matter if you've got a comfortable lid with no pressure points, great ventilation and huge field of vision and I experienced no more neck strain than I do with any lid I have.
---
---
The visor mechanism isn't my favourite as I mentioned last time. I understand what they're trying to do, and I like the concept of being able to lift it to any point, rather than the predetermined points you'd have with a standard ratcheting mechanism.
I have noticed a few comments online about a fault in the latch mechanism, I guess I just got unlucky. It has loosened over repeated use but it's still not exactly as easy as I'd like it to be. It's also a bit of a fumble around trying to reach across if you've got the clutch in with your left hand. Thick gloves don't make it any easier either.
---
---
In terms of the visibility offered by the Profile-V, it's second to none. Removing the visor isn't as easy as the standard locking mechanism but it's still no hassle. The side covers flip off, allowing access to the rotating mechanisms. Arai call this their Variable Access System (VAS).
The airflow in the Profile-V is very good in my opinion. Arai have managed to let the lid breathe comfortably at high speeds while remaining quiet. Essentially exactly what I'm after on the daily commute. I haven't ridden in the cold much with the Profile-V but I'm assuming it will suffer the same foggy fate as most lids do. I'll more than likely have a pin-lock ready to go come Winter time.
---
---
There is a standard Double-D locking system with a retaining clip to keep the tassel in place. Nothing special here, but it works and works very well. Fitment-wise, I mentioned last time that I perhaps should have gone a size up from my regular L to an XL. The Profile-V hugs the face a lot tighter than any other L sized helmet I'm used to. The internal lining is partly removable so I may adjust it with looser cheek pads, I will have to check that out. In saying that, after a few weeks the foam internals really softened and it's now a quite a comfortable fit seven months on.

The cheek pads and lower inserts can be pulled out, however, the skull cap at the top is permanently glued in. This means no pressure points as there aren't any press-studs, but it also means it's a bit more of a hassle to wash it out. Which in reality, I probably won't be doing for a quite a while! I don't ride with headphones or an intercom system, but it seems like you'd be able to fit most inside the Profile-V comfortably. The earplugs I use sit well and I haven't noticed any extra pressure. At speeds, there's no movement at all on the head. This thing is rock solid.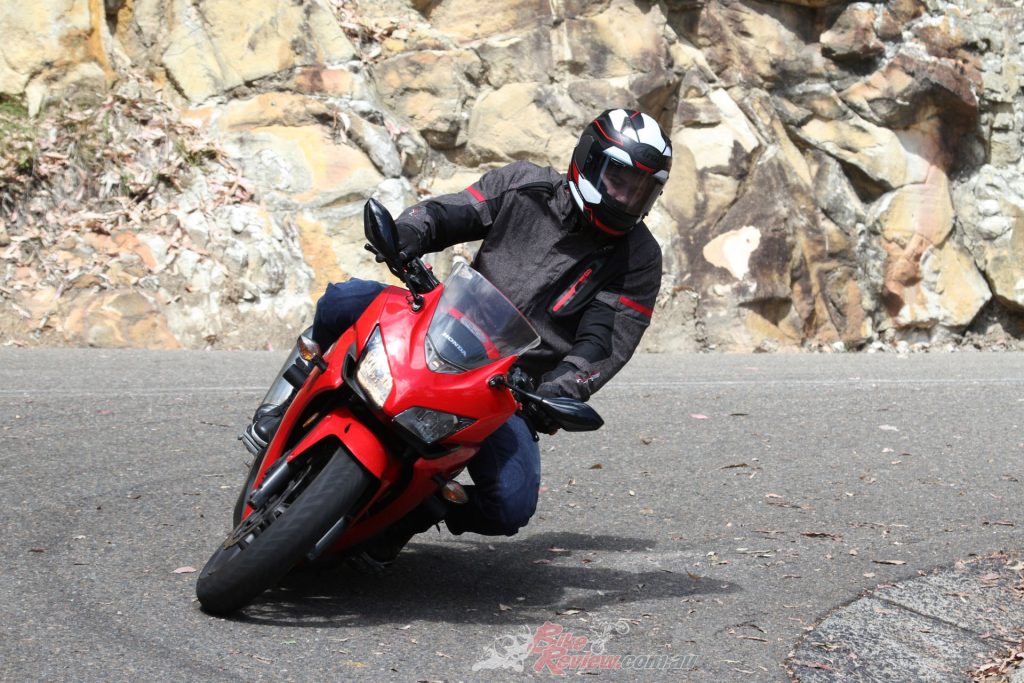 ---
---
You can also Check out Paul Bailey's Profile V Review Here, where it scores 9.5
---
Arai Profile-V Features
Outer Shell Construction: PB e-cLc
Variable Axis System (VAS)
Front Ventilation: Dual intake
Front Ventilation: Standard brow vents
Front Ventilation: Three position chin vent
Rear Ventilation: Neck exhaust vent
Rear Ventilation: One-piece rear exhaust
Rear Ventilation: Side exhausts
VAS Max Vision Visor with De-Mist option
New shield latch system
Replaceable Cheek pads/Ear cups
Semi-removable Liner
Speaker pockets
Facial Contour System (FCS)
Approval: ECE 22-05
Five times inspected
Washable interior
Handmade
Penetration tested
Double-D ring device
Smooth shape, better protection
Strong outer shell, soft inner shell
Organic shape
5-year limited warranty
Different outer shells
---
---
The Verdict | Gear Review: Nick's Arai Profile-V, 7-months on