Sidi's Adventure 2 Gore-Tex boot is an adventure-touring boot that features touring and off-road technology. Here's our second opinion review...
Looking for the protection of an off-road boot but need the flexibility and utility of an adventure or touring option? Then check out the Sidi Adventure 2 Gore-Tex boot. A few months ago experienced off road rider Heath reviewed them for us. Now we have a review from Kris, a rider new to adventure riding…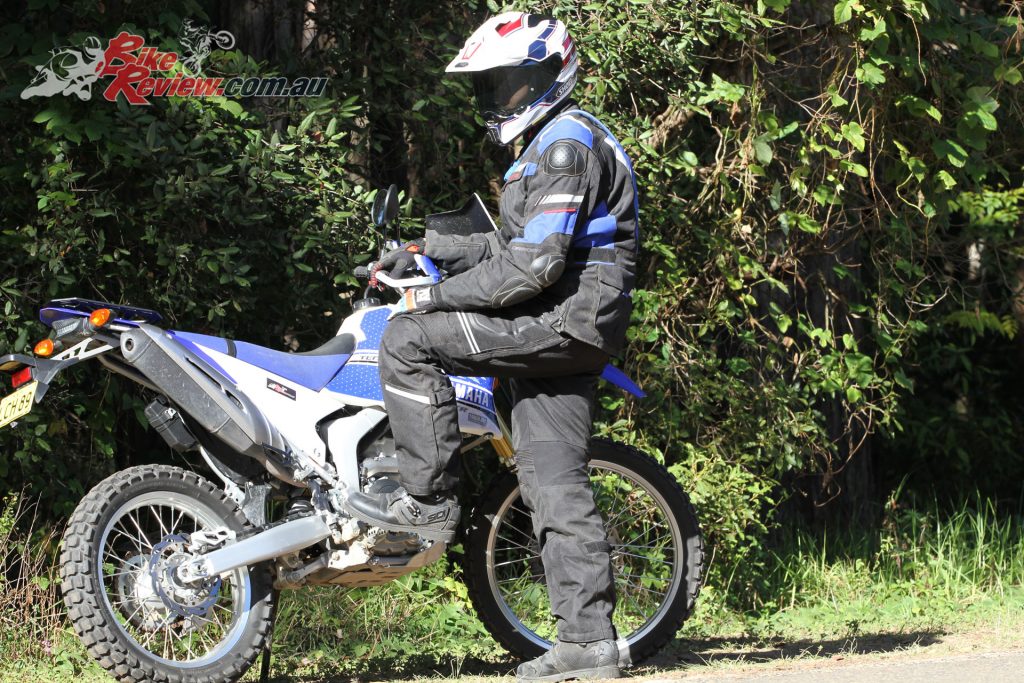 Boasting high levels of protection thanks to a PU shin plate, plastic support in the ankles and rigid shock resistant heel cup, the Adventure 2 also features a micro adjustable buckle system ensuring the perfect fit, with plenty of support.
Being a boot that's likely to see plenty of wear and tear, that buckle system is also replaceable, so you won't be buying a whole new boot, instead simply being able to order a replacement part to be on your way.
That ties in with the full grain microfibre upper construction, which Sidi uses instead of genuine leather due to the numerous benefits it offers. Those include not ageing, being lighter than leather and featuring great wear and tear properties. Add being naturally water repellent, which assists in the boots overall waterproofing, as well as breathable and you're onto a winner.
The Adventure 2 also features Sidi's Flex System technology, which essentially allows you to tighten the buckles as necessary, while still retaining a great range of movement, which is essential for good feel and control, regardless of whether you're doing racer pace, or enjoying the scenery.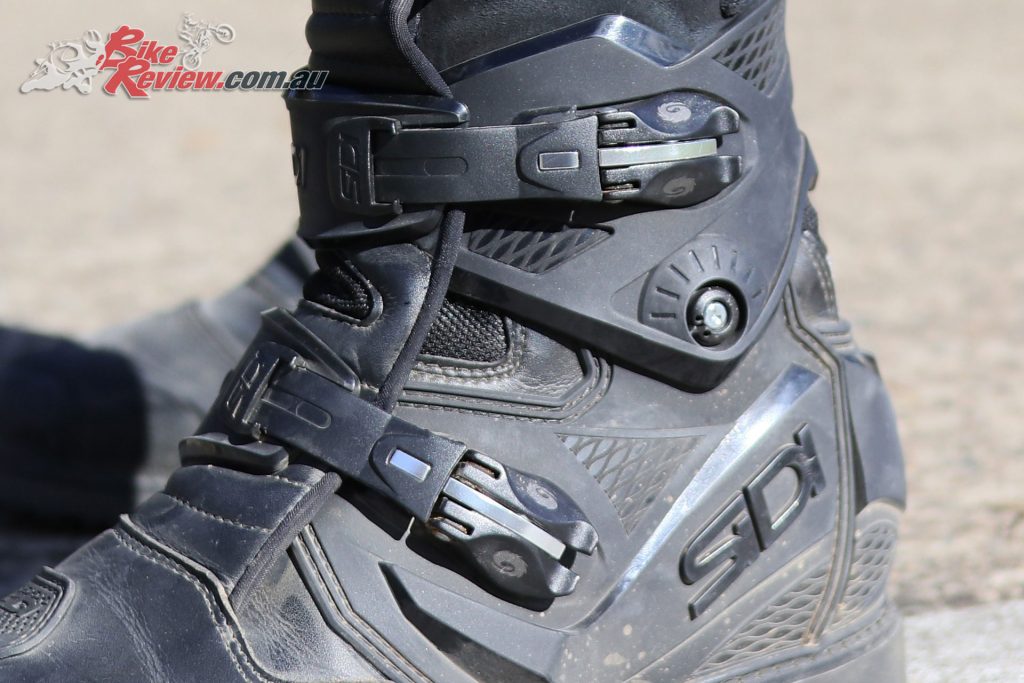 Then for comfort you've got an elastic panel for the calf, full length inner gaiter and a non-slip rubber sole, plus a very cool looking overall boot design, complete with shift pad for this high wear area.
What does that all mean? Well to me the Sidi Adventure 2 Gore-Tex boot was instantly comfortable. I put these on at home to test them out and ended up wearing them around for a few hours, first thinking I'd need to wear them in a little and then basically forgetting I had them on…
Well not quite forgetting, these are a large boot, but with that said the level of flexibility at the ankle is exceptional, meaning that when you're on the bike it's very easy to control those foot controls and that's a very important area, especially as a newer off-road rider who's learning the ropes. Not being sure of what your feet are doing adds an unnecessary burden but in the Adventure 2 boot, it's not a worry.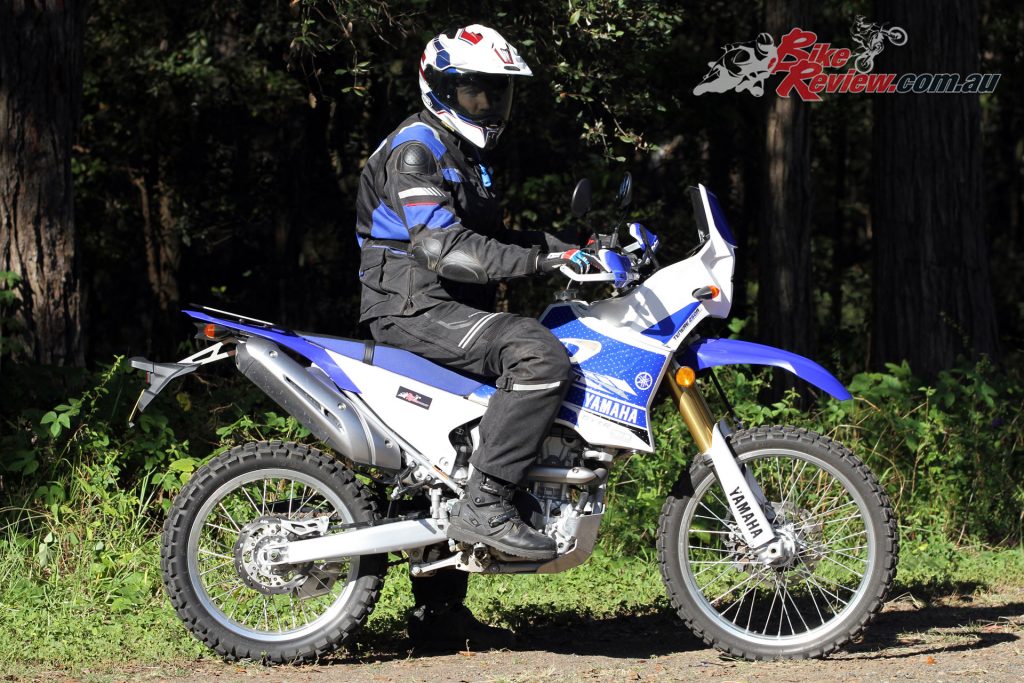 There's a bit of squeak walking around, which I did plenty of with a two-day trip away adventure riding, but the Adventure 2 boot was amazing. When the going got warm there was exceptional breathability, which is something I always look for in a waterproof boot, because waterproofing can be done easily, but ensuring breathability alongside it is another thing entirely.
Wearing these boots for two days straight I never had an issue with my feet overheating, or sweat building up, which is really saying something, and comfort remained a constant as well.
With foot controls adjusted to suit a slightly larger boot than a traditional touring option, control was also simple and easy, without any hassle about trying to get the boot under or over the shift or brake pedals, which as mentioned above can be nerve wrecking on its own.
Getting the boots on couldn't be simpler, with the two buckle adjusters simply clicking into place. You adjust them to length at the ratchet-type straps, then they simply click into place, ensuring they are easy to get on and off.
The top of the calf also has a large heavy duty Velcro section which is where you'll start getting those boots into place, with a large additional fold of material which allows the boot to be opened right up, and folds back into the boot and out of the way, with room for plenty of adjustable.
Being a larger boot might take a little getting used to for those coming from more basic road boots, but the heavy duty sole offers good grip and even offers a bit of extra reach to the ground if you're on a taller bike, while the weight wasn't noticeable to me, except when I did sand riding with RideADV and that was just from the sheer exhaustion overall!
The overall build quality is exceptional and while it's early days these seem built to last, with the only real test remaining to be to see just how waterproof they are in an absolutely torrential downpour, with some regular wet weather proving not a problem.
Now for $649.95 the Sidi Adventure 2 Gore-Tex boot isn't on the cheap end of the spectrum, however if there's one thing I've discovered, it's that spending money on a good set of boots is always worth the investment. A good set of boots lasts years of heavy use, where you can otherwise end up needing a replacement in under a year.
So don't let the price put you off, we're talking what'll be protecting your feet, ankle and lower leg, ensuring you've got grip when you put your foot down, plus keeping you dry. All important jobs and it's worth going with a brand that really knows what it's doing like Sidi.
The Sidi Adventure 2 Gore-Tex boot is available in sizes 41 to 50 in Black/Black or Brown colours, with the Brown option featuring brown suede and only going up to size 48. Pricing is $649.95 RRP and is available from Sidi stockists, with more information available on the Australian Sidi range at the McLeod Accessories website.
Sidi Adventure 2 Gore-Tex Boots features
Full Grain Microfibre upper
Gore-Tex membrane
PU Shin Plate
Velcro closure
Dual micro-adjustable buckle system
Replaceable buckles
Full length inner gaiter
Plastic ankle support
Sidi Flex System
Elastic calf panel
Back reflective inserts
Shock resistant, rigid shaped heel
Shift pad
Nylon inner sole
Removable (foot) arch support
Non-slip rubber sole
The Verdict | Gear Review: Sidi Adventure 2 Gore-Tex Boots
Sidi's Adventure 2 Gore-Tex Boot is the ideal choice for those after an adventure-touring boot which features the brand's off-road technology and know-how. Here is our review.
Protection & Waterproofing
9