If like us you're not able to travel down to Moto Expo this year, then chances are you're still stoked to hear about all the new releases, with a huge variety of new models arriving in 2017.
Kawasaki in particular have a huge portion of new models arriving for 2017, including their new Z650 and Z900 models, not to mention the new Versys-X 300 learner legal adventure styled bike, the latest iteration of the mighty Ninja 1000 and of course the Ninja 650 and 650L. Not to mention the anticipated KX250F motocrosser and of course the highly successful 2016 Kawasaki ZX-10R first introduced this year.
The 2016 Moto Expo Melbourne is run by Troy Bayliss Events and is running from today (November 25) through to this Sunday (November 27). So there's still plenty of time to drop by!
Milo Dokmanovic of the Kawasaki Marketing Team was there to introduce the new Kawasaki models this morning, for their first appearance in the flesh in Australia, as well as to talk about the 2016 year. Naturally the amazing success of Jonathan Rea in the 2016 WSBK Championship was a highlight for Kawasaki, with Tom Sykes taking second place honours, directly behind Rea. Kawasaki took not only the top spot in the WSBK premiere class, but also the Manufacturer title honours for 2016.
Kawasaki will be offering a 'race spec' version of the Ninja ZX-10R for 2017, with the ZX-10RR to incorporate a number or premium features, such as Marchesini wheels, offering the closest option to the WSBK winning machine possible. With a strictly limited 500-piece homologation special, production run, these will be a hot item!
In national racing the Australian Kawasaki Insurances FX300 Ninja Cup has continued to be a great success, offering an ideal entry point into national racing, providing an affordable start to what for many will be a lifelong passion. With such an even playing field it also ensures a great opportunity for riders to develop their race craft and provides some amazing racing.
Looking at the Z Series, the Z650L is expected to arrive in Australia in early 2017 and features a new lightweight chassis with a parallel-twin powerplant.
Here's what Milo had to say, "An all-new model in our Z family line-up, the Z650L is learner friendly, but don't let that fool you. With a lightweight chassis, strong acceleration and superb feedback … this is what learner and provisional supernaked Kawasaki fans have been waiting for."
Also new for 2017 is the Z900, replacing the Z800 and featuring a 948cc inline four-cylinder engine based on the Z1000, as well as a lightweight trellis frame that looks particularly striking in green, an assist and slipper clutch as standard, and adjustable 41mm forks. Power is 125hp with typically aggressive and eye-catching Z styling.
The Ninja 650 and 650L (LAMS) have also been massively updated for 2017, with a massive 20kg weight reduction from the outgoing model, thanks to an all new chassis and swingarm and a host of other changes.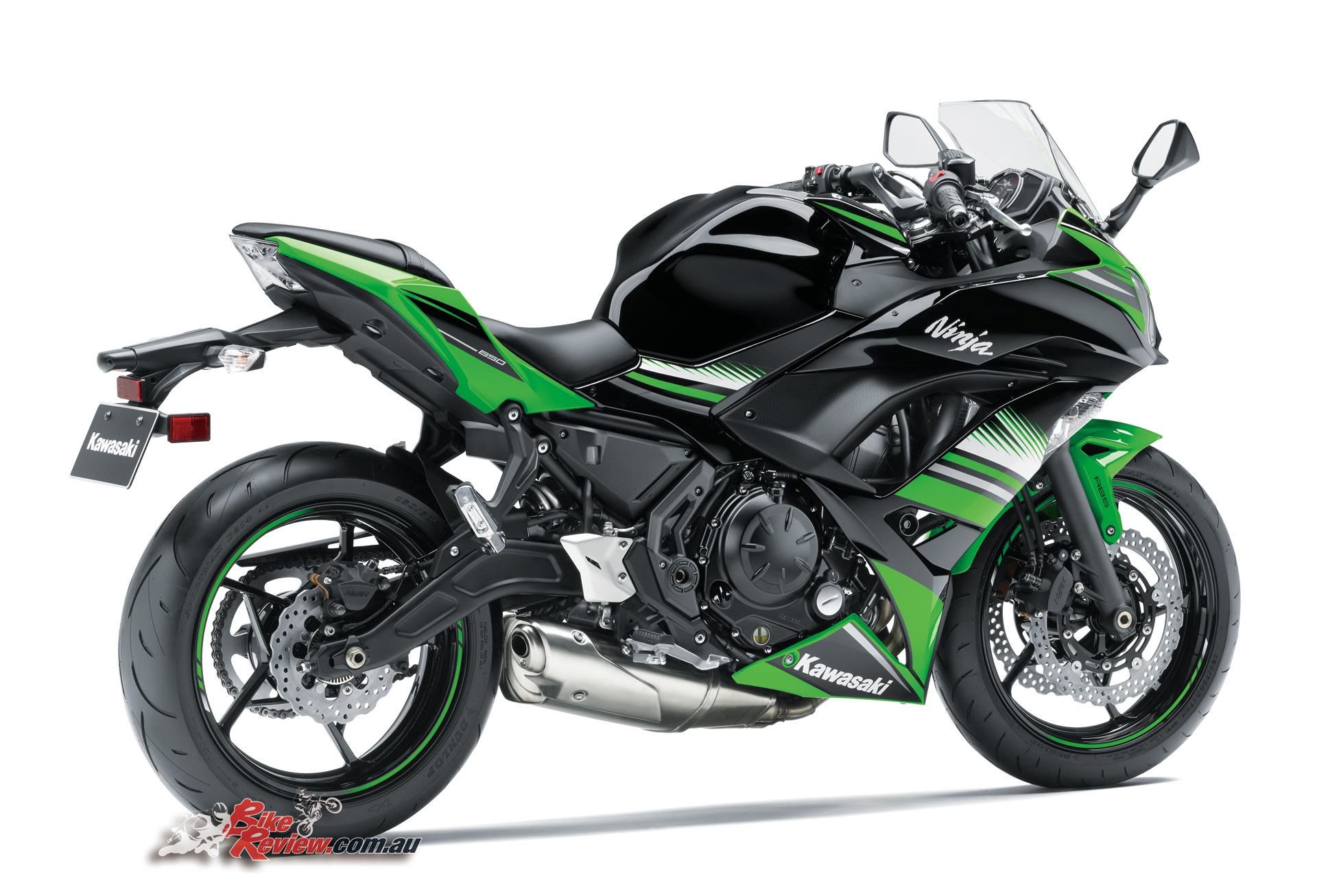 Features include a slip and assist clutch, 790mm seat height, adjustable front screen, with a focus on low- to mid-range torque and power with a much stronger power and torque curve that is both smoother and makes both available earlier in the rev-range.
The Ninja 1000 likewise has seen plenty of new features for 2017, with the model featuring new bodywork for better wind protection, new LED headlights with much better light throw, a new dash, a new pannier mounting system, plus the Kawasaki Cornering Management Function which supplements the Kawasaki Traction Control (KTRC) and Kawasaki Intelligenti anti-lock Brake System (KIBS) systems.
Another big announcement is the release of the Versys-X 300, a LAMS legal small capacity Versys, with a touring/adventure theme and wire-spoke wheels.
Here's what Milo had to say about this new model, "Introducing the newest and smallest sibling in the Kawasaki Versys family, The Versys-X 300. Given the engine size and category, this model essentially creates a new segment in the Australian market. Motorcycle riders will be looking at this adventure styled model and thinking about its potential to be the perfect commuting and touring companion.
"Again, this is an all-new model and it is the smallest capacity motorcycle in the Versys family at 296cc. There will be plenty of adventure flavoured genuine Kawasaki accessories available which you can see on this display unit. The anticipated release date for this model is mid-2017."
Pricing for the new models has yet to be released, but 2017 is looking to be a great year for Kawasaki!
For more information on Kawasaki Motors Australia, see their website: Kawasaki.com.au