Yamaha's contender is finally here, more than two years after the T7 concept's debut at the Milan show. We head to Tortosa in Spain to ride the Tenere 700... Review: Roland Brown Pics: Jonathan Godin, Francesc Montero & Henny Stern
In one sense the long-awaited Ténéré 700 is very much part of a new generation of mid-sized adventure bikes that form this year's most vibrant class. The group includes KTM's 790 Adventures and BMW's F 850 GS, offering a less powerful but lighter and more compact alternative to the dual-purpose giants that have dominated the adventure scene in recent years.
Now Yamaha's contender is finally here, more than two years after the T7 concept's debut at the Milan show, it is clearly different to those other middleweights. You've only got to register its amazing $15,499 + ORC price, way below those of the European models and Honda's Africa Twin, to realise that the Ténéré stands alone in the adventure market – appropriately enough for a model that owes its name to a desert in north Africa, where an XT500 won the first Paris-Dakar Rallies in 1979 and '80.
Cyril Neveu's victories led to Yamaha launching the original XT660 Ténéré in 1983. This latest in the line is a parallel twin, powered by the 689cc, DOHC eight-valve engine from the MT-07 roadster. But in its simplicity and off-road focus it has plenty in common with those old-school singles, and with the original 750 Super Ténéré whose derivatives won seven Dakars at the hands of Stéphane Peterhansel and Edi Orioli in the Nineties.
The Ténéré follows the T7's desert-racer look, notably its tall front end with its Perspex screen shielding four LED lights, a high-level instrument panel and useful bar for attaching satnav or other accessories. The seat is quite tall, at 875mm (a lower accessory seat and shock linkage can reduce this to 840mm), but sufficiently slim that most riders will be able to get feet on the ground.
The Ride
The engine fired up with a slightly more involving throbbing from the silencer than the MT-07 manages, and performed with all the flexibility, smoothness and free-revving enthusiasm that has long helped make the roadster so popular.
Such is the parallel twin motor's pulling power almost from idle that, combined with the Ténéré's lower gearing, first was hardly needed because the bike took off happily in second. Heading out of the launch base at Tortosa in northern Spain, the Yamaha felt perfectly at home on the town's narrow streets. At 205kg wet the Ténéré is roughly 20kg heavier than the MT-07, so can't quite match the nakedbike's ultra-lively feel, but it still accelerated with addictive eagerness, and a pleasantly lumpy character thanks to the 270-degree crankshaft.
Payback for the extra bulk and weight came on the C-12 highway, when the Ténéré felt more substantial than the MT and provided considerably more wind protection. It was very happy sitting at a steady 125km/h, feeling reasonably relaxed and doing a fair if not exceptional job of diverting the breeze. The screen is not adjustable, and generated a fair bit of noise for lanky me (at 1.93m); riders of average height or below had few complaints. Some adjustability would surely be useful, although few mid-sized adventure bikes provide it.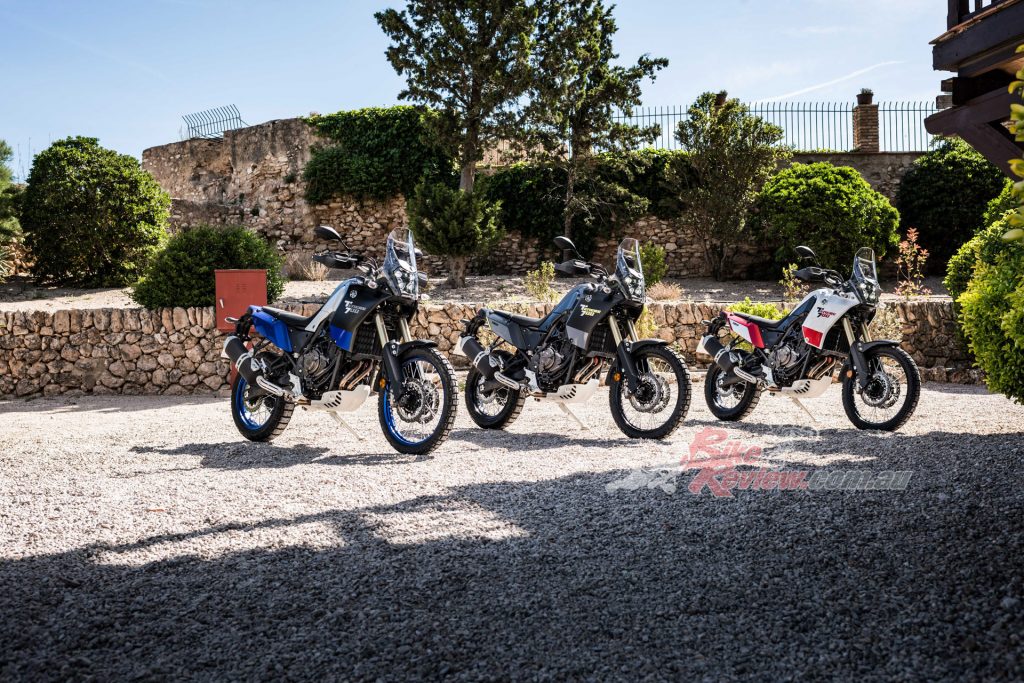 With chin on the tank on a slightly downhill straight I got to 200km/h on the big digital display, close to the genuine top speed. The Yamaha is around 20bhp less powerful than those aforementioned sub-1000cc adventure rivals, and lacks a bit of their straight-line pace, but I'm not sure that it would seem significantly slower or less fun to ride. Plenty of bikes would be better suited to long highway slog, but the Ténéré would cope respectably well.
Thankfully the route didn't include much of that and we soon turned off westwards onto narrower country roads where the Yamaha confirmed that it was sufficiently light and agile to share some MT chassis characteristics too. Despite the big 21in front wheel and conservative geometry it steered easily when given a nudge of its wide handlebar. And although the long-travel suspension inevitably gave a slightly vague cornering feel, and some diving of the front end under braking, it was sufficiently well-damped to avoid too much pitching on those twisty roads, even when the reliable grip of Pirelli's Scorpion Rally tyres was being exploited.
Braking power from the 282mm wavy discs and twin-piston calipers was good rather than great; hard stopping required a firm squeeze of the lever, and ideally assistance from the rear disc. But feel through the lever was very good, importantly so given this bike's dual demands. Before long, Jorge was pulling up for the first of those roadside stops, then – with no riding mode changes or traction control settings to think about – leading us into the rough terrain of the Parc Natural dels Ports.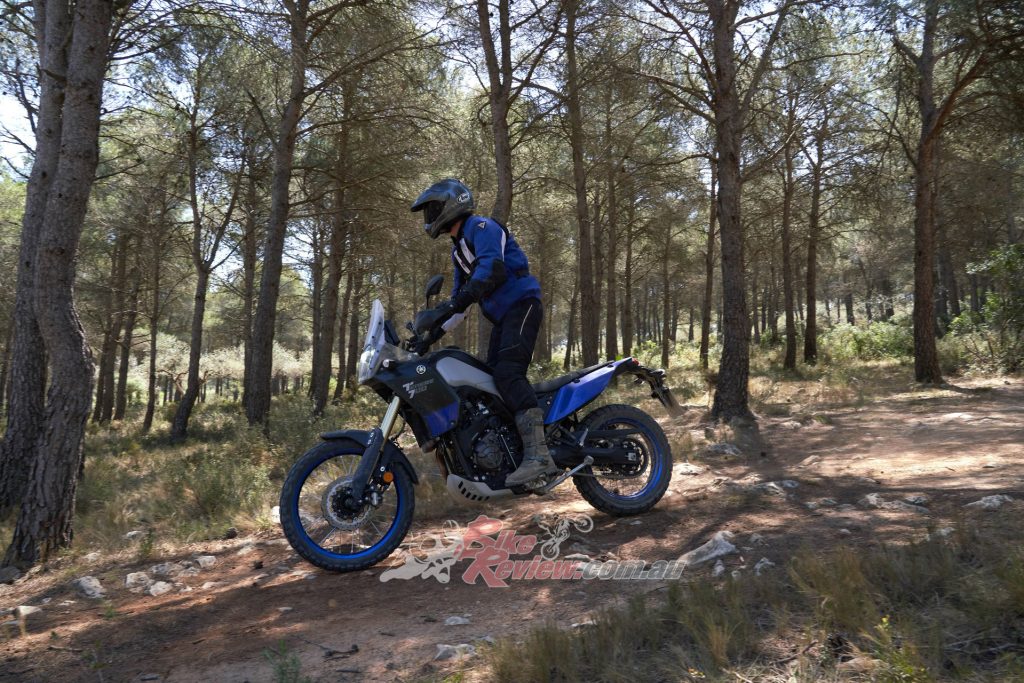 This part of the day wasn't much of an adventure, because we were rarely far from civilisation; or at least from big trucks on highways crossing our loosely-surfaced route. But it was a great test of an adventure bike, because the going ranged from wide gravel roads with occasional potholes, via narrow tracks through trees, to steep sandy trails with hairpin bends and smooth rocks waiting to punish careless throttle hands.
The Ténéré coped effortlessly with it all. It was easy to understand why Yamaha haven't modified the engine, because the ultra-flexible parallel twin was ideal for off-road use. It always seemed to have enough low-rev chugging ability to pull though a tricky section – sometimes with assistance from a cable-operated clutch that worked well but didn't have a particularly light action – and also had sufficient midrange and top-end shove to make the bike enjoyably quick on faster, more open stretches.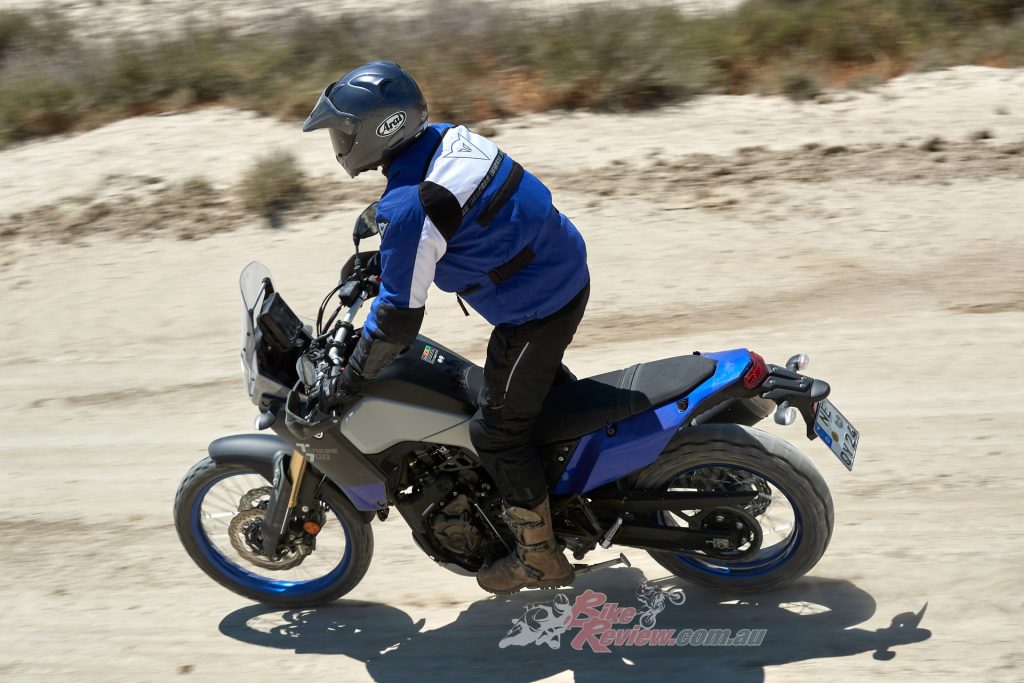 One rider complained of a slightly jerky throttle response but that hadn't occurred to me, despite just having negotiated countless sand or gravel-covered bends without the benefit of traction control. A good tc system would undoubtedly be an advantage, but would require an IMU (Inertial Measurement Unit) and associated electronic complexity that would put the Ténéré in a different financial level, scrapping with the 790 Adventures and all the rest. Yamaha's decision to stick with simplicity makes plenty of sense.
The same is true of electronic suspension adjustability, such as the system that has long been an option for the Super Ténéré 1200. The Ténéré doesn't offer that potential (or the 300mm-plus of sublimely-controlled travel of a genuine off-road bike such as Yamaha's own WR450F) but it does provide an excellent compromise for a mid-capacity adventure bike: sufficient suspension travel, firmness and damping ability to deal with most likely situations, without excessive seat height or price.
On the afternoon trek eastwards to our overnight stop at Prades, and especially the following morning when we headed back south to Tortosa, there were numerous off-road sections where jumps, bumps and potholes tested the Ténéré's suspension thoroughly. It soaked up everything with impressive efficiency, recovering quickly and never bottoming out even after taking some big hits. There's scope for fine-tuning too, but apart from winding on a couple of not-strictly-necessary clicks of shock preload I left both ends on standard settings.
One adjustment I did make was to rotate the handlebar slightly to lift the grips higher for riding standing up, as my height meant the standard position was too low. That didn't completely cure the problem but during a coffee stop a Yamaha mechanic fitted bar risers, which added a couple of centimetres and made a big difference to both comfort and control. I'd guess that anyone much over average male height would benefit.
That practical touch required an accessory (and the Ténéré can't dazzle with an LED screen, Bluetooth connectivity, cruise control or quick-shifter as some rivals do) but it has plenty of useful features built-in. Its 16-litre fuel capacity is modest by adventure bike standards, but will generally give a range of around 300km, given that the fuel-efficient parallel twin is good for 6l/100km or better, depending on how you ride.
The seat has built-in luggage hooks and, less visibly but equally thoughtfully, hand-holds below to facilitate picking up the bike. The front mudguard is height-adjustable, to cope with mud. The sidestand has a helpfully broad foot. Footrests are serrated, have removable rubbers, and are hinged on forged aluminium hangers. Mirrors are usefully wide; switchgear is basic, and doesn't include self-cancelling indicators, but has a button to toggle through a display that includes fuel consumption. A 12V socket is provided alongside, with space for a second.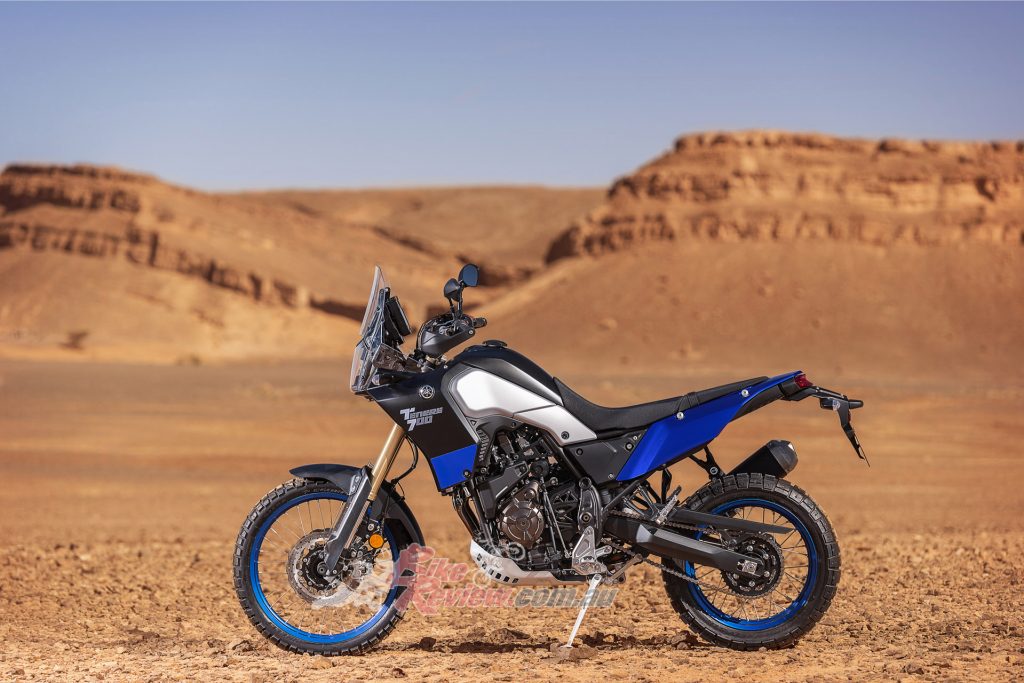 The long list of accessories includes the heated grips that would be first on my list. Many are combined into two kitted variants: the Ténéré Rally has a taller seat (to aid standing-up riding), Akrapovic muffler, radiator protector, LED indicators and aluminium chainguard; the Explorer gets rugged with engine bars, heavy-duty bash-plate, centre-stand, single-seat rack and aluminium panniers. Many customers will opt for extras, but the Ténéré's greatest strength is that despite being very reasonably priced it is so capable in standard form.
[We will be riding the Tenere 700 here in OZ at the Australian launch soon so will post our full local report and video straight after the ride – Ed.]
Ténéré Tech
Yamaha's development team, based at Yamaha Motor Europe in Monza, near Milan, considered modifying the MT's engine with a dry sump, to reduce its height, before deciding to leave the DOHC, eight-valve parallel twin untouched. Modifications to its airbox, injection and exhaust system don't alter the power delivery or maximum output of 72bhp at 9000rpm.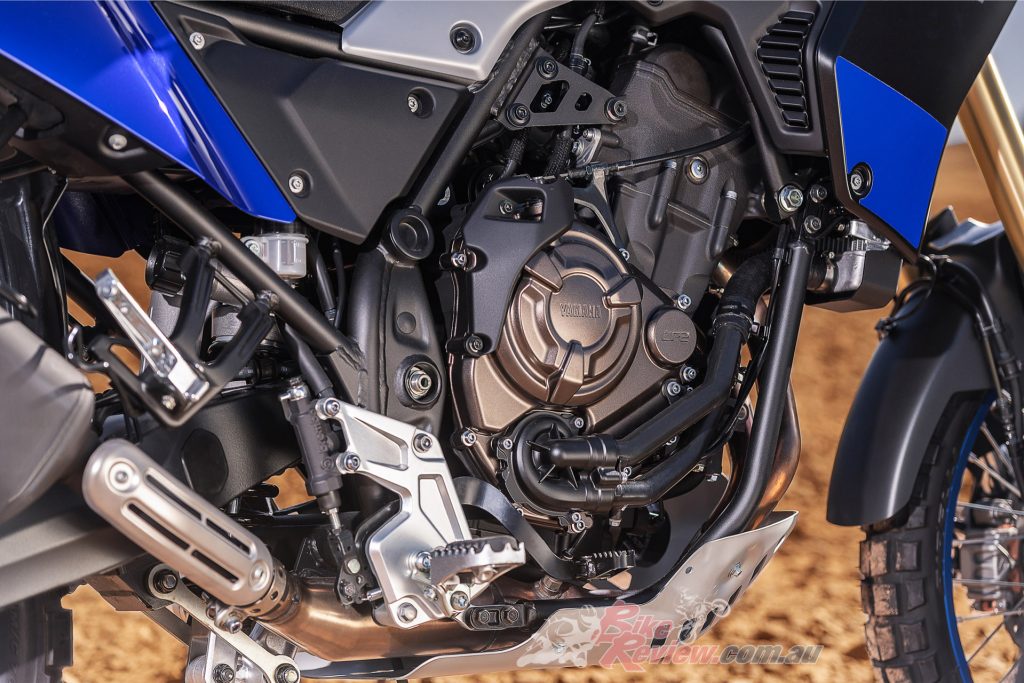 The cooling system is uprated and the final gearing shortened but the key engine-related change is arguably the sturdy aluminium bash-plate, and that is bolted to the removable twin downtubes of the new tubular steel frame.
Suspension is by KYB and gives plenty of travel: 210mm from the 43mm usd forks, which are adjustable for compression and rebound damping; and 200mm for the remote-reservoir shock, which has a remote preload knob and can also be fine-tuned for rebound.
Wheels are wire-spoked and come in dirt-friendly diameters of 21in front, 18in rear. Brakes are wavy discs, with 282mm front discs gripped by twin-piston calipers, and a 245mm disc at the rear. The ABS can be disabled by pressing a button on the instrument panel.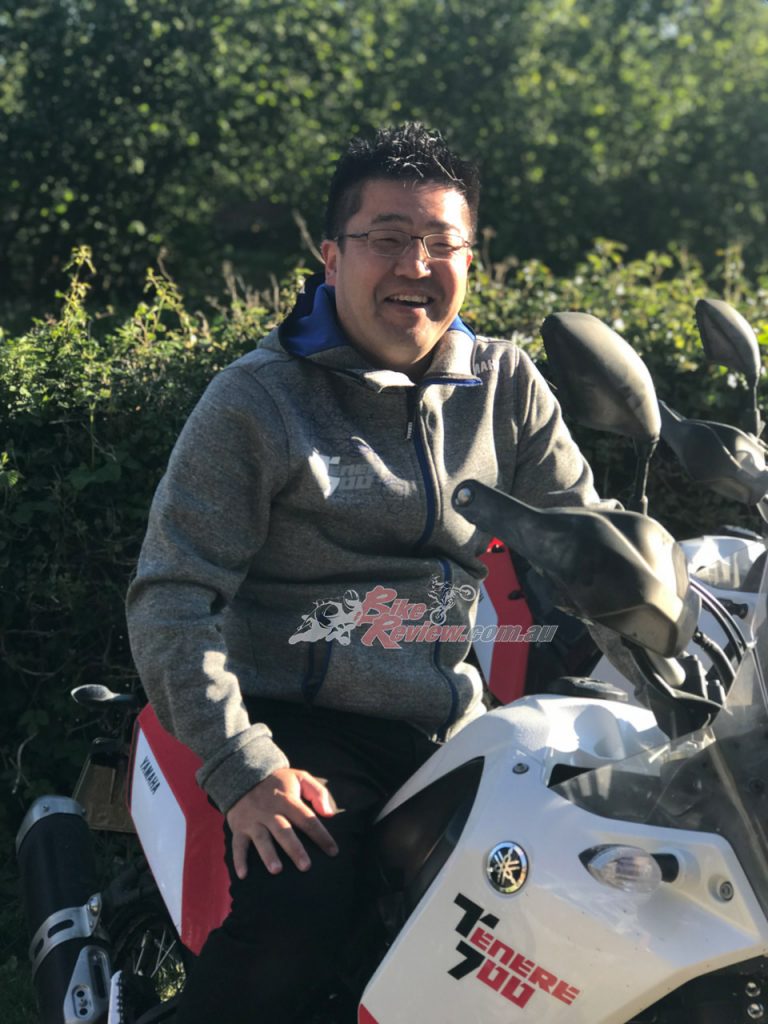 Takushio Shiraishi, Ténéré 700 Project Leader
"It was difficult to decide where to pitch the Ténéré, road or off-road. In our understanding, most customers who own this kind of model ride it off-road only five or ten per cent of the time. But if you follow this ratio the bike becomes just like an SUV: the look is off-road but in reality you cannot go off-road.
"Why do that? We thought the customer wants to buy this kind of bike because they want to go off-road; they have a dream to do it and if there is no capacity to ride off-road it's just a gimmick. That was important to us, so finally we decided to put the priority very much off-road, maybe 80 per cent off-road and 20 per cent on-road.
"But at the same time, if we compromised a lot on road ride it could become annoying for customers who ride on the road for commuting, or when they have to ride on a highway or secondary road. If we went too much one way we would lose the other side, so it was really difficult to balance both surfaces."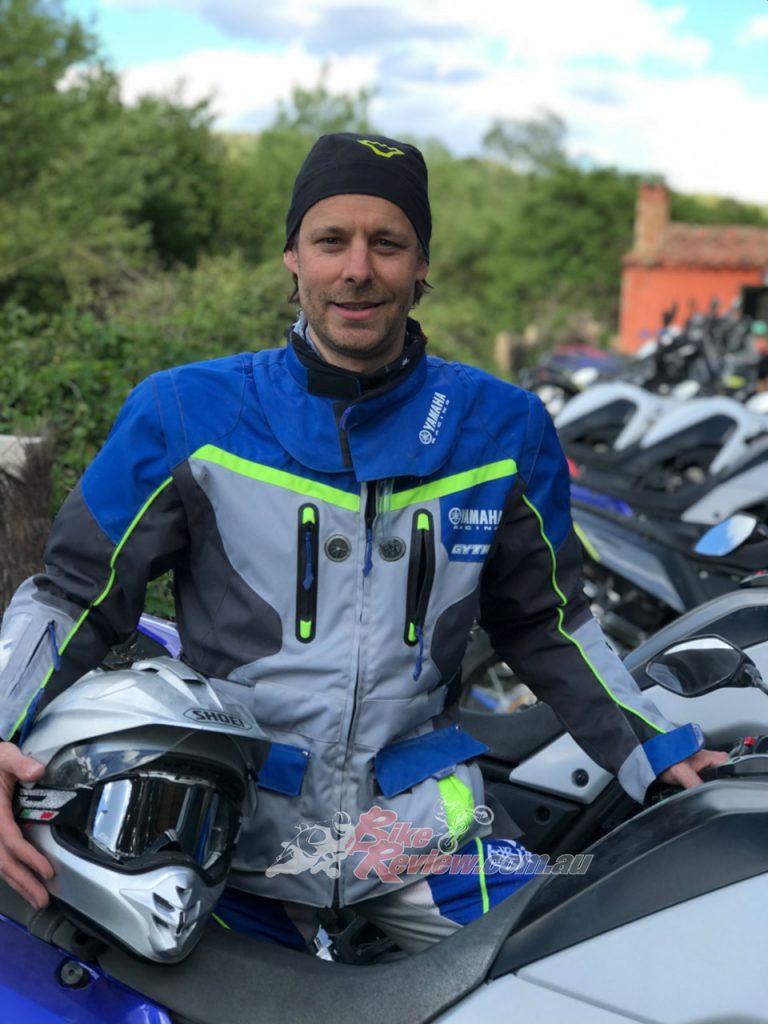 Leon Oosterhof, Product Manager, Yamaha Motor Europe
"This bike was developed in Europe, by our R&D centre in Italy, in conjunction with YMC [Yamaha Motor Corporation]. Everything needed to happen to Japanese standards, and at every milestone in the project tests were taking place with Japanese and Americans. This is a new-generation in adventure and we really wanted the base to be right, so everyone was on board to add their expertise.
"We believe that one model is the right direction [rather than two as with the 790 Adventure]. If you created an off-road model, that would be too extreme for many people, and a road model would be too like what is already out there. There are many bikes that look like an adventure bike but are very road-biased, and comfort and equipment oriented.
"We wanted something that could do it all, be as good on as off-road. This was also the essence of the Ténéré in the past. The challenge was to get it all in balance, harmonious with the engine and chassis. So the bike is light, agile and dynamic but at same time stable, strong and durable. These are contrasts, so that was the hardest part and took the longest time.
"The delay was just that extra bit of development. Especially in the World Raid year, when we had a lot of rally and adventure riders making a lot of kilometres. They said it's good but with a feeling like this it would be even better. Mostly relating to the harmony of the whole chassis. It was about rigidity and flex, needing more flex.
"We didn't want to compromise on the things that were priorities: the natural feeling and having a lot of feedback. We felt there was still potential to optimise, and we felt we needed to take that opportunity, instead of bringing something that people said, 'It's pretty good, but…'
"The price point target was always challenging. If you look at the market there's not a lot around this price in adventure, and there are some expensive competitors. Suspension and frame technology is expensive, so it was a challenge. We are very grateful to our cost controllers because they did a good job!"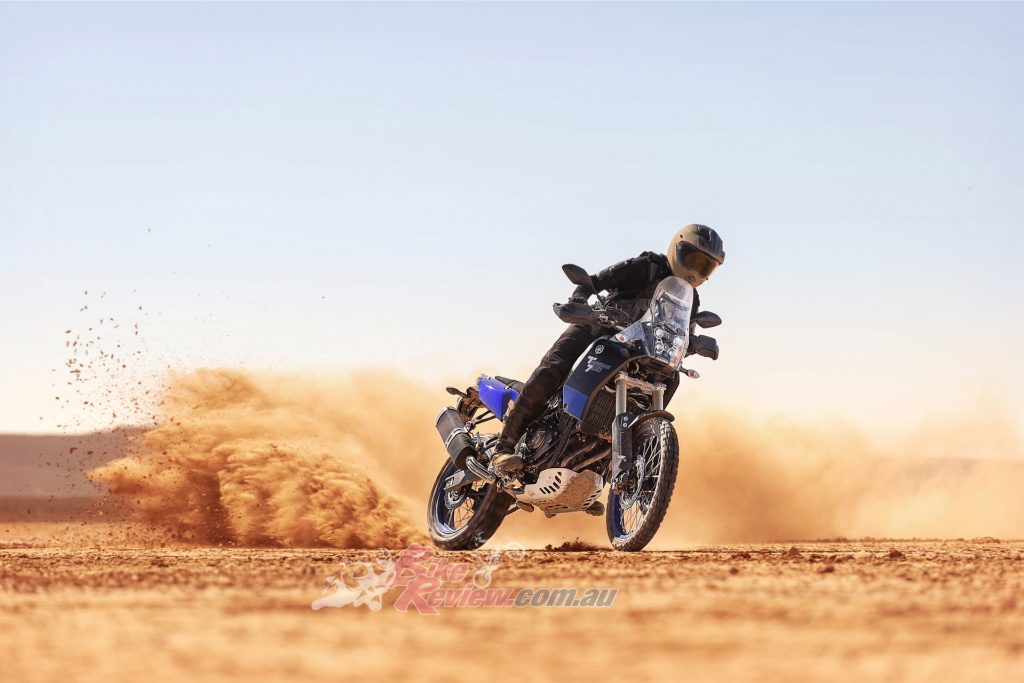 2020 Yamaha XTZ700 Tenere Specifications
Price: $15,499 + ORC
Claimed Power: 54kW[72hp]@9000rpm
Claimed Torque: 68Nm[43ft-lbs]@6500rpm
Kerb Weight: 205kg
Fuel capacity: 16L
Engine: Liquid-cooled, DOHC, inline-twin, four-stroke, four-valve, 80 x 68.6mm bore x stroke, 689cc, 11.5:1 compression, lightweight one-piece two-into-one exhaust
Gearbox: Six speed
Clutch: Wet, multiple disc
Chassis: Tubular steel twin cradle
Rake: 27°
Trail: 104mm
Suspension: 43mm KYB forks, fully adjustable, 210mm travel, semi-adjustable shock, 198mm travel,
Brakes: 282mm rotor(s) (f), twin-piston Brembo calipers and conventional master-cylinder, 245mm rotor (r), single-piston Brembo caliper
Wheels & Tyres: Spoked alloy wheels with Pirelli Scorpion Rally 90/90 – 21in (f), 150/70 – 18in (r)
DIMENSIONS
Wheelbase: 1590mm
Seat height: 875mm
Ground clearance: 241mm
Overall width: N/A mm
Overall Length: N/A mm
Overall height: N/A mm
Instruments: LED multi-function
2020 Yamaha XTZ 700 Tenere Gallery
The Verdict | Launch: 2020 Yamaha XTZ700 Tenere Review
Yamaha's contender is finally here, more than two years after the T7 concept's debut at the Milan show. We head to Tortosa in Spain to ride the Tenere 700…