An adventure bike for the masses would be not too hardcore off-road, not too road bias, fast, yet easy to ride. Have H-D delivered? Review: Jeff Ware Images & Footage: H-D Australia & NZ
Harley promised big things with the Pan America and in 20-years as a motorcycle journo, I can't recall a single new model that has had as much riding on it for a brand as the Pan America 1250 did for The Motor Company. It could have ruined them, if it wasn't so good.
I'd completely forgotten I was on a Harley when we stopped for a pie and Coke. Not that I had been really dwelling on the fact that this is a Harley and as a result, according to many online warriors, should be super scrutinised and hopefully fail – at least that is the vibe I picked up in the lead up to the bike being launched to the world (a vibe led by Harley die-hards and experienced adventure riders alike), but still, it was in the back of my mind when I had set off.
---
---
I hopped off and looked at the bike and I had one of those moments you have when you wake up in a hotel (or a police cell once but that is another story) and for a second you freak out, "Where the hell am I and more importantly, how did I get here?"… I'd completely forgotten the brand. I just knew this was good and would only get better as the opportunity to push it came more during the day…
After the snack and a chat to other motorcycle press, all of whom were pretty much as blown away as me already, it was time to head off on a fantastic loop of twisties, country roads, highway and a bit of dirt that was to include fire trail type tracks, dirt roads and finish with a bit of grass track fun!
---
"Where the hell am I and more importantly, how did I get here?"
---
First of all, hopping on the bike is easy thanks to the amazing optional Adaptive Ride Height, developed with SHOWA, this is an exclusive H-D technology for now. Essentially, the ride height is lowered 30 – 50mm while the bike is at rest, returning to full set height once on the move. Great for shorter riders and, as I found out, riders like me that wear full knee braces and have to 'swing' a leg over rather than step over an adventure bike. What a great idea. The other brands must be kicking themselves!
---
---
The ergonomics are comfy and there is a natural reach to the handlebars. With the stock seat fitted, I had it on the highest position available. At 187cm tall I found it just right but would most likely buy and fit the tallest seat option for long term use. The 'bars can be rolled forward or back. I left them in the stock position, which is more road bias than off-road, so great for general use. The adjustable screen is easy to operate and I found the lowest setting best for me.
The controls are all easy to reach, with span adjustable, slim levers shielded by plastic handguards that clip off the bar-ends (more weather protection and light bush/branch protection than anything else). The switchgear is super busy, there are a lot of buttons to learn and navigate but by days end I was familiar with them and appreciated the design. They seem good quality but how robust they are I can't say yet, only time and lots of off-road miles will tell.
---
---
Dash layout is great, similar to the LiveWire TFT display and very intuitive. It can be navigated via the switchgear or when stopped, becomes a touchscreen that is glove friendly. There is a Harley-Davidson free App available and there is Bluetooth connectivity for controlling calls, music and more via your smartphone. There are multiple display option and overall it is a top notch job by H-D and one of the best TFT displays out there once you get used to the menus.
At 253kg it is no lightweight but to be honest, hopping aboard the bike and lifting it off the oddly positioned (forward, left) sidestand, the Pan America does not feel top heavy or intimidating, which being a V-Twin, you would imagine it would be. Those 60º cylinders and the positioning of the compact motor has helped to keep the bike very well balanced, even with a full tank of juice. On the centrestand, the bike is really tall, so that could pose a problem to some riders.
CHECK OUT OUR PAN AMERICA SPECIAL VIDEO REVIEW
---
---
Firing up the Pan America Special takes a good few cranks and the battery is strained as it turns over the high-comp Revolution Max motor but suddenly it all comes to life and settles into a raspy but super smooth idle. Blipping the throttle reveals a super quick revving and responsive motor, and this is with only 1000km on the clock and not yet run in!
There are five Riding Mode presets – Road, Rain, Sport, Off-Road and Off-Road Plus. On our Pan America Special press bikes these included presets with the SHOWA semi-active suspension (Comfort, Balanced, Sport, Off-Road Soft, Off-Road Firm), along with parameters in the cornering ABS, traction control, lift control, power delivery/throttle response, and braking performance. There are also two custom maps, one for road and one for off-road.
---
Road Mode is what I spent most of the on-road component of the day in, with a switch to Sport for the twisties and the custom Road map for some hard-charging (we set that to full berries all-round, firm suspension support and the least TC). The Revolution Max is civilised and as smooth as silk, with very good fuel mapping and an ultra-smooth initial throttle opening. The same goes into turns, where presets for engine braking suit the modes and the bike can be punted into corners fast and with confidence, with no chance of rear wheel hop.
---
---
It is the first engine with VVT that I can't feel the transitions in cam timing on, as most other systems are rather steppy, particularly at a constant throttle. The Revolution Max is free revving and has a smashing top-end hit of power, enough to make me laugh out loud between corners… It lacks a little in the bottom-end and mid-range but is a fun, fast and engaging motor. With the electronics off and full power, it wheelstands out of corners, as you can see in our video! The only thing lacking is any sort of audible enthusiasm from the bike… It's too quiet! An aftermarket exhaust would sort that out.
Clutch action is light and smooth, while the gearbox although positive in shift and short in lever throw, and pretty high tech in terms of design, has an antiquated feel compared to the rest of the bike. Not having a quickshifter (nor the option for one), really made the gearbox feel like a mismatch on such a high-tech and refined bike. These days, no QS is almost like running a drum rear brake a decade ago! With tight ratios and an engine so revvy that constant shifting up and chasing gears is required to avoid the hard-hitting rev limiter, I can't understand why there is no quickshifter fitted. Hopefully next year!
---
---
Off-Road, the Revolution Max engine is different to anything in the segment, the closest power-curve-wise would be the V-STROM 1050 engine. Being revvy, it has a forgiving bottom-end and mid-range, meaning when you open that throttle, you are not overcome with huge amounts of torque and power to deal with, so it is tractable and easy to handle in that respect, and it has the second highest output in the big bore adventure class, with a whopping 150hp…
---
---
With these big adventure bikes, rear-wheel steering is a must-have to negotiate corners and having instant rear wheelspin on tap at any time on most of them makes the job of keeping well over 200kg on the track that bit easier. With the Revolution Max, in all the modes I tried including everything switched off, keeping the engine in the higher revs to get the wheel spinning was at times difficult with the 50/50 tyres fitted to the bike I was on and lots of traction on hand.
When we get the bike back after this latest COVID-19 lockdown here in Sydney, I will experiment more with the Ride Modes and Custom Mode, to see what can be achieved in that area of throttle response while riding on fast, flowing off-road areas. It didn't detract too much from the ride, it just meant I was exiting corners more aggressively with more rpm and speed to break the rear free than I would have liked, which then meant harder braking for the next set-up and so forth… Overall, though, a cracking motor from H-D…
---
The confidence-inspiring front-end is a highlight of the Pan America's off-road ability, plus the near perfect SHOWA semi-active suspension presets…
---
On road handling is up there with the best of the big bore adventure market. The SHOWA semi-active suspension is brilliant, and I did not add or remove any levels of damping or spring throughout the test outside of the presets. Both ends provide constant comfort and ride while touring on bumpy roads, yet start to push, and the set-up reacts with support and balance, while magically maintaining bump absorption. Hard on the brakes into turns, the front just keeps on giving, while at full throttle off the corners, the shock maintains ride-height and there is very little squat, meaning the superb geometry of the Pan America is maintained at all times.
---
Out of all of the electronic suspension systems I've used, this is one of the best on road. SHOWA provided the hardware, while the software and settings were H-D developed, and done bloody well. Combined with the cornering ABS and TC, the Pan America Special is online at all times. When we get it back, we will push it a bit harder (10/10ths) on some smooth twisties and see how that goes… Cornering clearance at 42º seems good, I only touched my boots down not the footpegs, and overall the bike feels a lot lighter and more flickable than the weight and spec sheet suggest, you can change lines at will, on or off the brakes, and it responds well to footpeg and 'bar inputs. It's pretty impressive.
---
On road braking is great without being exceptional. Initially the brakes on my bike lacked feel and instant bite but they came good after a few hard runs and were closer to what I would expect from the package. There is good feel and intimate modulation at the lever, the stopping power is there, but there were times when I felt I could have braked a bit deeper and harder than the system was allowing me to. A strong point is the way the electronics keep the Pan America tidy and wheels inline under crazy hard braking transitions from full throttle to full brakes, through tight corners for example, with all of that weight shifting around, the bike maintains a line. It's also almost infinitely adjustable in terms of springs, damping, power deliver, power level, traction control and braking…
---
---
Off-road handling is impressive as well. The confidence-inspiring front-end is a highlight of the Pan America's off-road ability, plus the SHOWA semi-active suspension presets, which are as impressive in the Off-Road Modes as they are on the road in the road going modes. The way the bike floats over corrugations and potholes on dirt roads is impressive. Sit down dirt riding is comfortable and smooth, with all but the bigger hits shaking the bones. There is plenty of feel and traction over the hard packed dry dirt and I felt confident in the steering and braking on the slippery powder.
I didn't have a chance to push the limits too far on any ultra fast dirt roads, where hitting bumps and washouts hard at warp speed in only the way a big bore adventure bike can will be a true test but at the 80km/h to 120km/h pace the Pan America copes well, with fast stand-up riding feeling natural. A few times I did start to get a bit silly with the engine and the bike was getting a little out of shape so whether the off-road chassis ability is on par with the full anger of the Revolution Max we are yet to find out.
---
---
In the afternoon we were treated to some special testing time on a stunning property near Kiama, NSW. There we had a grass track cut in for us, about 2km long and with a few berms and jumps thrown in. It was pretty slick but awesome fun and I was able to do lots of laps on both a bike with the full knobbies and another bike with the standard 50/50s on it. The latter tyres were pretty useless in the conditions but a good test of the electronics and my skills. I stayed out on them for quite some time and the fact I didn't bin it is testament to how easy the Pan America is to manhandle off-road.
I headed straight out in Off-Road Plus and did two laps before switching to an Off-Road Custom map that had the TC off, full power and angry throttle. This made the bike brilliant for this loop and even in the slippery conditions, the Pan America was easy to handle and steered wherever I wanted it to go. The roosts off the turns were epic and it was possible to brake really hard before turning as upright as possible and then firing that Revolution Max off the corners! It was addictive and loads of fun.
Overall my day on the Pan America Special left me feeling more than impressed, if a little shocked, by what The Motor Company have been able to achieve straight off the production line for their first stab at the super competitive adventure segment. Going for the big bore class immediately and taking on the established brands, Harley have done a brilliant job.
---
---
The Pan America is not a full-blown hardcore off-road adventure machine ready for the Paris Dakar, nor is it a road tourer pretending to be an adventure bike. It is somewhere between a V-STROM 1050 XT and an R 1250 GSA, is extremely user-friendly so will appeal to new adventure riders, yet more than capable enough to appeal to those already enjoying the thrilling experience of high-power, big-bore mega dirt bikes. It is packed with technology and priced similarly to its competition. Whether adventure riders and tourers can overcome the fact it is a Harley, only time will tell…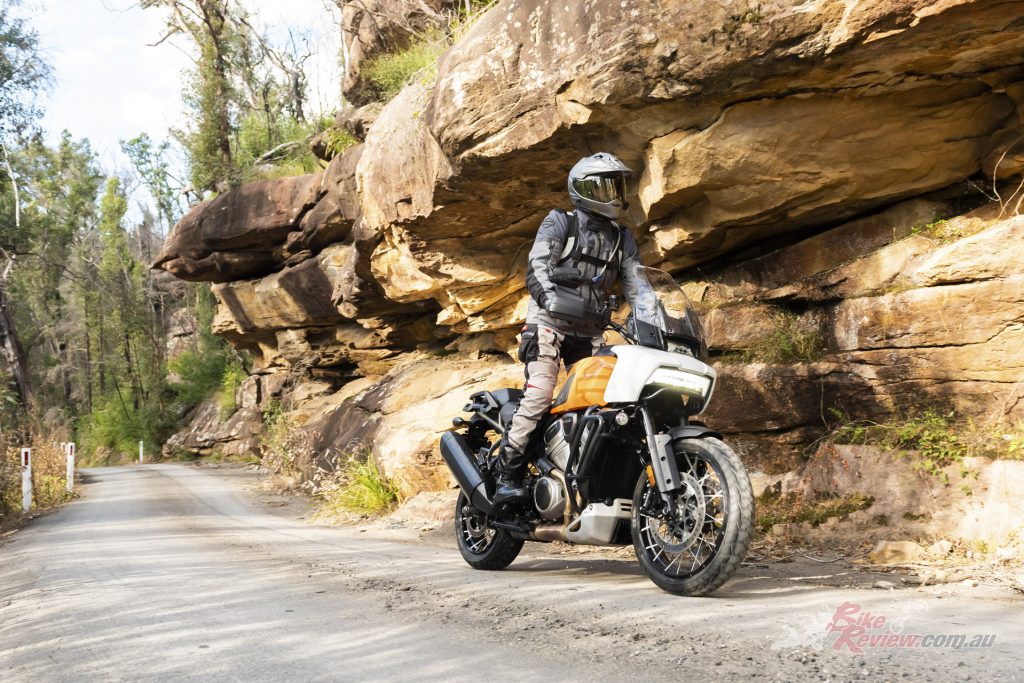 ---
2021 Harley-Davidson Pan America 1250 Tech Talk

The Pan America 1250 and Pan America 1250 Special models are powered by the new 150hp Revolution Max 1250 engine, a liquid-cooled 1250cc 60º V-Twin designed to offer a broad powerband. To minimise overall motorcycle weight, the Revolution Max engine is integrated into the bike as the central member of the chassis. The bike is also packed with technology…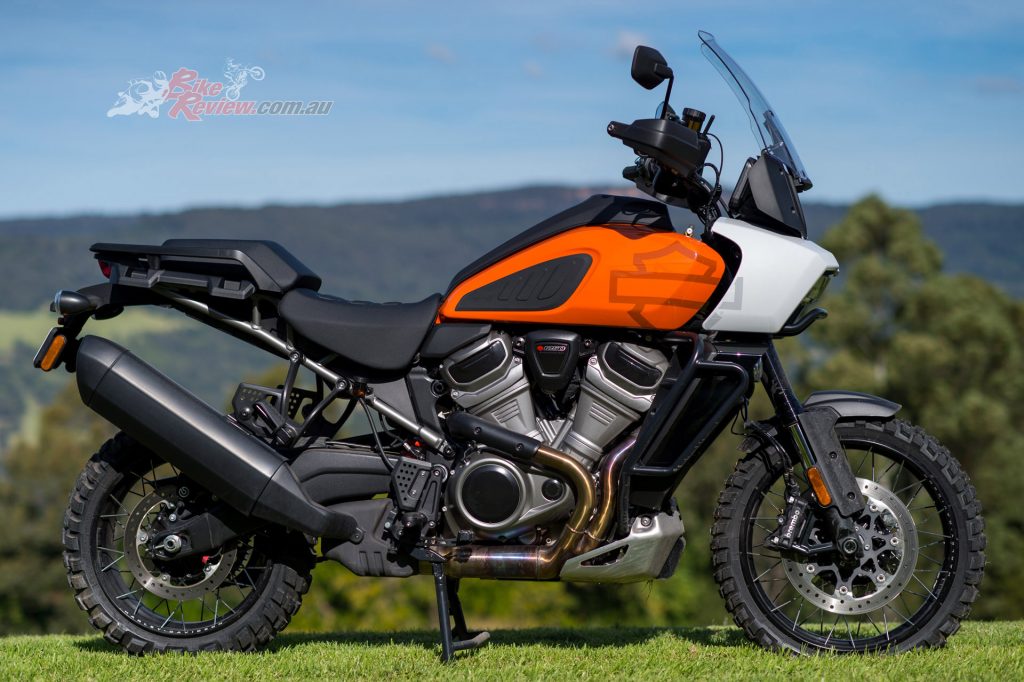 REVOLUTION MAX ENGINE
The amazing V-twin engine that powers the Pan America is completely new from the ground up, designed and built entirely by Harley-Davidson in the USA. It is a 60º Vee angle externally, to keep the engine short and thus assist in optimum chassis geometry and weight balance. Internally a 30º crank pin offset of the main journals create a 90º firing order. The two cylinders are offset slightly to accomodate the crank offset, and the result is a firing order that has flat tractable pulses, experienced gained by H-D in many decades of flat track racing.
---
---
The engine is lightweight thanks to the use of high end light materials and the use of FEA design optimisation in creating castings, minimising mass. The camshafts and gearbox shafts are hollow, while the single-piece aluminium cylinders are Nickel silicon carbide-surface galvanic coated. Rocker covers, camshaft covers and primary cover material is magnesium. Liquid-cooling is employed while a liquid-cooled oil cooler keeps oil temperature stable. The complex and effective cooling system meant that Harley were able to build the engine to tight tolerances, for better efficiency and performance, due to having great control of material expansion and contraction.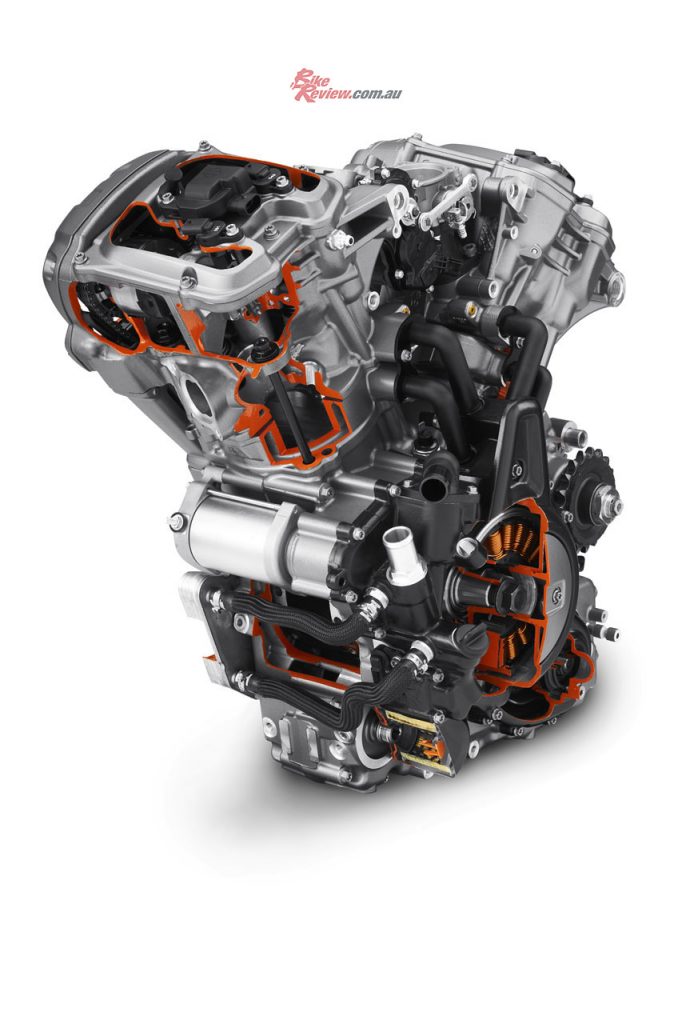 The pistons are 105mm forged alloy items with machined crowns and chamfered skirts for ring fitment ease. Compression ratio is a whopping 13.1:1 but the engine can tolerate 91 octane pump fuel due to the advanced electronics and knock sensor technology. The pistons have a low friction coating and low tension rings, reducing friction, while the top ring groove is anodised. Oil jets are aimed at the bottom for the pistons to aid cooling.
---
Above the pistons are the advanced cylinder-heads. The EX valves are sodium filled for heat dissipation, while the heads are cast from 354 aluminium and are super strong, as they form part of the chassis mounting point. The DOHC are chain driven and feature variable timing and can rotate independently advancing or retarding cam timing through a potential range of 40º.
---
---
This is achieved via computer controlled solenoid plungers that controls ported hydraulics within the cam sprockets. It is a seamless system and broadens the powerband offering low-end grunt while allowing top-end hit and improves fuel efficiency. Valves are operated by hydraulic lifters and small rocker arms, making the top-end maintenance free in terms of valve clearance adjustment. Dual spark plugs per cylinder are fitted for emissions reasons more than anything, while the dual down-draft throttle-bodies are positioned between the cylinders under an 11L airbox with internal velocity stacks. The airfilter is a washable conical item.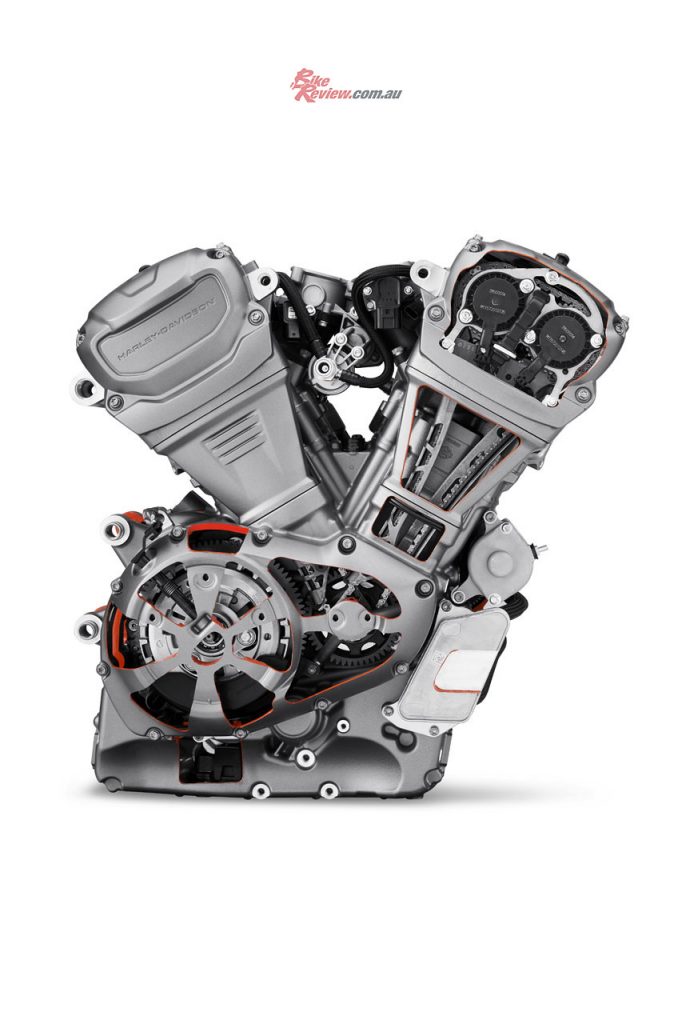 The engine is a dry sump unit but the oil tank is integrated internally in the sump area. This system minimises fluid friction losses and there is a triple oil-scavenge system that evacuates oil from the crankcase, stator cavity and clutch cavity. The oil feed pump is fitted with a large debris screen and the system creates crankcase negative pressure for increased power and minimal blow-by.
---
Oil is delivered to the main bearings and conrods via the centre of the crankshaft with a low delivery pressure of 60-70psi. There is a primary and a secondary balancer fitted, the primary balancer is a spiral shaped, chain-driven item in the crankcases and manages vibration from the crank pins, pistons, conrods and the offset imbalance. The secondary balancer is in the front head between the camshafts and complements the primary balancer.
The cable-actuated wet multiplate slipper clutch features eight friction plates and is driven by a noise vibration harshness reducing scissor primary drive gear. The six-speed gearbox cluster shift system rides in roller bearings while the selector shaft bushes are teflon coated. The gearbox is a compact semi-dry cluster built to be as durable and light as possible. The engine produces 150hp and 94ft-lbs and revs to 9500rpm. Final drive is my O-ring chain. The exhaust system is 304-series stainless-steel and the two-into-one system is designed for optimum performance and ground clearance.
RIDER AIDS
The Pan America models are equipped with technology designed to enhance the riding experience, including multiple electronically controlled ride modes plus Cornering Rider Safety Enhancements. This broad collection of technologies is designed to match motorcycle performance to available traction during acceleration, deceleration and braking.
---
---
Pre-programmed ride modes for the Pan America 1250 models include Road, Sport, Rain, Off-Road and Off-Road Plus. Each Ride Mode consists of a specific combination of power delivery, engine braking, Cornering Enhanced Antilock Braking System (C-ABS) and Cornering Enhanced Traction Control System (C-TCS) settings. The rider may use the MODE button on the right-hand controller to change the active ride mode while riding the motorcycle or when stopped, with some exceptions. There are also two Custom Modes one for road and one for off road.
TFT DASH
All instrumentation and infotainment functions are displayed on a tilting 6.8-inch TFT touchscreen. The non-reflective glass cover makes it easier to view in most lighting conditions. The touchscreen function is disabled when the motorcycle is in motion, but the rider can use hand controls to manage many functions of the screen display when the motorcycle is moving.
---
---
The display supports infotainment generated by the rider's Bluetooth-equipped mobile device, including music and calls. Navigation is supplied by the free Harley-Davidson App for iOS or Android.
SHOWA SEMI ACTIVE SUSPENSION
The Pan America 1250 model features premium passive front and rear suspension that is fully adjustable for pre-load and compression/rebound damping. The front suspension is provided by a SHOWA 47mm inverted cartridge fork. Rear suspension is a SHOWA Piggyback reservoir shock with adjustable hydraulic preload. The rear suspension incorporates a linkage system which provides a progressive feel through the stroke and maintains a comfortable, compliant ride on-road, while providing superior support for off-road conditions.
---
---
The Pan America 1250 Special model available here is equipped with the upgraded electronically adjustable semi-active front and rear suspension. Utilising data provided by sensors on the motorcycle, this suspension system automatically controls damping to suit the prevailing conditions and riding activity. These suspension components are provided by SHOWA, while the control software was developed by Harley-Davidson.
---
The Vehicle Loading Control system senses the weight of the rider, a passenger and luggage to select optimal suspension sag by automatically adjusting rear preload. Unladen seat height is 850mm in the low position and 875mm in the high position.
BREMBO BRAKES
Harley-Davidson and Brembo also collaborated on an all-new braking system for the Pan America models that is designed to provide the rider with great braking feel and performance. A new radial monoblock four-piston (30mm) caliper takes full advantage of the material characteristics to increase stiffness while reducing overall weight. Dual front brake rotors are 320mm in diameter; single rear-brake rotor is 280mm diameter. A new front brake master-cylinder offers adjustable lever response.
---
---
ADAPTIVE RIDE HEIGHT
The final factory installed option is the Adaptive Ride Height. Harley-Davidson is the first to offer this technology in the motorcycle industry, and Adaptive Ride Height (ARH) is an option for the Pan America 1250 Special model only. Adaptive Ride Height unlocks confidence you can feel in different scenarios by enabling a lower seat when the bike is at rest, without compromising ground clearance.
---
In Australia, only the Pan America 1250 Special will be offered. The Pan America Special is priced at $31,995 AUD ride away in Australia. Laced wheels and Adaptive Ride Height is an optional extra and $33,480 Ride Away. Head here for more info and accessories. 
---
2021 Harley-Davidson Pan American 1250 Special Specifications
Price: $31,995 AUD ride away std, $33,480 AUD as tested.
Colours: Vivid Black; Gauntlet Gray Metallic; Deadwood Green; two-tone Baja Orange & Stone Washed White Pearl.
Warranty: Two-years unlimited km
Claimed Fuel Consumption: 5.5L/100km
Claimed Power: 112kW@8750rpm
Claimed Torque: 127Nm@6750rpm
Wet Weight: 253kg
Fuel capacity: 21.1L
Maintenance: 1600km, then every 8000km
---
Engine: Revolution Max 1252cc, Electronic Sequential Port Fuel Injection (ESPFI), 105 x 72mm bore x stroke, 13.0:1 compression ratio, two-into-one exhaust, offset crank with 90º firing order, 60º V angle, variable cam timing, chain drive camshafts, liquid-cooling, dual plug heads.
Gearbox: Six-speed Clutch: Wet multi-plate slipper type, cable actuation.
---
Chassis: Alloy and steel trellis with engine as stressed member, forged alloy main section.
Rake: 25° Trail: 108mm
Suspension: Semi-Active front and rear suspension with Adaptive Ride Height as an optional extra, 47mm SHOWA front, SHOWA Piggyback reservoir shock with adjustable hydraulic preload rear. 191mm travel both ends.
Brakes: Front: Radially mounted four-piston Brembo calipers, 320mm rotors; Rear: floating, single piston Brembo caliper, 280mm rotor. Cornering ABS with linked brakes.
Wheels & Tyres: Cast Alloy or Tubeless laced wheels, 19 x 3.0in with 120/70 – 19 (f), 17 x 4.5in with 170/60 – 17 (r) Michelin Scorcher Adventure 50/50 tyres.
---
DIMENSIONS
Wheelbase: 1580mm
Seat Height: 830mm – 875mm
Overall Length: 2265mm
Overall Width: 965mm
Overall Height: 1510mm
Lean Angle: Over 42º
Ground Clearance: 210mm
---
Instruments & Electronics: All instrumentation and infotainment functions are displayed on a tilting 6.8-inch TFT touchscreen dash. Rider aids include linked cornering ABS, traction control, hill hold, rear lift mitigation/engine braking, rider modes.
---
The Verdict | Launch: Harley-Davidson Pan America 1250 Special