This 'Fightered RC8 has taken styling ques from the Super Duke 990, turned into reality by hand by Steve... Words: Kris Hodgson Photography: Harry Jackson
You'll no doubt remember Steve Broberg for his stunning cafe racered Ducati 1098, with this custom MC RR KTM RC8 being another of his creations.
You may also remember that with his 1098 the idea of a custom tail was what prompted and motivated Steve to start the whole project, with this RC8 following a similar motivation, except that this time Steve wanted to create a custom naked RC8 to suit the standard tail, with the rest of the bike tailored to suit.
Steve's reason for picking this particular model was again based on his love of V-twin powerplants, as well as a history of owning many KTM twins, with three Super Duke 990s having graced his stables in the past, along with a Super Moto 950 and 990R, several Adventure 990s and of course his Super Duke 1290 R, which he still owns.
"The RC8 has a very sharp and unique rear end," Steve explains, "So it was a challenge to build a bike styled to the rear end, and that looks as though KTM had designed the bike from the RC8…
"Many people have made street fighters from this bike, which are just stripped down and have other bike parts fitted, not looking complete or matching the existing sharp KTM angles."
This KTM RC8 was purchased at auction from Manhiem Townsville and was damaged, but boasting the impressive RC8 1148cc 75-degree V-twin engine, with over 150hp on tap.
"In 2007 I bought my first KTM, a 990 Super Duke," added Steve, "Just to see what the LC8 was like as an everyday rider… I was instantly impressed and loved the handling and versatile adjustment of the WP suspension, and the Brembo brakes were awesome.
"So when the RC8 with the new larger mill LC8 hit the market of course I had an instant liking for this bike too!
"I took one for a demo ride in 2009 and found it to be a real easy bike to ride and handling was somewhat better and easier than the Ducati 1098S I had back then."
With performance already plentiful thanks to the 1148cc LC8 donk Steve settled with just adding a titanium Akropovic two-into-one-into-two system, with dual 60mm stainless steel mufflers, with extra baffles to keep their volume at a not-too-inconspicuous level.
The chassis saw more attention with a set of WP 48mm 990 Super Duke R forks fitted, including the triple-clamps and handlebars, while the original RC8 Brembo four-piston calipers with 320mm rotors were retained.
A Brembo master-cylinder was added with a set of adjustable shorty levers, as well as Hel Performance braided lines, with Metal Gear sintered pads – Steve's brake pads of choice.
On the rear end the standard fully adjustable WP shock was also kept, along with the standard Brembo caliper and 240mm rotor, while the cast aluminium Marchesini wheels both front and rear are clad in Dunlop rubber.
Next it was time to go to work on transforming the bike, in the MC RR fashion, with Steve admitting he once again had a look around the world at what others had achieved, to see the possible pitfalls, mistakes and successes that had been achieved in creating a fightered RC8, "Like I always do I looked at all of the other RC8 streetfighters built around the world and set out to build an RC8 that looked like KTM designed it…
"There are a lot of RC8s with fairings stripped off and bits tacked on, so noting this I had to redesign the bike from the tank forward, which was not an easy task!"
Now KTM pursue a very different design perspective when it comes to their bikes, which always stand out in a crowd, as well as incorporating sharp features and an often space-age-like quality.
For Steve it was all about building on this, "The RC8 is a very sharp angled aggressive bike, which is all angles. KTM even built their own prototype streetfighter, the RC8 Venom, which kind of worked but I looked with a very critical eye and picked faults in most of the RC8 'fighters I saw.
"To start designing as I'm not good at drawing I had to just imagine all the angles I was going to make and mock up bits of cardboard to get an idea of how it would look. With so many parts around my place I also started sitting different headlights in place and standing back to stare at what could become of the combinations.
"Nothing looked right until I looked around at what bikes I had and spotted a light that would work… I hate to say it, but it was a Hyosung headlight!"
With the light chosen it became a matter of creating bodywork that would suit the standard RC8 tank, which came to include side panels, a headlight surround and bellypan, while a carbon-fibre 990 Super Duke front guard joined the forks, and a carbon-fibre hugger with matching swingarm covers in the same material were added on the rear end.
Making the custom bodywork wasn't easy either, as Steve confided, admitting, "It was all about integrating the panels and creating downward sloping angles and wedge shapes to match the tank, and when I had the designs made up, making these panels was a real challenge for me, as my only experience with fiberglass was working on the custom seats I make.
"I also made these panels as they are now and have no molds to reproduce this bike or panels, so I'll never build another one like this."
Additional modifications including moving the licence plate mounting further under the tail, with the rear indicators moved to match, while a set of 'bar mounted mirrors were added and also incorporate indicators, for a clean look, while a aftermarket brake reservoir also sports a billet cap.
The removal of the front fairing also necessitated the relocation of both the ignition – to the right hand side of the bike, and the dash which is now bar mounted, with the new headlight and surround a exceptionally clean and well mounted design.
As with on his 1098 Steve had Bryce Miller Signs design all his graphics, with Steve fitting the stickers to the black panels to ensure everything matched his high standards, before having all the panels clear coated over, to ensure a quality gloss finish.
The end result speaks for itself, with this RC8 'Fighter capturing that atypical KTM styling, while also forging itself as a very unique motorcycle, particularly as this machine, unlike Steve's 1098, was not created with molds for the custom bodywork.
Steve is suitably proud and admits that he gets quite the reaction wherever he goes on the bike, "I haven't taken this bike many places but it always attracts attention, and I've been asked, 'What model KTM is that, I haven't seen one of those before!', which I've been told is the ultimate compliment – people thinking it is a factory-made bike, while others are impressed with my original work.
"Throwing a leg over the RC8 it feels light but not real small, with the motor responding quickly to the throttle. It didn't ride as I wanted it to from the first ride, but I took it through my favourite bumpy roads and tuned the suspension, testing it under hard braking, stoppies and landing from fast wheelies, until I was totally happy.
"The twin 60mm mufflers were also far too noisy at first, so I turned up a couple of baffles so it was not so offensive, and with the suspension tuned the bike is set up and ready for sport riding, stunting and general riding in the real world."
The bike itself took Steve 200-hours, over an eight week period, and he admits to being totally happy with the end result, with no future mods planned.
If you're interested in the RC8 'Fighter though, look up Steve from MC Road Runner, as he's told us he has too many keepers piling up in the garage and may be interested in parting with this creation for the right incentive.
For more information about Steve and MC Roadrunner you can visit his website: www.mcroadrunner.com.au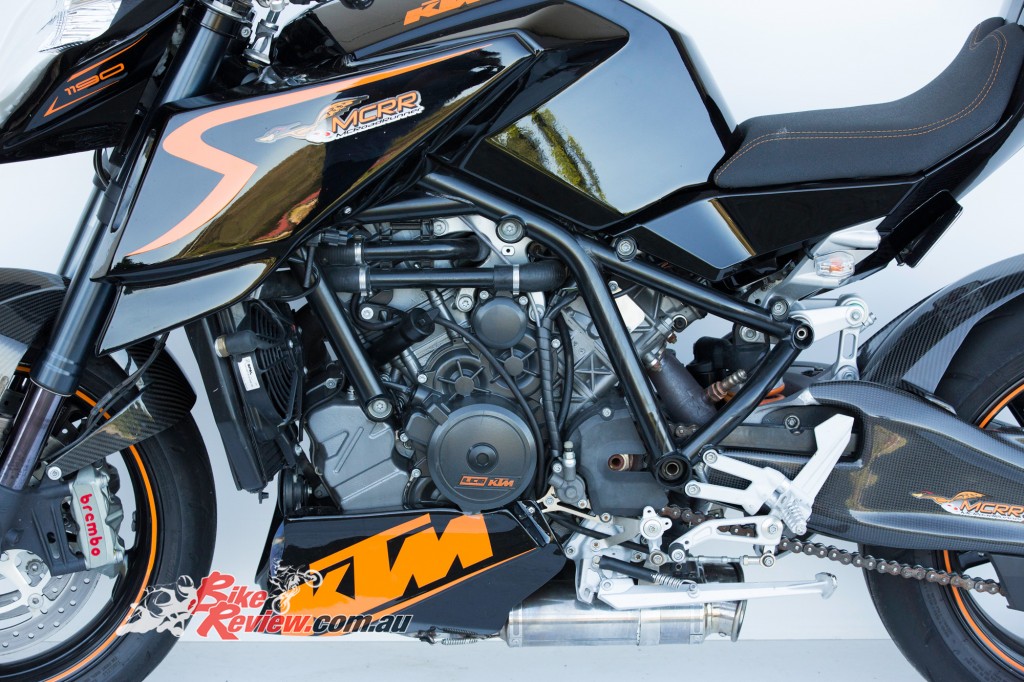 SPECIFICATIONS
ENGINE:Stock KTM RC8 1190, liquid-cooled 75 V-twin, DOHC, four-valves per cylinder, 1148cc, 103 x 69mm bore x stroke, 12.5:1 compression, Akrapovic titanium two-into-one-into-two system, dual 60mm stainless steel mufflers with custom additional baffles
CHASSIS:Stock KTM RC8 1190 – Chromium-Molybdenum trellis frame, aluminium 7020 subframe, swingarm, Brembo brakes, rear WP fully adjustable shock, Marchesini wheels, KTM 990 Super Duke R – 48mm WP fully adjustable forks, triple-clamps, 'bars, Brembo master-cylinder
BODYWORK:Stock KTM RC8 1190 tail, MC RR bespoke side panels, bellypan, headlight surround, carbon-fibre Super Duke 990 front guard, carbon-fibre rear guard and swingarm covers, custom plate and indicator mount, Hyosung GT250R headlight, aftermarket mirrors, aftermarket reservoir with billet cap,
SPECIAL THANKS
To Bryce at Miller Signs Graphics & Designs (msgd.com.au), for designing and printing my MC RR, MC Road Runner business logo and all other letter cutting.