AGV Australia have announced the released of the K-1 Miller edition helmet, featuring Jack Miller, Australia's current MotoGP racer having graduated from the Moto3 class in 2015, best known for his hard-charging, flamboyant riding style and colourful personality – attributes abundantly reflected in his helmet design.
The AGV K-1 Miller uses aerodynamics, ventilation and spoiler developed for the wind tunnel tested Corsa R and Pista GP R. The shell and spoiler provide aerodynamic stability at speed and the spoiler itself features a passive rear vent to extract warm, moisture-laden air from the helmet as you ride. The K-1 also incorporates the central air intake above the visor taken directly from MotoGP developed Pista GP R to provide best-in-class ventilation.
Featuring High Resistance Thermoplastic Resin (HIR-TH) construction, the K-1 shell comes in two sizes with four different Expanded Polystyrene Styrofoam (EPS) liner sizes and a fully removable and washable 3-D Dry-Lex inner liner to ensure a perfect fit, maximum safety and a quiet ride. With its five front vents (three forehead and two chin guard) and two rear extractor vents the K1 Miller is supremely comfortable even in the hottest conditions – giving an added level of safety as a comfortable rider has higher levels of concentration.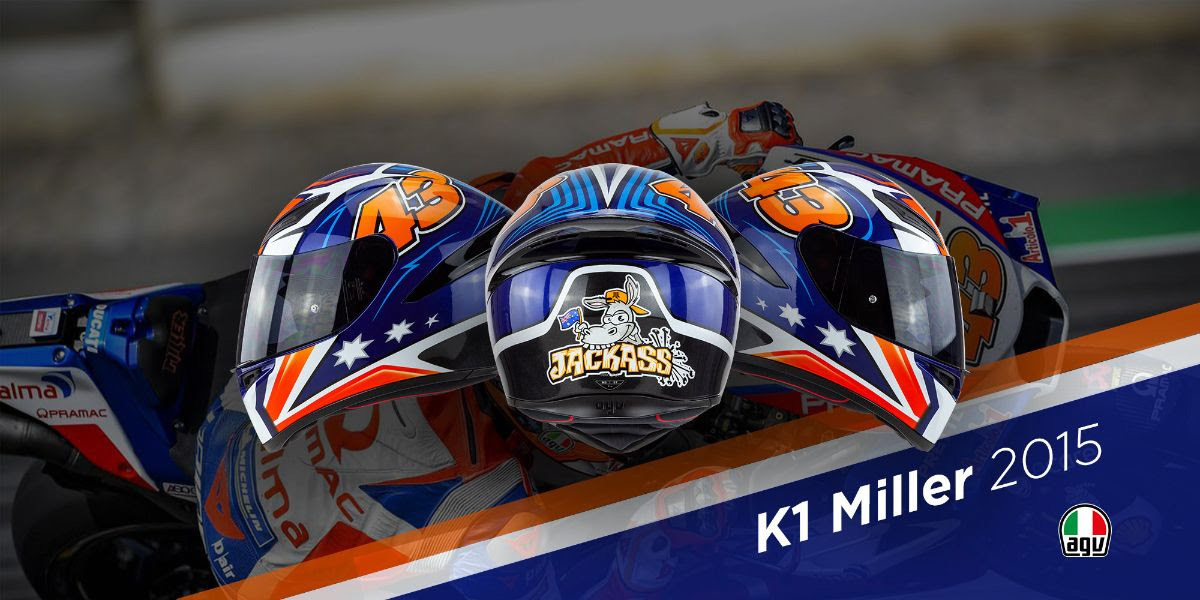 Additional K-1 features are the XQRS (X-tra Quick Release System) micro-opening visor mechanism for tool-free removal and replacement of the visor in seconds, the visor itself allows a wider lateral and vertical field of vision and is made from scratch-resistant and anti-fog polycarbonate with 100% UV protection. There are two visor sizes available, the GT 2-1 for helmet sizes XS, S and MS and GT 2 for sizes ML, L, XL and 2XL.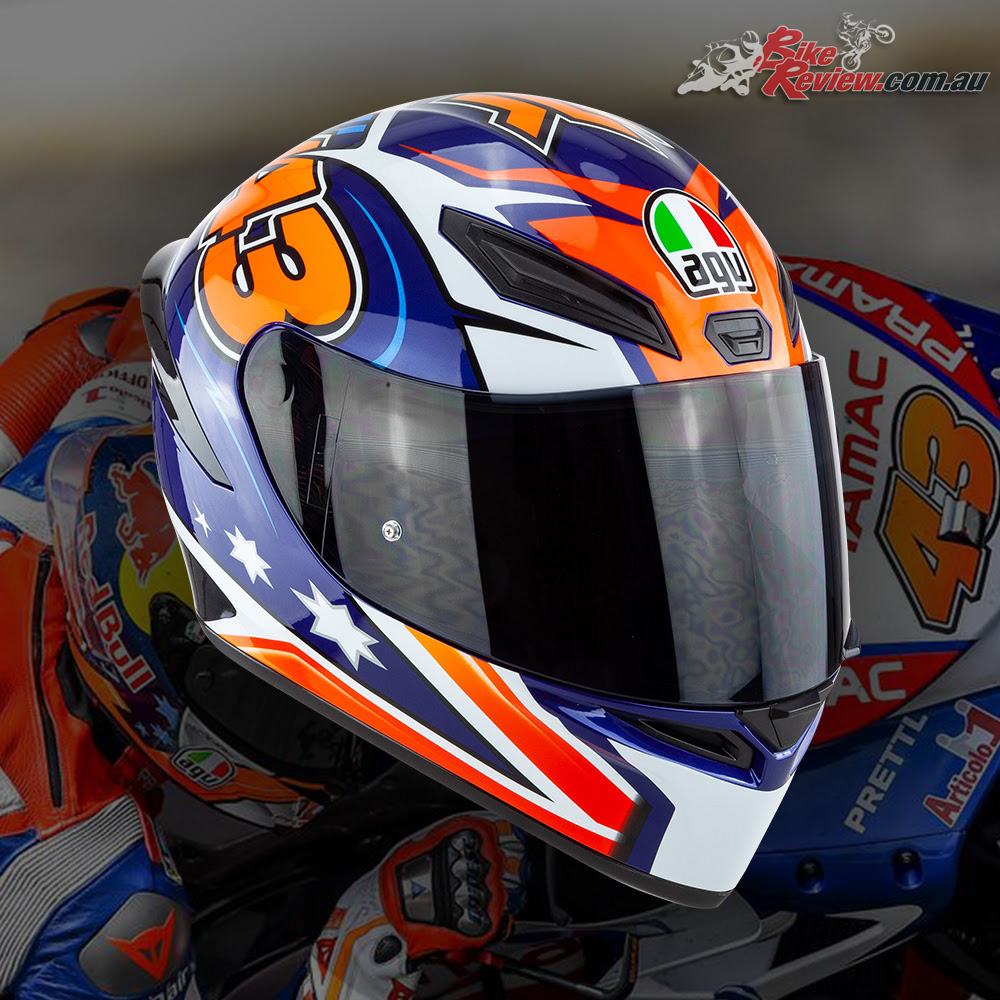 The K-1 profile is specifically contoured around the base to reduce the risk of collar bone injuries, it passes all World-wide safety tests including the AGV Extreme Standards tests and comes with an ultra-secure Double-D ring chin strap. All-in-all, the K1 Miller offers the very highest levels of comfort, quietness, safety and protection in a superb replica graphic design at an outstanding value for money price point of just $349.00 RRP.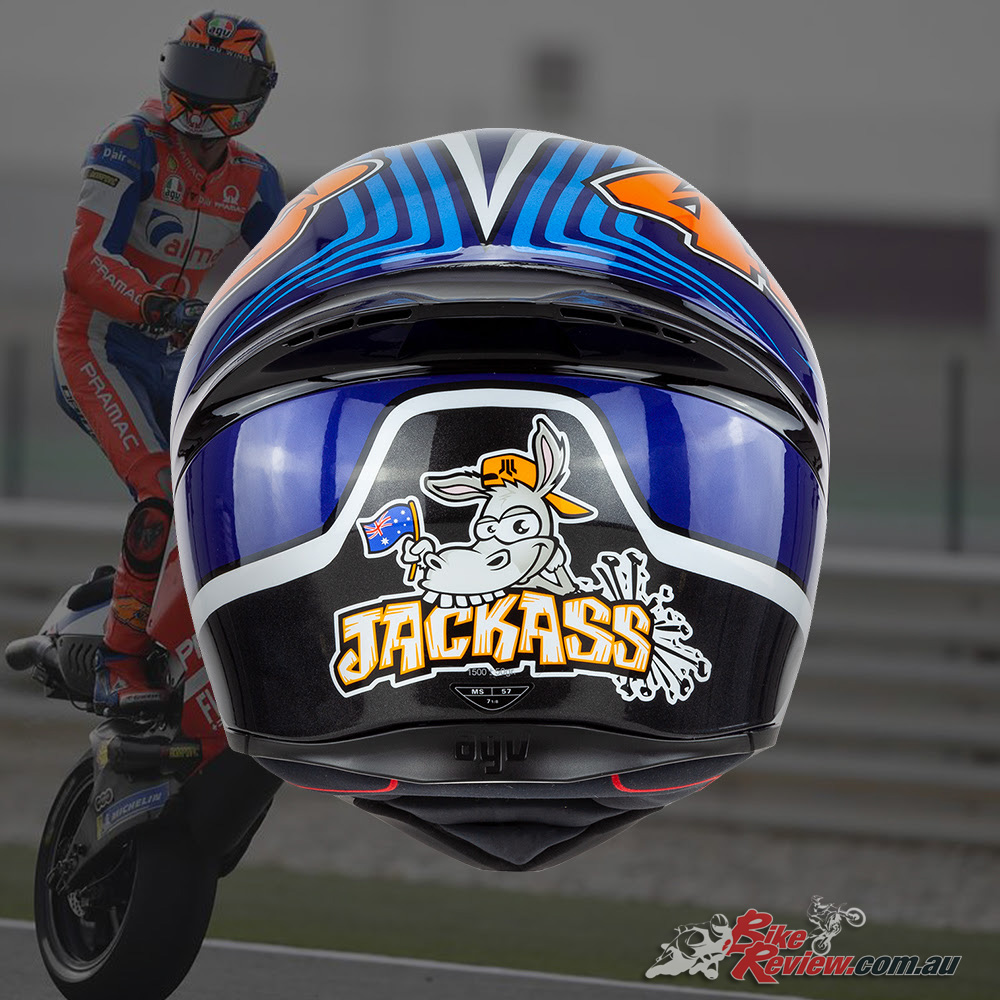 You can order your AGV K1 Miller from all good motorcycle retail outlets, the part numbers range from 77-916-04 XS to 77-916-11 XXL. AGV helmets are proudly distributed in Australia by Link International. For more information about the AGV K1 Miller and all AGV helmets please visit: www.agvhelmets.com.au