Australia's WSBK and WSS Wildcards impress in practice
It was a positive day at the Phillip Island Grand Prix Circuit for Australia's World Superbike and World Supersport (WSBK) wildcard entrants, with the first practice sessions taking place ahead of this weekend's racing.
With today marking the first opportunity for the WSBK classes to hit the track, spectators made their way to the Island to support their Australian competitors, as teams and riders prepare for their appearances on the world stage this weekend.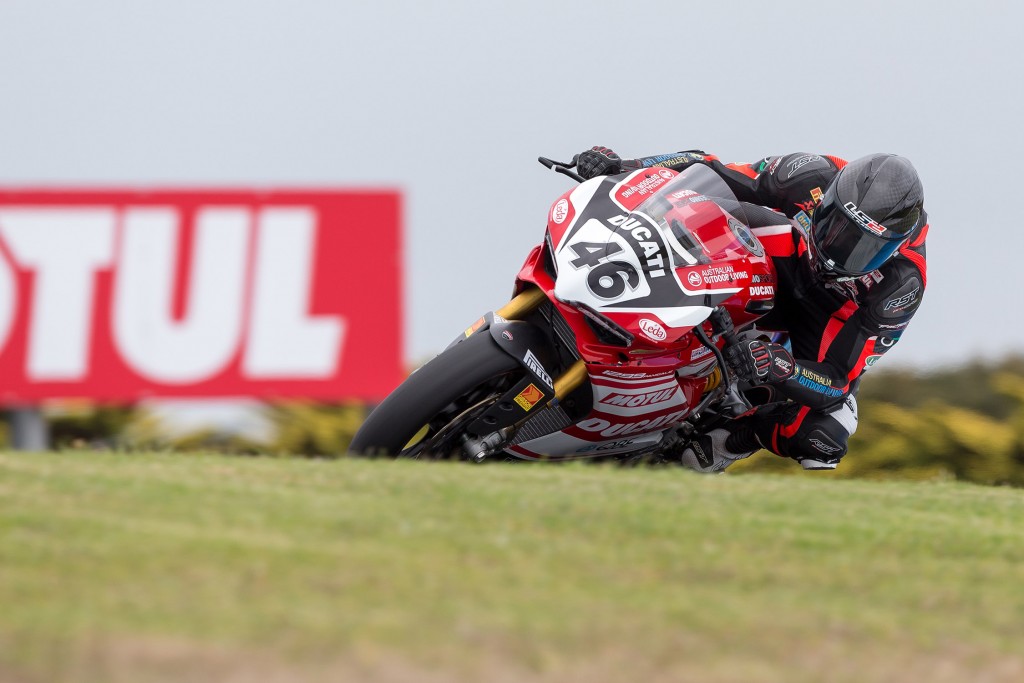 DesmoSport Ducati's Mike Jones, who celebrated his 22nd birthday only yesterday, wowed the Aussie crowds this morning, posting the 15th fastest time in the first World Superbike free practice with a 1:32.821 lap.
And when the World Superbikes hit the track again this afternoon, wildcard Jones showcased his consistency throughout the one-hour practice session, finishing 15thagain and bringing his best lap time down to a career best 1:32.476.
"The conditions on the track from the first practice to the second practice were very similar, it was quite windy, but we made a lot of improvements with the bike. The DesmoSport Ducati Team worked well together and we made some really good changes so I was able to feel a lot more comfortable," Jones shared.
"It's good to have so much track time this weekend with racing the Wildcard, and the ASBK. I've been riding Phillip Island since 2007, so I know the circuit quite well and I'm doing a lot of riding this weekend, so it means I'm familiar with the circuit and it's some what of an advantage.
"I am really happy with where we are in terms of lap times and my position, and we're taking everything into consideration, so overall we are very happy with today."
In the World Supersport category, fellow Australian wildcard Anthony West (Green Tea X50) got to stretch the legs, concluding the first one-hour session just outside the top ten with a 1:34.901 lap time, which placed him in 11th.
Australia's other wildcard Supersport riders Mitch Levy (Landbridge Racing) and Kane Burns (Burns Racing) concluded the first free practice session in 20th, and 23rdrespectively. Levy managing a 1:35.994 lap time, while Burns' fastest lap was a 1:36.416.
When the second practice session got underway West improved from this morning's times and managed a 1:34.672 lap, which again slotted him in just outside of the top ten in 12th.
"We went a bit quicker in that second session. This morning I wasn't happy with the bike, and it's quite ambitious to put a team together in such a short time," West said.
"I've raced a lot of these guys out here before and I know where I want to be. I want to be inside that top five or fighting for a podium, so that's what I'm here to do, we just need to get the bike right.
"There's a guy out here from America who came out here just to watch, and now he's in my garage getting his hands dirty so we're all pulling together to do the best we can with what we have.
"World Superbikes is where I want to be, and this weekend is about keeping my name out there and show that I'm still ready to race."
Fellow wildcard Levy also improved on his times in his second appearance in the Supersport free practice this afternoon, concluding the session with the 21st fastest time with a 1:35.962.
Burns concluded his final Supersport free practice for the day in 24th (1:36.763). 
Stay tuned to the Motorcycling Australia website at www.ma.org.au, for more updates on the 2016 WSBK Australian wildcard riders at Phillip Island this weekend. 
Image – Andrew Gosling/tbgphoto