Jones, Maxwell, Halliday top three Race 1 Morgan Park ASBK
Mike Jones won race one at Morgan Park by a huge 2.1-seconds from Wayne Maxwell and 2.6-seconds from Cru Halliday, with fourth placed Troy Herfoss a whopping 6.241-seconds adrift in what was a spread-out opening race for the big guns on the weekend. Pics: TGB Sport Report: MA.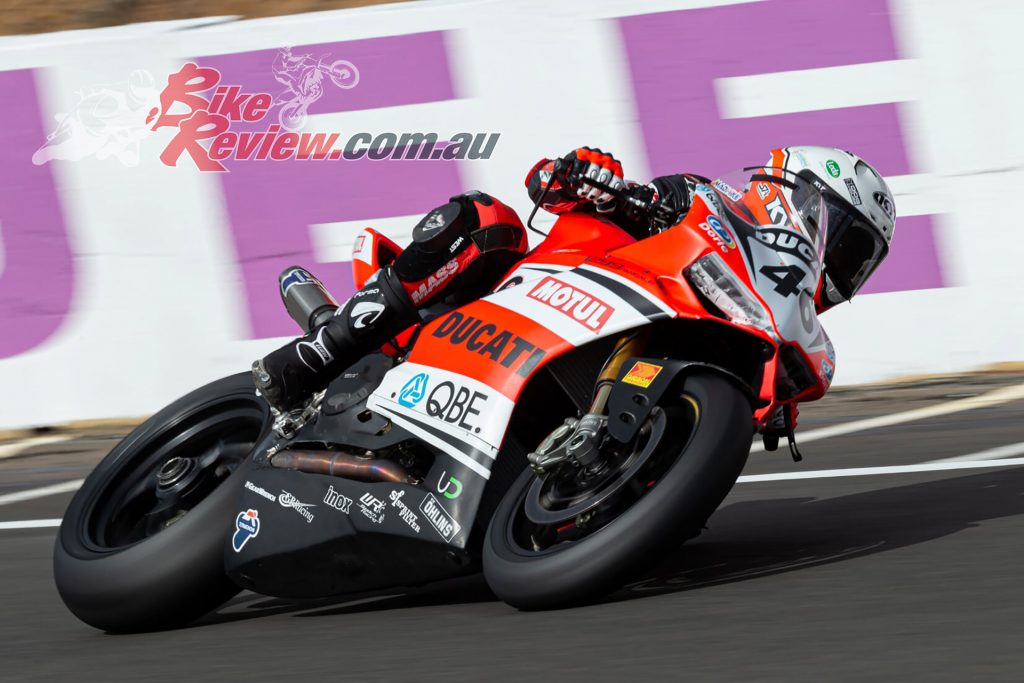 Polesitter Jones got the jump off the line to lead them into Turn 1, with Herfoss slotting himself into second spot and Maxwell finding himself bundled back to fifth.  Turn 8 saw Herfoss blast past Jones to take the lead early and briefly lead the race, before the Ducati used its grunt to retake the lead as the field began lap two. Daniel Falzon  (Yamaha Racing Team, Yamaha YZF-R1) was starting to apply some pressure to teammate Halliday as the field settled into a rhythm but lost the front end on the way through Turn 6 and crashed out of the race. At the head of the field, Jones and Herfoss were followed by Halliday, Maxwell, Staring and Josh Waters (Team Suzuki ECSTAR Australia, Suzuki GSX-RR).

Maxwell was pestering Halliday for third position and got the move done down the front chute on lap seven to claim third, taking Herfoss for second soon after with Halliday following through to send Herfoss back to third. By half distance, Jones was more than a second up on Maxwell, Halliday, Herfoss, and Staring, with Waters now beginning to lose touch with the lead group. As has been the trend throughout the 2019 season, Staring was beginning to pick up the pace towards the second half of the race and was now looking for a way past Herfoss.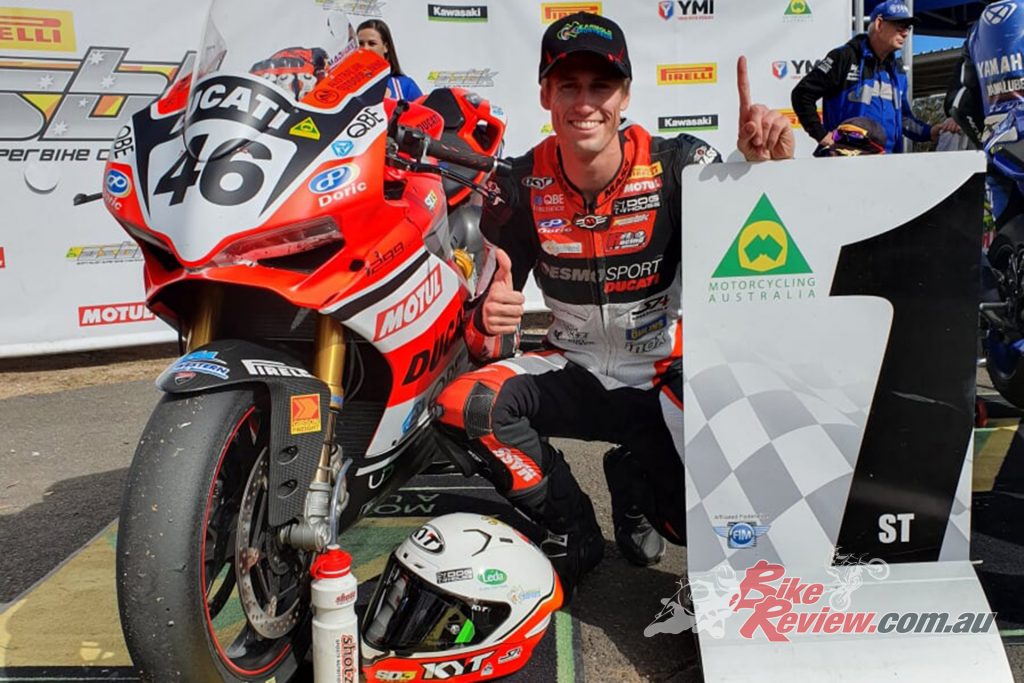 Staring made the move out of Turn 12 on lap 11, up into fifth position. Jones was still at the head of the field, but the gap over the pursuing trio of Maxwell, Halliday and Staring was closing up as they upped the pace over the closing three laps. With two to go, Staring was pushing to overtake Halliday for the final podium spot when he lost the front-end into Turn 4, with the Kawasaki rider rejoining to finish 12th. Jones crossed the line 2.1 seconds ahead of Maxwell, who managed to hold off a hard-charging Halliday in third ahead of Herfoss and Waters. Maxima BMW's injury replacement Aaron Morris (BMW S 1000 R) rode like a series regular to finish sixth.