Kawasaki Team Green Australia Broadford Day!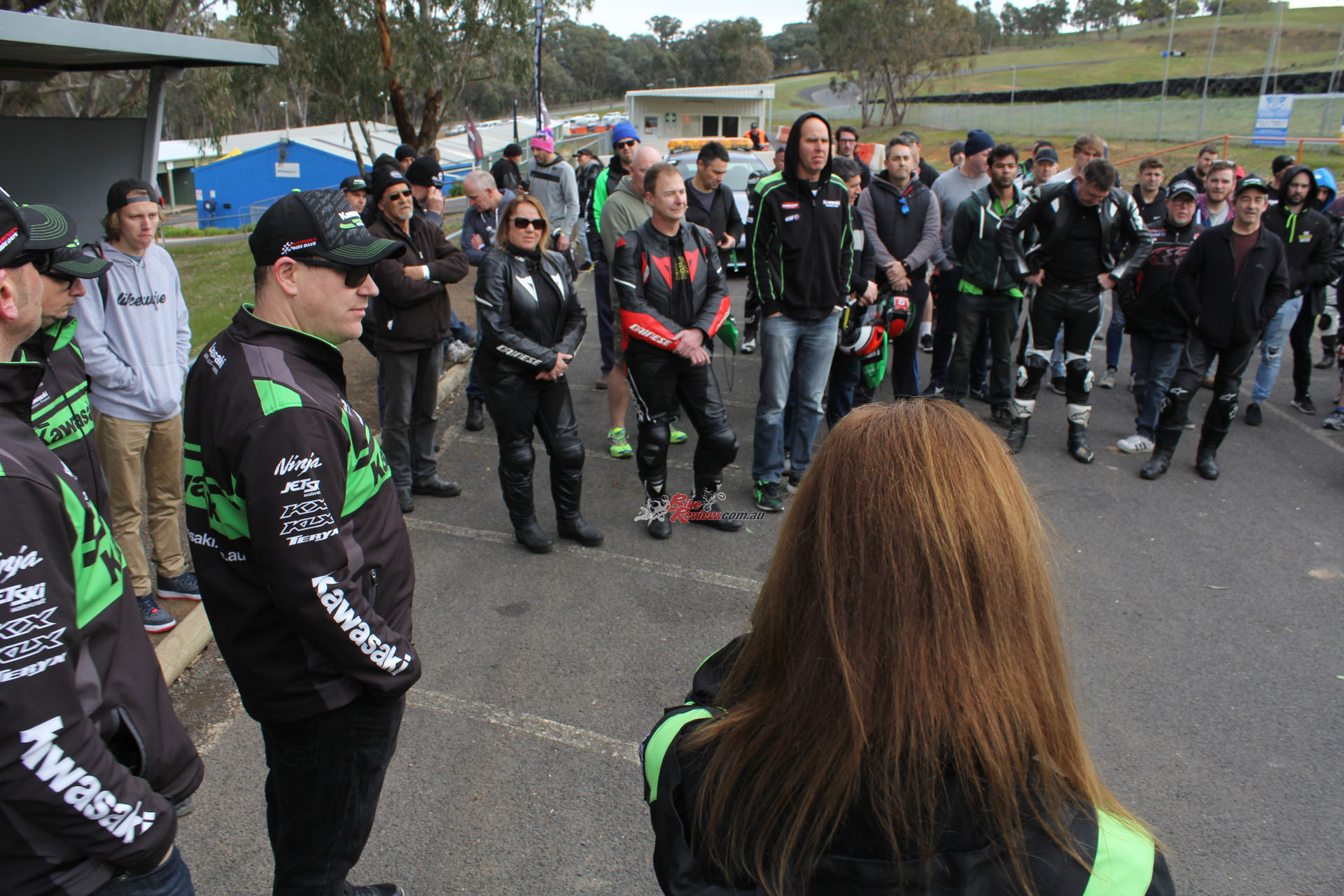 The sheds were filled with Kawasaki enthusiasts and motorcycles of all shapes and sizes as the renowned Kawasaki Team Green Australia (KTGA) track day event took to the glorious Broadford State Motorcycle Sports Complex in Victoria.
KTGA track days are designed to reinforce the Kawasaki riders' community and provide an affordable track day experience for all levels of riders. Punters were treated to a show bag on the day including limited run collectable event caps, plus an exclusive performance by Kawasaki supported Jamie Baker – JB Stunts. Check out the full gallery HERE.
JB kicked off the day with a flurry of hair-raising stunts aboard his Ninja ZX-6R (636). KTGA attendees applauded the South Australian freestyle stunt rider before they got straight down to business and hit the Broadford tarmac for the riding sessions.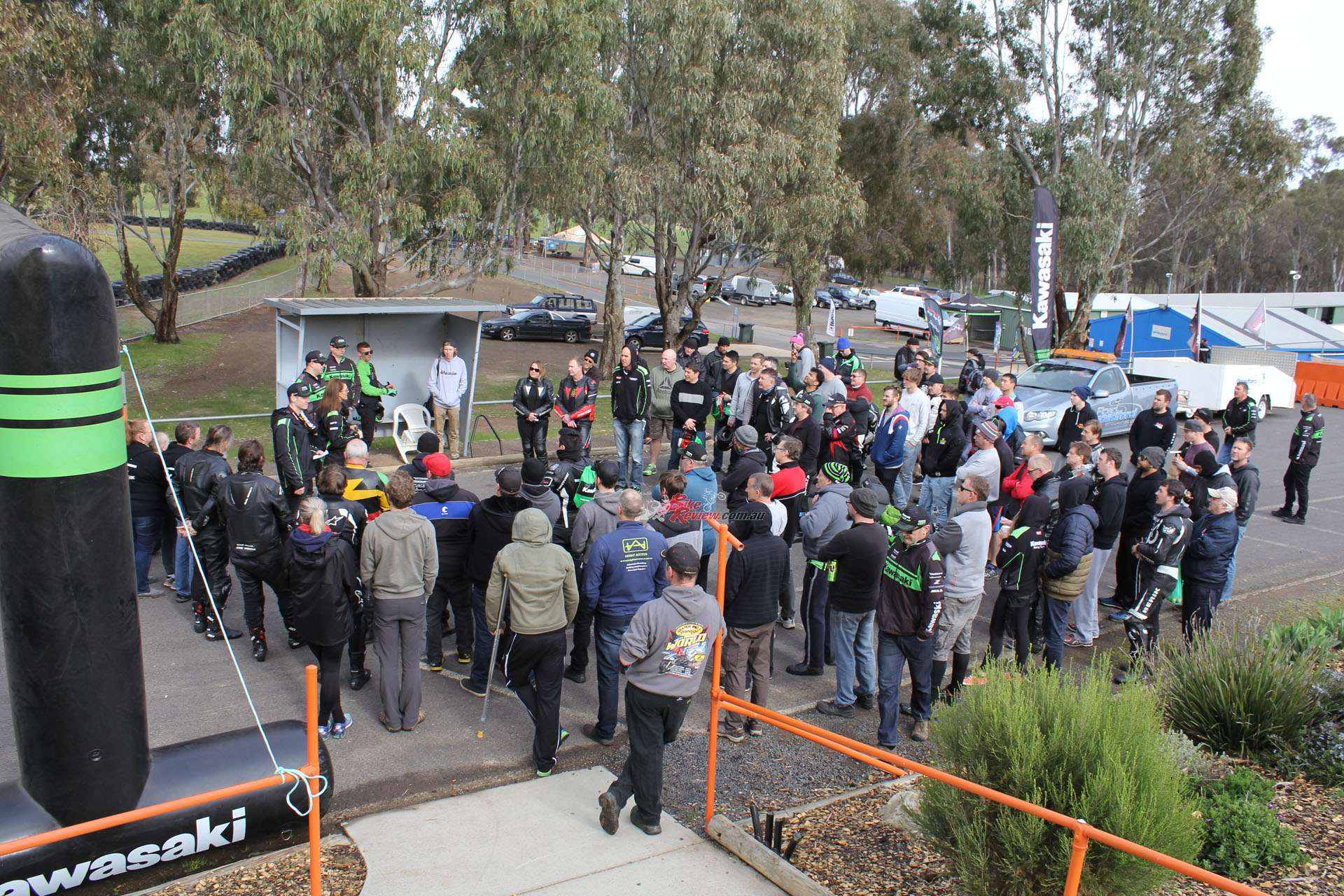 Monty and Amelia missed the 2016 KTGA Phillip Island experience so they were bent on making it to the 2017 Broadford track day with their beloved Kawasaki Ninja ZX-6R (636) machines.
"We started riding together through friends and after our first track day, we loved it!" exclaimed Monty.
Amelia, who has built up an impressive social media following with her Ninja ZX-6R (Instagram @amelia_zx), dived into track days after previously attending her first outing, saying, "Doing a girls only day was chilled and was a good way to get into it so I was hooked right away. It's nice to have the memorabilia to remind you of the event as well," said Amelia about her KTGA Broadford 2017 cap.
David from Geelong in Victoria turned plenty of heads with his 2001 KLX650. Modifications included engine tuning, track orientated tyres, aftermarket rims and more. "I bought it off a gentleman to repair it and I've converted it to a motard specifically for today's track day," said David.
"It's been really good! Around the corners it's sensational and I'm really happy with it."
ZRX 1200R models have made frequent appearances at the KTGA track days and Lincoln's 2005 model was a remarkable example.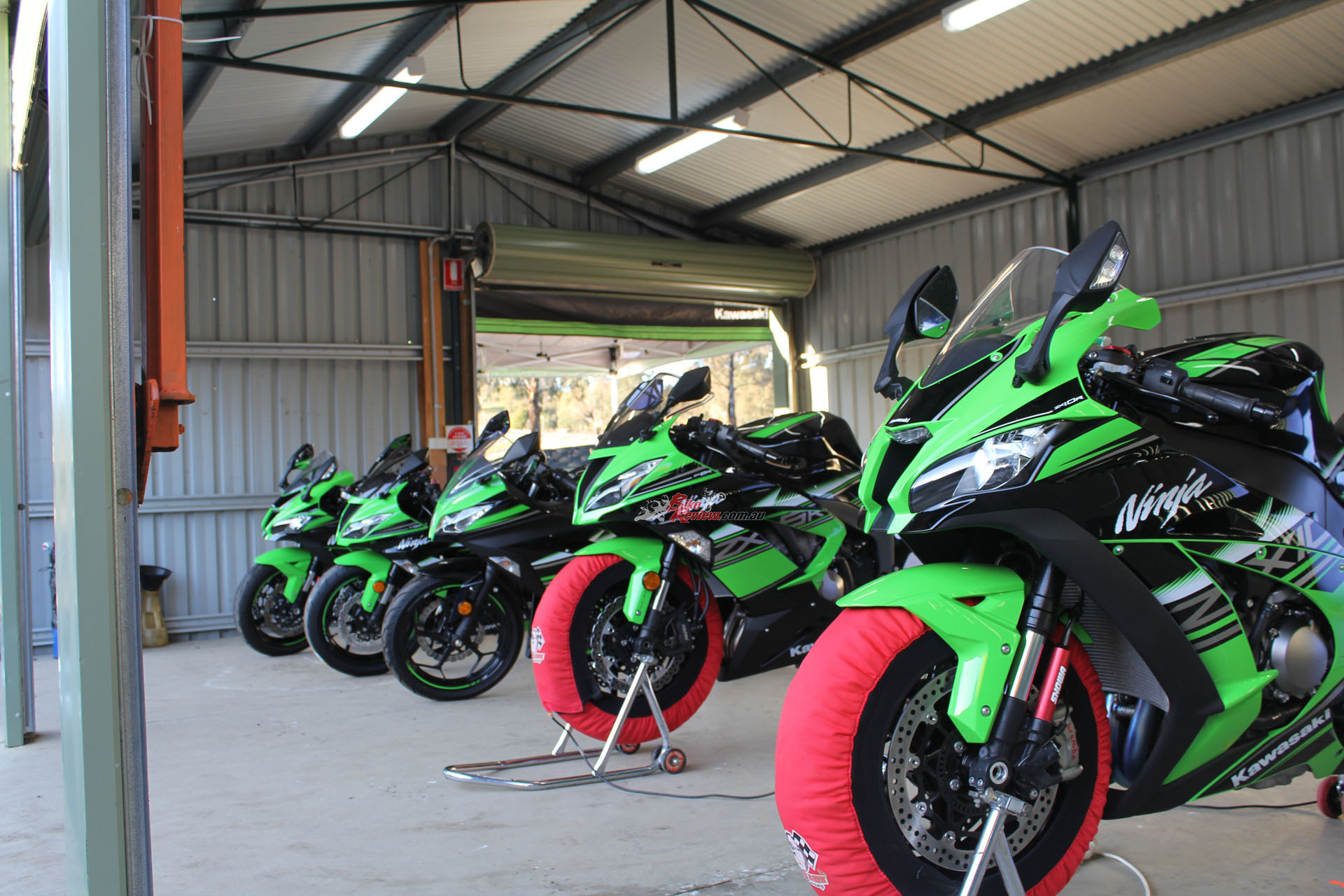 "I've had it for 3 years. I really love it and it is a good all-rounder. I do a lot of sports touring, ride days and this is my first track day. I'm really happy with how it's going," he said.
A novice to the track, Lincoln has seen the light, saying, "I'd love to come back here, Phillip Island or where ever. It's great and thanks to Kawasaki for putting on the day."
Kawasaki devotees, Gary and Silvia attended the day with their beloved Ninja 650L and ER-6nL motorcycles.
"We have been to the Phillip Island KTGA track day but this is our first time at Broadford and we're having a blast," Gary commented. "The track is technical and getting the corners right to get the speed out of them is challenging and good."
The Kawasaki couple have been putting their green machines to good use including, "Day trips, a bit of touring and weekend rides. We went from Melbourne to Dubbo which took a couple of days and it was nice because we took it easy. The bikes are great, comfortable and economical," said Silvia.
Experienced track riders, John MacCabe (2009 Ninja ZX-6R), Mark Brunel (2004 Ninja ZX-10R) and David Pickard (2005 Ninja ZX-6R) made a welcome appearance to the event with their Brest Cancer Awareness clad Kawasaki motorcycles.
"The livery which is on the bikes is about a personal thing for myself and Mark, my wife was diagnosed last year with breast cancer so essentially we are all in pink and we are trying to raise awareness, particularly with younger women to encourage them to have a check-up," said John, who raced his Ninja ZX-6R in the 600cc Supersport Class of the Australian Superbike Championship at the World Superbike Championship event earlier this year.
The next KTGA track ride day will take place at Wakefield Park raceway in NSW on 4th of December 2017. The event is still open for bookings so don't miss out on this sensational opportunity.
Find out more HERE.